 $55.00
Most aren't worth the paper they're written on, but every once in awhile I find a diamond in the rough.
Description
Hi Guys:
I know it's been a while since I've been in touch, but the fact is that not much worthwhile has come my way.
As I promised, you will hear from me whenever I come across something that I feel will benefit your bottom line at the racetrack.
And recently I've come across something that all horseplayers, regardless of sophistication, can appreciate and profit from.
I have no doubt, none whatsoever, that when you see it and start applying it at the track, it will make you money.
How much is up to you, but on even small wagers you can take home at least dinner money on a regular basis.
Background
I recently received a package of material from a longtime customer, Mr. Pat Carney, who lives in Washington.
Pat had called a few days previously and asked if I would be interested in looking at some of the methodology he was using, specifically his bankroll management strategies, a subject we had discussed previously.
We had met briefly in Las Vegas a few years back, and while sitting in the Caesar's Palace racebook, I watched as Pat made wagers without the benefit of a Racing Form in front of him.
He simply had a notepad with two columns of figures on it.  He cashed a bet in three of five races and then said: 'That's it for me, made my $200 and heading for my room.'
Pat explained to me that he had been grinding out a profit for years while doing little or no handicapping.
He said he owed all of his success to an old-time handicapper had provided him with several profitable bankroll management strategies.
'Hey,' he said, as he was getting up out of his chair, 'get in touch with me — I'll be happy to share these with you.'
I thanked him as we said our goodbyes, but since I was on a six-week trip that would cover several cities, our little meeting got shuffled to the back of my mind and when I did recall the experience again,
I did not feel comfortable calling him and asking him for the 'secrets' he had offered to share with me.
And then, as mentioned above, Pat called me.  I was happy to hear from him — Pat is a genuinely sweet guy — and the package he promised me was in the mail the next day.
The document he sent contained @25 pages and, and at first glance I was immediately hooked, thanks to the author's opening paragraph.
He calls if, by the way,
'Operation Turf Success'
(understand we're not talking just 'turf' racing here —

his methods even work on quarter horses, harness, etc., as well

).  Read:
"When I was racing my own stable on Major Eastern tracks I became well acquainted with many successful professional horse players.  I was surprised to learn that many of them never handicapped a race.
They depended for their living — betting the races — entirely from their application of correct BETTING methods.
In other words I realized that IT IS POSSIBLE TO BEAT THE RACES even by players who have never seen a Racing Form or a Past Performance.
The SECRET lies in the method of betting.  IMAGINE THEN THE ADVANTAGE THIS KIND OF PLAYER HAS OVER THE AVERAGE PLAYER,
WHO HAS NO UNDERSTANDING OF THESE WAGERING CONCEPTS!"
And then…
"With the knowledge of betting you this treatise will give YOU, here are some of the advantages:
(1) You do not need to buy a scratch sheet or racing paper but can play newspaper picks, consensus picks or your own selections.
(2) You have the advantage of choosing which method you are most comfortable with.
Here you will find profitable betting methods that use public handicapper selections, computer selections, post positions (that's right – and it's one of my favorite ways to bet) or, again, your own picks.
(3) Time necessary to decide on and bet a selection is but seconds.
Whatever method of selections is used, the correct wagering method geared to the potentialities of the PARTICULAR selections will increase the winnings a thousand times over over time."
And what follows is only what I can describe as a journey into horseplayer's heaven.
Believe it or not, he's got a betting method in here that uses just post positions.
How you bet and how much you bet is based on the length of runouts of various post positions.
I tried it on some 200 or so races and darned if it didn't come up with results very similar to the ones he reported – a return on investment of @+21%.
He's also got betting methods that involve favorites and second favorites; public and consensus selectors; a great method for 'parlays' and a couple for 'dutching', all exquisitely explained with examples so you will be able to follow the procedures exactly.
And this is far from the 'wild-eyed' claims you have seen from authors in the past.
The returns on investment for these methods range from @+14% to @+62% with the median ROI in the +27% range.  Modest, but they build, and build and build up your bankroll.
It's funny.  As you know, I'm a big computer handicapping guy, but when I see material like this it excites me as much as a new software product —
maybe even more because I'm so much in awe of the 'minds' that were able to put this together without the benefit of computer technology.
So, my thinking goes, here what I've got:
1) The actual betting methods that my friend Pat, who I personally witnessed using, has employed for years to profit at the racetrack and,
2)  Methods put to together by a thoroughbred owner with the help of one Hilbert Howe, a well-known master of winning betting methodolgy, at no small expense to the stable owner and, finally,
3) Methods that I personally tested and found all above board and profitable.
Oh, and I'm enclosing just one example of a workout that produced a nice +24% ROI. 

What I want you to notice — look carefully –, though, is the odds on the winners –
all very low, and the winning percentage just average, yet still this betting method produced this kind of return.
Pat had told me that I was welcome to share this with my customers.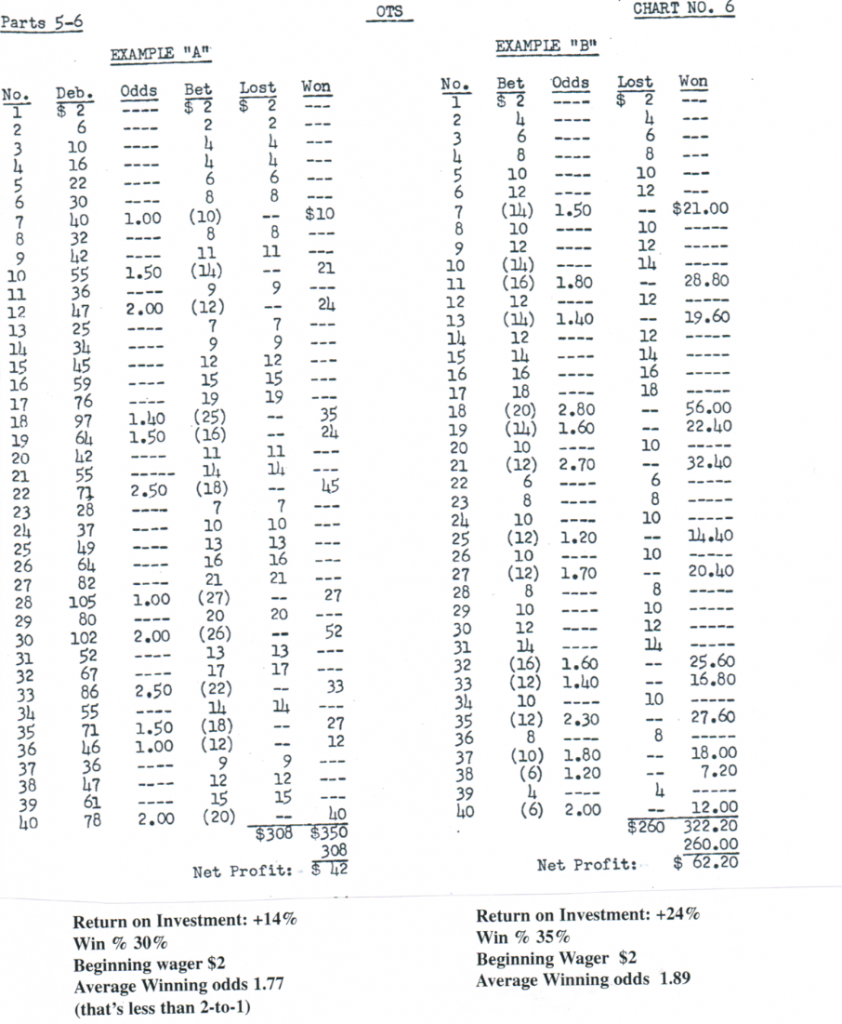 When I asked him at what price, he said "You decide — I paid a small fortune for it, but as I'm getting on in years, I'm just happy to get the 'word' out and hope that horseplayers far and wide will enjoy the thrill of taking home a few bucks from the racetrack."
"$100?, $75? $50?" I asked.
"How about $55 — something everyone can afford," he answered.
And so, $55 it is.
And I promise you it is worth every cent of that times 10.  And again, I want to emphasize how thorough the explanations and examples are.
You will have no problem following the author's logic, and the author's logic is about a logical as I've ever seen when talking bankroll building and management at this game.
Order details are enclosed and, of course, you know me, if this material doesn't suit your needs, for any reason, your purchase price is fully refundable.  Take care,  Tom
Here are a few more very interesting quotes from OTS to pique your interest
From Hilbert Howe (the actual developer of the methodologies):
"Almost 15 years ago 'Mr. I' began asking me to to write a treatise on the art of wagering.  He knew I had made a special study of this subject during more than 40 years as a devotee of racing.
I kept putting the matter off, because from close contact with hundreds of players I had come to the conclusion that not one racing fan in 10,000 realized that the art of wagering is vastly more IMPORTANT than the art of selecting.
The last thing he thinks about is the intelligent, efficient, scientific handling of wagers to getting RESULTS even though winners may be few in number.
So after roughly 15 years of putting this off, I am now ready to cut loose with what I have learned about turf-speculation during the better part of a lifetime."
"There is a proper method of investing to suit almost any type of selections.  I say, and will prove to you, that almost any set of professionally made selections can be made to produce profits, month after month, when the PROPER method of investing is used."
"The methods of selecting I propose to give you in this series are intended to serve a double purpose, viz:
(1) help those who have now mastered the art of handicapping get the best possible results from their own selections, and,
(2) furnish those who have not mastered the art of handicapping with a method that can be depended upon to produce positive results, without making use of past performance records."
"In conclusion, you now have the most workable and practical methods of wagering for profit, with or without handicapping skills, that you likely will ever come across.
With just a small bankroll and some perseverence, you will finally be able to realize your ambitions, i.e., making money at the racetrack."
So get your order in today.
The complete Operation Turf Success manual, which is extremely easy to understand, and extremely simple to use, is yours for just $55.
And again, I promise you that if you stick to the simple rules, regardless of which of OTS's method(s) you choose to use, you will make money at the racetrack.