$34.95
"A Cheap Way to Play Winning
Super-Fecta Tickets!"
Description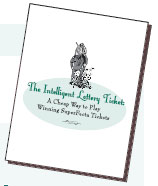 "A Cheap Way to Play Winning
Super-Fecta Tickets!"
Tom Schuby is a handicapper who thinks outside the 'box.' A professor at a large University in Michigan, he teaches his students to first look to the 'obvious.' Makes sense, but these days, thanks to the 'complexity' of our society, that's the last place most folks look.
The same is true in the racing game. While players are busying themselves with 'turn times', feet-per-second pars, internal fraction variants, etc., they often overlook the obvious horse simply because they are so wrapped up in other details. Tom is the fellow who gave us C.A.P.S., a simple formula for cashing in on Exacta bets. No complicated formulas, no long and tedious rules, just a proven methodology designed to increase your trips to the cashier's windows.
Tom's newest, The Intelligent Lottery:
A Cheap Way to Play Winning Superfecta Tickets!, is yet another great exercise in the art of simplicity. As you well know, the Superfecta is one of racing's most difficult bets to hit, and to do so consistently requires making some expensive wagers. But it doesn't have to be that way. With an intelligent strategy to both select and play the Superfecta, your chances of cashing in are enhanced considerably. And that's just what Tom Schuby has provided you in this package. You'll find four simple rules to select your horses, then simply arrange them in the suggested betting strategy and you are on your way to cashing a bigger share of SuperFecta tickets then you have ever dreamed of!
During our recent one-month test, we hit Supers for $2,911, $2,341, $1,734, $1,201, $1,112, $998, and many for smaller prices. And since your 'average' investment in the Superfecta is only $20 (just $2 on a 10¢ ticket!), you can see just how profitable this very logical methodology can be. And at a price of just $34.95, it's a 'must have' for any player interested in cashing in on big exotic wagers.