$77.00
Here's a neat little, very profitable play that you can add to your toolbox of handicapping angles. IT'S REMARKABLY EASY TO USE, and can be used for win plays, Exactas, and Trifectas.
Description

Here's a neat little, very profitable play that you can add to your toolbox of handicapping angles. IT'S REMARKABLY EASY TO USE, and can be used for win plays, Exactas, and Trifectas. It will not produce a play in every race, and I'm going to tell you exactly how to be disciplined to pick out only the best situations. It will give you the opportunity to cash in on a lot of nice tickets, with minimal time spent handicapping. If I put my mind to this business full time, and had no pride or scruples, I could probably crank out a new angle almost every month. I'd take a look at all the information available on the Daily Racing Form. I'd "borrow" bits and pieces from the couple hundred angles and TIPS I've come across over the past few years. A little mix, a little match, some reasonable sounding narrative, and enough winning races to keep folks interested. But I choose not to do it that way. I'm only going to release angles that I really believe in. Angles I've extensively researched. TEST RESULTS THAT TELL ME THAT THE ANGLE WORKS. Angles I have bet real money on for an extended period of time — Angles that have put money in the bank for me. I CAN TELL YOU THAT I'VE FOUND SOMETHING REALLY, REALLY GOOD HERE, and I'm going to show you exactly how to play it in a way that will produce winning Exactas, Trifectas and straight win bets for you.
SUPER-X is an angle given to me by a professional player who I have known for years. Those of you who know me likely know who I'm talking about as I have played with this Pro in the Las Vegas race books since the late 1990's. This angle is his primary profit-engine, even though he has several others in his arsenal. I've personally been playing with SUPER-X for several months now. The basic formula is very simple to grasp. You basically just add two numbers and convert them using a simple table.
THIS IS REAL, POWERFUL HANDICAPPING, BUT IT'S THE EASIEST HANDICAPPING THAT PRODUCES STEADY PROFITS THAT YOU ARE LIKELY TO COME ACROSS. Seriously – I don't want this to sound like 'hype', but there ARE easy ways to make money at the racetrack — no, I'm not talking about getting rich, but I am talking about a decent second income simply from following the very simple SUPER-X formula. If interested (and hopefully, you are!), please read on.
"Len told me about this angle quite some time ago but needed his friend's permission to actually make it a viable product for our customers — the angle is everything Len says it is — incredibly simple and consistently profitable.' – Dave Powers"
Working Super-X
To work SUPER-X at its very basic, you only need three pieces of information to get you going:
The distance of the current race
The distance of the previous race
(1st-time starters would therefore be eliminated)
The sum of the Speed Rating and Track Variant
Then, the true 'key' to SUPER-X success, is a Table of point additions and subtractions (only one figure is required per horse) and it may take you all of 5 or 6 seconds to get this figure!
At this point you have all you need successfully play the SUPER-X way. To cash in on Exactas, Trifectas and straight wagers.
OH, AND THE COST OF YOUR WAGERS?IN THE EXACTA'S (OR QUINELLAS IF YOU CHOOSE) YOU ARE BOXING JUST TWO HORSES, OR $4 FOR A 2-HORSE BOX. AND BELIEVE IT OR NOT, YOU ARE ONLY BOXING THREE HORSES IN THE TRIFECTA'S, OR $6 FOR A 3-HORSE BOX!
Of course, you can bet $20 boxes, which I do, if you wish, and your income will be 10 to 20 times higher. Let me show you the results I have realized over just the past couple of months:
"I guess what surprised me the most was the fact that you can make such low-cost exotic boxes and still hit at such a profitable rate. As a long-time 'dutcher' I also love the dutching part — my tests showed even bigger profits than Len's." – Tom Console
I ran the SUPER-X logic through approximately 760 full race cards. This covered all major and many minor tracks from February 17, 2008 through April 22, 2008. So taking a conservative eight races per card, I think a test of over 6,000 races during a consecutive period of slightly more than two months is a pretty thorough test.
Of these I got 1,113 plays. Don't fret if you don't think this is enough. I will state that this method does not come up with a play for every race. And I will state that out of the 1,113 original plays, a portion of those will be dropped. However, on the good side, there will be quite a few races you will automatically bypass and spend zero time on. Remember I said at the beginning that this is a handy new profit-gadget to add to your handicapping toolbox. You undoubtedly have things you look for when you play the races, and if you've got your Daily Racing Form or other pp's in front of you, you'll just get into the habit of adding the SUPER-X scribblings to it. I BELIEVE FOR THE EFFORT PUT IN, YOU'LL FIND THE RESULTS INCREDIBLY WORTHWHILE.
So with over 1,100 races to play with, I was able to bang away at it in many ways. By class. By entries in the race. By gap between the second horse and the rest of the field. By the lowest of the two morning lines. And all of this translates on when to bet exactas, trifectas, and winners. What is terrific about these results is how they fall into place. There isn't a positive ROI here and there, with no apparent pattern. No, the positive ROIs appear in neat little pockets that show distinct ways to bet them. And many of these have legitimate reasons upon looking at the results.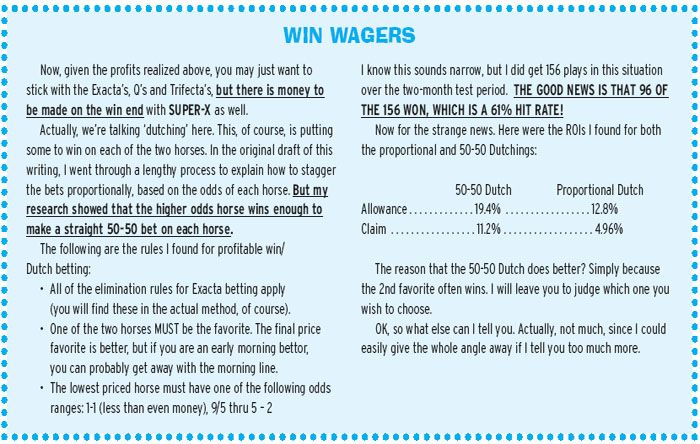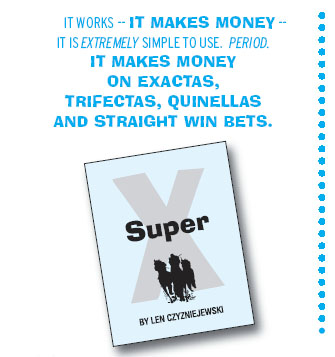 I am also including with the method the actual best Exacta and Trifecta hits made during the two-month study period so you can see that we're not talking all chalky payoffs here — you will hit a lot of real 'boomers', which is why the ROI's are so healthy, by the way. There were of course many more hits than those shown during the study period at lower prices as well but I cut off the Tri payoffs at @$60 and the Exacta's at @$30. Remember again that you are only boxing two horses in the Exacta and three horses in the Trifecta — no 'spreading' or going 'deep' for the costly tickets that so many handicappers needlessly play.
SO SUFFICE IT TO SAY THAT WHAT YOU HAVE HERE IS AN ANGLE THAT WILL MAKE YOU MONEY, FROM NOW UNTIL HORSE RACING ETERNITY. SUPER-X is an angle, like I told you before, that I not only believe in and have tested extensively, but one that I use daily. I MEAN, IF YOU REALLY WANT TO PLAY IT CLOSE TO THE VEST AND WANT TO CASH WIN BETS 61%+ OF THE TIME, JUST USE THE SIMPLE 50/50 DUTCHING METHOD EXPLAINED ABOVE — YOU CAN DO THIS ALL DAY LONG AT TRACKS ALL OVER THE COUNTRY! Add in the Exacta's an Tri's and your profits simply increase.
"*And you have my personal guarantee that if you don't like SUPER-X, for any reason, you can send it back for a full refund."
So you have nothing to lose, but a whole lot to gain. And the price, considering what SUPER-X will do for you, is an extremely reasonable $77. Please email me at elvistcob@cox.net if you have any questions whatsoever, or call Dave at
1-800-696-0067

begin_of_the_skype_highlighting

1-800-696-0067

end_of_the_skype_highlighting

to order.