Description
We received 37 different systems for evaluation last month.  Most were your basic, small flat-bet loss chalky systems,
which we have no use for. 
But one, which we initially thought would fit the 'screwball' category, turned out to be surprisingly
consistent and profitable.

And it takes all of about a full minute to find your plays on any racecard

. 

Interested?
(++See the FREE Bonus System below!)
Hi Guys:
I know it's been a while since we've offered a new non-computer method, but the fact is that not much worthwhile has come our way.
As I promised, you will hear from us whenever we come across something that we feel will benefit your bottom line at the racetrack.
And recently we've come across one of the most intriguing, easy-to-use and profitable methods that any racegoer,
regardless of sophistication,can use to earn some pocket money or more, depending on their wagering level.
1-2-3!  Total Simplicity, a minute or so to find your plays.  No handicapping whatsoever!!
We get so many systems, software, etc., through the mail from authors asking if we could please market or recommend their products.
While much of the material is well-intentioned, it just doesn't measure up to what we need to see to wholeheartedly endorse it.
But every once in awhile something peaks our interest enough to give it a thorough going-over.
We recently received a letter from a Charles Collins, a retired Army lifer and Maryland resident, and RPM customer. He enclosed a spot-play system he said he had been using for over five decades with great success.
What most impressed us and led us to investigate further, was the tone of the letter he sent us.  It was extremely honest and sincere. 
No wild-eyed claims, no promises of instant riches; just the facts, ma'am, just the facts.
And the facts were that if you simply stuck to this easy-to-use method of play, you would profit consistently.
 Here's the interesting thing, and the reason we initially thought it was a crazy idea:  You are required to play three (3) horses in qualifying races.
The selections can come from one of three sources, two of which are readily available to any horseplayer and the third, a publication called Today's Racing Digest, which you can access over the Internet.
   ***And, get this, we did not find a losing racemeet, ever, over our multi-track database test.*** 
It is a spot-play system, and you can play as many tracks as you want.
The trick(s) are:
1) knowing which types of races to wager on and,
2) learning the very simple bankroll management plan, which is explained in the system of course. 
You can start with a very modest bankroll, as little as $100 would be a safe amount if you are making $2 wagers.
However, in most of our tests, we seldom needed more than $24, since the initial $100 seldom dropped below $86.
The overall win % averaged @25%, with an average mutuel near $12.60, but because you are playing three horses,

the percentage of winning days was close to 76%.
In otherwords, one of your three horses is going to win often, thus the high percentage of winning days. 
Runouts were virtually non-existent and, at most racemeets, your starting bankroll nearly doubled.
While flat-betting showed decent profits, using Charle's simple bankroll management plan can quadruple these profits or more.
And, again, you will know which races to play, and which horses to play, in just seconds.  You will do no handicapping whatsoever.
You will simply play and watch the race and, more often than not, collect a profit.
Needless to say, we put this method into practice ourselves, and while we enjoy bigger profits using other more complicated methods and software,
a profit is a profit and we're going to take advantage of any profit to be made in this tough, tough, game.
Charles sent us some of his past workouts and, as you can see, all proved nicely profitable, and we are enclosing our results from the recent Hollywood, Mountaineer and
Belmont meetings, though we are simply providing net ROI figures, and not each horse's name.
Note that on Charles' past workouts we obscured the betting column so as not to reveal his very clever bankroll strategy method.
So, bottom line is the method, which Charles calls the 'Three is Better Than One Profit System', is something any player interested in earning a supplemental income from the game should have in his/her possession.
And the price is very, very reasonable at $49.50.
And as Charles states in his letter, chances are extremely high that you will make your purchase price back and then some within the first 5 to 10 plays generated by the system.
We re in total agreement.  And it's so darned easy that you can find the plays the night before, put your bets in early and just go about your business, racetrack or otherwise.
So, again, the

Three is Better Than One Profit System

, will,

we promise you

, earn you steady profits at the racetrack.
The key component is 1) knowing which race(s) on the card to play — this is the critical factor and is very, very simple to figure out – it may take you 20 seconds to find the playable races.
2) your selections for playable races are right at your fingertips and, again, there are three different sources to get your plays from.  This will take you all of about 20 seconds more.  Then you make your wager using Charles' bankroll strategy, sit back and relax.
While Charles and our examples start with just $2 wagers, you can obviously enjoy considerably bigger profits by betting higher amounts.  But that's up to you.
Check out the enclosed workouts, and give us a call at 1-800-696-0067 to order.
Thanks! Dave Powers
**Oh, and one more thing, among those 37 systems we reviewed last month there was one additional winner.  It's called the Double 5 Longshot Method, sent to us by subscriber Todd Haley.
It is very much a spot play, but gets some helaciously big prices and shows a long term +71% ROI.
And, we are going to include that method FREE!! of charge when you purchase the Three Is Better Than One System!
Workout Analysis
Charles has been using this method for several decades and reports that he has only had one losing meet, a rain-soaked Saratoga summer meeting many years back.
He tells us the past workouts he sent us are very representative of what the player can expect.
You'll note on the workouts that Charles shows a 'flat-bet' profit, and a Progression Betting profit.
Charles betting plan is a very, very mild progression type of betting system, but, as you can see, the profits are always much larger using his method of wagering.
Also notice that there were no 'huge' prices.  A $20+ animal here and there, so the system does not need big prices to win.
Note that the Calder workout below returned a $59.80 profit on the brief workout, which means if you started with $100, you ended up with $159.80, which is a +59.8% ROI.
At Golden Gate, the ROI was +109.9% and at Tampa Bay +90.3% ROI.  So, obviously, this method is well worth having in your arsenal.
Modest bettors can earn dinner money, frequently, and more serious bettors can make this system work as a supplemental income.
We looked at three recent 2013 meetings, which are still in progress, Hollywood, Mountaineer and Belmont.  The results are strikingly similar to Charles' results.  All meets are through June 16:
Hollywood Park:  +87.6% ROI (on $20 wagers, that is a +$876 thus far at the meet.  Longest losing streak (2)
Belmont Park:  +94.1% ROI  longest losing streak (2)
Mountaineer:  +114.5% ROI longest losing streak (3)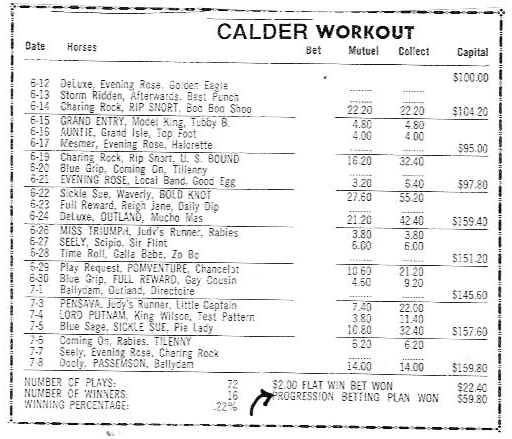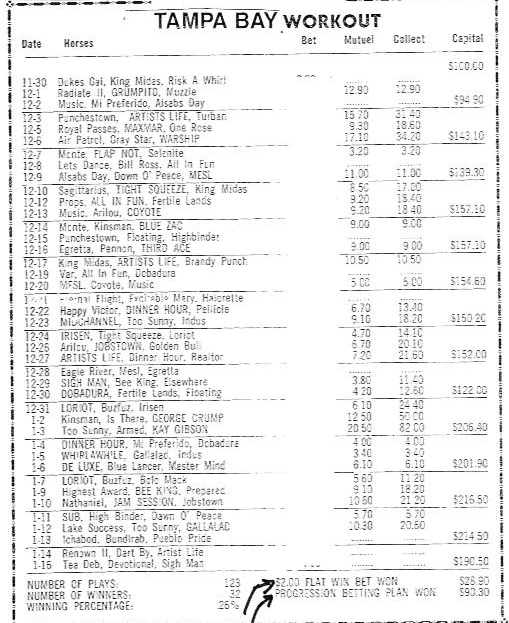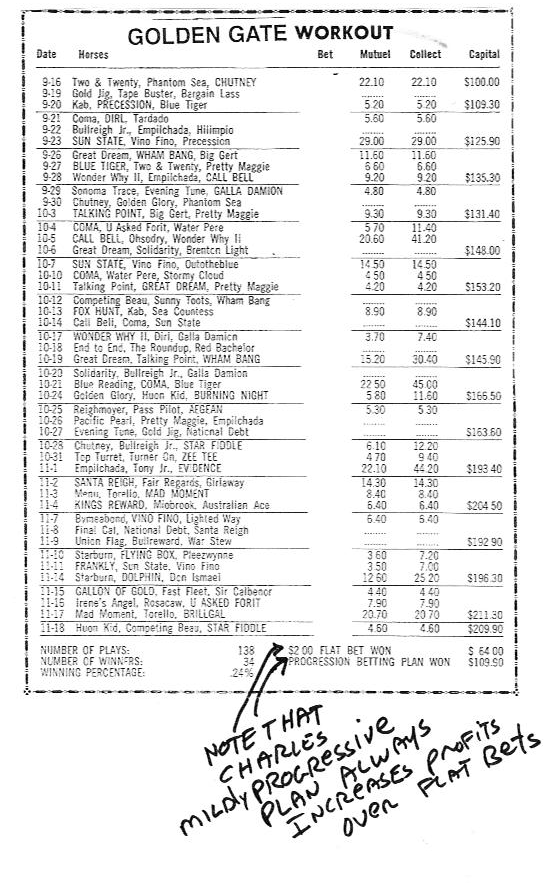 So what we initially thought was a screwy concept, turned out to be a real winner.  Thanks, Charles!