$49.88 – $148.00
The LVHB PRIME Method has all of the elements of the LVHB-Basic, but adds in a Powerful Jockey/Trainer Team element.  LVHP-P tends to produce a slightly lower win % but overall better prices and a better ROI. 
Description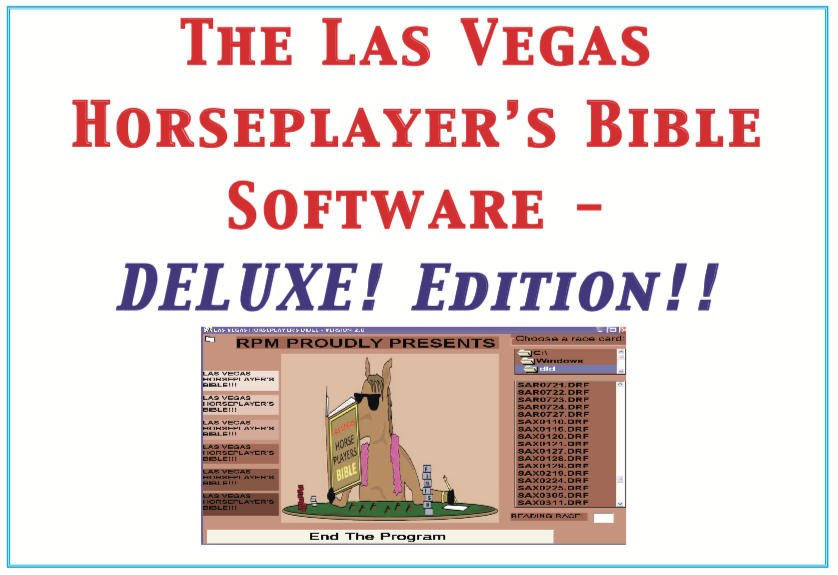 The Las Vegas Horseplayers' Bible has been one of the best selling handicapping books of all times.  And, in fact, it was partially programmed as a side feature on our Racetrack Millionaire & SuperChalk software.
But NOW, for the first time ever,

LVHB has been programmed in its entirety

, with several other incredible NEW features added!
Imagine walking into any casino racebook or satellite wagering facility, anywhere in the country, confidently armed with KNOWLEDGE that will allow you to several tracks successfully at the same time.
Knowledge that gives you a decided edge over the rest of the betting crowd, most of whom are, and always will be, confirmed losers.
And then imagine that obtaining this knowledge requires absolutely no work on your part;

just your desire to win, and to implement an element of the game that is widely ignored by the masses – and the implementation is done entirely by the software!

  Sound good?
Then welcome, my friends, to Clint Tracy's Las Vegas Horseplayer's Bible Software, Deluxe Edition! –
a sensational, state-of-the-art program designed to provide players at any level of the game many, many happy returns!
The major concept involved in LVHB came to the author after a trip to Las Vegas, where he sat in the Caesar's racebook trying to figure how he could play several tracks simultaneously and still have a reasonable chance to turn a good profit. He tells us:
Let's Take A Look at the Treat we've got in Store for YOU!: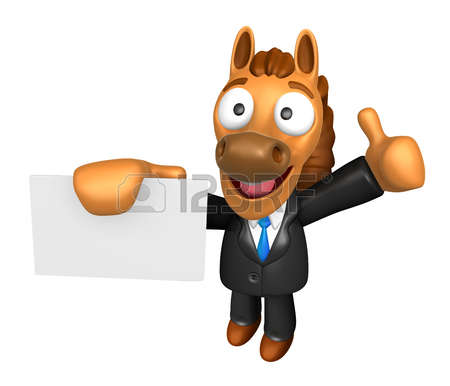 The angles contained in the Las Vegas Horseplayers Bible Software are all steeped in logic, and are consistent and oriented towards price. 

But First, some nifty stats!:
>>>The bottom line is that you have FIVE POWERFUL ANGLES working for you.  Now, don't let that overwhelm you.  Often a single horse is picked by two or more of the angles, so it's not like you are going to have five separate horses to look at.
And, we provide you,
IN DETAIL

,

how to play every conceivable situation

.  In fact, in the examples below, you will see how various situations are played, but we show you

EXACTLY

how to get your best return on investment playing just a single Angle, or combining several to greatly enhance your chances of hitting big Exotic payoffs.
So Check out the Examples below, and we have provided plenty of them
in order to paint you a complete picture of just what the LVHB Software is capable of:
MR.T!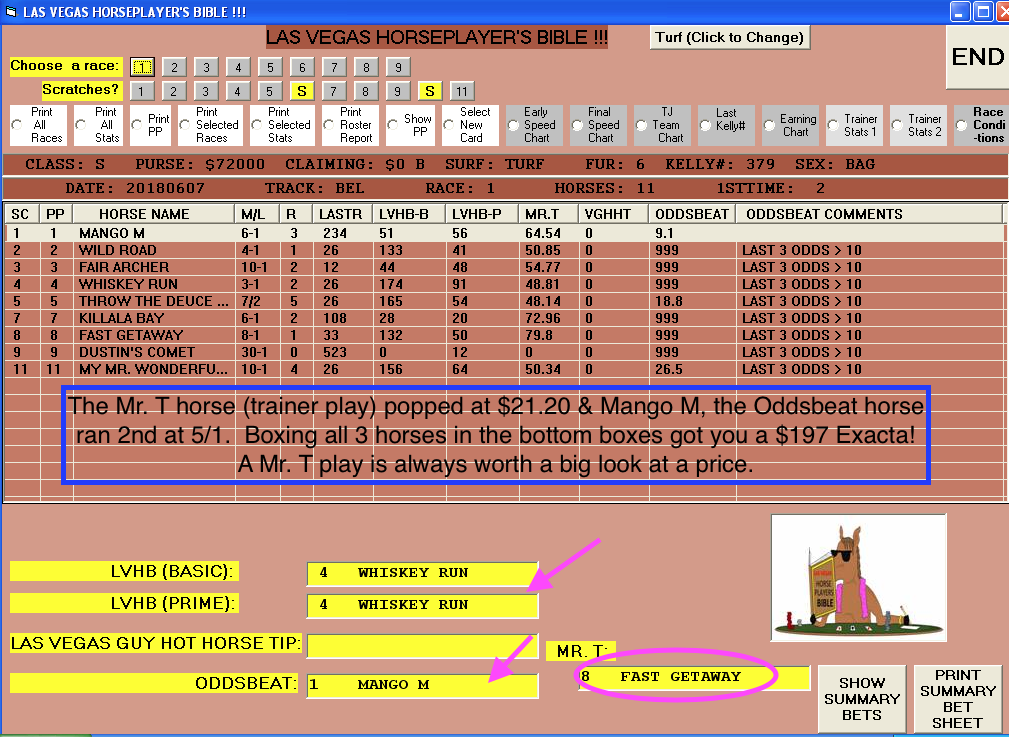 ODDSBEAT++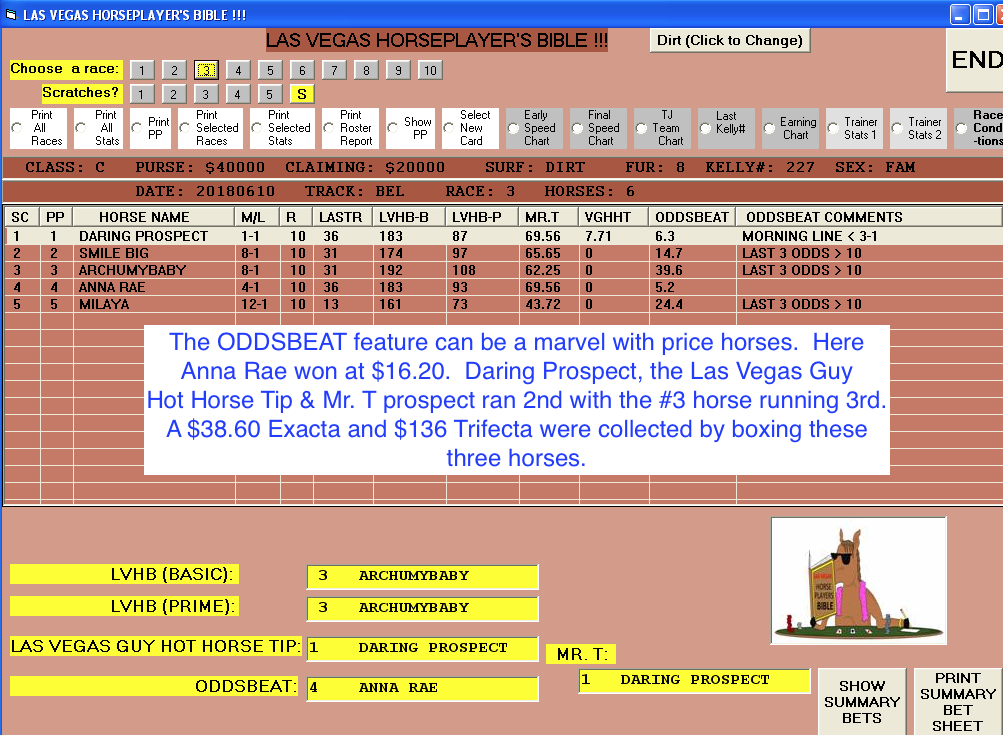 The 3-BOX High % Horse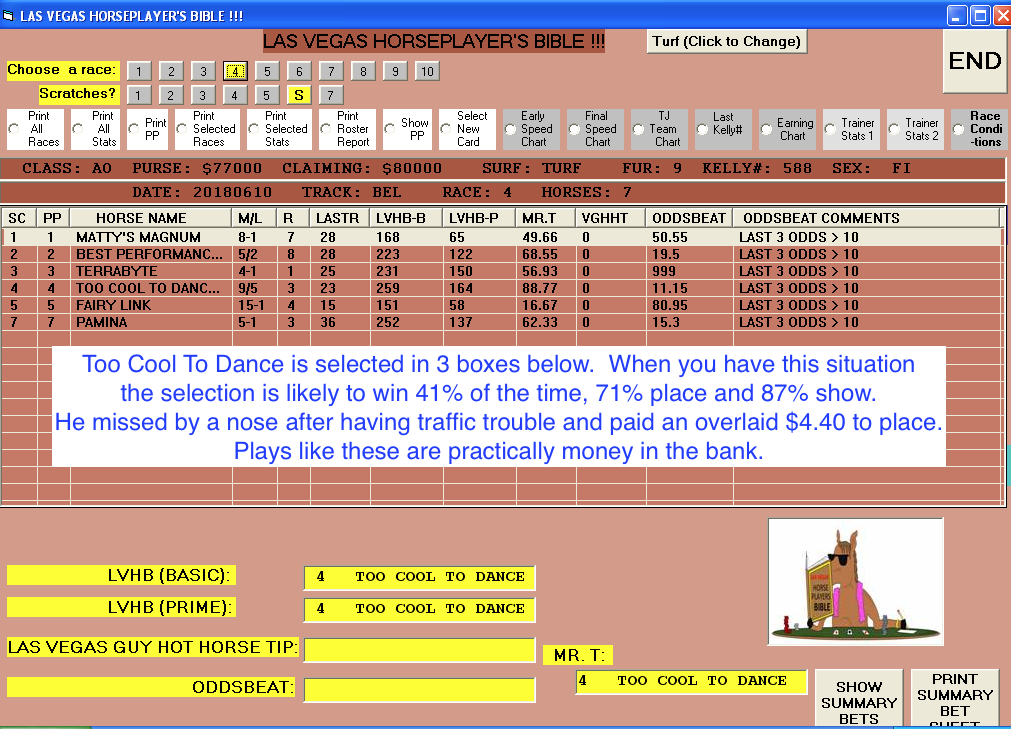 MR. T!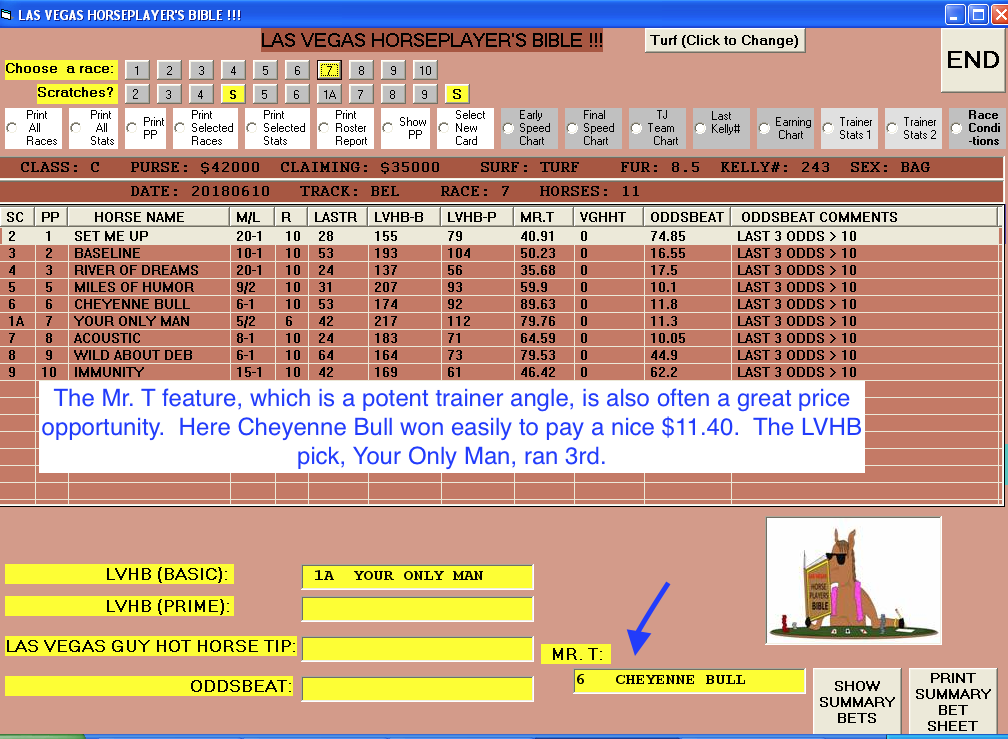 Cold-Deck Exacta & Trifecta!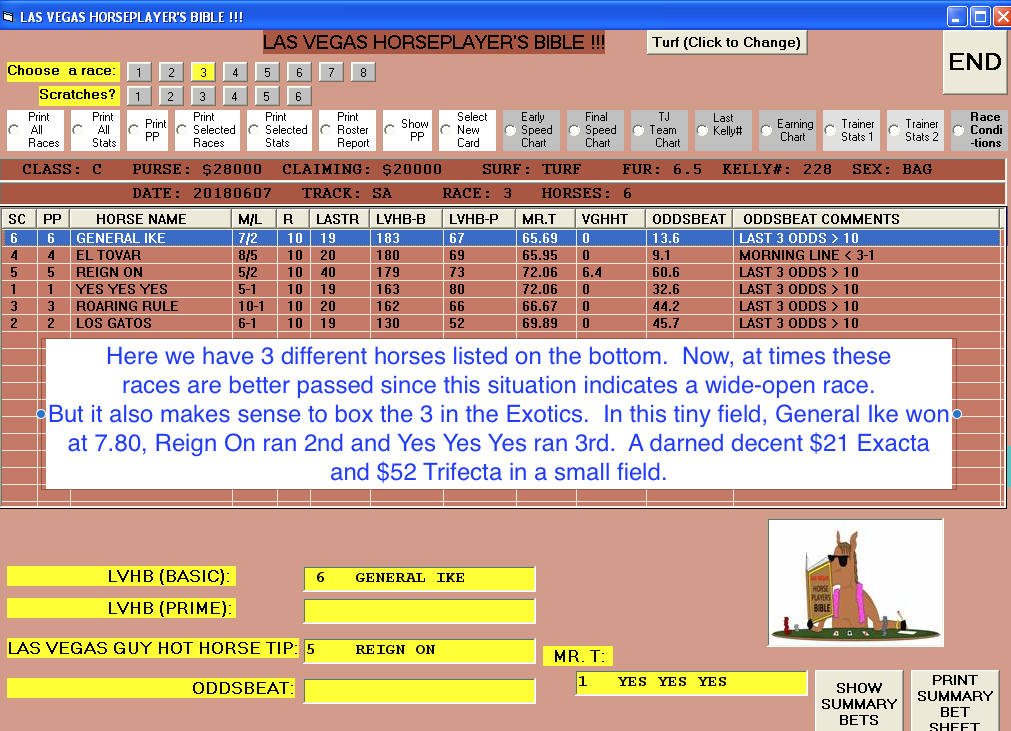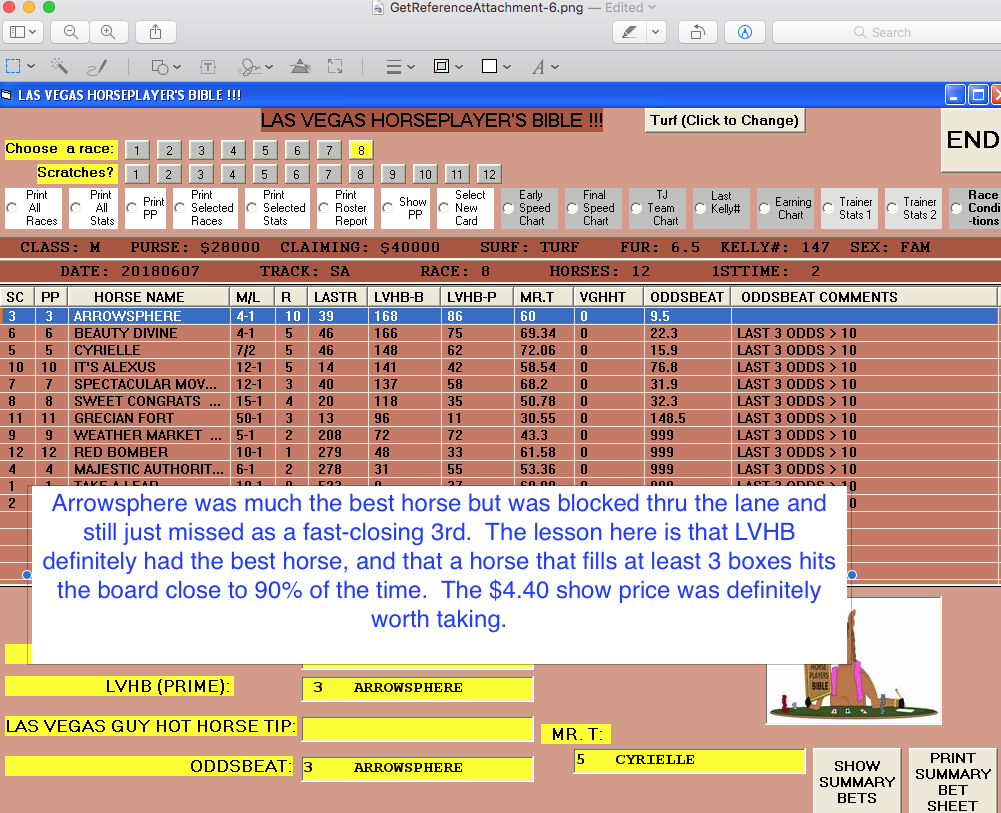 ODDSBEAT + LVHB + MR.T!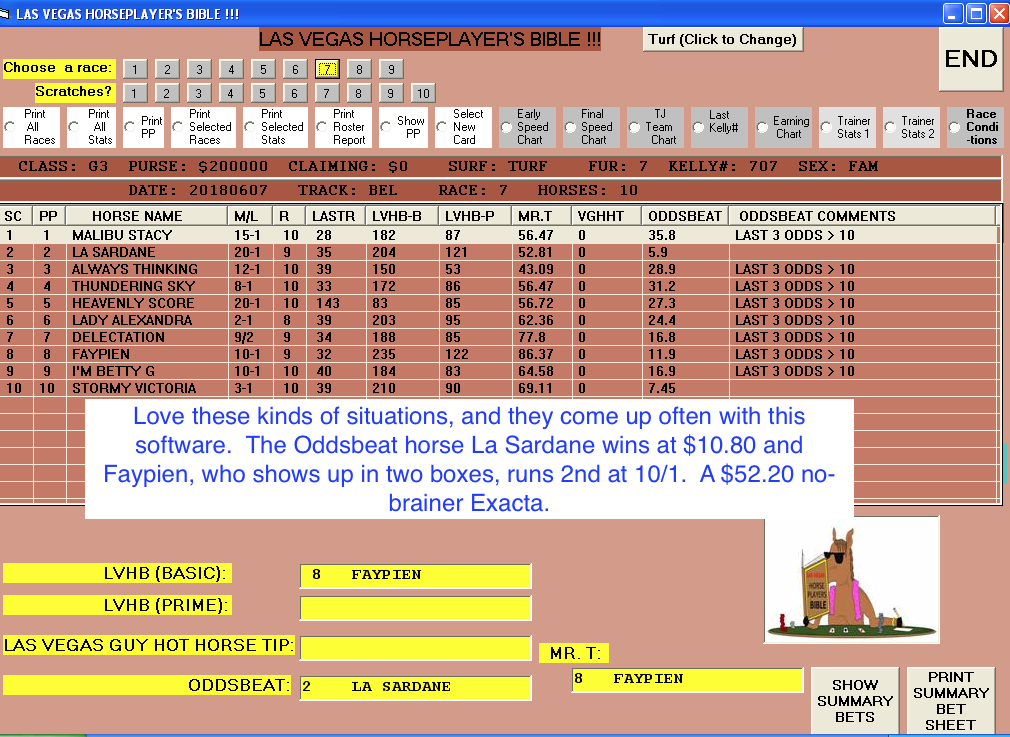 Like to Dutch?  The LVHB Software has the Answer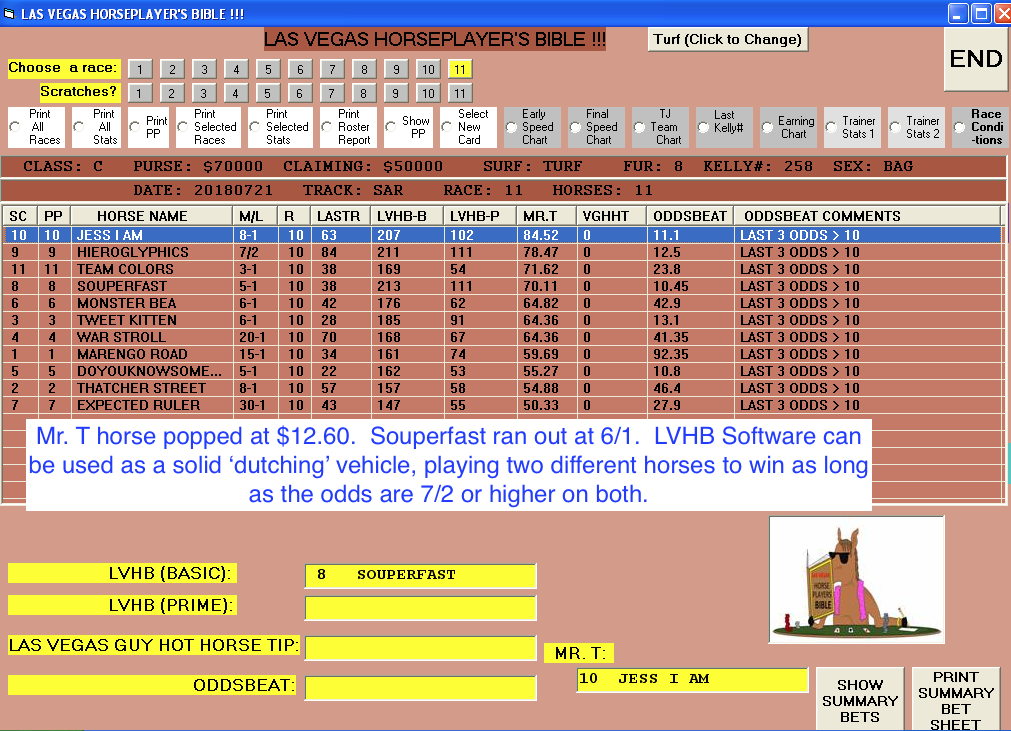 LVHB Point Advantage Horse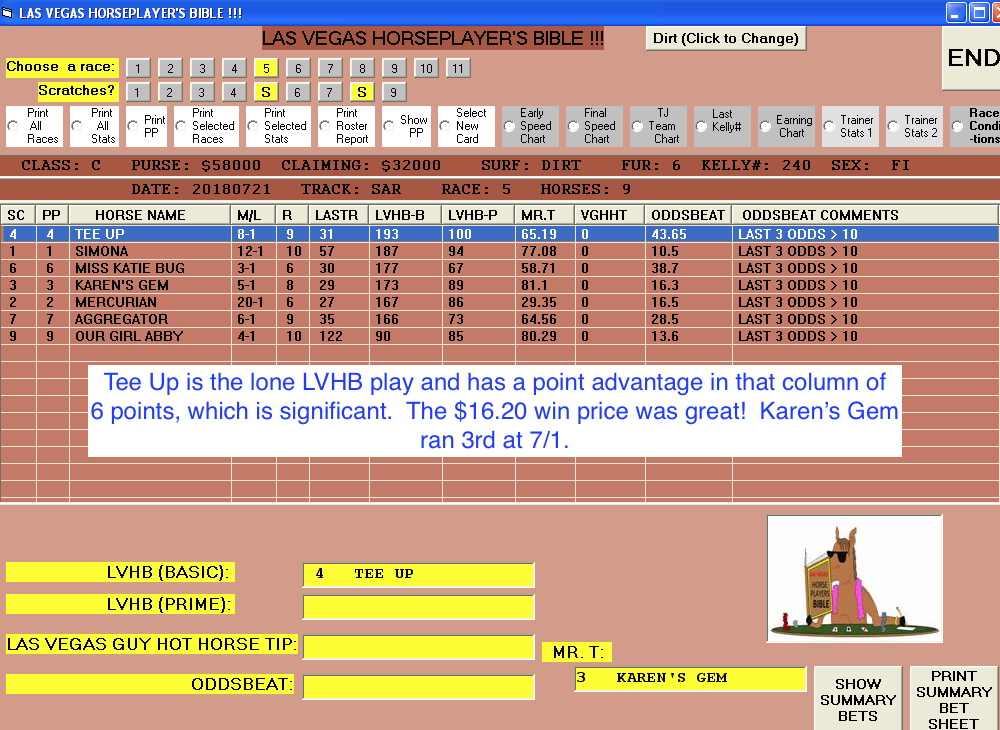 Double LVHB Horse + Exacta!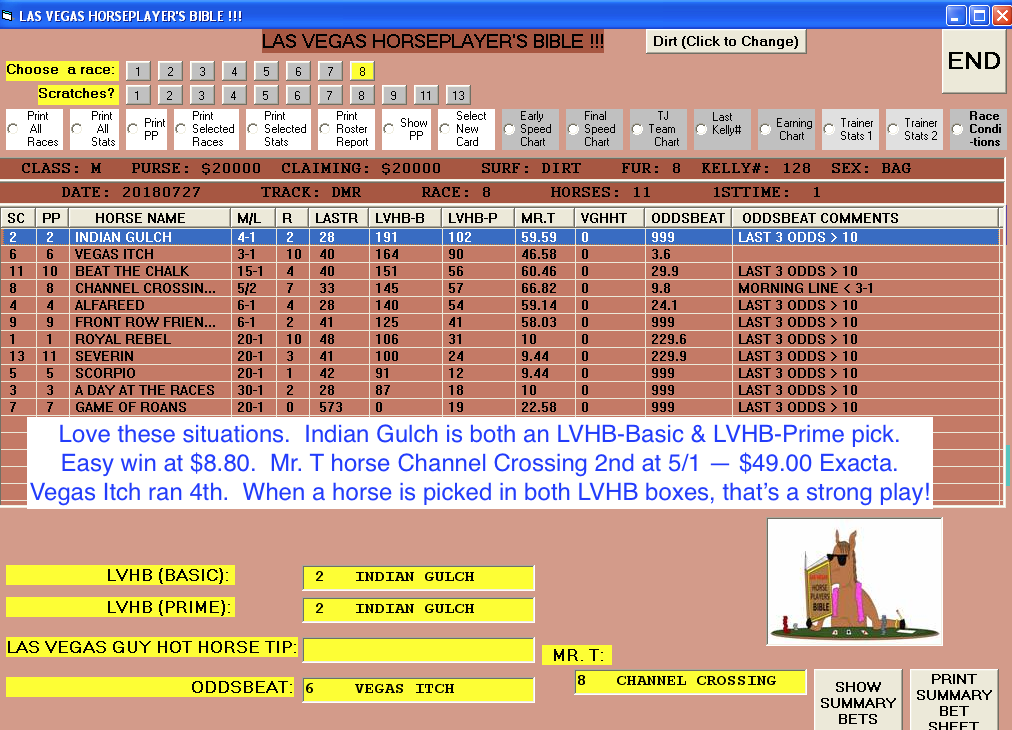 Mr. T!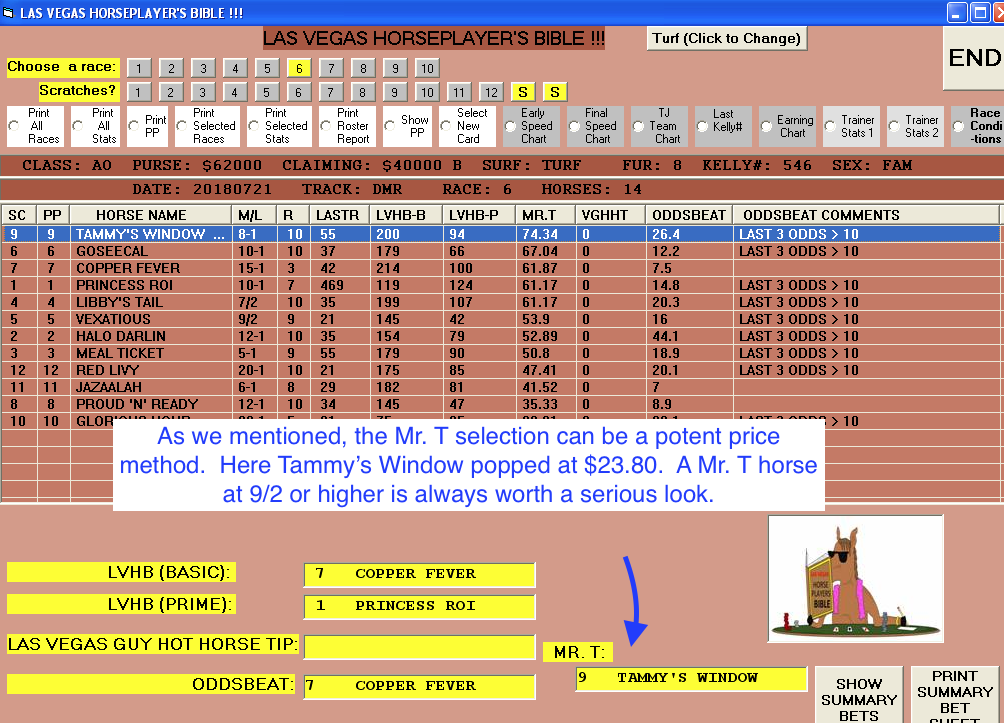 Double LVHB Horse + MR. T Exacta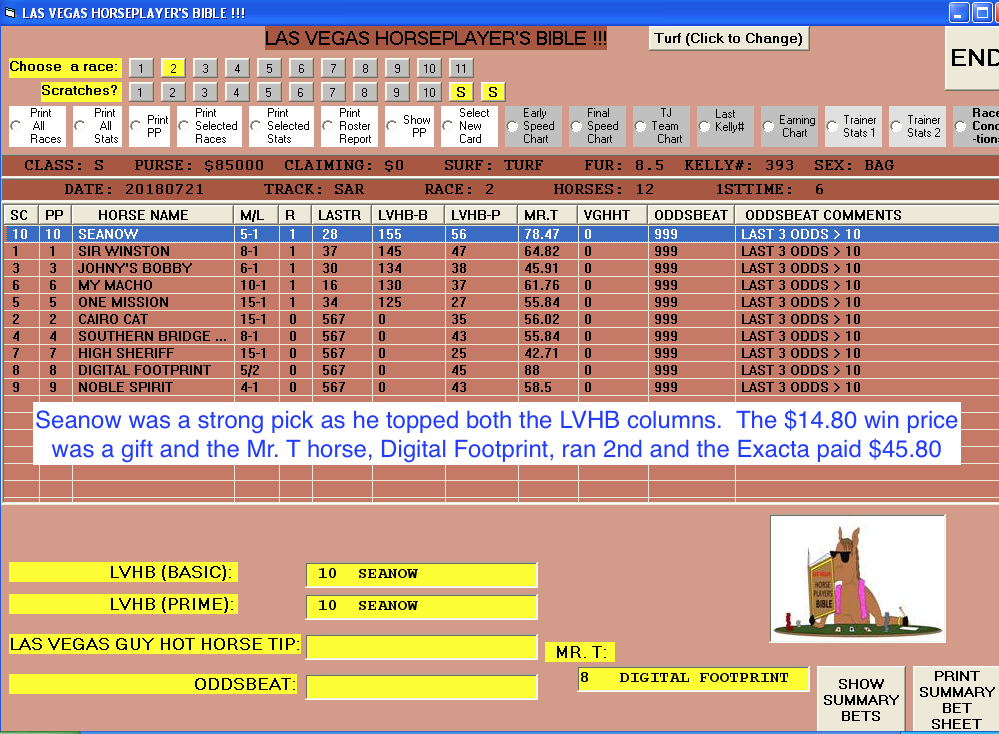 Three different horses on screen — you can pass or

☟
A couple of quotes from our Beta testers:
"Guys, you know that I am usually super thorough when analyzing your software and I always call it as I see it (which is why I think you value my opinions.  But, hey, I have nothing, absolutely nothing bad to say about LVHB.  I feel like I just opened a great Christmas present.  Love all the features, all the angles and especially am honing in on Oddsbeat & Mr. T — some great prices here." 

Dylan Strong, Miami, FL
"I've been waiting for this one.  This was my all time favorite method ever when you had it in just book form.  And now with these new features (love the Las Vegas Guy Hot Tip Horse!) you have once again outdone yourselves.  It is beyond me that some players are still paying $1,000+ for software that does not come close to holding a candle to yours.  Another great job guys." 

Donald Salinas, Grand Prairie, TX.
So, Now it's Up to You

, and we are going to be very gentle and offer you The Las Vegas Horseplayers' Bible Software Deluxe Edition for just

$148.
But….
at some time, within the next 21 days, we will be increasing the price to $197, so don't dawdle – make a decision soon. 

And, of course, all of our software products carry a full Money-Back Guarantee.
So Call us SOON at
1-800-696-0067 
or order from our website 
www.rpmhandicappinggiant.com
And, of course, do call us if you have any questions whatsoever.   Thank You, Dave & Len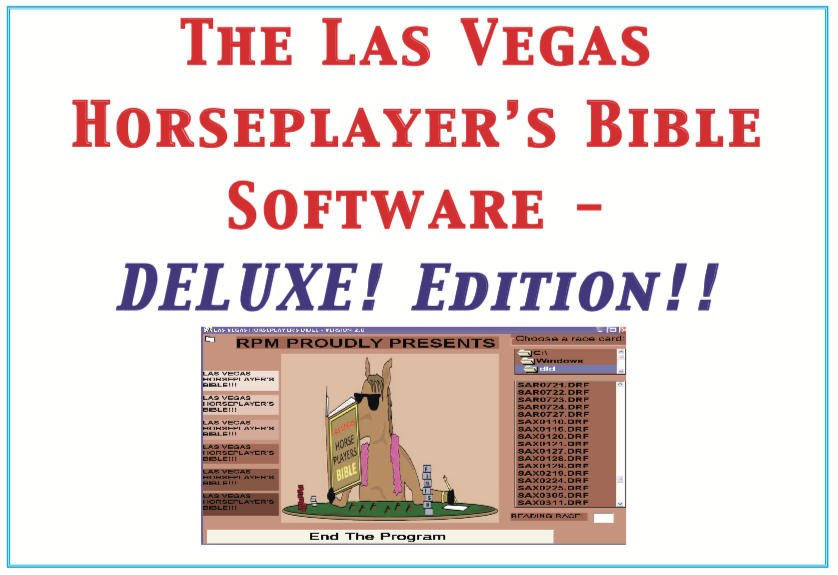 The Las Vegas Horseplayers Bible Software Deluxe Edition (mailed version) $148
The Las Vegas Horseplayers Bible Software Deluxe Edition Download $148
The Las Vegas Horseplayers Bible Deluxe Edition Paper version $59.50
So
The Las Vegas Horseplayers Bible Deluxe Edition Ebook  $49.88
Additional information
| | |
| --- | --- |
| The Las Vegas Horseplayers Bible | Ebook, Paper version, Software (mailed version), Software (download version) |