$49.50
An Extremely Easy-to-Figure, High-Percentage Speed Method That Will Get You a Win/Place Horse 64%+ of the time.
Description
New!
An Extremely Easy-to-Figure, High-Percentage Speed Method That Will Get You a Win/Place Horse 64%+ of the time.
Plus... We're Going to Send You —

FREE!

— A Real 'Sleeper' we just got the rights to publish –
and

this One Has A Win Rate of Well Over 50%!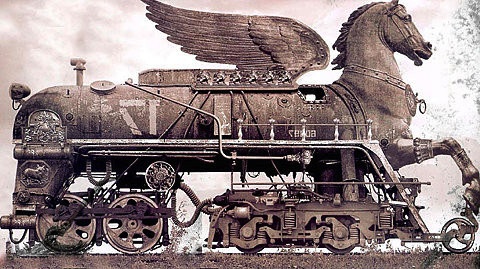 We do our research well.  
We look at every method sent to us that looks promising

.  Only about one in ten make the 'profit-making' grade we require.
Just recently, two 'grade-makers' came our way.
Both are very, very easy to figure and both produce sensational results.
And the second one, 'The Big 5 Secret To Picking A Winner', which we just the other day got permission to publish, we are going
to include FREE when you purchase the first, The Selectrix Speed Method!
We'll let the authors introduce their creations:
Selectrix Speed Method
Isolating High-Percentage Win Candidates Via The Speed Factor
by Jonathan Drake
About two years ago I authored a speed-based method entitled 'Catch 'Em If You Can'.
It proved a very accurate contender selector and received favorable reviews.
Since then I have experimented with many additions to the method, and about six months ago landed on a factor that improved the hit rate considerably.
I fine-tuned a couple of the qualifying rules as well, and the result is a system I call The Selectrix Speed Method.
We'll first proceed with the same discussion provided in Catch 'Em If You Can, since it is important, and then lay out the rules for the new
Selectrix Method

.
Speed Wins Races
If you were to ask horsesplayers what the single most important winner-producing factor in thoroughbred racing is, chances are many of them would come up with the correct answer:
Speed.

 But when asked how to utilize that factor successfully in their handicapping, most would simply scratch their heads.
The fact is that the vast majority of main-track races on this continent are won by horses who are either a) Frontrunners, or b) Possess tactical speed.
 'Tactical', in this case, means being able to lay within 2-1/2 lengths or less of the leader at the 2nd call of the race.
With this knowledge alone in hand, it would make sense to simply concentrate on speed horses in our handicapping,
since we know that this all-important trait will be a winning factor in over 80% of main-track races.
But we nonetheless find millions of dollars thrown away daily on horses whose lack of speed gives them little or no chance of winning.
It's also a fact that speed horses win a higher percentage of sprint races than route races.
And it's important to note that a lot less can go wrong in a sprint race, as far as 'trouble' is concerned, because there is only one turn to negotiate.
Also, it doesn't take a whole lot of racing 'savvy' on the jockey's part to win a sprint race, whereby 'tactics' and 'strategy' come into play at the longer distances.
So what we're going to do here is show you a very simple method to isolate speed horses who have a very good chance to finish 1st or 2nd in sprint races.
You'll be able to go thru the average race and spot the likely contenders quickly, and then apply the necessary 'points' to select the ultimate play.
Now I'll tell you up front that I am not a professional horseplayer.
I work a 40-hour week in the retail service industry and get to the track only on weekends, holidays and during my vacation.
I have used this method for years during my casual visits to the track, and have been able to pay my way and then some.
I've had days with six winners, and a few weekends where I didn't cash a bet.
Overall this method has been very good to me, however, and it has proven an excellent vehicle to isolate Exacta 'key' horses.
You can no doubt enhance the results by applying some other logical handicapping factors.
You will find that the method as it is written, though, an excellent way to isolate contenders, especially for Exacta play.
The horse earning the most points is your play.  That's all there is to it!  
Now, as mentioned previously, you can make the method even tighter by injecting a jockey/trainer consideration, or the horse's win % over the last couple of years, etc.
Try it out for a five to 10 day period – you will find that your top qualifier will win close to 39% of the time and hit the Exacta close to 64% of the time.  
The average win mutuel over a study of  61,000+ races was $6.71, which resulted in a +31% ROI.
I will also, of course, send you my Exotic wagering strategies, which will add to your fun and profit using Selectrix.
The BIG 5 Secret To Picking A Winner!  – Extremely High win/place percentage!!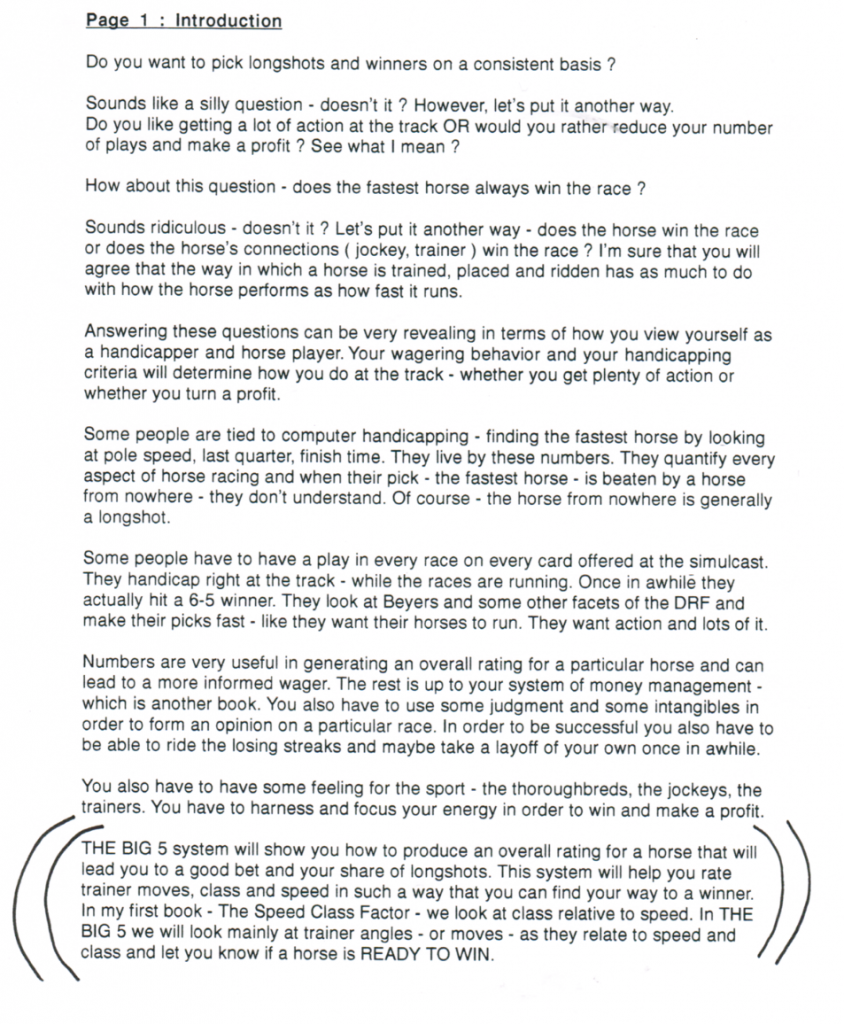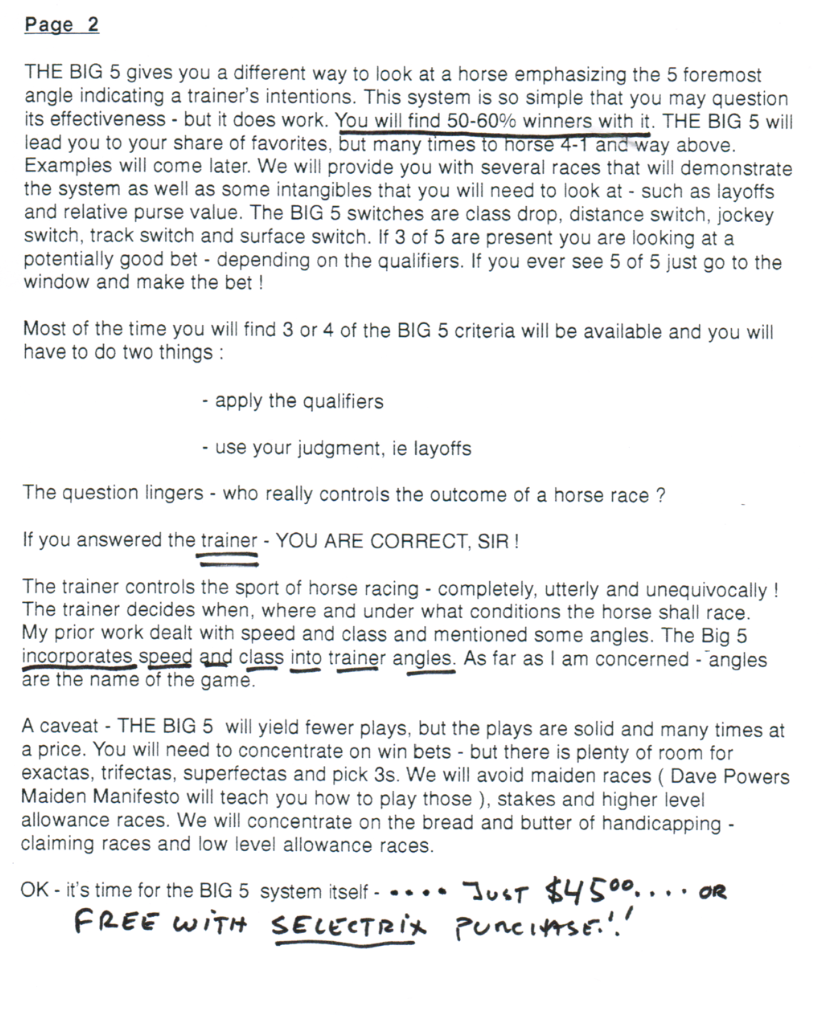 So here's the deal, and it's a good one!  Order the Selectrix Speed Method for must $49.50,
and we will also include The BIG 5 Secret, a $45.00 value, for FREE!!
Both are super high-percentage win/place getters and are extemely quick and easy to use.
We guarantee your trips to the cashier's windows will increase substantially — that's a promise, and it is backed up by a full money-back guarantee.
So you have absolutely nothing to lose, and a whole lot to gain!  And, of course, give us a call if you have any questions whatsoever.  1-800-696-0067