Sale!
Description
The BK Secret, The Software!
+++++
Check Out the 3-Pack FALL Super Bundle!!
Three of our Best Selling Software Programs for one Low Price!!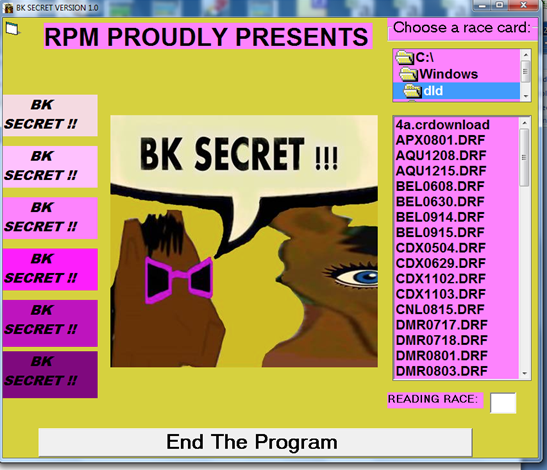 Remember, some of the most successful players in the game are Angle Players.  Some have just one angle they've stuck with for years, while others have several angles they pull from.  BK Secret! has several profitable angles rolled into one!
With a win rate approaching 36% and a Positive ROI of 41%, plus frequent big prices and a great Exacta/Trifecta hit rate, BK Secret belongs in your handicapping portfolio.  And it works on all types of tracks, all levels, and on all surfaces.  In fact, it had a great couple of days on the toughest of all races to handicap, The Breeders' Cup. 
11 Winners from the 22 races – multiple place & show cash-ins – several Exactas/Trifectas, including payoffs of $518, $360, $160 & $77

.  See summary results below.
Screen Shots Below: 
BK is perhaps the best overall contender selector we have seen in quite some time.  The Betting Guide, which comes with the software, explains which horse(s) are the best bets and how to play them for maximum profit efficiency.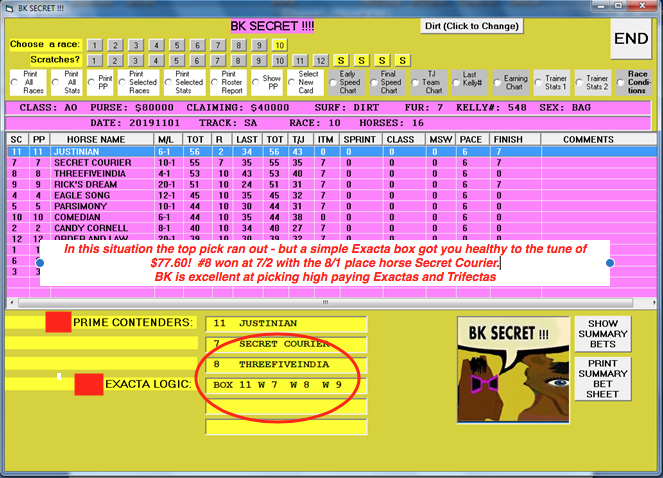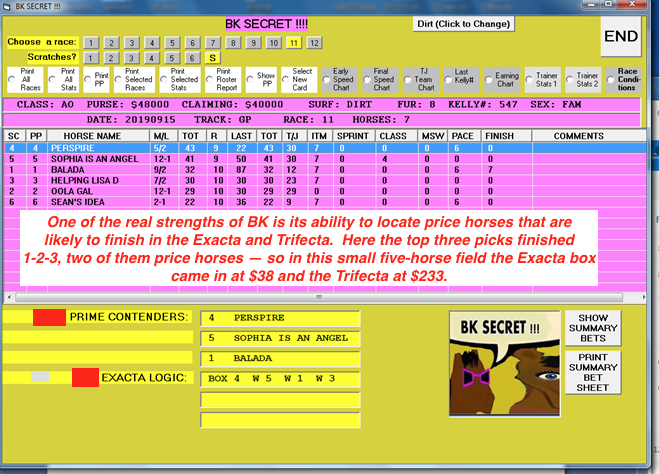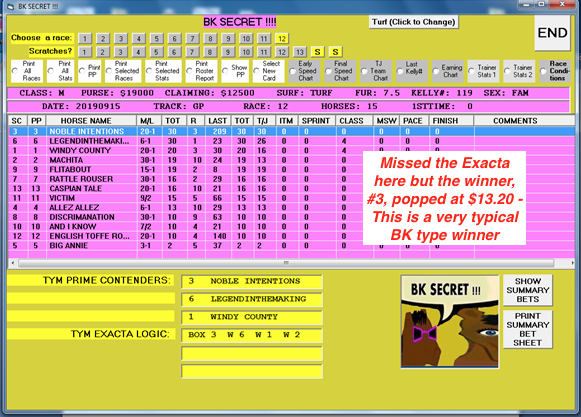 If you really, truly want to make a profit at this game, face the reality that it isn't all a bed of roses.  

But if you are persistent, and don't cuss out the jock or trainer or system-writer, or whoever, every time your horse runs up the track, then you have a darned good chance of pocketing some extra cash.
And

The BK Secret!

will help you do just that!  Superb Consistency combined with Solid Payoffs.

And we've made the price affordable to everybody, just

$97.50

, complete – and that price also includes all the original paper angles!

>>>

P.S.
– LOOK!!  The FALL 2023 3-PACK BUNDLE!:
T
he Peter Dallas Experience – Professional Handicapping at its Best!
, and
The Pops & Tips Exacta/Trifecta Module!
The Peter Dallas software RETAILS for
$128
and the Pops & Tips
$74.50
, but if you purchase all 3, your price is just
$155
, a $145 savings!  
Check out the Web Details for
The BK Secret Software   $77.50
BK Secret Hard Copy  $59.00
BK Secret Ebook   $49.50
The Three-Product Fall Feature Bundle  $155.00!!
Additional information
| | |
| --- | --- |
| The BK Secret Software | Ebook, Hard Copy, Software, The Three-Product Fall Feature Bundle |