$74.50
The Pops & Tips Precision Exacta/Trifecta Module is a very practical way to enter the world of Exotic wagers with an assurance that you will come out on top over the long haul. 
Description
The Pops & Tips 'ET' Precision Exacta/Trifecta Module!!
Feeling left out of the high-paying Exotic wagers others are cashing?? — Well, now you can join the Win-Crowd, too!!  A Safe and Profitable way to nail Exactas/Trifectas/Superfectas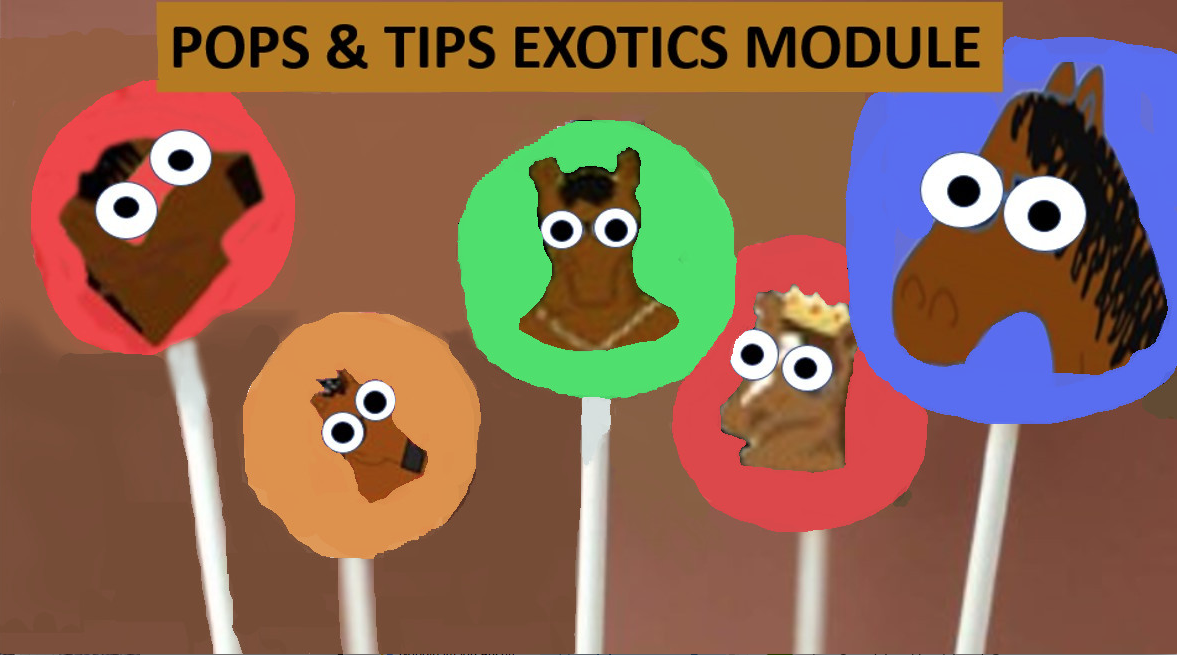 The original Pops & Tips, which is now known as just TIPS is, in many handicappers' opinion, is the best mechanical system ever produced.
Of course, TIPS was ingeniously programmed by Len Cz into an amazing Software program — a program that is so well thought of that it elicited a 64-page discussion, the biggest ever, on a popular handicapping website, with close to 100% positive commentary.
———————————
A few weeks ago Len, who was at a Vegas racebook with some friends, watched three horses that were prominent in the TIPS Program complete a Trifecta of $5,459 — the Exacta paid $831.
It came to him that there was no reason he could not redesign the TIPS program to focus on catching lucrative Exotic payoffs and that very evening went to work on it.
Using his very, very large database, he began to search for factors that would produce relatively consistent Exacta and Trifecta results, while at the same time have the potential to catch some giant payoffs.
  'I was surprised to find that the very first formula I programmed seemed to produce exactly what I was looking for.'

Len says, 

'So, I ran it over thousands more races, then another 35,000 race test, and the production was the same.'
I was hitting just about 40% of the Exactas and close to 21% Trifectas. 

For results tabulations I only played Exactas if there was at least one horse at 5-to-1 or better in the box, and for Trifectas I required that at least one horse was 8-to-1 or higher and one other was 5-to-1 or higher (I was doing 4-horse boxes with Exactas and 5-horse boxes with Trifectas).

  Also, I limited play to races of 8 horses or more.
'I then discovered that by

'KEYING'

, instead of Boxing, the results were even more profitable, resulting in overall lower wagering amounts and overall higher payoffs.'
'The overall ROI on Exactas was +33% and on Trifectas +41%.  Of course you will have some runouts playing in this style,…
>>>

but you will also very, very likely hit some of the biggest exotic payoffs of your horseplaying life. 

Some of the most successful players I know stick strictly to exotics — now I see the reason why.'
—————–
So The Pops & Tips Precision Exacta/Trifecta Module is a very practical way to enter the world of Exotic wagers with an assurance that you will come out on top over the long haul. 
While Len's database test never hit a $5,000+ Trifecta, it did hit 

$4,781

,

$4,222,

$4,001

, and

$3,792

payoffs and several in the $1,900 to $3,600 range.  Most, though, fell in the $150 to $850 range. 
The Biggest Exacta came back at $1,123 and a whole slew came in between $400 and $1,000.  Most were in the $60 to $260 range.
>>>

The real

SECRET

to Profiting in the Exotics is BETTING STRATEGY!  While choosing the contenders is important, when Exactas & Trifectas are involved the critical element is how you arrange your plays.
Let's look at some examples (screen shots) and we'll explain how the wagers are calculated.
We start out with a monster payoff at Keeneland in a cheap $10,000 claimer.  The Exacta Key Wager came in at $303.2o and the Trifecta at $3,792.00.  Do payoffs like this occur often – no, of course not, but they do occur, and anyone using this software or this betting strategy would have hit these.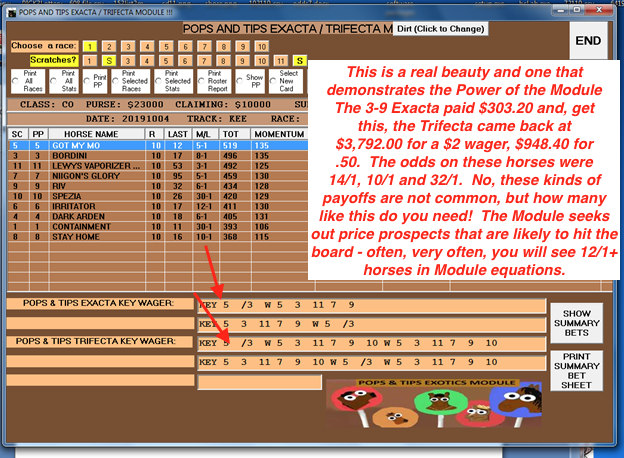 What The Pops & Tips Exacta/Trifecta Module uses is a KEY strategy that involves two Key horses. 

  Look at the Exacta Key Wager Box at the bottom —  The Key horses here are 5 & 3  (5/ 3)  —

we are keying these two horse to the 5-3-11-7-9 for one ticket, and then playing the 5-3-11-7-9 to the 5/3 for the other ticket.

  This way we win the Exacta if the 5 or 3 wins and any of the other horses come in 2nd — or any of the other horses come in 1st and the 3 or 5 come in 2nd.  The example below shows you what the tickets would look like (tickets not from the actual race, of course, since it was in the past – these are for illustration using current races as examples as this is composed):
As you can see, each ticket costs just $8 for a $1 Exacta, and the first ticket is the winner as the 3 was 1st and the 9 was 2nd.  Keying like this is a very economical and accurate way to bet small amounts to potentially win big amounts.
In the TRIFECTA, we are using the same KEYING strategy, though you are dealing with three finish positions.  In this case we had the 3-9-10 on the first ticket, which would cost $20 for a .50 Trifecta.  We are keying 5/3 in the 1st position with 3-5-7-9-10-11 in the 2nd and 3rd positions.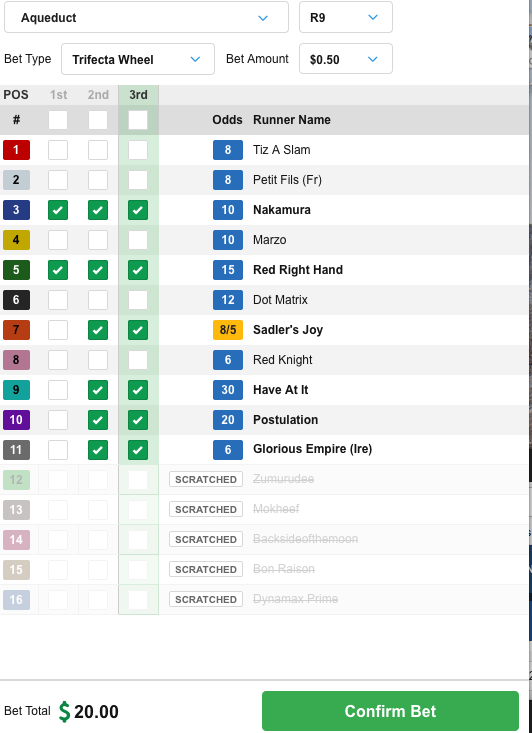 These tickets are very easy to play if you are using an internet provider, or if you were at the track you would tell the mutuel clerk:  Trifecta Key 3-5 with 3-5-7-9-10-11 with 3-5-7-9-10-11  –  the other ticket would be 3-5-7-9-10-11 with 3-5 with 3-5-7-9-10-11.  So if the KEY horse, 3 & 5 run 1st or 2nd with any of the others you win the Trifecta.
Let's look at some other screenshots.  Note that the Module not only works superbly for Exactas and Trifectas, but is also great for making Dutch Bets with double-digit returns.  And if you are a Superfecta fan, these wagers can be extended to cover Supers as well: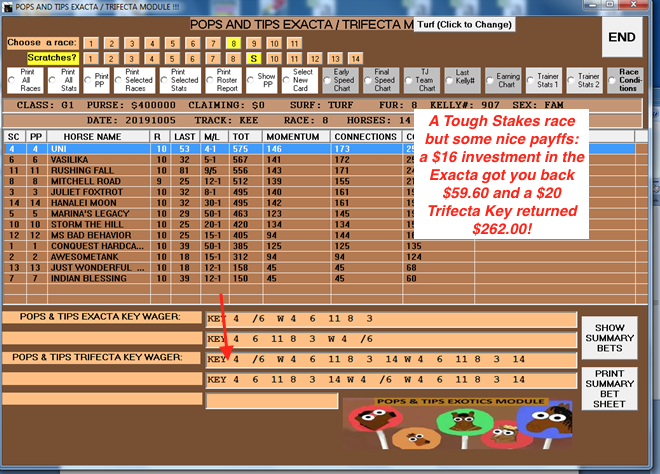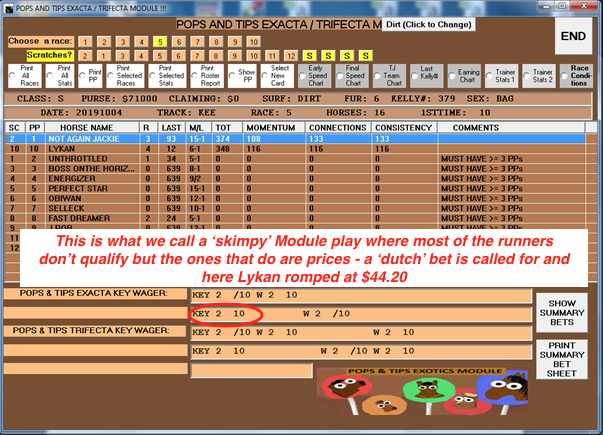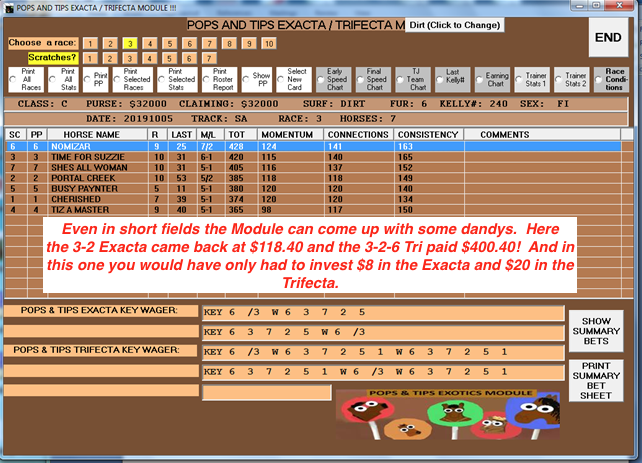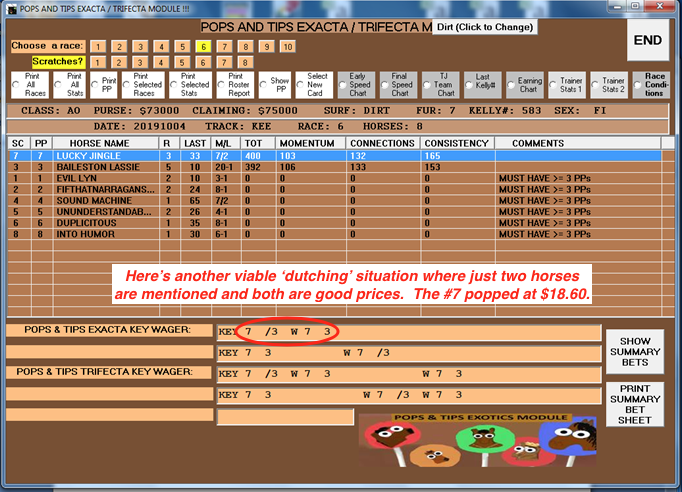 Now, betting Exotics is not like betting to win/place/show.  You will, of course, have longer runouts,
but the rewards are potentially so much greater.
>>>

And, the great thing about the Module is that if you are conservative, you can bet one or both of the KEY horses straight or in a dutch.  And, get this, one of the two Key horses will run at least 3rd 84% of the time!
But the real Beauty of the Module is that it allows you to risk relatively small amounts of betting capital to win a lot.
And, Beauty #2 is that the Pops & Tips Precision Exacta/Trifecta Module has a great price-point — just

$74.50

!  So get started today.  We absolutely 100% Guarantee you that you will hit some very, very large payoffs with this software. 
Call us at
1-800-696-0067

or order from our website.  And, as always, call us with any questions.  Thanks!
The Pops & Tips Precision Exacta/Trifecta Module  $74.50