$85.00 – $137.00
The BIG 4 + 1 Methodology provides an average of 3 to 4 Solid Plays per track per day.
Description
NEW From the Tom Worth Company!
A 'Marriage' of the Worth Company's all-time most profitable methods!
A System of Play that provides the user with a:
+83% ROI on the Win end!
+62% ROI on the Place!
+70% ROI on the Show!
@83% of all BIG 4 + 1 Plays will run at least 3rd!
@61% of all BIG 4 + 1 Plays Will Hit the Exacta!
The BIG 4 + 1 Methodology provides an average of 3 to 4 Solid Plays per track per day.
Runouts with the BIG 4 + 1 Methodology are virtually non-existent — In our bigger tests, we've seen 10 or more consecutive show payoffs many times.
Easy to Use — Provides the user with

'Automatic'

plays and what Jon calls an

'Ace In The Hole'

play, a brilliant trainer angle move!
Software Version – 'Automatic Play' — an absolutely incredible hit, with the Exacta 'cold as well — a $126.40 Win Payoff, and the $274.60 Exacta two times!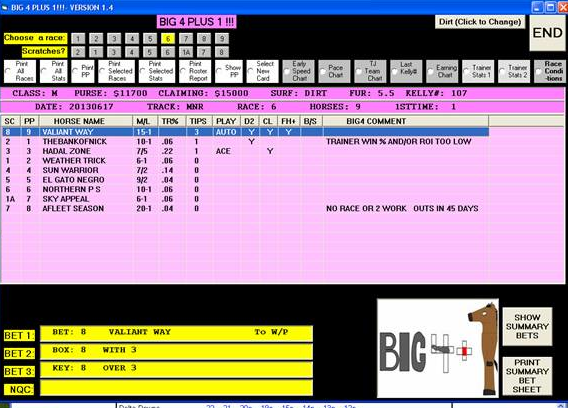 Software Version – 'Ace' Play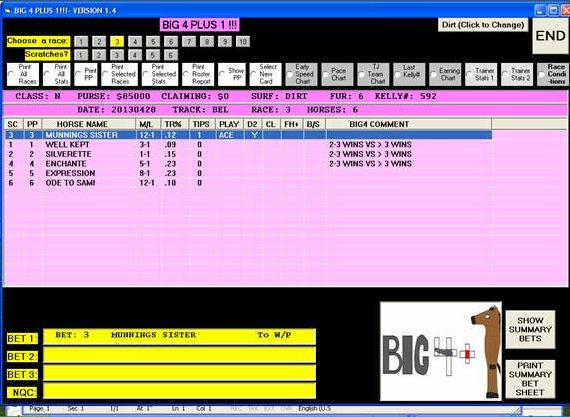 The Big 4 + 1 method has two 'power' plays, one called the 'Ace', which is largely a trainer competency move, and the 'automatic' play, which considers performance factors.  Above is a great example of an ACE play, where in a small field Big 4 still uncovered a $20.80 winner in Munnings Sister.
Software Version – the NQC Play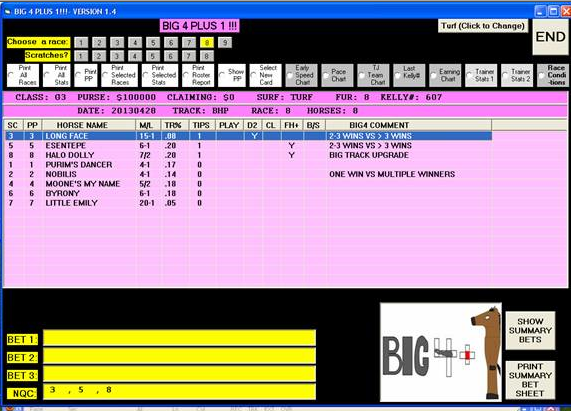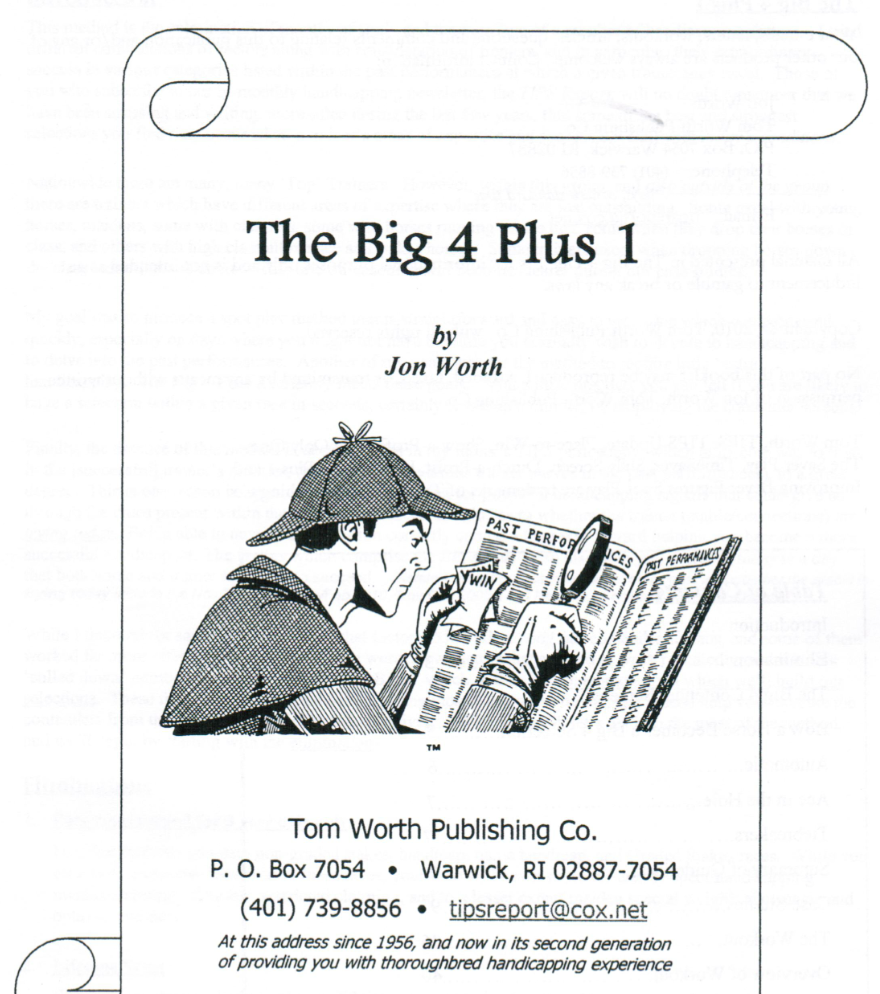 The Big 4 + 1 software program is a powerful wagering tool.  The primary plays, the 'automatic' play and the 'ace' play, are where you are going to find your best opportunities, especially on the place and show end.
However, often you will find races that have no ace or automatic plays, but still have contenders.  We call these NQC, or Non-Qualifying Contenders.  When these are present, you will find them listed to the right of the BET 4: designation.  Our research shows that the winner can often be found among these horses, some at very nice prices, and, at times, a good Exacta payoff.
NQCs have at least one positive Big 4 factor going for them, but fall a bit short of being full qualifiers.
In the screenshot above is a situation which we see often in the Big 4 program.  There are three NQCs, 3, 5 and 8.  The 3, Long Face, is at 14-to-1 and runs 2nd to the 8, a decent $75.60 Exacta payoff being the result.
When an NQC is at 8-to-1 or higher, it is always wise to use that horse in any exotic wagers you may be making and/or, throw an across-the-board wager on him.  When two or more NQCs surface, and at least one is 6-to-1 or better, consider an Exacta box and/or a wps wager on the longer price.
It is also advisable to use NQCs in your Pick 3 and Pick 4 sequences.
**RPM NOTE: 

Jon Worth developed this method a couple years back but was hesitant to release it because he feared wide distribution would hurt the average
mutuels, especially the show mutuels (since Jon plays mostly show bets and show parlays).  We assured him that given the fact that only a few hundred
would be distributed and not all the users would be playing everyday, that his fears were unfounded. 
So Jon agreed, providing we would limit sales to 400
copies and, when the software version came out, just 250 copies.
Below we have produced Jon's initial workout, and you can see why he was so excited. 
We have also included the much, much larger 4-1/2 year RPM study,
and you can see that the overall results were very similar.
We have no doubt that, provided the simple rules are followed, The BIG 4 + 1 Methodology will
provide the user with similar results, and even better results by following the Exacta wagering suggestions included with your purchase
.
**
Jon's Introduction to Big 4 + 1 .  The rest of the very thorough and detailed text, starting with the elimination rules, is of course included in the booklet when you receive it.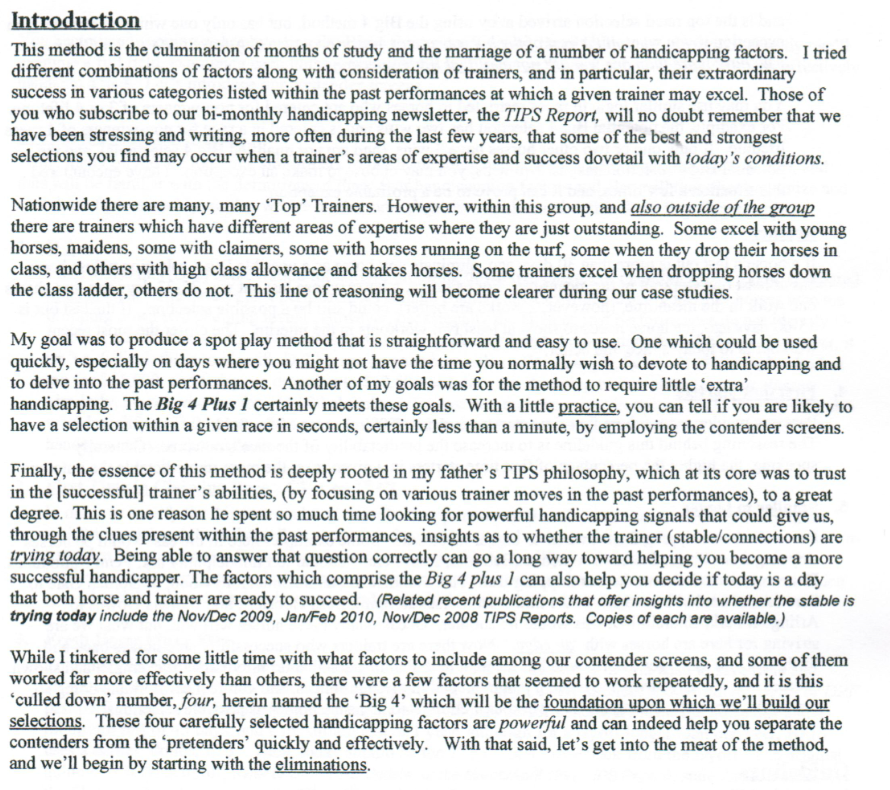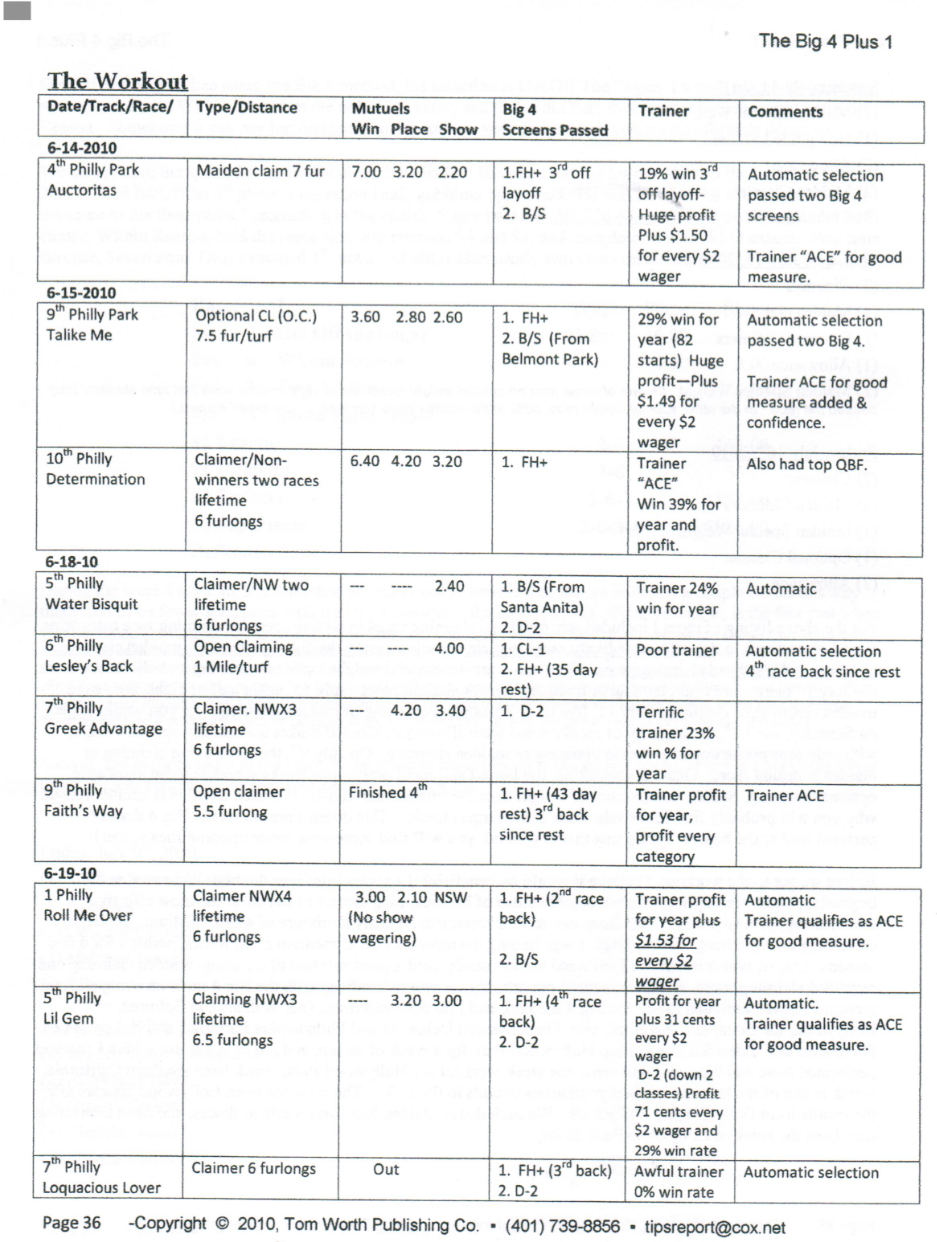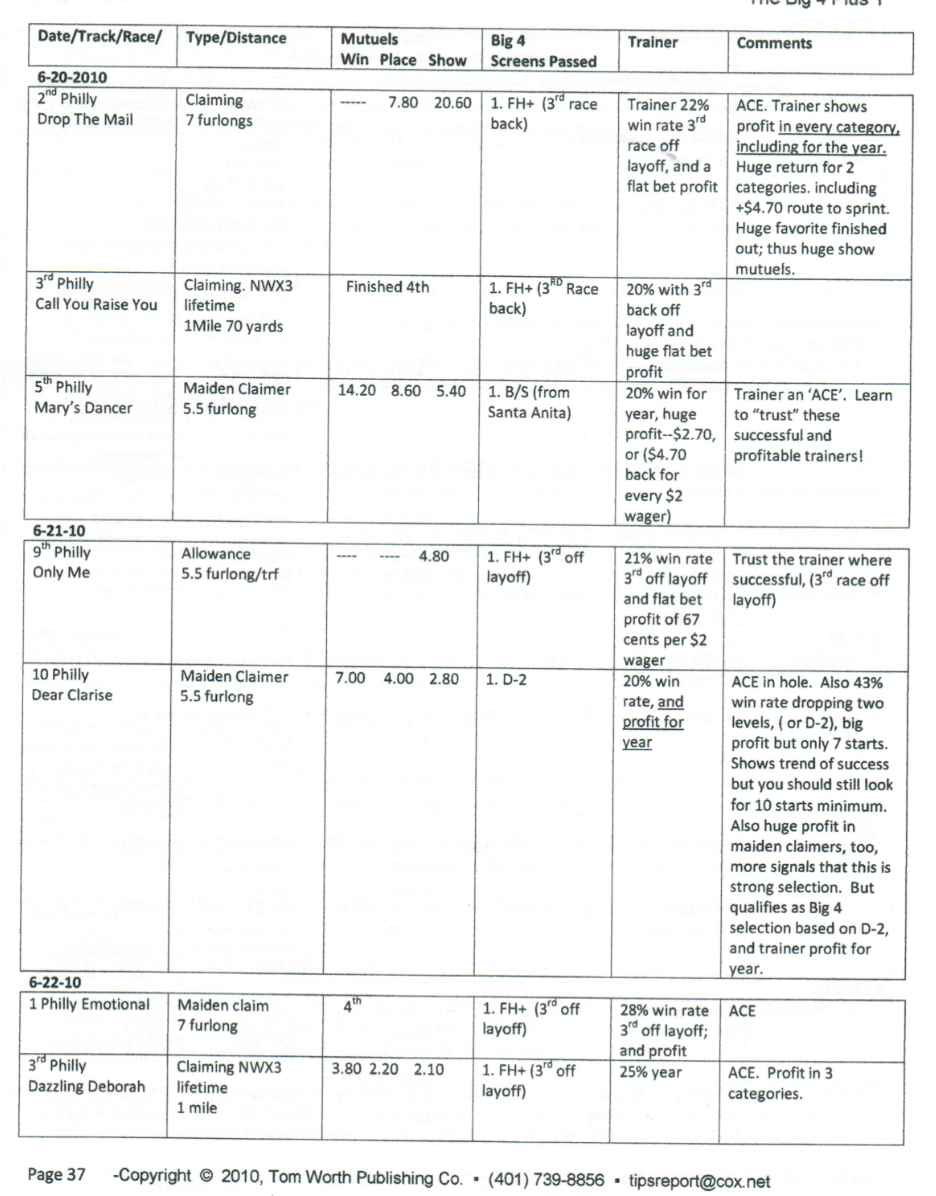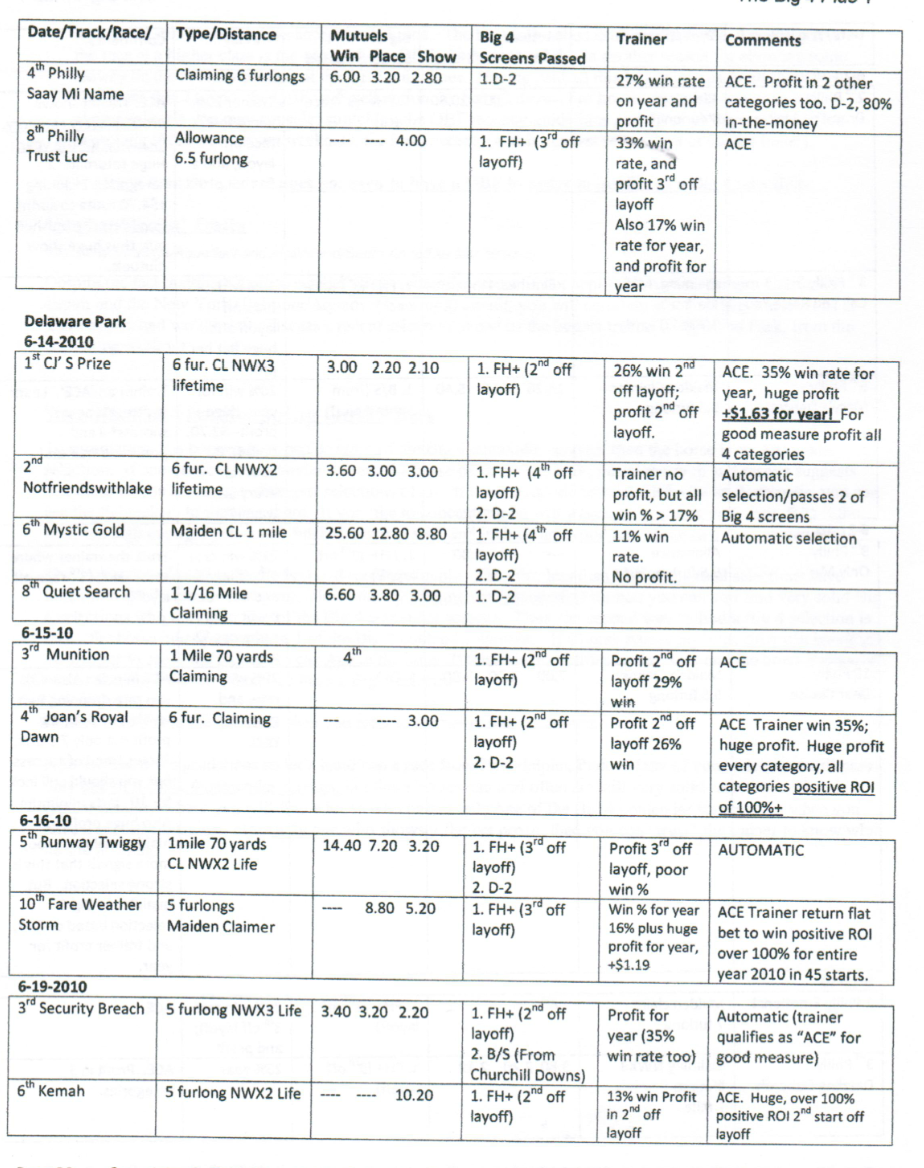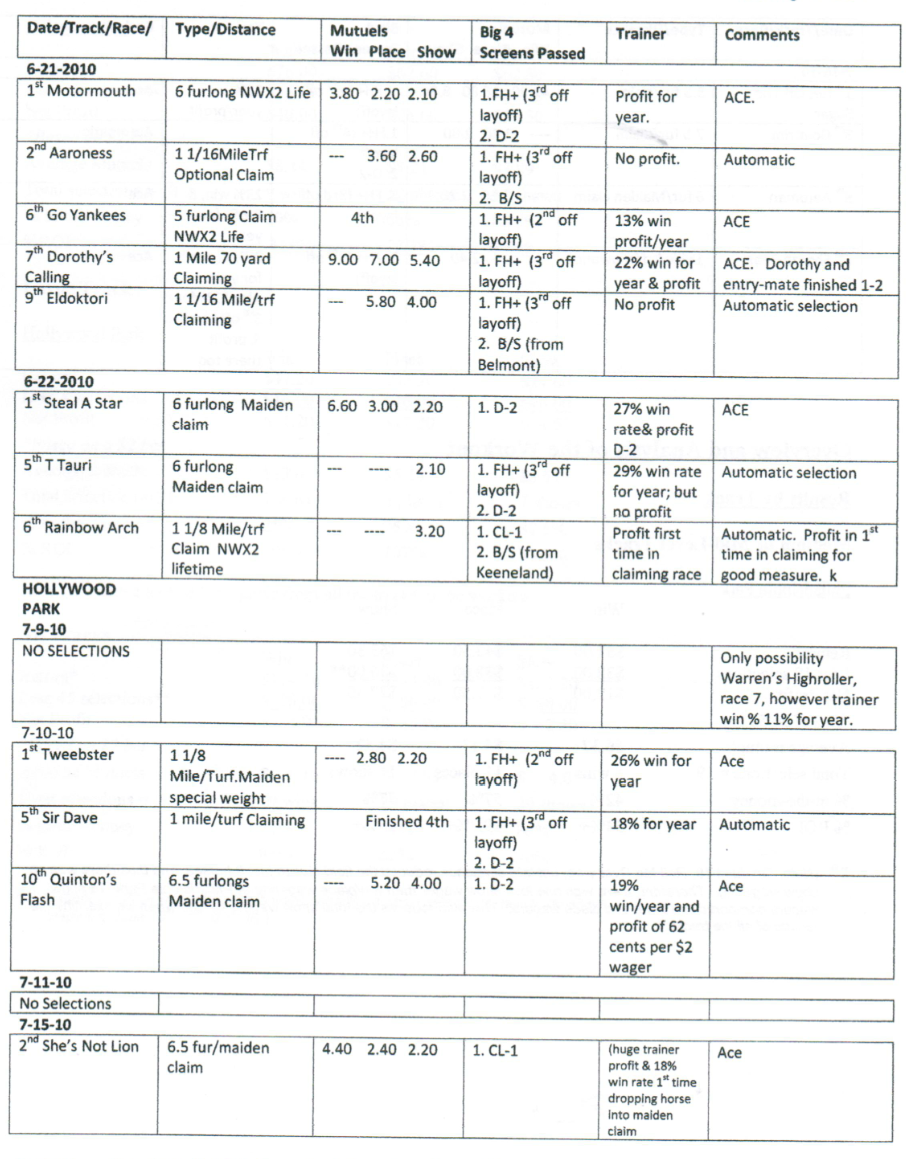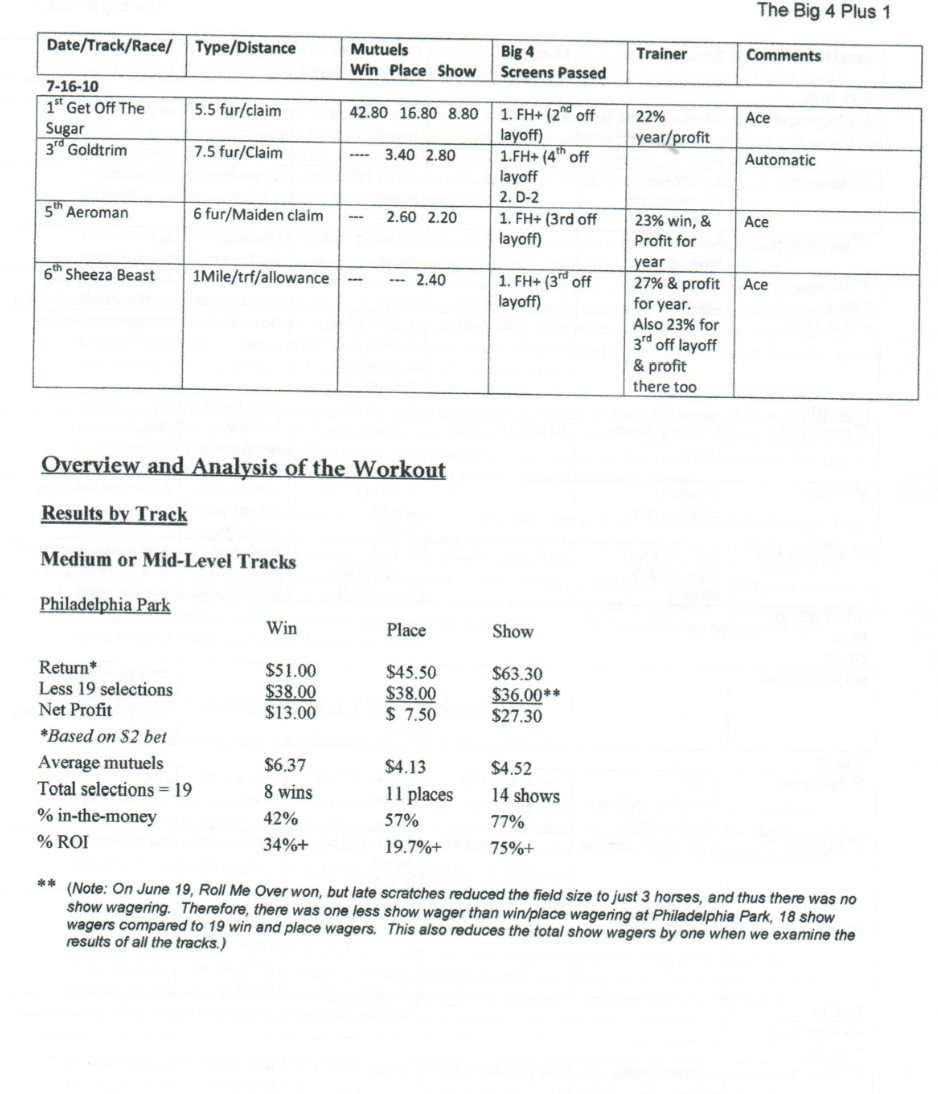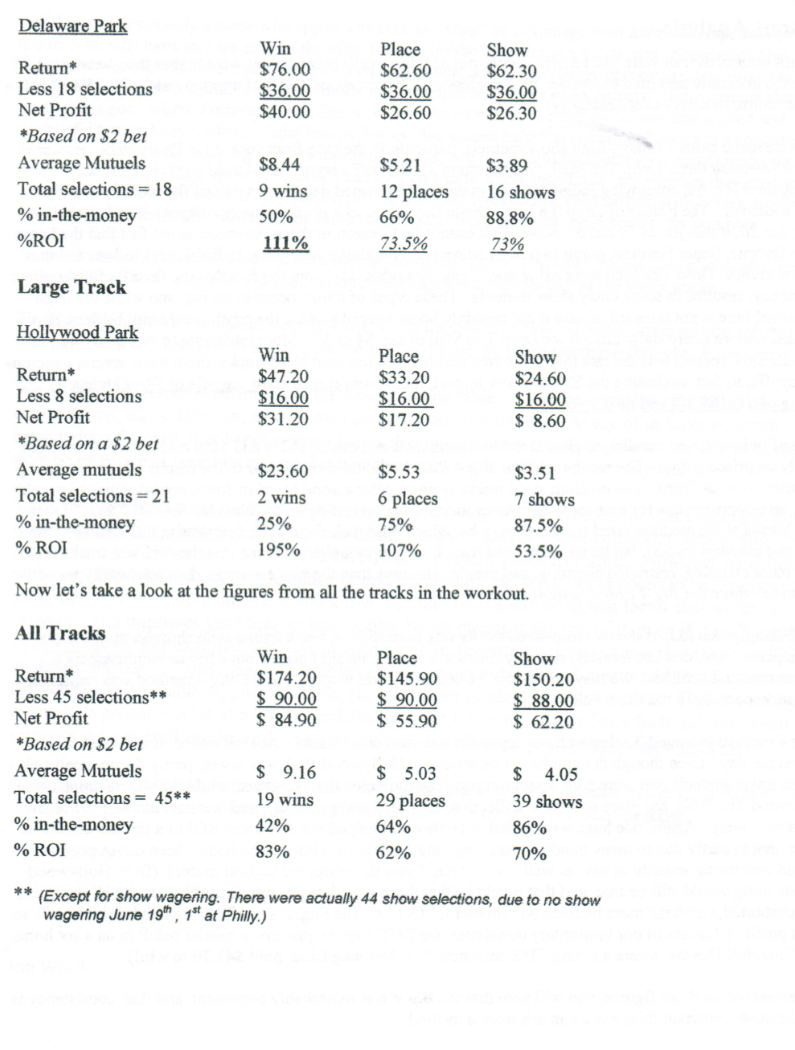 You can see from these results, even though the sample was small, that The Big 4 + 1  Methodology is an ideal tool for the player eager to make a serious assault on the races. 
The 52-Month RPM study (below), while showing reduced overall %'s, nonetheless confirms that The Big 4 + 1 Method is a steady and consistent winner.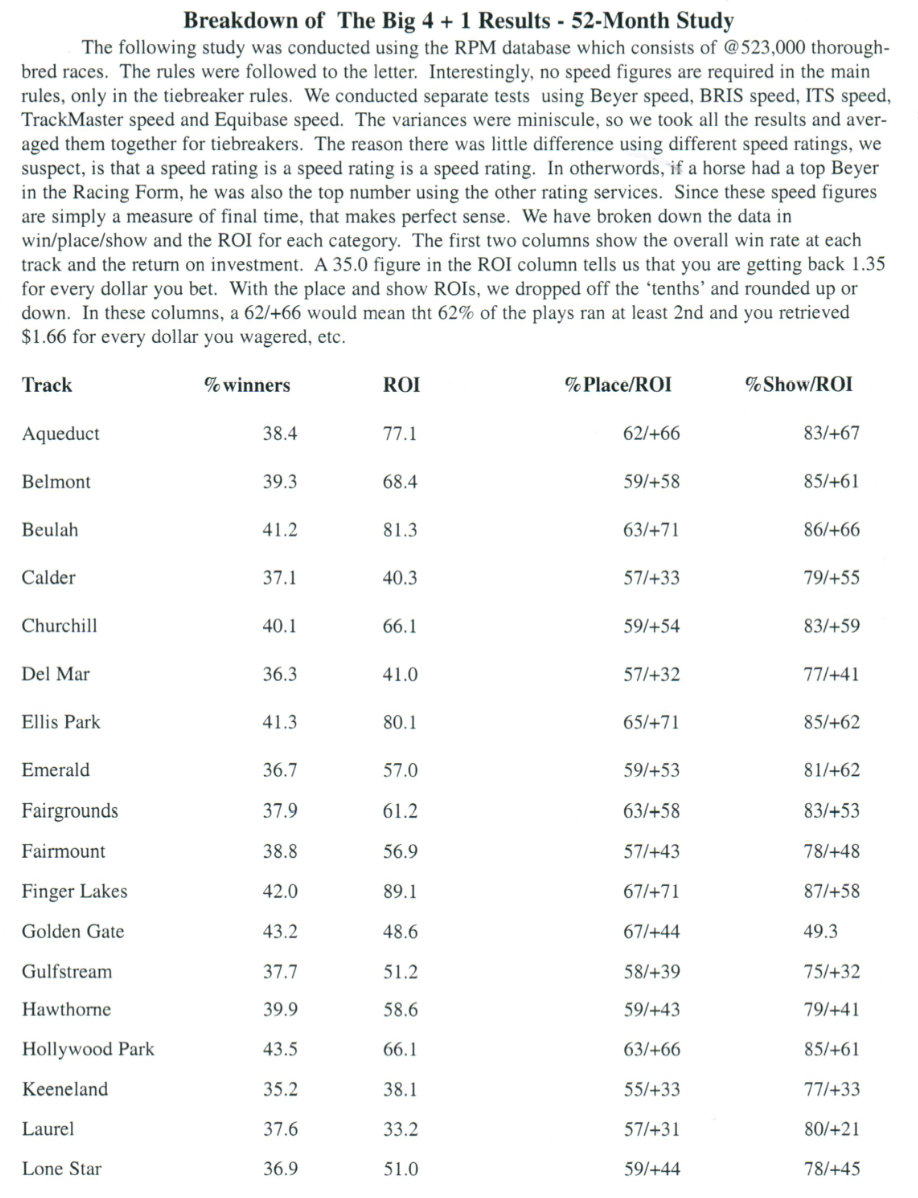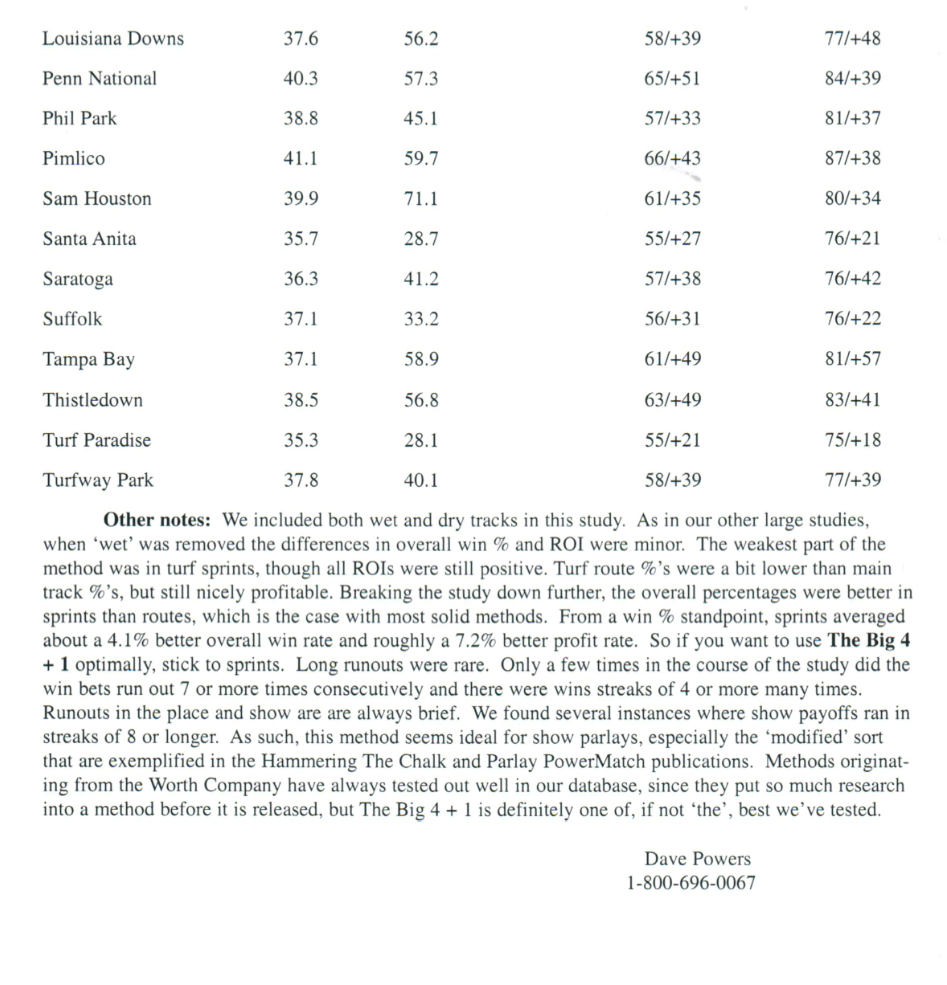 The BIG 4 + 1 Methodology is a thoroughly researched, proven profitable method of play. 
It is easy to figure and use, and will produce consistent results with minimum runouts. 
"I've always enjoyed the Worth Company's products.  Months of research goes into each and every method they produce, and the resulting product manual, from explanation of the rules to the examples to the wagering strategies are the most complete and understandable I have ever seen.  I have personally tested The Big 4 + 1 Method, and can tell you straight out that it delivers everything it promises(including a $27.20 winner at Santa Anita today! 4/11 – race 3)."  

     Tom Console
"To me, Tom & Jon Worth have always been the 'show-wagering' kings.  I have literally made a living wagering (I primarily do show parlays) on their selections from their Show-A-Profit method, Place-To-Win method and their recent Fitness Factor method.  And just when I thought it couldn't get any better, along Jon comes with The Big 4 + 1 Method, which has resulted in an even higher average mutuel for my show plays.  Yes, I use the system daily and observe that nice money can be made playing to win and place as well, but I am so comfortable and feel so safe with my style of play that I will just stick to the 'show'.  Thanks for another great product!"
Bob Shurig, author & pro player.
The Price is a very reasonable $85, a sum which you should easily earn back in your first series of 8 or 10 plays. 
Remember that 'show parlaying' is also an excellent way to go with BIG 4 + 1.

 
*****If you do not already have Hammering The Chalk, or Parlay PowerMatch,
which allow you to implement show parlaying to its maximum efficiency,
simply request one or both and we will include them free with your purchase.

****
****NOW, if you also want to purchase the software version, your price will be just $137,
which includes the paper method.

Call us at 1-800-696-0067 to order, or use the buttons below to order.  And, as always, contact us if you have any questions whatsoever. 
Additional information
| | |
| --- | --- |
| The BIG 4 +1 | Paper & Pencil, PP + Software |