Description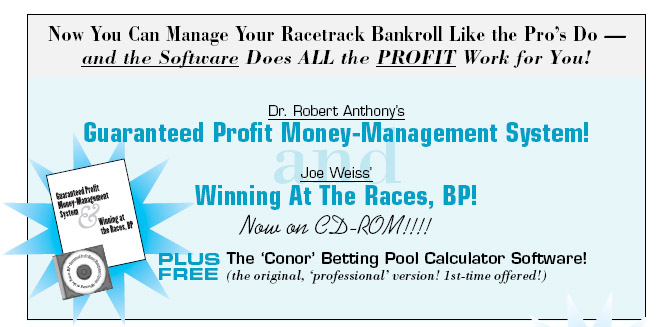 You now have the option to simply load these programs onto your computer and let the software do all the work for you!  SPECIAL:  

FREE Conor Calculator!  + SPECIAL $88 Price – save $41!!

You will know exactly what your next wager will be, which will allow you to follow these winning strategies to the letter without the worry of an error on your part. FOLLOW THE PLAN AND YOU WILL WIN!!!

And the 'SMART STAT©' option programmed into the software will let you know when your current wagering situation doesn't fit one of the strategies and gives you the option to use the other! Keeps track of your bankroll, too!
You now have the most SOPHISTICATED, PROFESSIONAL MONEY-MANAGEMENT TOOLS available for your racetrack profit pleasure at just a click of your mouse!
'An extremely powerful tool' says professional player/computer handicapper Tom Console, 'I just wish I had figured out how to program these strategies first!'

No downloading required—just one simple 'entry' on your part and the software does the rest!!
"Why, oh why have I wasted all these years, losing much more often than winning, when all the time these money management plans were there for me?! Because I was stubborn and wanted to do it all myself. What a dummy!! Thanks so much for your money-managment software— what a gas it is to watch my profit ledger grow and grow on almost a daily basis now!" — Jack Donaghan, New Brunswick, NJ
Bankroll Management is the name of the game. As Dick Mitchell once said 'Show me a average handicapper who has a good money management plan, and a great handicapper who has none, and I can guarantee you the average playerwill far outperform the 'expert'.'
And he's absolutely correct. A fair-to-middlin handicapper who has a good bankroll management plan will always out-win a superior handicapper who doesn't have a clue as to what money-management at the racetrack is all about. And, now, managing your bankroll at the track, using PROVEN money-management strategies, has never been easier. And one very BIG reason for that is that our expert programmer, Len 'Cz', has put BOTH:
Dr. Anthony's Guaranteed Profit Money-Management System! and Joe Weiss'
Winning At The Races, BP!

, on computer software.

BOTH PROGRAMS ARE NOW ON A SINGLE CD-ROM THAT YOU SIMPLY LOAD ONTO YOUR HARD DISK AND PUT TO WORK FOR YOU!

Winning players know that by using these strategies their racetrack experience is enhanced by providing them with a way to make money with even a low overall win percentage (a mere 22% win rate is required with Dr. Anthony's method—even less with Joe's. Of course the higher the win percentage, the more money you make!).

BUT THINK ABOUT THAT: You can win just one out of five of your wagers and still make money at the racetrack. That's the beauty of a good money-management program, and you have here two of the best!

AND NOW THE SOFTWARE TAKES ALL THE GUESSWORK OUT OF YOUR WAGERING CONCERNS i.e., THE PROGRAM DOES ALL THE WORK FOR YOU! In fact, THINK ABOUT IT: WHILE IT PREVIOUSLY HAS BEEN DIFFICULT TO USE THESE STRATEGIES ON MORE THAN ONE RACETRACK AT A TIME, YOU CAN NOW PLAY SEVERAL TRACKS AT ONCE BECAUSE YOU ARE NO LONGER INVOLVED IN MAKING ANY OF THE BETTING CALCULATIONS YOURSELF! REMEMBER THIS ALWAYS: THERE IS NOT A SUCCESSFUL PROFESSIONAL IN THIS GAME WHO DOES NOT EMPLOY A GOOD, SOLID MONEY MANAGEMENT PROGRAM. WHEN YOUR RACETRACK OPERATIONS ARE RUN LIKE A BUSINESS, YOUR CHANCES OF SUCCESS INCREASE IMMEASURABLY, AND THE GUARANTEED PROFIT MONEY MANAGEMENT SYSTEM AND WINNING AT THE RACES, BP, BOTH ALLOW YOU TO DO JUST THAT!
"It is getting to the point where a smart player will lose at the racetrack only if he/she really wants to. This may sound silly to the legions of players out there searching for racing's 'holy grail', but the fact is that with a good selection system (computer or paper-and-pencil) and these outstanding money management systems, which are now on CD-ROM and leave absolutely no guesswork to the player, your racetrack operations truly will run like a successful business venture. Can you honestly afford to be without these tools? Sure, if you want to continue to lose your butt at the track. But why not try something different for a change, i.e.,winning. This product is priced at about 1/4 of what I think it should be, but that's the guys at RPM for you—totally fair in every way. Bottom Line is: GET IT!!' – Dr. Bruce Peters, author, Wager Value Handicapping
And that's not all!
You are also going to get, FREE OF CHARGE, Len Cz's
'CONOR CALCULATOR'!
(Professional Betting Pool Efficiency Software)
Did you know that there are betting situations where you simply cannot lose? And other situations where you will realize a profit 80% to 95% of the time. How, you may ask? By spotting inefficiencies in the betting pools.
Len has developed a tool he calls The Conor Calculator, which allows you to plug in the numbers from the Betting Pools to discover these almost-certain PROFIT situations. This tool was developed for a professional who runs @$2 million bucks thru the windows annually and it has never, ever, been offered to the public before! But now it is available—and you, too, will be able to profit from it—and best of all:
This $59 retail item is included absolutely FREE!! You can't beat a deal like this with a stick!! And the price for the whole works? The Guaranteed Profit Money Management System, Winning At The Races, BP and The Conor Calculator, all on one CD-ROM? Just $88! Hey — Don't delay — start playing — and winning — like a PRO today!!
RPM product order item #6543 $129.00 Special  just $88.00