Description
The Software
The Magic Square Software contains three potent angles:
The Magic Square

 Taulbot's Best Angle

 Fabrique's Twenty One & Done
All three of these angles produce solid longterm returns within the suggested wagering parameters:
1)Magic Square Selections:  Play at morning line of 5/2 or higher.  Play 2 units win, 5 units place, 8 units show.
2)Taulbot's:  Play at 3/1 or higher morning line odds – play one unit win, 5 units place, 9 units show.
3)Twenty One – play at 4/1 or higher morning line odds – play 2 units win, 4 units place, 10 units show.
The Exactas should be played in a box but only when at least one of the horses has a morning line of 5/1 or higher.
As far as the exotics go, we have also provides a 'visual' magic box animation so you can see how the top contenders are laid out.  When you click on the picture in the lower right of the main screen it will generate the following animation: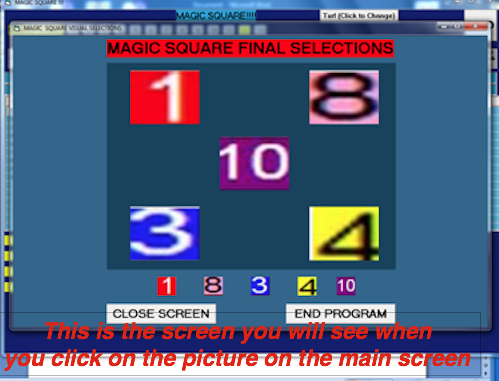 While you can always look at the main screen for plays, this gives you a visual representation of the horses to be used in the Exacta and Trifecta.  If there are four or less horses on this screen, that indicates an Exacta box play.  If there are five horses on this screen, then you can still play an Exacta, but this also suggest you have a good shot at hitting the Trifecta by boxing all five.
Below is an example where all of the angles select the same horse.  This situation provides the user with a very high % (close to 58%) win place and Exacta key situation.  Felix The Cat ran 2nd at 4/1 and the Exacta was hit as well.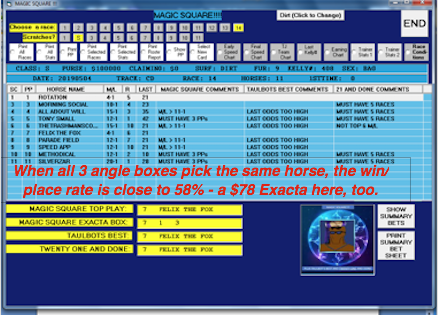 The Magic Square Paper Version  $59.50
Magic Square Ebook   $49.88
Magic Square Software  $87.70
Additional information
| | |
| --- | --- |
| Magic Square | software, paper, ebook |