Sale!
$54.88 – $128.00
New for 2022

  — 

Products that continue to provide you with a Major Edge on the Game!
Description
As usual at the beginning of every year, we Introduce some of the Best Products that we have analyzed over the previous two or three months. 

Below you will find our newest, very exciting, offerings — all designed to keep you on the cutting edge of the game!  So watch your email inbox and give us a call

1-800-696-0067

if you have any questions!

All RPM Software Powered by Iron Horse Software Innovations©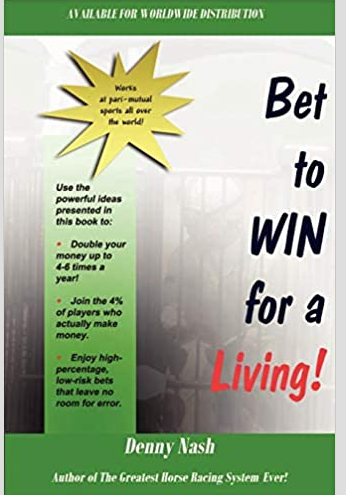 Denny Nash's
Bet to WIN for a Living!!
This is the one we've been trying to get our hands on for a couple of years now and, 😃
Yippee

, here it is! 
Out of print for well over a decade, when this book was made available on Ebay it immediately went for $471!
A True Classic, Bet to Win for a Living!
lays out a winning formulation
in very straightforward rules which it then implements with a couple of time-tested bankroll management strategies.
From Denny: 

'Bet to Win for a Living will show you exactly how to join the elite 4% and make your living betting on horses. You will learn Who to Bet, How to Bet, When to Bet, When NOT to Bet, Exactly How much to bet – it's 100% automated – there is no room for error. We've taken an old idea that sounded good but didn't make money and finally made it work!'
Stick to the rules, use the bankroll management strategy(s), and you will find your racetrack fortunes improving dramatically!  

On Software, too!!
Len Cz's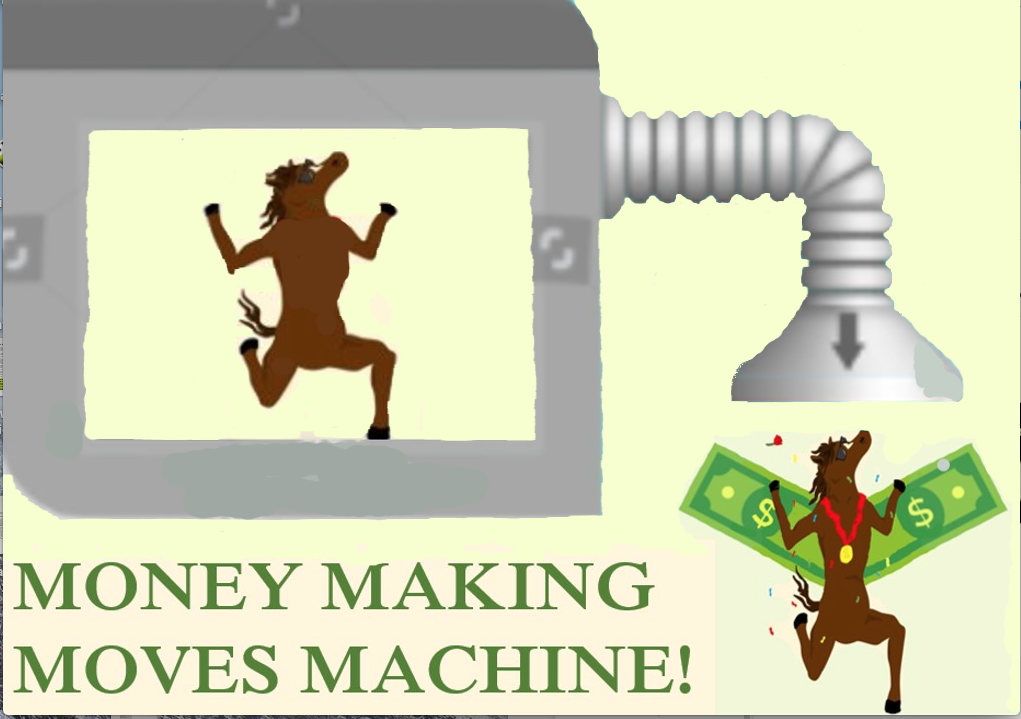 Money Making 'Moves' Machine!!
A NEW, Innovative Software Program from the Games #1 Handicapping Programmer!
☛

This program analyzes

'Mini-Moves'

using

'Feet-Per-Second' Pace Analysis

, moves that are all but invisible to the race or race-replay observer. 
➽

This allows the program to spot runners who may appear to have run a poor race when looking at the pps,

but actually made the kind of move that will result in major improvement in their next race.
From Len:  'I noticed in my research

that certain 'moves' during the course of a race were more significant than others.

  At times these moves take place between calls and are mathematically discernible when making feet-per-second calculations.  My idea was to create an algorithm that would spot these moves in both sprint and route races, turf and dirt. 

The results from both a win/place perspective and a profit perspective were very solid and the program, which I call the Money Making 'Moves' Machine, also gets some great prices. '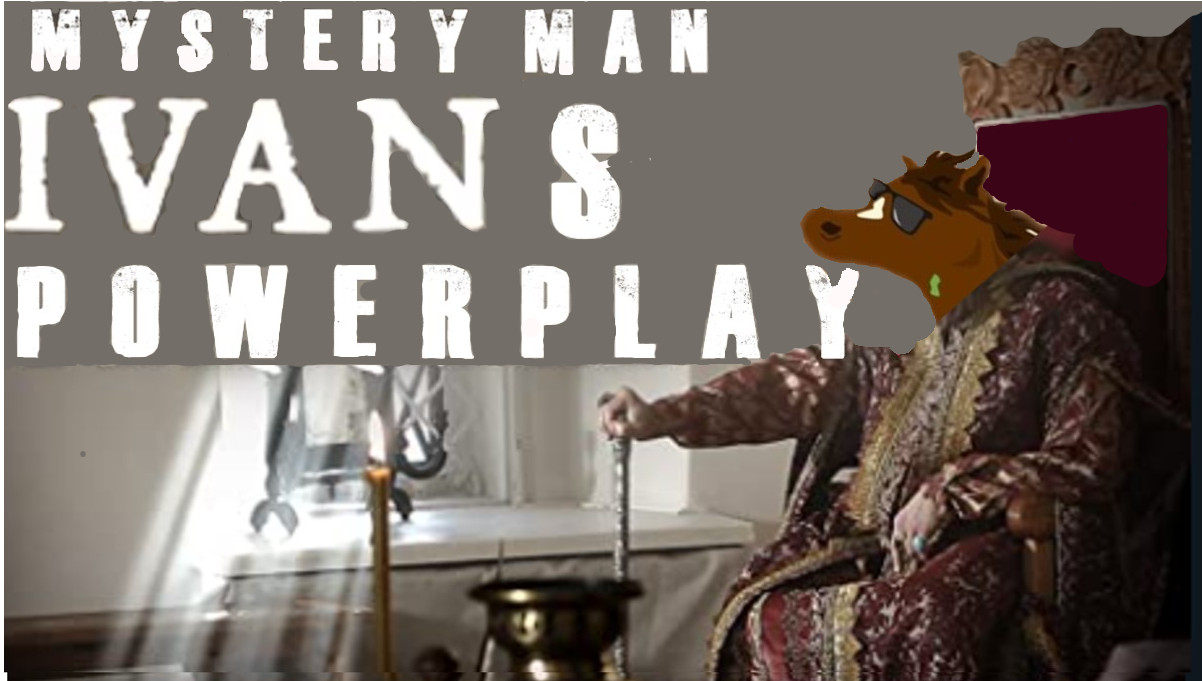 Mystery Man Ivan's Power Play!!
From one of the wildest and biggest betting legends of Southern California racing comes
Ivan Silber's Mystery Man Power Play!
Ivan is somewhat of a 'mystery' to his fellow players, as he is a man of few words and Frequent

BIG

bankroll hits. 
We were fortunate to establish a relationship with Ivan back in the late 90s thanks to his interest in purchasing our company (we didn't sell!)

.  As documented in Dave's Best Selling book Power Handicapping,

Ivan is truly the wildest, yet winningest player we have ever run across. 
Power Play boasts a good measure of consistency and also grabs some great prices and Big Exotic Payoffs.
You'll have FUN with this one!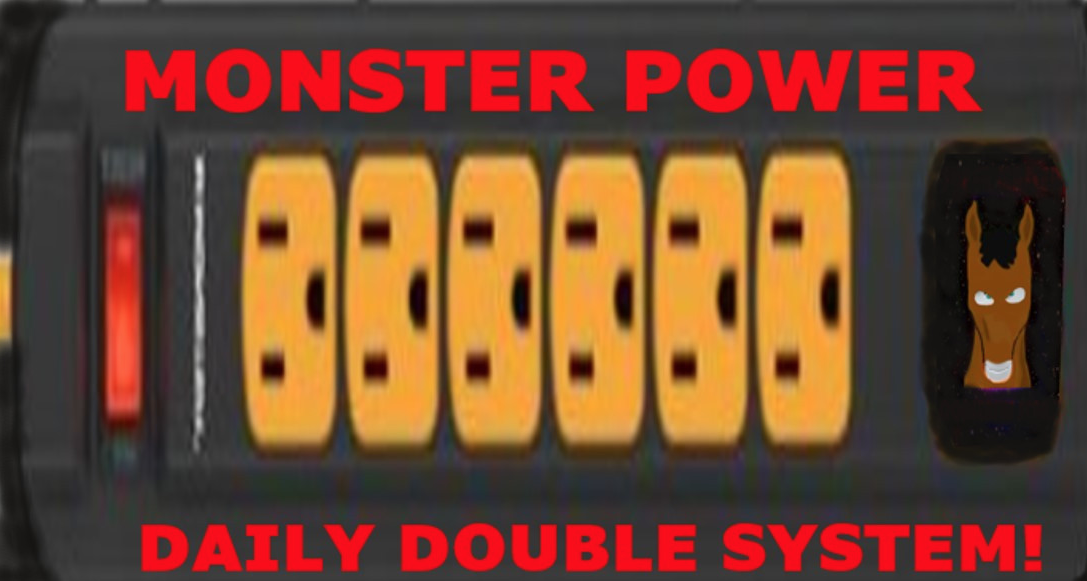 Bert Norman's
Monster Daily Double System/Software!
This is one we discovered in Bert's Best-Selling book,
The Best of Bert Norman!
Bert was brilliant at eliminating non-contenders

, and when you can do that for two races in a row, that considerably enhances your chances of hitting the Daily Double. 
That's the principle Bert has working here,

and not only will you hit close to 40% of the DDs you play

, but often, especially in the bigger fields, you will hit some great, great payoffs!
Bert's philosophy was
'bet a little to win a lot'

, and the Monster Daily Double System!

offers you several opportunities to accomplish that Daily!!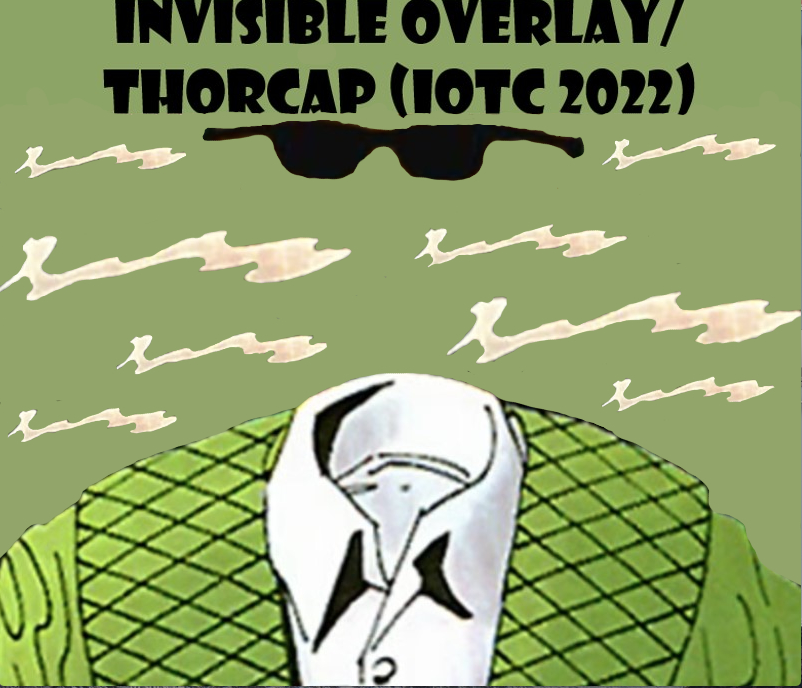 IOTC 2022!
Many years ago, a super clever handicapper from Connecticut created one of the most consistent systems of all time called
THORO-CAP

.  Thoro-Cap received Phillips Racing Newsletters's Highest Rating Ever and Ray sold thousands of copies. 
He followed that up with a system called

The Invisible Overlay

, again super consistent and again highly rated by PRN.
In the early 2000's Len put both in a single program and called it IOTC.  It was a solid program,

but recently he has been reevaluating his programming and found several ways to enhance this already super consistent program.
'Programming has changed immensely over the years', Len tells us, 'and I found that by adding in some of the more innovative algorithms I had developed this program really took off for the skies. 

You will find even more consistency as well as higher average mutuels.  I am very, very proud of this one.'
IOTC 2022

— A Great Program Now an Even Better Program!
So Be on the Lookout

👀 & Call us with any questions 

Take care

,

Dave & Len
Additional information
| | |
| --- | --- |
| Denny Nash | ebook, hard copy, software |