Sale!
Introducing!! SUPER MASTER CONSENSUS STARS! The Perfect 'Blend' of High Performance Systems to Create an Even Higher Performing Software. Works on Thoroughbreds & Quarters!
Welcome to A NEW LEVEL of SUPER-CONSISTENT, PROFIT-MAKING Handicapping Software!
A Program that Utilizes Nearly Two Dozen Proven Methodologies that Virtually Span the Handicapping 📡Galaxy!
👉👉Works Superbly on Both Thoroughbred and Quarter Horse Races!
Description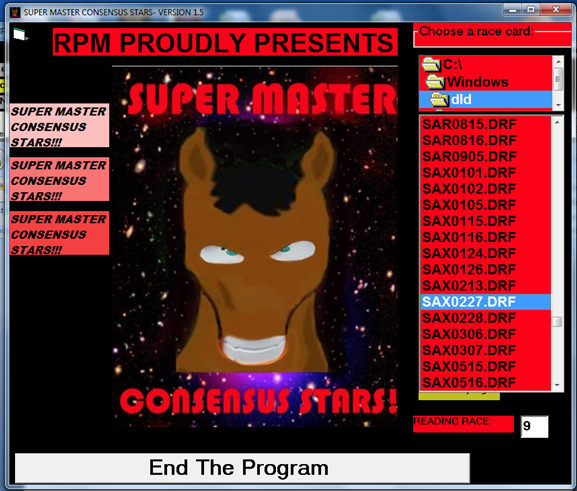 Great New Feature:

  FOCUSED Favorites!
We hear a lot of horseplayers say, ' I don't bet favorites!', and we have certainly been among them.
But with SMCS, Len has developed an algorithm that 🔬focuses on the

likeliest winning favorites.

 
Take a look at the database study.  Here you see the winning % of very low odds horses, 1/2, 3/5, 4/5 and even money. 
Note that the winning %s for these favorites range from 66% all the way up to 100% (only 7 examples of the 0.5, which is 1/2, were found, but they all won).
And note that the profits on these close to sure thing ranged from 3% to 22.5 %. 

These horses also make for very viable 'singles' in your horizontal wagers and you never, ever, want to leave one out of your Exactas and Trifectas.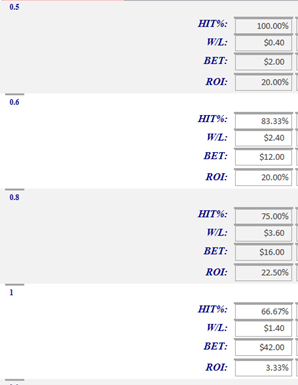 Now look at the

Quarter Horse

data.  Here you'll see that in the odds ranges of 9/5 to 5/2 huge win rates and handsome ROIs.  Note that even at 3/1, there was only a small loss, and 88% of the 3/1s ran at least 3rd: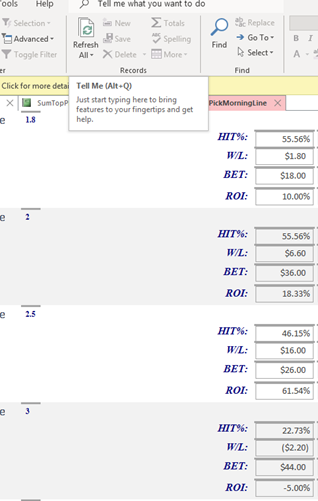 And here's the next level of database studies for thoroughbreds between 9/2 and 8/1.  Big Positive ROIs on all but 5/1, which experienced a miniscule loss.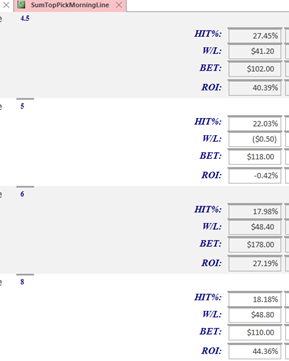 But Prices are in abundance as well.  In fact, at post time odds of 10/1 and over, SMCS logged a +21% ROI. 
The SM Value Line reflects 'True Odds' based on multi-factor analysis and consistently provides the user with enormous overlays.  An accurate, true-value betting line is what separates the Pros from the rest of the crowd, and here, you have a program that accomplishes that for you!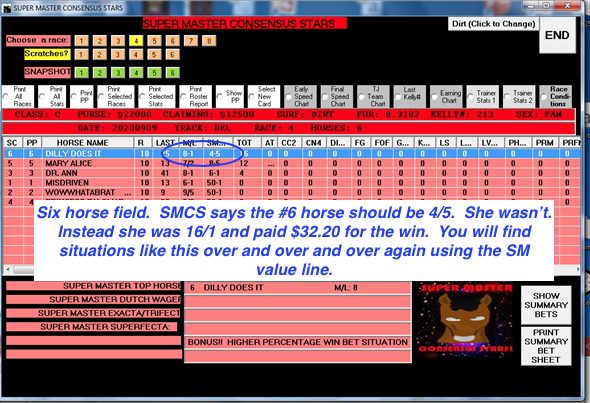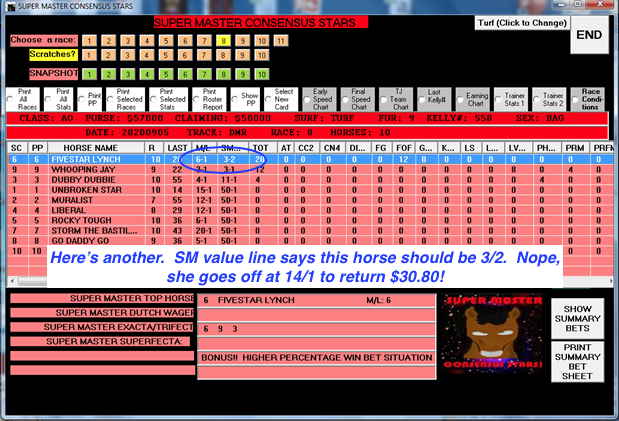 Screen Shots & Columns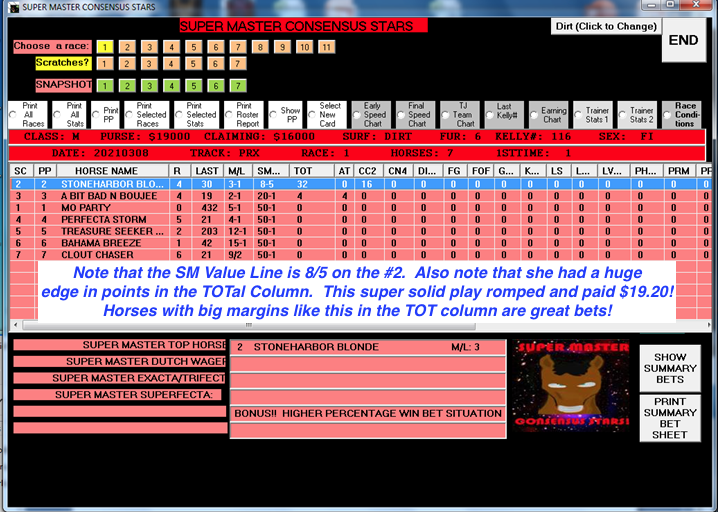 Big Tracks, Small Tracks, Stakes races, Maiden races, etc., etc.  Super Master Consensus Stars has the answer.  And the answer is Super Consistency and Solid Profitability. 
👀Look at this. 

And this is not an exception

.  On most racecards 70% or more of the selections will hit the board and we have hundreds of database examples with four or more winners per card.  

Try accomplishing that on your own!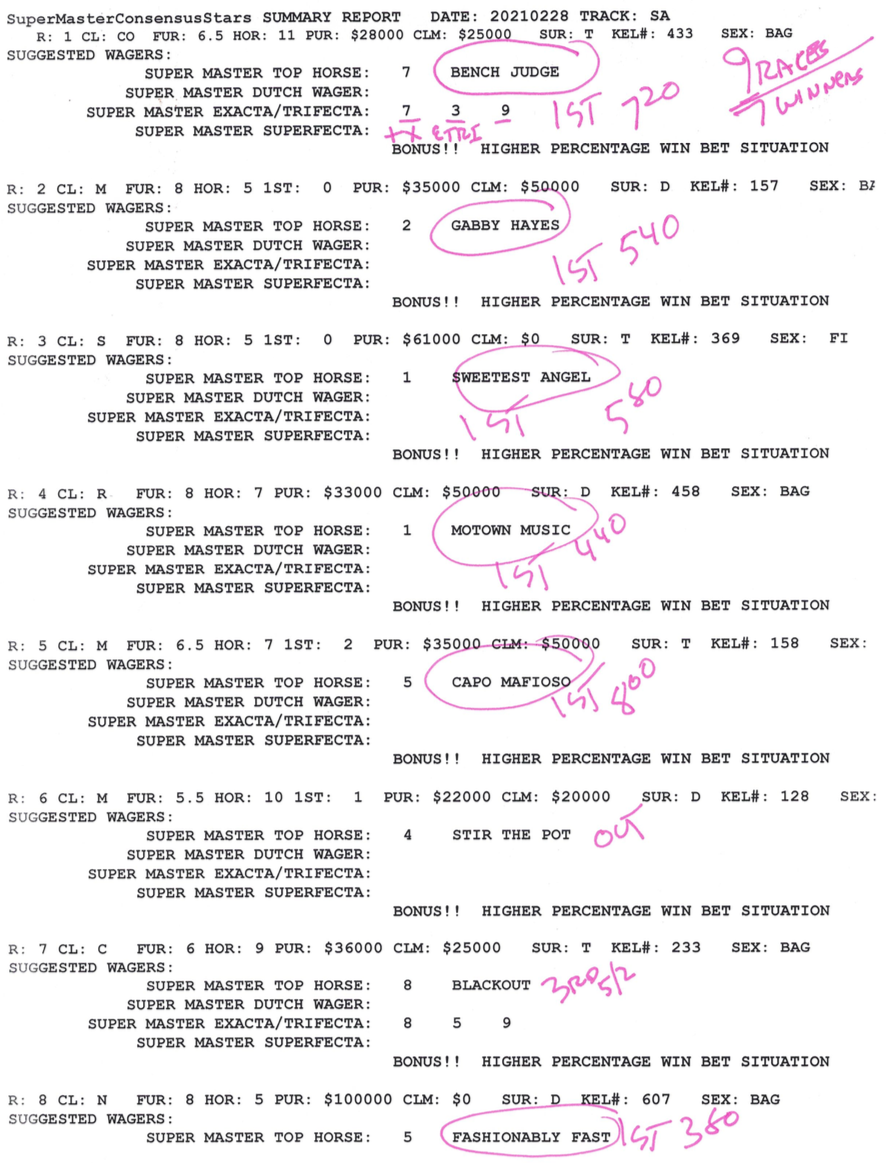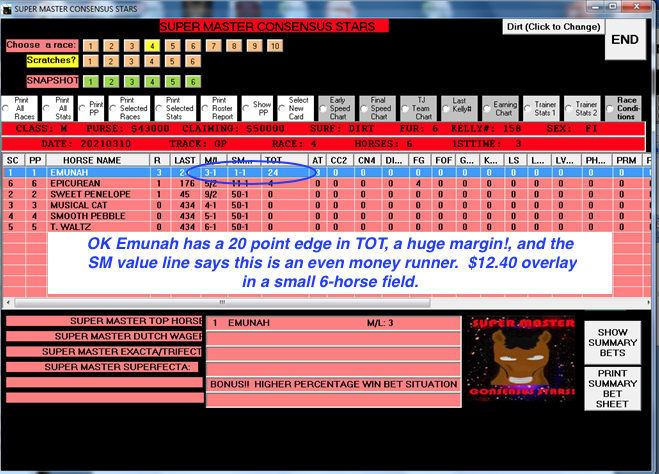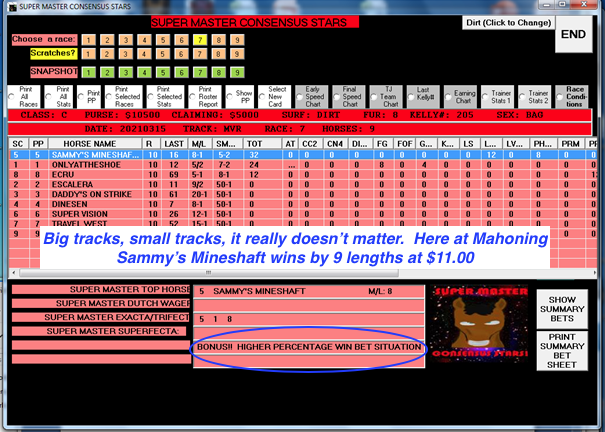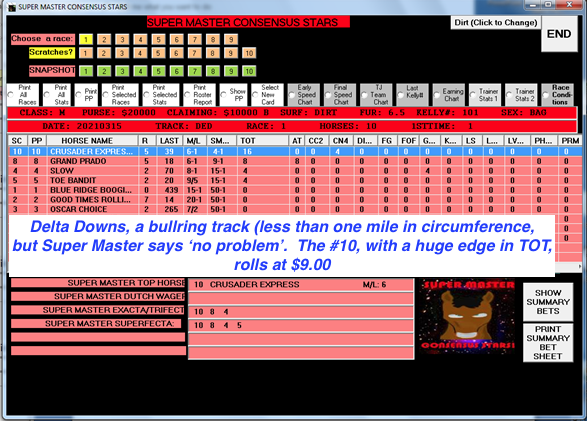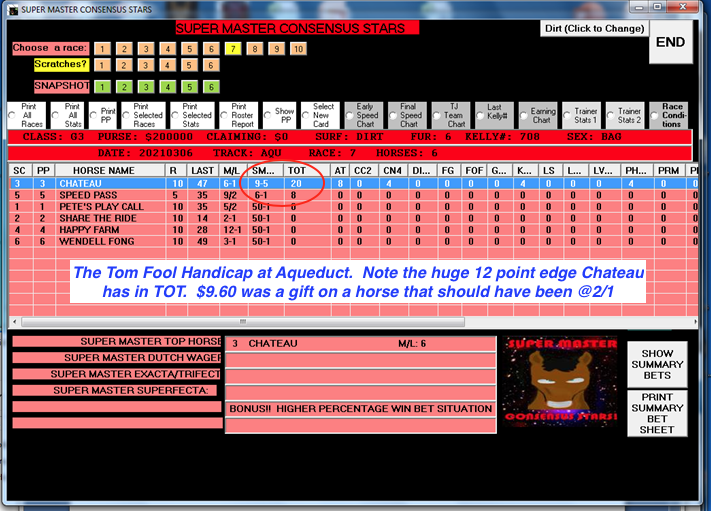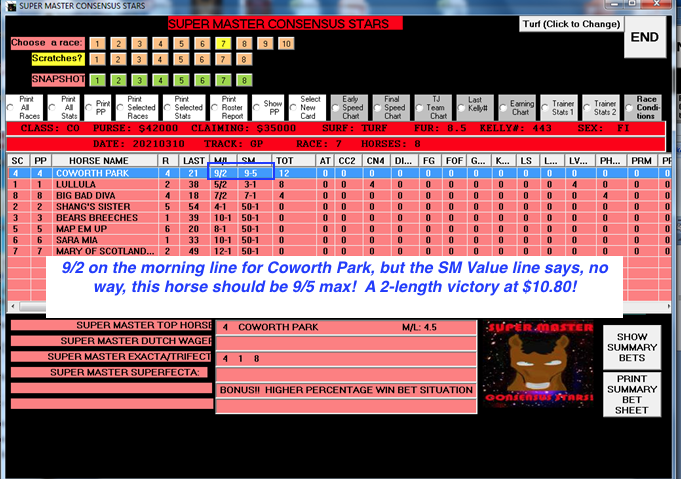 So you don't have to think twice about this one!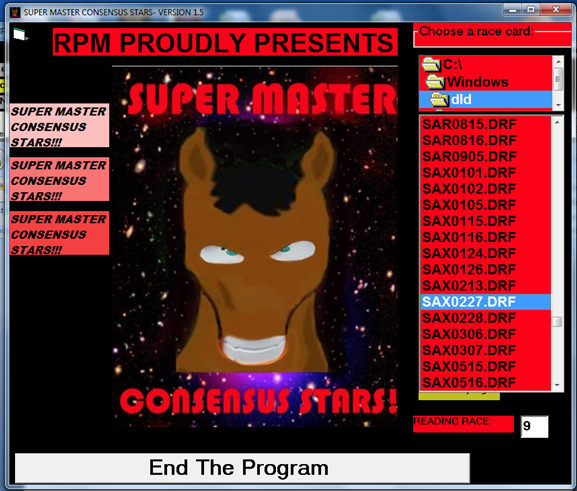 Super Master Consensus Stars!
is a finely-tuned, High % Selection Software that utilizes literally thousands of handicapping factors to provide superb accuracy.
If that's what you want, well, here it is! 

Retail Price is $197.00 but take advantage of the Prime Days special and your price is just

$148.00! 
(And remember, our 3-payment/no interest plan is always available.)
Call us at
1-800-696-0067

or order on our website.
P.S.

  – and if, for any reason you are not satisfied, we of course offer a full money back guarantee, so you have absolutely nothing to lose!