Description
Jon Worth's FITNESS FACTOR PLUS! 

NOW IN SOFTWARE!!



The Maiden Puzzle Solved, Once & For All, by One of the Most Prolific Handicappers in the Business!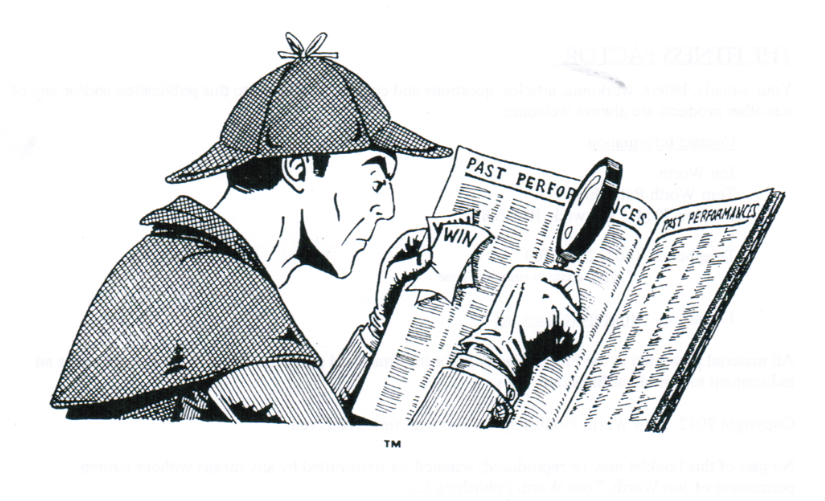 I'm sure many, if not most, of you have been confused about Maiden races over the years.
It is also frustrating that so many systems and methods of play tell you to ignore Maiden races — especially since these races for non-winners comprise 40% or more of all races run on many circuits.
There are some decent methods designed specifically for Maiden races, but in one way or another most still miss the mark.
Well, all those years of Maiden frustration are about to end for you.
We have found and extensively tested a method that locates playable Maiden and Maiden-Claiming races, shows a hefty profit on the win end, and nice profits to place and show.
And, get this:
you can fully expect a win % of 40%+!
a place % of 66%+      and a show % in the 85% range
There is also a category of plays, described as 'PLUS' plays by the author, that win over 60% of the time!
Oh, and the author, by the way, is none other than
Jon Worth

, who created what many feel is the ultimate thoroughbred methodology ever,

TIPS

,
as well as well as Show-A-Profit, Place-To-Win, The Only One, II, Auto-Coup and many others.
The Method is called:
The Fitness Factor, Plus!
It  averages 2 to 3 solid plays per track per day, no long runouts and FFP was recently awarded a 'solid 8' by Phillips Racing Newsletter.
"The beauty of The Fitness Factor, Plus, is that it is extremely consistent, catches double digit prices often and even shows a flat-bet profit on show wagers, which can be enhanced by using a show-parlay strategy." Phillips Racing Newsletter
Jon tells us: 

"I have heard from more of my many readers on their success with The Fitness Factor, Plus, than any of our other methods. 
Several commented that this was 'our best method ever'.  Others mentioned the simplicity of the methodology, the fact that long runouts were non-exisitent and, of course,
many were jumping with joy that they finally had a handle on Maiden races that few in the game enjoy.
"The method is actually based on one of my Father's Tom Worth) best sellers, 'The Single Sizzler' method.  It involved a formula to incorporate frequency of workouts
along with a couple of other factors.  My research showed me that the approach worked especially well in Maiden and Maiden-Claiming races. 
I simply added one of the stronger angles from my TIPS methodology and voila, The Fitness Factor, Plus was born."
We asked Jon why the play focuses only on Maiden and Maiden-Claiming races.  His answer:
"Maidens, 100% of the time, are facing other horses who, like themselves, have yet to record their first win.  Thus they are all on equal footing. 
This means, when you are examinging the past performances you do not need to compare any 'wins' from different tracks to today's track, or any win from other
class type races from horse to horse. 
So for the most part you need to concentrate on only a few factors, 'fitness' being the most important ."
BUT

>>>

Guess What?  At RPM, we tested FF+ on all races, not just Maidens and, FF+ did just fine on races other than
Maiden.  While the win% and overall ROI were lower, they were still solid,

so with the software,
FF+ handicaps all the races!!!

>>>>>
Below is a Maiden-Claiming race.  As you can see, when you are dealing with a Maiden race, the software will show the
'Special Maiden Race Play'

tag above the BET 1 Box.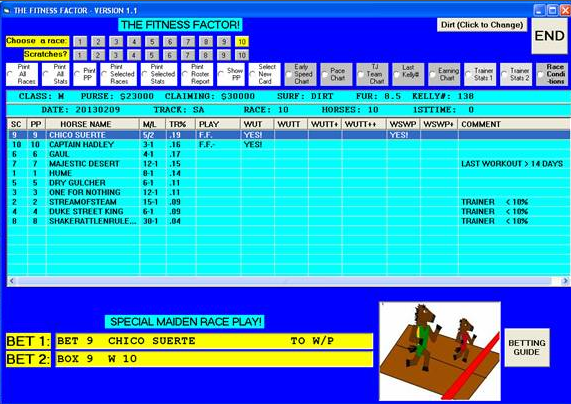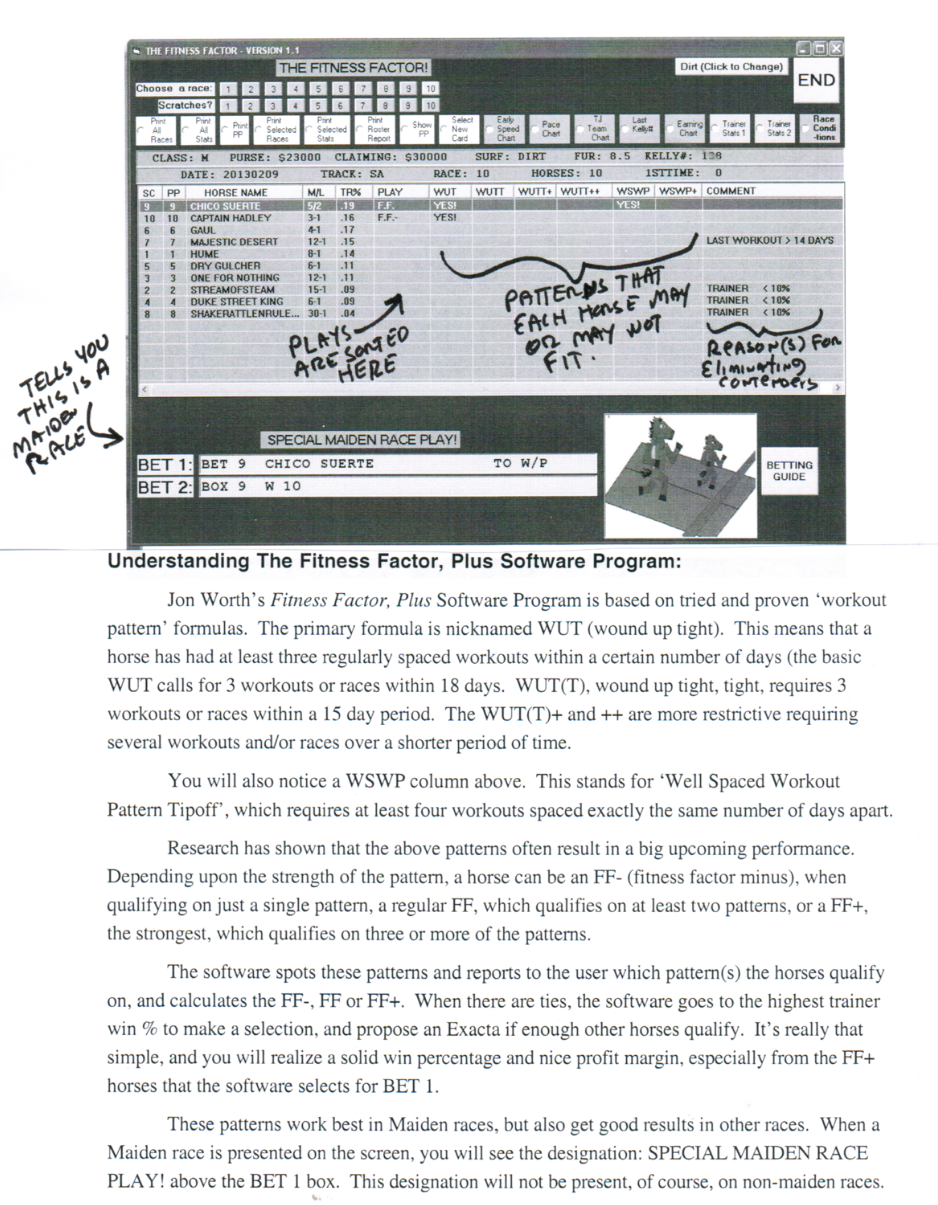 Below is a non-Maiden race.  With the FF+ Software, you get plays from every type of race.
While Maiden and Maiden-Claiming races still have the best overall Win% and ROI, other types of races did just fine, with a 35%+ win rate

Let's look at both Jon's test and the RPM
Database much larger test as far as consistency, ROI and runouts are concerned:
Jon's test:
Overall Win Percentage:  47% (this figure includes the Fitness Factor + horses, which hit at a 66% win rate.
Overall Win ROI  +101%
Overall Place Percentage:  68%   ROI +55%
Overall Show Percentage:  84%   ROI + 34%
Longest runout on the win end:  4
Longest runout on the place end: 2
Longest runout on the show end: 1
RPM Database test (231,123 races  tested)
Overall Win Percentage:  42.56% (this figure includes the Fitness Factor + horses, which in our test hit at a 61.73% win rate).
Overall Win ROI  +89.7%
Overall Place Percentage:  64.32%   ROI +47.6%
Overall Show Percentage:  81.71%   ROI + 29.8%
Longest runout on the win end:  7 (runouts of 7 occured only 7 times in test)
Longest runout on the place end: 4 (occured 12 times during test)
Longest runout on the show end: 3 (runouts of 3 occured only 8 times in entire test)
As is usually the case, the larger test produced reduced win percentages and ROIs in every category, but as you can see, the over results are sensational.
And, if you are one of those players who cannot stomach runouts,  Fitness Factor, Plus is definitely your cup of tea!
**Note also that the category FF+ produced an extraordinary percentage of wins – almost 62% in our test. 
And, interestingly, the average win mutuel was actually higher with FF+.  This makes FF+ horses great 'singles' when you are playing Pick 3's, Pick 4's, etc.
And take a good look at the very solid profits that were made on the place and show wagers. 
This is rare in this game, but Jon's methodology spots only horses that are FIT and 'well meant', so if you are conservative you can enjoy solid returns along with very short runouts.
I know this has been rather brief, but to be honest it's really all you need to know.  We have included Jon's workout so you can see exactly how he keeps track of his wagers.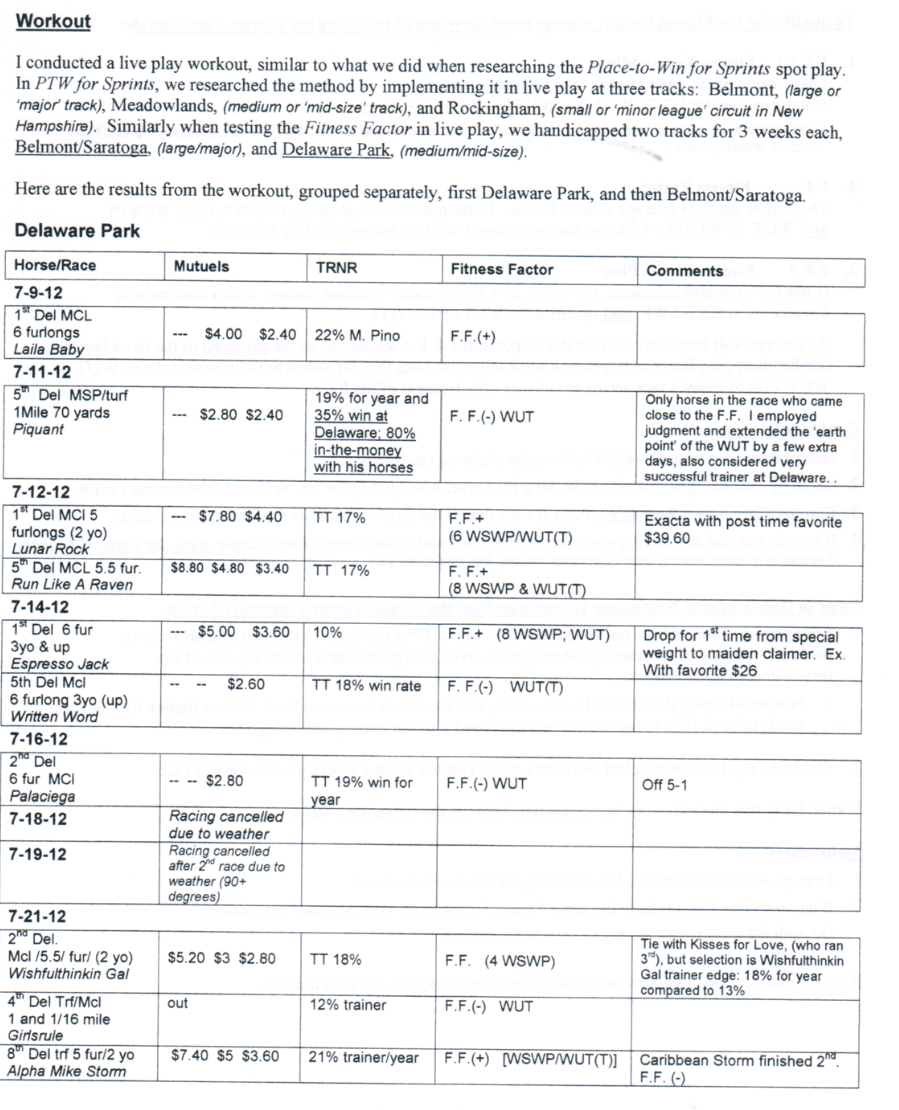 The abbreviations (WUT, WSWP, etc.) all relate to the factors that point out the plays in the method.  The method requires only a few steps if you are using the paper & pencil version —
once you have everything down in your brain you can scan any Maiden or Maiden-Claiming race in seconds to determine if there is a play.
With the Software, of course, all of this is done for you.
So if you want to enjoy great success at the Maiden game, give Fitness Factor, Plus a try. 
It has a 100% money-back guarantee.
You can get the FF+ Software for just $99.
Or you can get the paper & pencil version for

$65.
***When you order the software, you also receive the paper & pencil version.

Give us a call at 1-800-696-0067 or go to our website:                        www.rpmhandicappinggiant.com