$34.77 – $87.00
Publisher's Note:
We are extremely happy to have recently struck up a partnership one of the game's winningest handicappers of all time,
Dave Schwartz! 
Description
We are initially offering his Mega-Best Selling Horse Marketing Investing!
This eye-opening venture into the world of 'Investment' handicapping provides the player with a way to earn steadily from the game and avoid the frustrating big ups and big downs that so many players experience.
Horse Market Investing!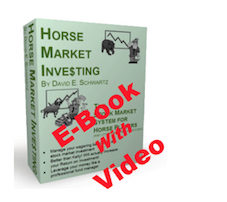 About the HMI Video Seminar
This is product is an expanded look at the HorseMarket Investing system. It is almost 2 hours of video seminar about the best ways to use HMI.
>>>

Please note that it was designed for people who have already read the book! (the ebook comes FREE when you purchase the Video Seminar)
There are spreadsheets with
examples to follow along and to make the process of HMI even easier than that shown in the book

, but you still NEED KNOWLEDGE FROM THE BOOK!
The Full Package, which contains the video and the ebook, is just $87.



For just the ebook, it is $34.77
When you order Dave Will Send you a Link to the products.  Just a click of your mouse and you are ready to roll!
My FREE Offer to You!
When you purchase Horse Market Investing, I will send you a link with your product,
as well as a listing of my top line products of which you may choose one.
FREE!!
So Call us at 1
-800-696-0067

or order from our website.  You will enjoy this one!