$48.00 – $127.00
The system is 'simplicity' itself, and once you are familiar with it, you will be able to determine whether or not a horse is a system play or not very quickly.
Description
From Jeff Goldstein:  The Beyer Positive Elimination Method – The Software!!


Includes Jeff's Never-Before-Published

S/C Play

–

Consistency

,

Consistency

, Consistency! 

And…Jeff's Exacta/Trifecta/Superfecta Exclusive Formulation – Extremely Accurate with Big Prices to Boot!



Below the PEM Screen with explanations – Exacta/Tri selections right on the money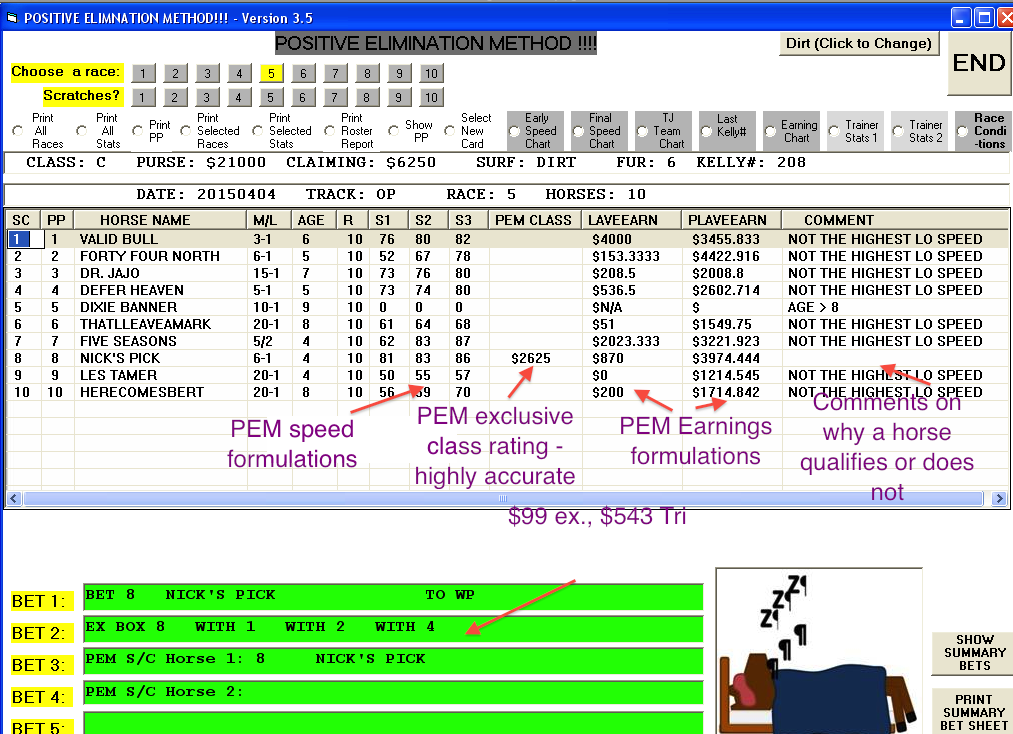 Below – all four numbers in the Bet 2 Column (exotic box suggestions) hit for a sweep of the Exacta, Trifecta and Superfecta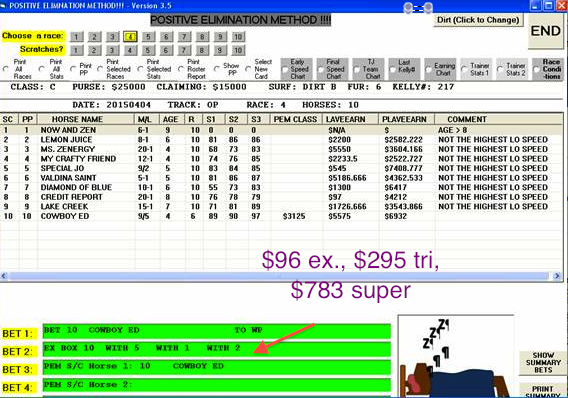 Win/Place Exacta/Trifecta/Superfecta – PEM/SC Does it ALL!!
Jeff, many of you may remember, was a mathematical guru whose precise and sometimes bizarre analysis of winning jockey/trainer teams led his subscribers (to the 'Goldstein Report') to multiple scores weekly, usually at double-digit mutuels.
And though the Goldstein Report is no longer published, you can still benefit immensely from the man's genius. 
You know, of course, that if you just bet the highest Beyer # (or any speed # for that matter) in every race, you will end up with @ an 11% loss on the dollar.
But how would you like, instead, to turn that loss into a consistently steady and profitable +27% ROI, again, only by betting on the highest speed figure?
Well, that's exactly what Jeff has done —

turned a certain losing proposition into a windfall for the handicapper!
He accomplishes this by applying elimination rules that separate the wheat from the chaff, a

nd then focusing on a single horse that 'stands out' according to Jeff's formula.

 
An S/C easy winner below.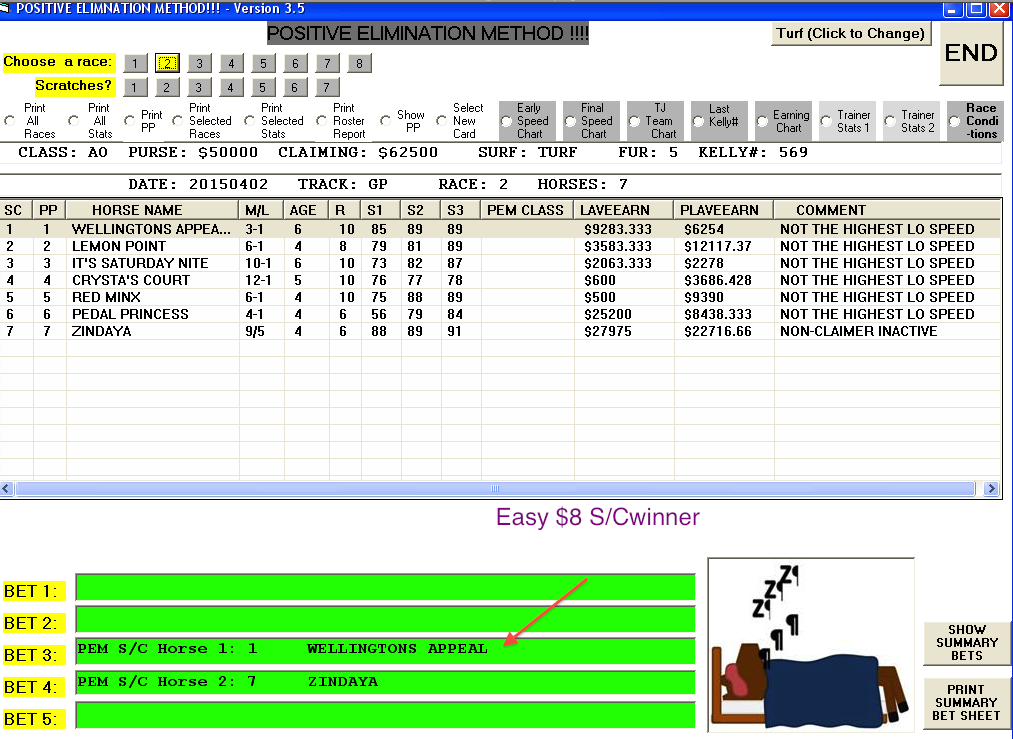 Here is part of Jeff's Introduction:
"The principal idea of this system is to find horses which are in form, and who have a Beyer (or any other speed rating) edge, a

'reverse'

edge, as I call it. 
"When I first tested it the results were very encouraging,

with a win rate of 37% and an ROI of +27%.
My next test was even more encouraging

, showing a

win rate of 39% and an ROI of over 30%.
I have randomly observed plays at many tracks across the country and the results have been very similar, and a friend of mine did a rather extensive test with almost identical results.
The prices overall are modest, but with the high win % (

and very brief runouts

), profits are a 'given'. 
The system is 'simplicity' itself, and once you are familiar with it, you will be able to determine whether or not a horse is a system play or not very quickly.
There are no plays in either Maiden races or 2-year-old races, and we play horses in the 3-year-old to 8-year-old age group. 
The basis of this method is the 'elimination' of non-contenders, which you will be able to do almost instantly once you know the rules."  Jeff
When both the PEM @ SC Play are the same, the horse will hit the board close to 85% of the time. 
The

S/C play

was devised by Jeff to add to the overall consistency of the strategy and it has never been published before

,

but here you have it neatly packaged in the software – you can count on the S/C horse to hit the board most of the time.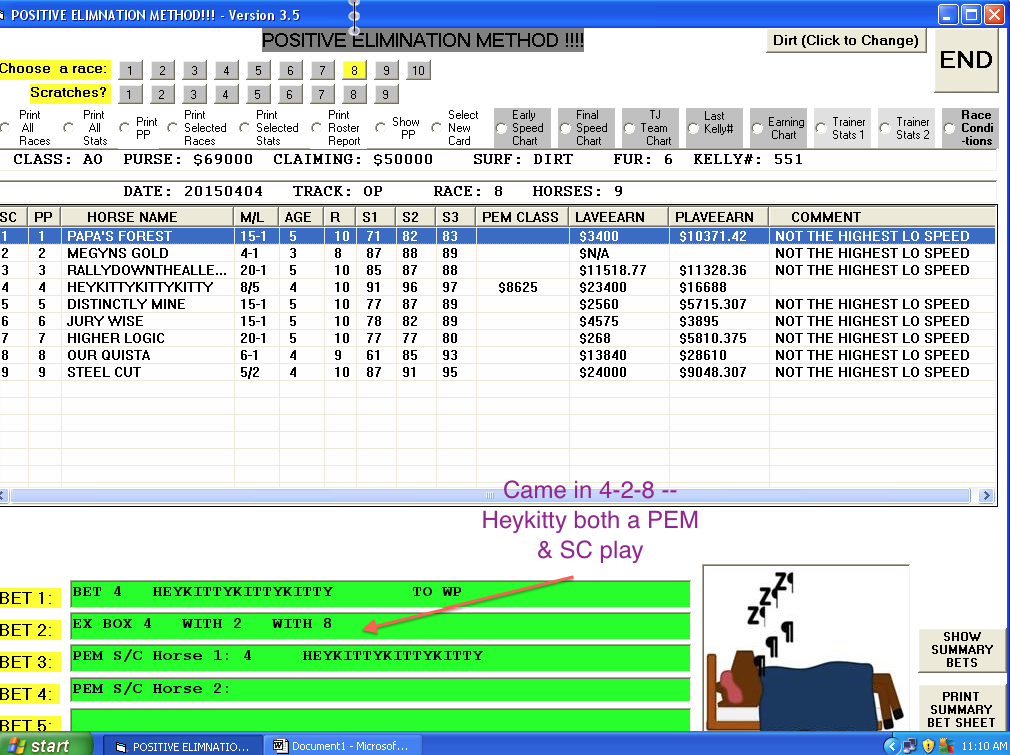 The PEM/SC formulates data in a way that allows it to pick up Standouts even in very large fields.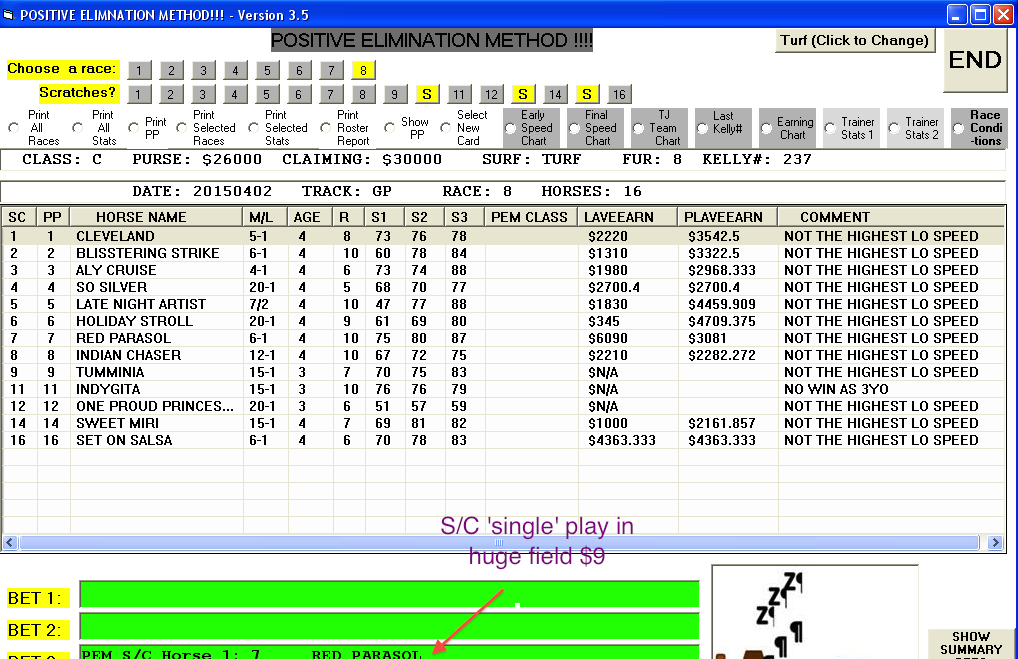 The S/C selections, when tied, often result in the Exacta – this one paid $41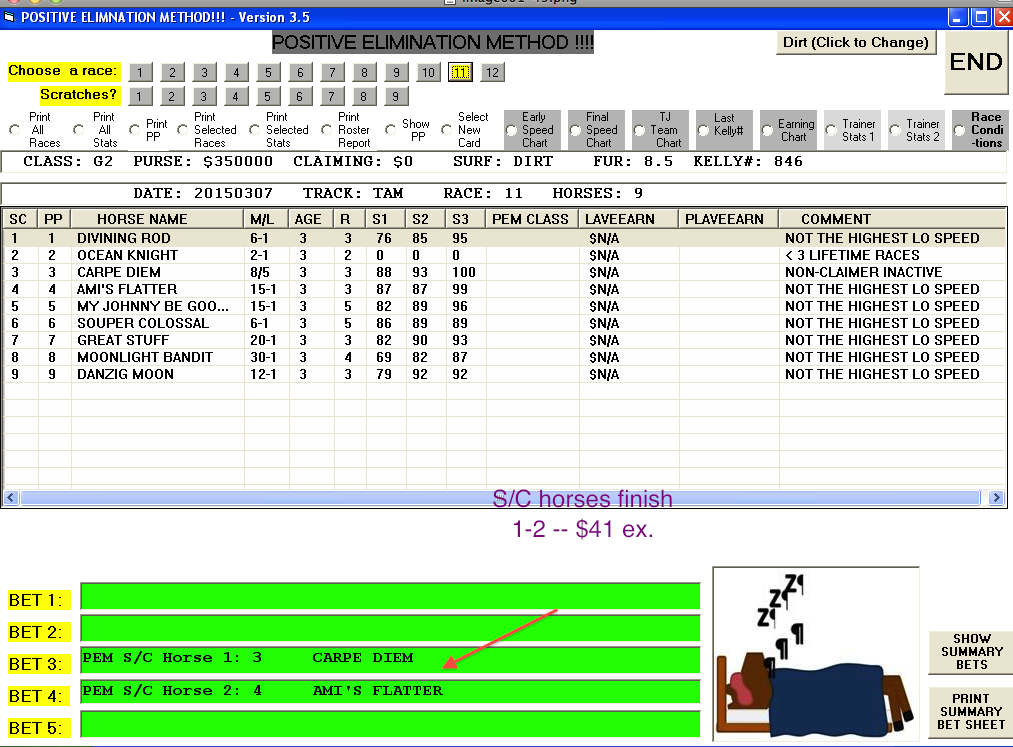 You will average 3 to 4 solid plays per day, win close to 39% of your wagers and realize a very steady, consistent ROI with no losing streaks! 
The

PEM/SC Software

is just $127 and Will add a strong measure of consistency when used on its own or with your other programs.
and also offers all the other popular RPM Software features, like the Summary Bets Screen, FREE Daily Program, FREE pps, Speed/Class/Earnings/Pace Charts, etc., etc.
The Hard Copy or Ebook paper/pencil version is available for just $48
1-800-696-0067
Rest

Easy

– Let someone else do the work for you –

the speed numbers contain the 'logic'

— the 'class' numbers contain the extra 'punch' –

all you do is allow Jeff's formula to line you up consistently at the cashier's window!
Additional information
| | |
| --- | --- |
| Beyer PEM/SC | Software, Ebook, HardCopy |