 $58.00 – $97.00
A Remarkable way of uncovering major longshot payoffs at tracks both large and small.
Description
NEW!!  From David Bernal
An Absolutely Amazing Longshot Getter! 

Proven at All North American Tracks!
TOTTO©   Methodology!
Last Fall we received an intriguing method from longtime customer and Brooklyn native David Bernal called TOTTO.
TOTTO, translated, simply means

TWICE OVER TEN TO ONE.
***David has discovered a rather remarkable way of uncovering major longshot payoffs at tracks both large and small.***

He has been using TOTTO! to supplement his income for years and our database
studies showed the system earning a very solid +85% ROI.  
***TOTTO! fits the category of 'just when you think you've seen everything in this game, something totally new, different and exciting comes along'.
TOTTO!
is an approach we have never seen before (nothing even close), which no doubt is why it works so well.
So if you are looking for an excellent 'price' program that you can rely upon to return long-term profits, TOTTO! fits the bill.
Using TOTTO
TOTTO is short for 'Twice Over Ten To One'.  
The author, David Bernal, has been using this system for several years with great success. 
>>>He discovered that a horse who was over 10/1 odds in at least two of his last five races, and who also had a few other indicators present, often ran big at a big price. 
There are three separate TOTTO patterns: TOTTO, A-Totto, D-Totto. 
They differ in the placement of the 10/1 efforts over the past few races. 
The most important thing to be aware of is that TOTTO is designed as a longshot program. 
If a qualifier is 5/1 or higher, he is worth a wager. 
Len and Dave also worked out a very consistent Exacta strategy.
Often you will see an Exacta suggested, which means that more than one horse qualified as a TOTTO. 
The morning line favorite is also included in the Exacta since our research showed that often if a TOTTO horse runs 1st or 2nd the favorite will be the other part of the Exacta. 
On the bottom right of the screen any (or all) TOTTO qualifiers will be listed by name.  See examples below – especially the first one!!
****Before you take a look at the result below, understand that the easiest way to make money at this game is to go with a viable longshot method. 
Ask any professional player and he/she will tell you the same. 
In the recent Esquire TV series, Horseplayers, you can observe seasoned professionals who never bet on a short price. 
They know the general public will consistently go for the favorite, but the favorite only wins 30% of the time. 
70% of the time a non-favorite wins. 
What these players do is look for situations where the favorite looks 'vulnerable', or not that solid. 
They then search out horses who are at bigger odds who they believe have a chance to score. 
That is exactly what the TOTTO Method does — finding races where the favorite is an iffy prospect and then searching out a longshot who has a good chance.****
That being said, below you will see a race where TOTTO had two horses selected, a TOTTO pattern and a TOTTO-D pattern. 
Now, when you have two selections and they are both juicy odds you want to make a win wager/place wager on both. 
In this case, TOTTO users were very well rewarded with Little Miss Lupe, a $121.50 winner!
No, you will not get a lot of $100+ winners, but they will come along if you stick with the program. 
In 2013, TOTTO picked a total 0f 37 $100+ winners at the 23 tracks we tested. 
That's more than just a fluke — that's a program that is designed to select longshot winners at a profit, and TOTTO does just that!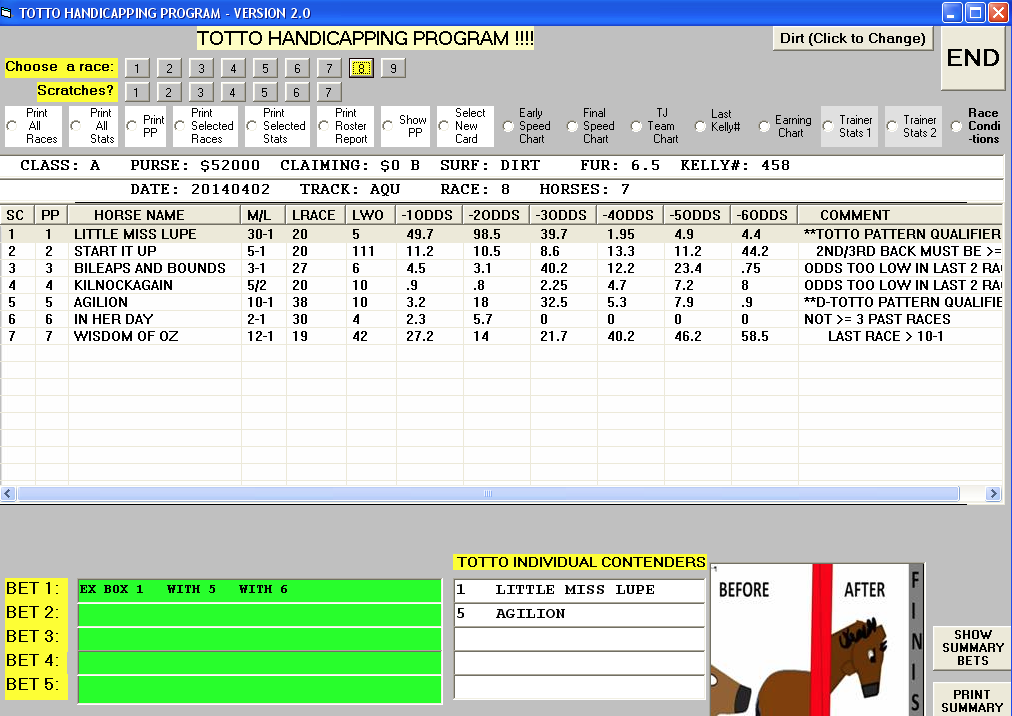 Pgm Horse Win Place Show
1 Little Miss Lupe

121.50

38.60 19.20
3 Bileaps and Bounds 5.70 4.60
7 Wisdom of Oz 8.60
Below another great example of just how potent this program can be. 
A longtime customer from West Virginia called immediately after this race to tell us about his big hit —
it was the very first play he made with TOTTO! 
As you can see, the program picked a $54.80 Winner and handed the $363.60 Exacta to TOTTO followers on a plate.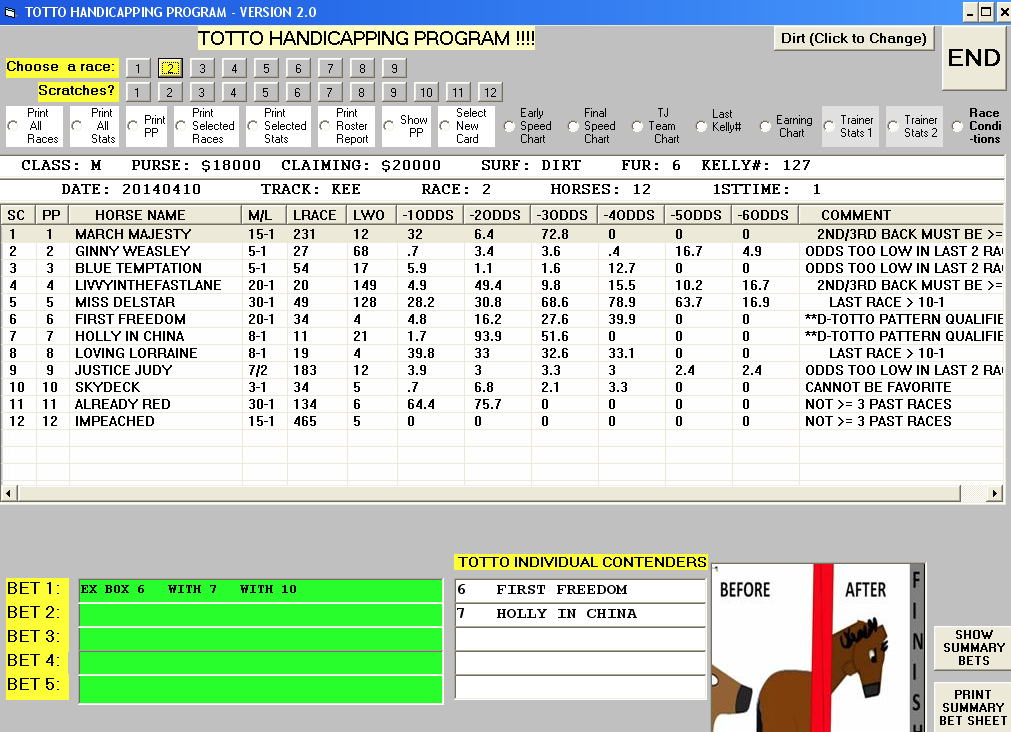 Below, a beautiful TOTTO winner at Santa Anita — Uzziel is the only horse with a TOTTO pattern – $86.20 to win!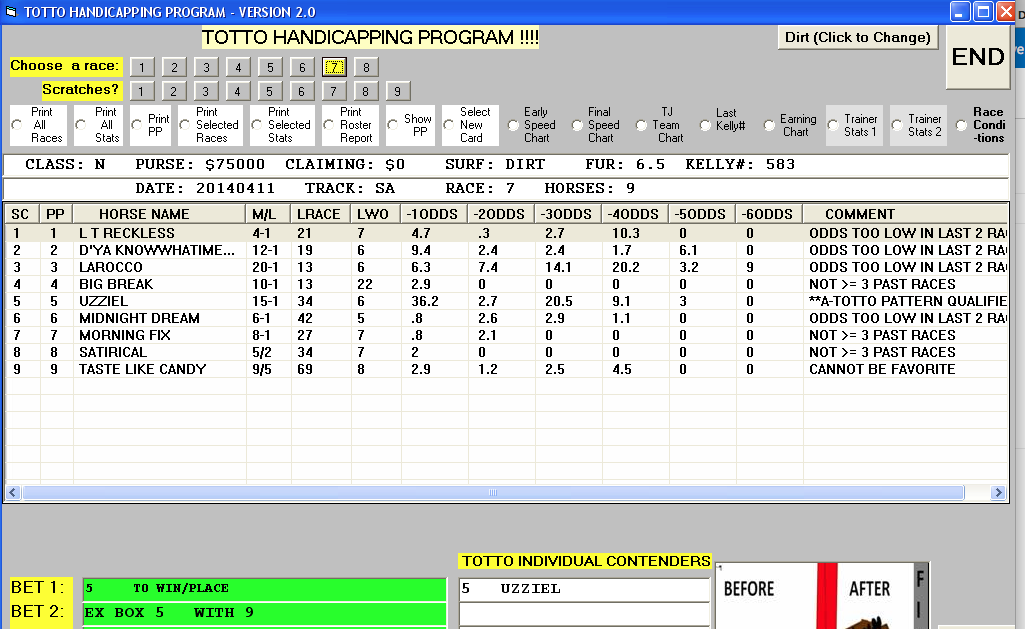 5 Uzziel 86.20 29.40 15.60
2 D'ya Knowwhatimean 12.20 8.20
6 Midnight Dream 8.80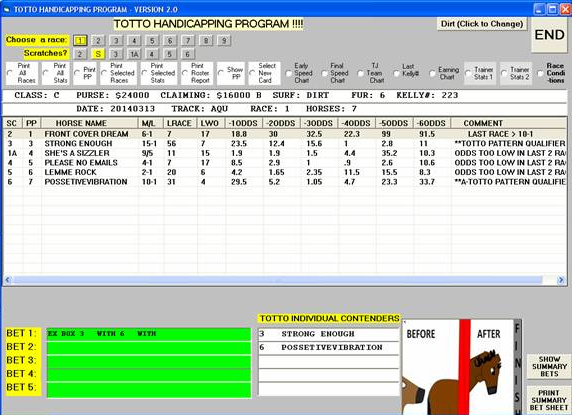 This is a short field but two horses qualified.  #3 was 31/1 and #6 13/1. 
In cases like these, where both horses are at good odds (over 5/1) a dutch bet is recommended.  The #3 got the money at $28.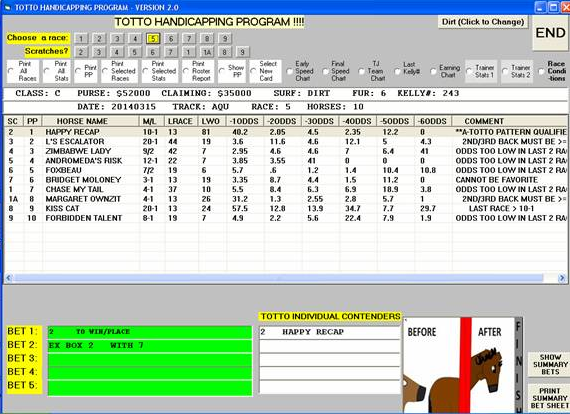 Here a single qualifier in a large field which was eventually whittled down by scratches.
These situations provide some of the best longshot opportunites.
Happy Recap possessed the 'A-TOTTO' pattern and popped at $24.80.
***You will find TOTTO an excellent source for price horses — horses that the public will almost always ignore.***
And when a TOTTO horse is at lower odds, less than 5/1, the horse is still worth a serious look in the exotics.
With any longshot program, patience is the key, since you often have to endure runouts…
>>>

But with a program like TOTTO, patience is a virtue, since the average mutuel ($27.54*>*) plus
the overall hit rate (@14%) will result in a very solid long term profit.

<<<
That's an +85.5% ROI!!
 *>*

Note: this average mutuel figure was recently adjusted upward due to a large number of $30+ horses hitting in the first three months of this year.
TOTTO is very reasonably priced at just

$97 for the software

, or

$58 for the paper version

. 
>>The nice thing about a profitable longshot program is that you can simply play in the 'background', so to speak. 
Do all the other things you normally do at the track, while you put a least a few bucks on each TOTTO pick, knowing in the long run that you will pocketing a nice chunk of change. 
And when that

$82

, or

$56

, or

$34 TOTTO winner

hits, trust us, you will find yourself much more excited than when cashing in on that $7.20 winner. 
Give it a try — you have nothing to lose, and a whole lot to gain.
1-800-696-0067
Additional information
| | |
| --- | --- |
| TOTTO | Software, Paper & Pencil |