$59.50
To hope to turn a profit at this very difficult game, you need a PLAN!
Description
A Recipe for Thoroughbred Wagering Success From Tom Console!  Order Now and get the Software Version For FREE!!

The Plan!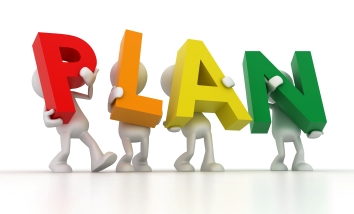 Dear Fellow Horseplayer:
The 'Homerun'. 

That's what I hear them talking about at the racebook all the time.
No, they're not referring to baseball, but rather to the out-of-the-ballpark 'hit' they're hoping to make on the horses to carry them thru the rest of their days.
So they line up at the windows, race after race, playing wild longshots and impossible Trifectas and Superfectas, most with little thought before the fact.
In fact, the main motivation for playing these type of bets is because they're 'there'.
Now I'm not trying to discourage playing these potentially lucrative exotic bets.  I wade in often when I feel I have a reasonable chance of cashing.
What I am trying to discourage is the 'homerun' mentality, where race after race the player is shooting for the moon. 
I have been playing this game for profit for a long time now, and the 'homeruns' I have hit, the $135,000 and $68,990 Pick Six; the $42,000 Superfecta; the $22,600 and $19,008 Trifecta, etc., all came in due course.
In otherwords, in none of these situations was I pinning my hopes of paying the mortgage for the next five years.  I simply went about my normal pattern of play, and the occasional big hits just happened.
But what I have learned from 30+ years of playing this game is that the race goes to the

steady

rather than the flash in the pan. 
Most of the horseplayers I come in contact with at the racebooks and track seem to be in a 'hurry' to make the big score.
Very little thought and almost no preparation prior to raceday.  And the emotional swings, from ecstasy to downright depression, take their toll by making these fellows and gals very cynical about the game.
They are always looking for someone to blame to explain their losses – the jock, trainer, racetrack management, etc. –

never stopping to think that maybe, just maybe, the fact that they lack a plan of attack and are unable to control their emotions are the reasons for their misfortunes

.
What I'm basically trying to tell you is that to hope to turn a profit at this very difficult game, you need a PLAN. 
You need to know how to handle a losing streak.  You need to know how to smooth out those steep hills and valleys that rule your emotions. 
You need to be consistent in your wagering actions, i.e., playing only when you feel the odds are in your favor. 
Basically, you need to approach this game as you would any other business you run for profit. 
Not one in 20 horsplayers have ever given this more than a passing thought, which is why only a small percentage of all players win consistently!
**But I'm here to tell you that you don't have to be among the losers, and I can show you a 'plan' that if followed to the letter, will allow you to profit consistently, even if you are playing several tracks at one time!  Read On:**
'Many, many of my customers, who know I am heavily into computer handicapping, often ask,
'Tom, don't you have a paper-and-pencil method that will duplicate your computer results –
something I can use to play several tracks at a time?' 
Well, yes, I do, and for all of you who have asked,
HERE IT IS!'
Sample of Documented* Results From Tracks Across The Nation!
Track           W/P/S %                Profit
Belmont    72.1%        $1,449.00
Calder     73.4%        $1,794.00
Hollywood    71.7%        $2,197.00
Laurel    66.0%        $1,510.00
Lou. Downs    74.9%        $1,945.00
Lone Star    71.6%        $2,018.00
Phil. Park    69.9%        $1,299.00
Parx         74.8%        $2,211.00
*Tests conducted on a minimum 1,170 races at each track.  Races on main track – no maidens. Based on $20 win/place/show bet.
Similar results were realized at all U.S. tracks

. WPS %s above include all selections that finished 1st, 2nd or 3rd.
What My THE PLAN Method Will Do For You!
OK, I know that the title isn't all that 'sexy'.  I guess I could have called it  Tom's Trememdous Spectacular Wonder System!, but in reality, what The Plan is, well,

a PLAN!
A straight-away, easy-to-implement course of action that will allow you to realize a very high % of win/place/show horses. 
The Plan is designed for one purpose and forone purpose only: To give the player a quick and accurate way to select winners at multiple racetracks.
For most players, just trying to shake loose a winner at one track is tough enough, but most handicappers really go in the tank when trying to play several tracks at the same time.
I play the races for a living. That's all I do!  I play at both the racetrack and on the Internet, playing several tracks daily.  When I'm traveling,  The Plan is my 'bible'. 
It averages 2-to-3 solid plays per racetrack per day.  It is very simple to use – you will spot potential plays in just seconds. 
Your horses will run at least 3rd, often at nice prices, over 70% of the time!
Background Notes & Quotes: 
"Tom Console has played the horses professionally for over 30 years now.  He has won two major handicapping tournaments, has hit four Pick 6's paying $80,000 or more and has pretty much lived out every horseplayer's dream.  His Snap Capper Pro and Race Profit Generator Software have been widely heralded as two of the best handicapping programs ever created.  His articles have appeared in American Turf Monthly, Racing Action, Horseplayer Magazine and Today's Racing Digest.  His Tru-Tenders, FG Method K-Speed & 'Q' are some of the best-selling paper & pencil handicapping systems of all time.  He lives in Arizona with his wife, two children and puppy dog."
'Tom Console is doing what you and I and thousands of horsesplayers have dreamed about for years: playing the horses for a living.  Take to heart what he has to say in his The Plan and you'll find that dream well within your reach as well.'  David Powers
'You remember our review of Tom's FG Method & Tru-Tenders.  We were even more enthused than Phillips Racing Newsletter, and they awarded both of those systems high ratings!  Now Tom is back, taking a brief respite from his computer handicapping to show us what he does best – knocking 'em dead at the racebooks and off-track betting parlors!  If you only buy one method of play this year, or for the rest of your life for that matter, this should be the one!  We can't say enough good things about the The Plan!'  Tim Sullivan, Systems & Methods
'A unique methodology that works wonderfully whether you're playing one track or several!'
Dick Johnson, author, True HorsePower
"It doesn't take a genius to see what Tom Console has accomplished with his The Plan Method, but it did take a genius to create such an accurate method.  My hat's off to Tom, you've changed the way I look at the game."
Chuck Blaskower, author, Profits From Workouts
"When my wife saw another system arrive in the mail, she got very upset, to say the least, since I told her I was through buying them.  But she calmed down in a hurry when I came home three days in a row with more money than I left with (on day #3, a lot more!).  Winning is a whole lot more fun than losing.  The Plan works even better than advertised!  Thank You!"  John Lytel, Chino, CA
"Just a note to compliment you on your The Plan.  I used to get totally confused at the racebooks with so much action going, and lost my butt more often than not. Your method made playing multiple tracks a breeze for me, and for the first time in my life, I'm actually making money at the racetrack!  Hallelujah – it's so nice to actually have a true pro player's system in my hands!"  Todd Roper, Singleton, PA
"I got The Plan Method the day before my trip to 'Vegas and did all my handicapping on the plane.  The very first bet I made at Belmont hit for $27.40, and using your Trifecta 'Super-Spot' play on the same race netted me another $711!  Overall, the system selections at least ran 3rd over 73% of the time, just as you said they would." Ron Delano, Hermitage, TN
"Tom Console has written many, many first-rate systems.  He has consistently scored with high ratings from us.  His methods are simple, straightforward and, most importantly, profitable!'   Phillips Racing Newsletter
Questions & Answers
Tom Console's
The Plan!
Q. Tom, why did you decide to release a paper and pencil method since your expertise is computers?
A. It turns out that only a fairly small percentage, I'd say about 45%, of horseplayers own computers or are competent enough with them to properly use computer programs. 
While I am primarily a computer handicapper, from a business standpoint, that leaves a lot of my longtime customers in the dark, so I'm offering my The Plan Method to all who prefer an accurate paper-and-pencil method of play. 
Of course, I think even computer users would be interested in this method — it is so darned easy and effective — I started using it in 1986 and when I'm traveling and don't have access to the Internet or just don't feel like hassling with it, I use this method exclusively.
Q. How many races has your Method been tested on?
A. Dave Powers has the big database and had his stat team run the method through close to 300,000 races.  The results were remarkably similar to the results I have been getting for years. 
The win/place/show rate was close to 74% and the ROI close to +42%.  And that's great, but I will also show you how to use the method to cash in on some of the biggest Exactas, Trifectas, Pick 3's, etc., you ever have. 
I know that sounds like a boast, but the exotic betting formulas I have developed over the years yield enormous payoffs and profits. 
I promise you — you will likely hit one of these biggies in your first week of play with The Plan — that's how confident I am with my strategies.
Q. You say the method is quick and easy.  How quick and easy?
A. Well, #1, you are going almost exclusively on claiming races – no Maidens. #2, you are looking for just one factor in the horse's recent running lines to determine a potential play. 
It is a factor that I have found to be one of the best 'predictors' of a future big performance in the game. 
You then need to apply only a couple of other rules and you will have a horse that will run to these percentages.  It shouldn't take you more than 10 or 15 minutes to find plays on an entire card.
Q. How many plays can I expect per day?
A. I average two to four solid win/place plays per day per track, and one or two Exacta, Trifecta, Pick 3, etc., plays per track per day. 
And again, I will show you exactly how to make the profitable exotic wagers.
Q. And the software version?
A.  The Software, of course, does all the work for you, AND — you get it at no extra charge with your purchase!!
Q. What is your guarantee?
A. Very simple:  If you are not happy with the method, for any reason, you may return it within 30 days for a full refund.
Order Tom's The Plan Method Now and Get Steve Derrick's MMWM (Making Money With Maidens!)
Absolutely FREE!++++..more
Now, seriously folks, where else are you going to get a deal like this?  **When you purchase Tom Console's The Plan Method within 14 days of this offer,
we're also going to send you a copy of Steve Derrick's best-selling Making Money With Maidens, at absolutely no additional charge! 
Steve is known as 'The Maiden Guy' – plying his trade mostly on the West Coast. 
His specialty is Maiden races, and the angle you are going to receive is a true 'insider' kind of play.
In his MMWM!, you will have at your profitable disposal Steve's extremely well-researched data and simple rules that make certain horses in Maiden races an 'automatic' bet.   Here is a sample of his results on his intro page: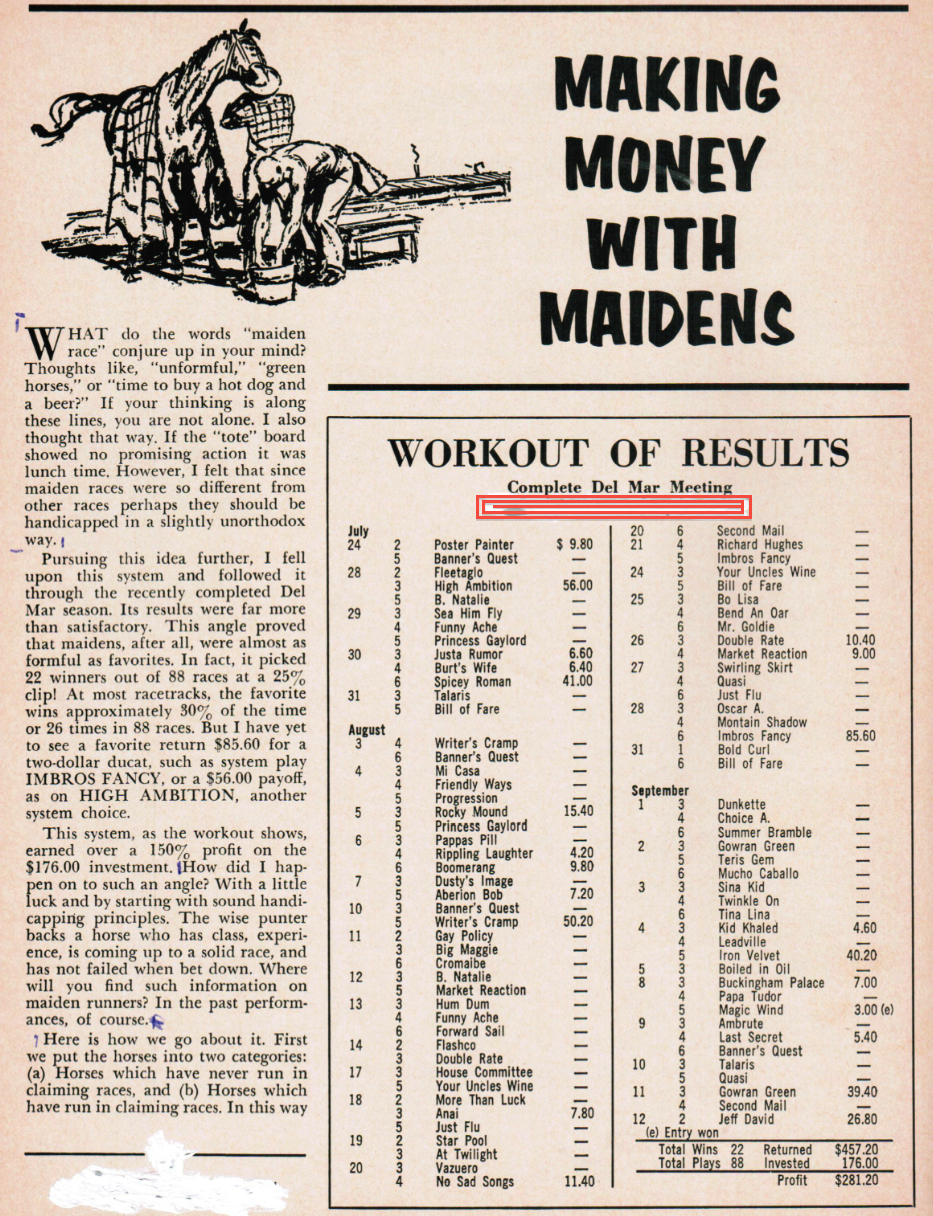 You'll simply be looking at the trainer stats and two other 'secret' 'tells' in the pp's.
Some of the prices are huge, like the $85.60 winner we hit at Del Mar.
This is a $55 retail value, yours FREE!
♣Oh, and we've got even more from you!  With

Mark Cramer's

permission, we will also send you his
2nd-Time Starters – The Mystery Unravels Method!!
Mark clearly shows you how to grab your share of winning horses making just the second start of their careers!
Dynamite stuff and highly profitable!! a $60 value
So look here.  Not only are you being provided with a true pro player's personal, private method.  you are also getting the
Maiden expertise of another well-known pro & Mark Cramer's Key to 2nd-Timer profits! 
AND>>>> You will get the Software Version of THE PLAN, FREE!!!
Think you can go wrong by taking advantage of this offer??!!  Think again!!
This is without a doubt one of the best 'value' package we have ever offered.  
Tom Console will show you how to turn your game around.  Overnight!  Don't pass this one up!
The Price:  Just $59.50, for the entire Package!
So Order TODAY!
Call TOLL FREE 1-800-696-0067 V/MC/AE/Disc
A Great Package At A Great Price!
Order today (1-800-696-0067) or Mail In Your order or go to: www.rpmhandicappinggiant.com