$158.00
A software program that diagnoses 'hidden' pace better than a doctor can diagnose a common cold.
Description
A program that measures a horse's previous races over today's surface and translates them into an awesomely accurate predictor of today's performance.
A program that has my patented

Pace-Ace ©

at its core.
A PROGRAM THAT WILL Dramatically increase your trips to the cashiers windows.  What, exactly, are we talking about?  Why, My NEW

WIN-MORE EXPRESS Software

Program

of course!  Read on:
(Oh..& check out the Great FREE software offer!, too!)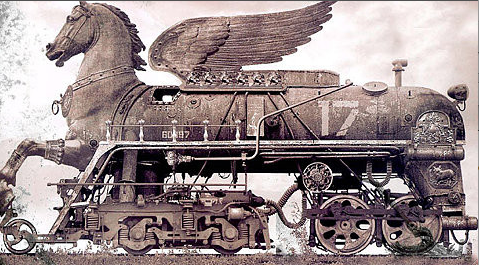 You've heard the saying 'blood is thicker than water', right?
And how about 'two heads are better than one'?
And how about 'Tom did it!', when our Mom asked my brother Steve who broke that expensive flowered vase when we were kids.
OK, I did break it, but Steve could have kept his big mouth shut.  My hindquarters still sting from the whipping I got that day!
But some 35 years later, all is forgiven.  My big brother Steve went from being a real big pain in the you-know-what to my best friend and business partner.  Steve, like myself, has always had a fancy for the thoroughbreds.
We first visited a racetrack (Santa Anita), when he was 12 and I was 10.  We talked about little else after that wonderful afternoon.  We were hooked.  We would race to the front door every morning to get the paper, grab the sports section (much to my father's chagrin) and check out the previous day's results. (oh, quickly, forgive me if you have already heard this story, as I have related it before, but it's crucial to what's happening in the Console family today handicapping-wise and how that will benefit you!)
As we got older, Steve went to college and into the business world, and I went to the racetrack.  And I lost my butt, year after year, pretty much blowing all the salary I earned from my part-time job as a machinist's helper, until at age 23 I decided that it was time to either
1) settle down and get a permanent job, a thought that made me sick to my stomach, or
2) get real, real serious about the horses.
I decided on the latter course, and gave myself 12 months to turn things around.  Fortunately at the time, master handicapper Dick Mitchell was beginning his racetrack seminars, and I was an eager participant.  More than anything else, Dick, who recently departed our plane of existence for that big racetrack in the sky, emphasized that with the proper knowledge, discipline and attitude anyone could make money playing the horses.  What I took away from his seminars put me on the path to an kind of fairytale existence — doing exactly what I always wanted to do, and making good money at it to boot.
To make a long story short I, along with Dick, was one of the first to actually transfer successful paper-and-pencil strategies to software.
My 'Tru-Tenders' was introduced on DOS back in 1991, and while it caused quite a lot of excitement among fans at the time due to its 'high-tech' format, my oh my, have things gotten better since then!  The racetrack software we're producing now relegates the old stuff to the stone ages.
With the aid of many of the excellent programs out there today, there is no reason the average fan cannot make money at the races.  Which brings me to the subject of this letter.
Brother Steve has produced several super paper-and-pencil methods over the years, his Pace-O-Matic, a 'slide-rule' device that is now out of print, being the most popular.  Steve has always been big on 'pace'.  'There are races where I can tell you which horse is in the best current form,
and in those races, that horse will win or place over 60% of the time', Steve told me one sunny afternoon at Turf Paradise.  'And it's not that difficult — there are a handful of indicators that, when they all say 'green', simply scream out 'PACE PLAY'!
Personally, I never had a great handle on pace.  My methodologies rely more on speed, jockey/trainer, current form, etc.  Steve and I had always talked about combining our respective 'expertises', but he was very busy with his regular job so our 'project' remained in the 'talking' stage.  And then, almost like magic, a series of strange coincidences came to pass.
First off, Steve was given a promotion that instead of resulting in more work, actually put him in a position where he suddenly found himself with loads of free time.  Then, I discovered, thanks to a programmer I had met over the Internet (from Russia, no less!), a way to 'muti-task' my programming (which simply means a way of getting the software to perform many, many handicapping tasks quickly while actually taking up less disk space).
So  I got the idea of taking Steve's Pace-O-Matic and converting it into software.
My programmer said it would be a very simple task, so I asked him about using my favorite-ever pace criteria: feet-per-second.
He said 'sure'.
So then, borrowing from something David Powers showed me years ago, where pace figures are honed to a fine edge by comparing a horse's fractions to the average par time for that class of animal*, I asked him if he could do that.  'Yes', he said, but it would be much more difficult.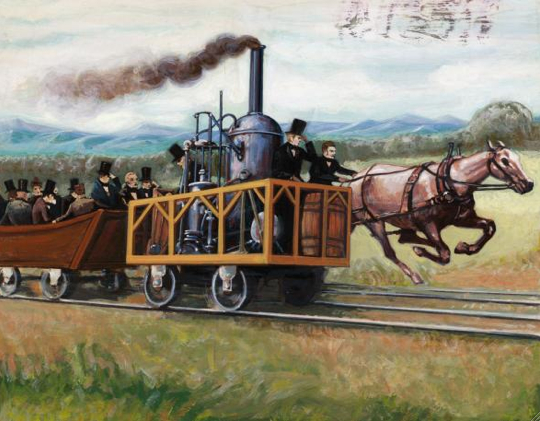 *This is the factor that separates the 'pace-men' from the 'pace-boys'.  Comparing a horse's fractions to the par times for that level of competition can uncover some amazing plays.
Say average time for the class level at the half-mile call is 45.4, but this horse is running 45.1 or faster fairly consistently.  Only a tiny % of the players have this knowledge, but this horse may very well have that 'hidden' pace edge that spells big win and exotic mutuels.
We decided to call the program
The Win-More Express!
I was simply going to call it 'Pace-Ace©', but there are many other important factors included in the selection part of the software, so we just decided on 'The Win-More Express with Pace-Ace'.
The Pace-Ace part of the program is what will get you most of the prices (see example of Hollywood 5th Oct 9).  Uncovering 'hidden' pace is a major key to success in this game.
This type of software enhancement is what we in the business call a 'fooler'.  That's a horse whose record suggests a mediocre performance, but when the 'fooler' factor is added in, he becomes a high-percentage overlay.  And the Pace-Ace 'fooler' programmed into this software is one of the most potent I've ever seen, period!  You will love the prices, and the consistency, WME will get for you!
PACE-ACE©, by the way, is a uniquely formulated software powerhouse that measures feet-per-second at every call and then crunches current par times to uncover 'hidden' pace factors that put you on horses you never would have given a second look to previously.
It works in the background so you don't have to deal with myriad figures – it is an integral part of the  Win-More Express Software.
It makes an already great program even better!
How it Works

OK, now, from this first screen, click on Race 1.  Anywhere on that first line that lists Race 1 will do.  This will take you to the Race 1 handicapping screen.  You will see all the ratings on this screen for Race 1.  Let me now explain what you are looking at:
First, in the gray area near the top, you will see the track abbreviation, race number, and then that  "pass"warning if it applies to this race.  Then you will see the full race description under this.  Below that are the ratings.  Let me explain each:
H#…The official program (betting) number of the horse.
Name…Horses name
M/L…Morning Line Odds
J/T%…This is the combined win/place % for todays jockey/trainer combo.  It may look something like this: 49% (101)   This is telling you that when todays trainer uses todays jockey, they have won or placed 49% of the time.  And the 101 is telling you that this jockey/trainer combo has ridden 101 times at this track.  If you see NR, this is the first try for this combo.  Also, if you see something like 100% (1) or 0% (1), it is showing that this combo did not have many tries yet.  So don't take it too seriously.
CLASS…This is a strong class rating for the horse.  High is best.
2nd Call….This is a second call rating for the horse.  Consider it a "speed rating" but it is based on the second call of the race.  High is best.  The program should default to sort on this rating.  (If not, click on the 2nd Call heading and it will sort on it.) It is the strongest rating in the program.  It is based on a pace line the program feels best represents how this horse should run today.
FINAL…This is an adjusted final speed rating prediction for the horse.  It is based on his closing ability in the past, along with the second call rating.  This is the second strongest rating in the program.
KEY?…If a horse gets a Y, it is considered a KEY horse and must be included in you exotic wagers, such as pick 3's, trifectas, exacta, etc.
HTW….Horse To Watch. This is a bonus long shot method.  Actually 2 methods.  If a horse gets a Y1, it qualifies for long shot method 1.  If it gets a Y2 it qualifies for long shot method 2.  These horses can win a huge prices!
Below is a great example of the kind of winners and prices WME with Pace-Ace can get you.  This was a clear-cut, no brainer and is by no means an 'exception'.  The powerful pace program combined with other crucial handicapping factors will put you on a high percentage of winners, and keying BIG Exacta and Trifecta payoffs.
The overall win % is in the 35% range with an average win mutuel of $8.21.  Sure, you'll get some chalky payoffs as well, but the prices will come along and I always recommend betting two horses if, like in the example below, both are at big prices.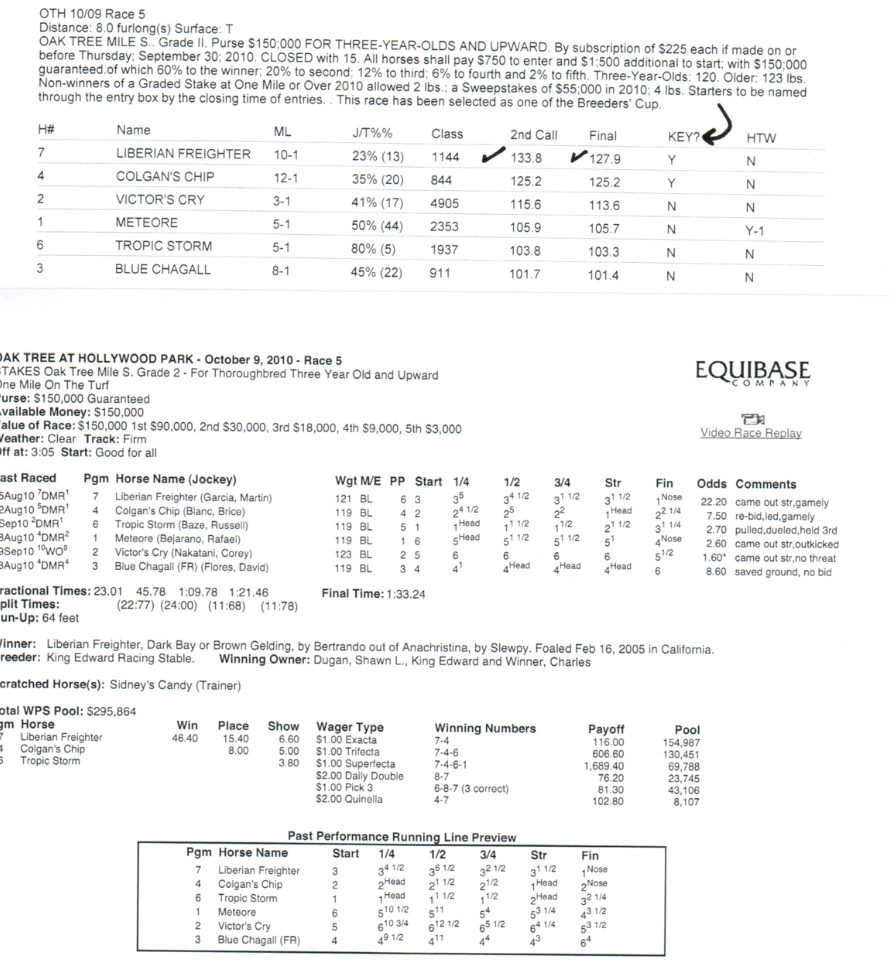 Like $194 Horses??!!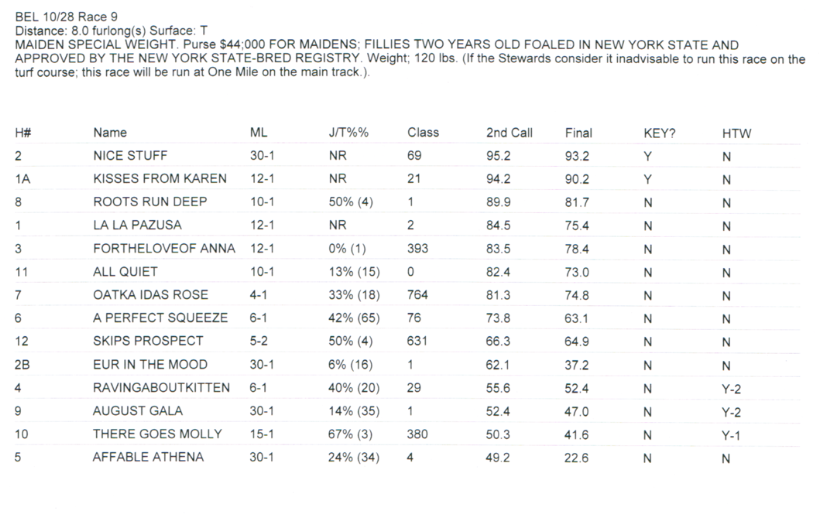 BELMONT PARK – October 28, 2010 – Race 9
Nice Stuff the top WinMore Selection!!    Hope you had it!!
Boxing her with the other Y horse and HTW longshot prospects (Y1's and Y 2's) got you back a $1,538 Exacta to boot!!
9th race – Belmont Park – October 28, 2010
Off at: 5:16   Race Type: Maiden Special Weight
Age Restriction:    Two Year Old
Sex Restriction: Fillies
Purse: $44,000
Distance: One Mile On The Turf
Track Condition: Good
Winning Time: 1:38.72
Pgm    Horse    Jockey    Win    Place    Show
2    Nice Stuff     Jaime Rodriguez     194.00     66.50     16.00
4    Ravingaboutkitten     Alan Garcia           7.40     3.90
12    Skips Prospect     John R. Velazquez                 2.30
Also ran: 7 – Oatka Idas Rose , 6 – A Perfect Squeeze , 9 – August Gala , 3 – Fortheloveof Anna , 5 – Affable Athena , 10 – There Goes Molly , 1 – La La Pazusa , 11 – All Quiet
Scratched horses: Kisses From Karen  (Main-Track-Only) , Eur in the Mood  (Also-Eligible) , Roots Run Deep  (Trainer)
♦

OK, you'll find a screen-shot example in this mailing — you'll see just how simple this program is to use and profit from.
BUT let's talk about price and a

neat little FREE software offer I have for you!!

♦
Listen, I really want you to give The Win-More Express with Pace-Ace a try.  I know many of you still use my URTI, RPG, etc., but Win-More will add another dimension to your handicapping – I will assure you of that.
So, not only am I going to give you a discount off the retail price, but also provide you with the opportunity to receive some additional first-rate software absolutely FREE!  You have the choice of my newly upgraded SnapCap Pro Special Edition,
my second best-seller ever, or my newer Horse Rating Pro!
SnapCap Pro performs many tasks including special rating columns for turf, maidens and first-time starters.  It retails for $155.  Horse Rating Pro, while not as sophisticated as Win-More, nonetheless does an excellent job of picking winners and when you do get a 'match', where both programs pick the same horse, you have a real edge on that particular race.  It retails for $145.
So, there you go.  Your choice, or if you want both, just add another $38!
And…Oh, guess I'm getting old…the most important part, for you at least, is the price of the Win-More Express with Pace-Ace Software program.
I'm going to retail the software to the general public for $228, which is a very fair price considering what this software will do for you.
But for you, the price is just $158, a savings of, let's see, 50, 60, no…$70!  Use that savings to make $10 win bets on the first seven WME plays you find and I can almost promise you will have a nice profit!
A Typical Day At The Races with Win-More Express

We randomly chose a day and randomly chose five tracks.  These tracks were not chosen because the results were sensational, rather because they were very typical of what you can expect (we even chose a winter day just to show you that the program holds up even in shaky weather).  The plays below are all plays (optimum plays) that we recommend based on our studies.  You could have had many more plays by wagering on the top-rated horses from each race.  You would have gotten several more winners and enjoyed the action even though the ROI would not have been as high as with the optimum bets.  All Optimum Bets are fully explained to you and extremely easy to find and play.
Gulfstream
1) Kick  $5.60
3) Key Horse Trifecta Wheel $931.90
4) Rehoboth  $25.40 + $57.00 Exacta
5) October Winds  out
6) On Board Again  $42.70  HTW Longshot
7) Key Horse Trifecta Wheel  $356.30
9) My Lordship  $9.80
Aqueduct
2) Scots Pine  3rd
3) America Quest  $7.90
5) Shade of the Cat  $7.90 + Exacta with HTW horse  $114.50
6) Fire Mist  $6.60
7) Key Horse Exacta  $107.00
7) HTW Exacta Wheel $107
8)  Trifecta Wheel out
9) Hey Tough Guy  out

Laurel
1) Mystic Bay $9.20 Key Horse Wheel $135.40 exacta
2) Timber Emblem 2nd 9-to-1
3) Key Horse Exacta out
4) St Lucia $12.40
5) Commanding Mom  3rd
6) Off The Glass 2nd 8-to-1
7) Your Bluffing  $7.00
Eighth) Key Horse Trifecta Wheel  out
9) Sassy Love 2nd
Santa Anita
2) Mother Maria  out
2) Meet The Heat  $25.00 HTW Longshot
3) Element K  $5.80 + Key Horse Trifecta Wheel $272.40
4) Fly To The Wire  $5.40
5) Key Horse Trifecta Wheel  out
7) Key Horse Exacta Wheel $347.20
Eighth) Canteen  2nd
9) Always Say Yes  2nd
Philadelphia Park
1) Key Distinction  $8.00  + Key Horse Exacta $39.00
2) Noa's Toy  $5.20
3) Precious Ten 2nd 27-to-1 HTW Longshot
4) Key Horse Trifecta out
6) Appropriate out
7) Key Horse Trifecta Wheel $292.40
7) U Gotta Love Dee  3rd 6-to-1
Eighth) Orozco $12.40 HTW  + Key Horse Exacta  $39.60
9) Key Horse Exacta Wheel $256.40
Call to order 
1-800-696-0067

begin_of_the_skype_highlighting

1-800-696-0067

end_of_the_skype_highlighting

or go to our website
www.rpmhandicappinggiant.com and get it there.
And, as usual, if you have any questions whatsoever, call the above toll-free # or email me at:
tconsole@aol.com
And my guarantee to you is that if you do not like the software, for any reason, send it back for a full refund.  Pssst:  You are going to like it though!  Take care my friends, Tom
PS: when ordering enclose a note where indicated on which FREE software product you would like.  If you want both see below.
Also, screen-shot of Tom's HorseRatingPro, which you can choose as a FREEBIE – look at the great info this program gives you!