Sale!
The Console Brother's Factor-X is what Computer Handicappers have long been waiting for
Description
Are We Talking 'Black Box' here?  The Console Brother's Factor-X is what Computer Handicappers have long been waiting for: 
Computer Selection Software that identifies the now horse more often than not and tells you exactly how to bet it!
Computer Software that has rewarded our Clients with a 44%+ ROI per month on straight win wagers!  Interested?  Then read on!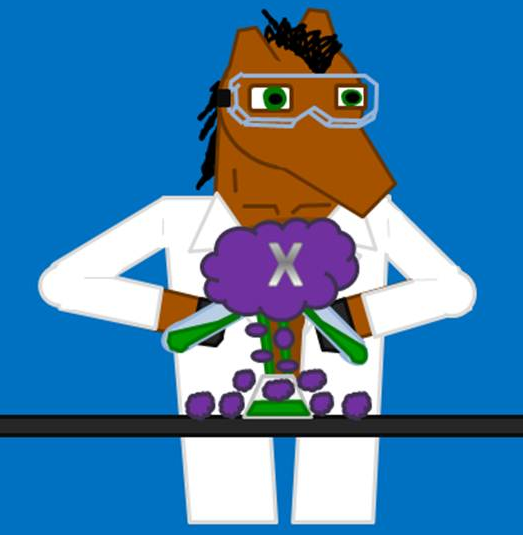 'Black Box'.  What does it mean?  To computer handicappers, it is their ultimate desire, their ultimate fantasy. 
♦

The long sought-after 'Black Box' is a computer program that does all the work for the handicapper.
Very simply, it is a program that tells the handicapper what to bet and how to bet it and, of course, makes a handsome profit.
But despite all the claims of the hundreds of computer program sellers out there, few automatic, profit-generating software products could be found.
That all changed last October, however, when we started beta-testing Tom & Steve Console's new Factor-x. 
You all know Tom Console.
Tom is probably, no, undoubtedly, one of the most brilliant handicappers in the country.  His methods include True-Tenders, SPACE, K-Speed, 'Q' and the incredible
FG Method and software products like the Race Profit Generator, WinMore Express, Snap-Cap Pro, etc.
Tom's handicapping input is invaluable to any system or piece of software.
Tom's brother, Steve, who many of you also know, came up with the idea to incorporate his knowledge of 'form' and other 'current condition' concepts, like a horse's past experience on today's track with some of Tom's most potent profit plays into a single computer software program.
Here's what Steve had to say about the development of
FACTOR-X

:
"About six months ago, I said to Tom: 'Let's spend whatever we have to and put all this together in one program.  Not only that, but let's design the program as an

INVESTMENT STRATEGY

.
In other words, let's not design just another handicapping program,

but instead FORCE THIS PROGRAM TO MAKE A CONSISTENT PROFIT

.
After spending a lot of money and working on the program for several months we succeeded in developing a selection software and thoroughbred investment strategy that is like like no other! 
Every aspect of this program is a money-maker."
They were very fortunate to hire
Len Czyzniejewski

to do the programming.
Len, in our opinion, is the top handicapping software programmer of all time (Len, as most of you know, has designed state-of-the-art handicapping software for some of the biggest companies in the business).
The result, my friends, is something that has to be seen, and used, to be believed:
FACTOR-X, a FULLY AUTOMATIC Selection Software that relieves the player of the tedious job of trying to determine which
horse in a given race is in the best current form.
Ask any astute handicapper and he will tell you that close to 80% of races are won by horses who are in tip-top form,
and when you can isolate a horse who is in much better form than its competitors, you can expect to cash in close to 40% of the time.
*And isolating the IN-FORM/Track-Distance Proven 'NOW' horse is what FACTOR-X does best.
The program does all the work.  WE PAY NO ATTENTION TO HANDICAPPING.  The program tells us what to bet to PRODUCE A CONSISTENT PROFIT!
A couple of clicks of your mouse and you have an entire card, expertly handicapped, staring back at you from your computer screen.
What FACTOR-X MEANS TO YOUR RACETRACK FORTUNES!
How would you like it if prior to the day's races, somebody taps you on the shoulder and says:
Bet the #3 horse to win in the 4th, the #6 in the 5th, then do a 4-5-7 Exacta box in the 7th, and there's a great longshot play running in the 9th, the #10 horse.
And what if at the end of the day you notice that the 4th race was a winner ($11.60), the horse in the 5th ran 3rd at 9-to-1, the Exacta in the 7th pays $49.60 and the longshot in
the 9th ran 2nd, paying $22.10 to place!  Would you think the guy who gave you this info just got lucky, or did he know something that you don't know?
Well, the above example was taken straight from a single card handicapped by FACTOR-X.  And this is not an untypical day.
In fact, FX users become accustomed to BIG WINNING DAYS like this one.
*You see, Tom and Steve  designed this program to provide winning situations for themselves — they did not even consider marketing it when the idea first came to them.
But of course when I got involved, since it is my business to market handicapping products, and since I had carried so many of their products in the past, well, needless to say, they agreed and that is why you are reading this letter.
So like the guy who tapped you on the shoulder, FACTOR-X does know something you don't know:
It knows when a horse is a lucrative wagering proposition, based largely on current form/previous track-surface, etc., experience, which is a dickens of problem for the average handicapper to figure out.
FACTOR-X has been programmed to 'know' what kind of horse is a solid bet under every eligible race scenario.
Of course you don't get a bet in every race, but you'll average a solid three or so solid plays per day per track.
Below is a good example of the kinds of plays and payoffs you can expect from Factor-X.  In this race we had no 'advantage horse' (an 'advantage horse must score on top and be at least 3 points above the 2nd-highest scorer), but we had an MC (major contender) and two longshots. 
The longshot, Mobilized, won the race at $17.40 and the MC horse finished 2nd at 5/1.  You can see that the Exacta Box suggestion hit as well — it paid a nice $95.20 for every $2 wagered.
You can expect a win rate of close to 37% from the Advantage horses.  MC horses win close to 31% of the time, often at nice mutuels. 
Playing both of these bets when they surface will provide you with a very nice +44% ROI over the long run

.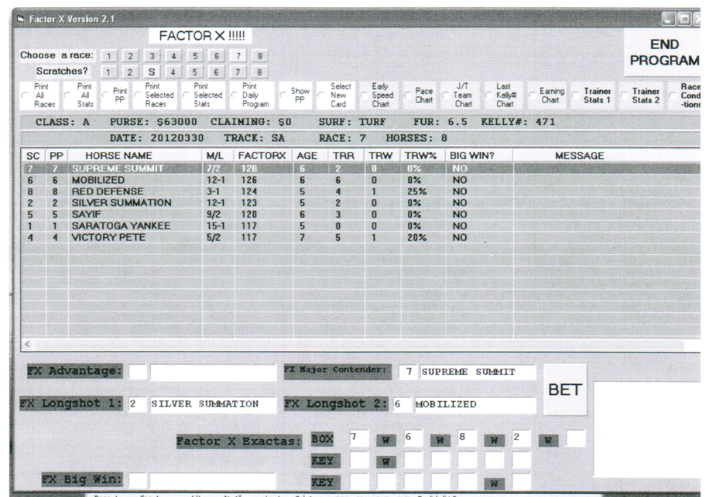 The FX LONGSHOT POWER PLAY – A 100%+ Return On Investment on ALL Tracks Tested!
So playing the Factor-X screen plays will do wonders for your bottom line.  But there's even more:
Patience is a virtue, they say.  And if you can exercise patience where the XF Longshot feature is concerned, you can literally break the bank!
We tested the XF Longshot play on 37 tracks from 2008 to 2012.  Now get this:  During that period the play showed profits of 100%+ at every track.  Every track!
Profits ranged from a +101% at Belmont to a +223% at Mountaineer.  All the other tracks fell somewhere in that range.
Where does the 'patience' part come in?  Well, when you're playing longshots, the runouts can be long.
You'll often go 10, 12, 15, even 25 plays at times between hits.
So if you can't stand losing more than three races in a row, this feature is not for you.  In fact, this game isn't for you.
If you were playing Belmont Park on April 27, you no doubt noticed the Factor-X Longshot Selection in Race #10.  30-to-1 on the Morning Line,
Exciting Missile won more like a 3-to-1 shot and paid $107.50 for the victory! 
The Factor-X Longshot play will make you a long term profit — again, they won't hit that often, but with the average FX Longshot paying a bit over $37,
you don't need a whole lot of hits to come out well ahead.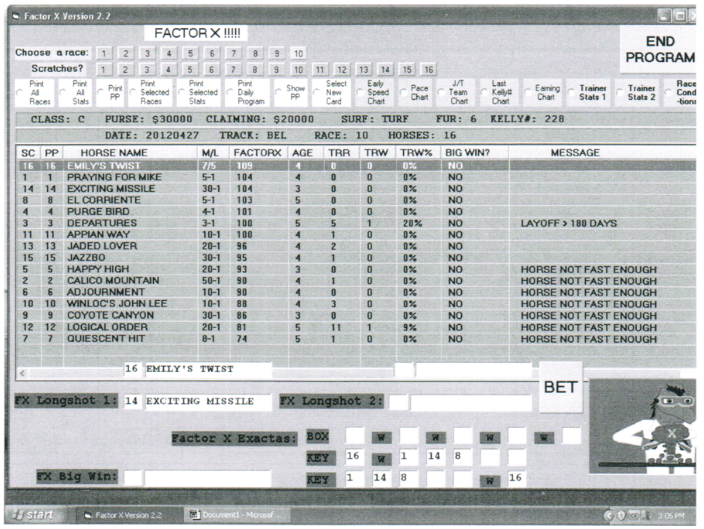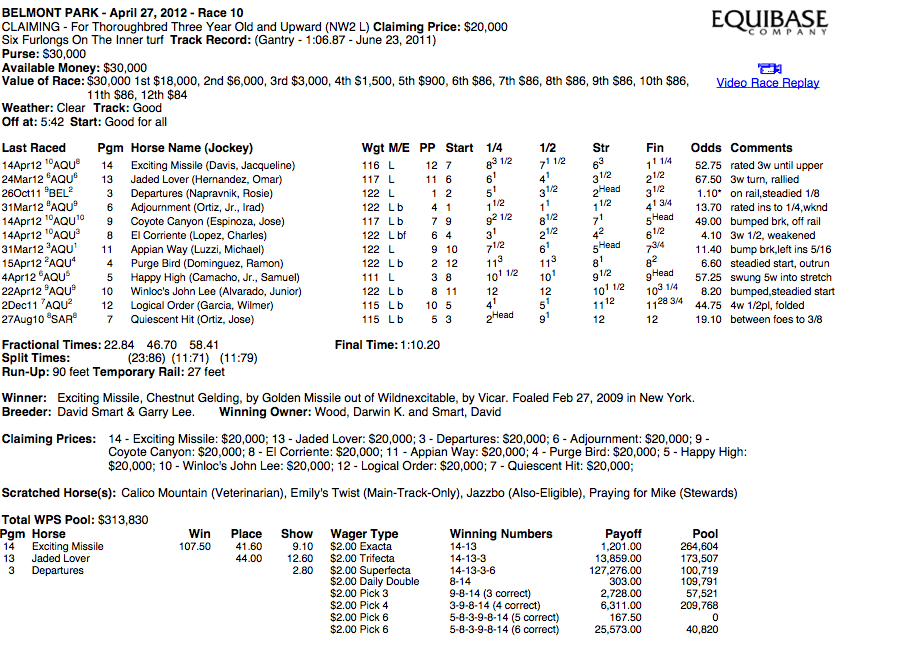 On the otherhand, if you want to make money, and we're talking really big money here, blind-betting profits, in fact, then you'll embrace the XF Longshot play like a long-lost relative.
A long-lost, rich relative, that is.
You will also recieve *A complete listing of all profitable plays based on our huge study!
You can go with these proven plays, or play your own way.
But however you play, you will welcome the increased number of straight and exotic wagers you will cash with FACTOR-X.
And There's More, So Much More!
GET THIS: The FACTOR-X also
*Generates an Official Track Program for you, FREE! 
*
Lets you view or print out Past Performances, FREE! 
*Provides you with the most accurate Class Ratings in the game (the 'Kelly' Class Ratings).
*Lets you view 'Detail Screens' that provide up-to-the minute trainer & trainer/jock stats. 
*Provides the usual, extremely useful graphic 'Chartings' for Speed, Pace, Class, Earnings and Jock/Trainer. 
You know, the usual great features that makes Len's RPM produced software stand
above the rest.
The software uses the $1 bris file as its data source.
**And the price?  Well, regular retail is $199 but, as usual for you, our best and most loyal customers, we are offering you a BIG, BIG Discount for ordering early.  
And 'early' means within the next 17 days.
So order now and receive a full $58 off the retail price — your cost, just $141!
And, of course, you can take advantage of our 3-payment/no-interest plan if you wish.
Call us at 1-800-696-0067
or visit our website at
www.rpmhandicappinggiant.com
Thanks!, as always, and please call if you have any questions.  Dave Powers