Sale!
'THE SWITCH'

– The Distance-Change Puzzle Solved    +  

VESPER-41

– Locating the 'Better-than-Looked' Horse
Description
Announcing!!
(+ check out the FREE Software Offer Below♦)
'The Switch'

/

Vesper-41 Software!!
(UPDATE – Vesper-41 catches $131 winner in BC Turf + $1900 Exacta!!)

'THE SWITCH'

– The Distance-Change Puzzle Solved    +  

VESPER-41

– Locating the 'Better-than-Looked' Horse

Remember when one of the most frustrating problems for the handicapper was trying to figure out how a horse would do stretching out from a sprint to a route, or vice-versa?
Oh, wait!  Distance-switches are still one of the most frustrating problems for the handicapper! –
Little has changed over the years to address this equine wagering mystery….

until Now!
Understand that we are very serious horseplayers.  We play every day — have for well over 30 years now.
We are fortunate to have one of the largest horserace databases in the world — not just the 'country' — the WORLD.
We are also fortunate to have a programmer who is also a horseplayer, Len Czyzniejewski by name.

We tirelessly research angles to make our play more accurate and more profitable.
When we find something that works ('works' meaning 'selects winning straight-be & exotic situations and makes profits'), we then offer it to the public through our company.
And, once again, we have found another angle(s) that 'work' according to the above definition!
We are offering our clients a shortcut to success with distance-changers with

'The Switch'

.
The Switch!
solves the age-old handicapping puzzle of distance switches –

sprint to route

and

route to sprint

.
Analysis of over 130,000 of these situations has resulted in a formula that 'projects' a distance-switching horse's chances of winning today,

and the formula is right more often than it is wrong!
The Switch winning formula is very sophisticated, using a wide range of factors (trainer, trainer success with switch move, horse's previous experience at distance, lasix, blinkers, form, jock, etc.,etc).
When rolled all up into one package, you have a 'blueprint', so to speak, that provides the foundation for The Switches' distance-changing cash-in success.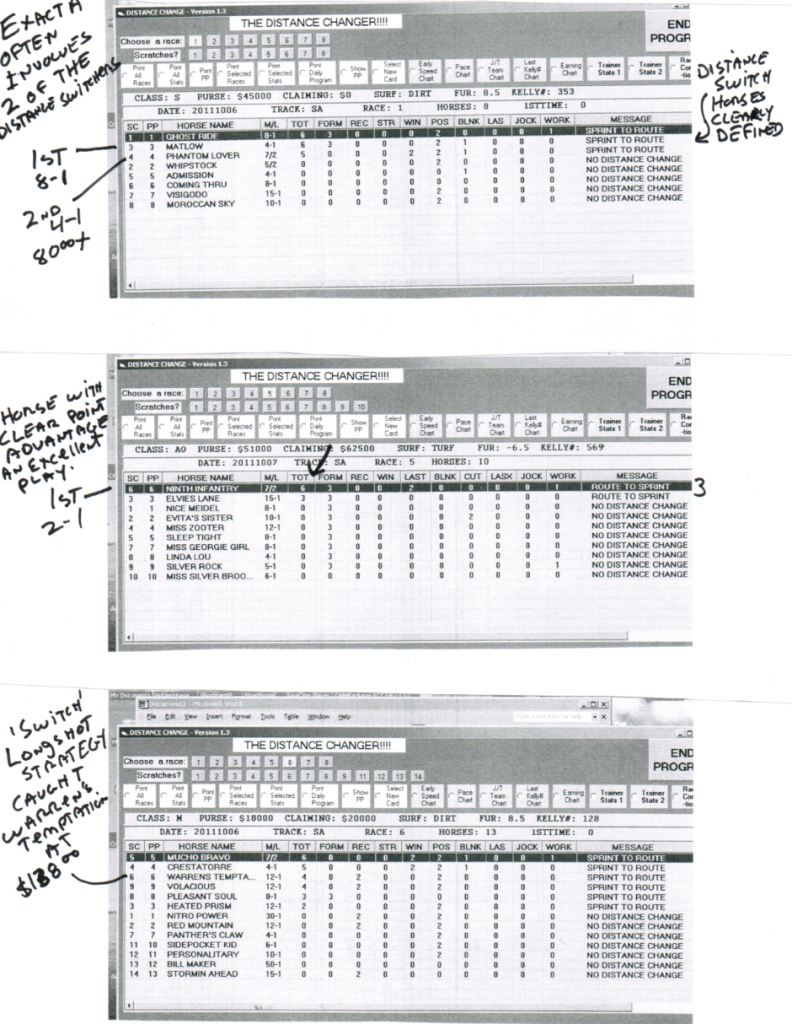 In addition, we're including an absolutely amazing program,
Vesper-41!
that analyzes previous 'better-than-looked' efforts to point you to dynamite big-priced winners.
What 'better-than-looked' means is that for any number of reasons, trouble, wrong distance, wrong surface, wrong class, etc.,
a horse may have run a much better race in his most recent race  than the running line shows.  Thanks to a multi-faceted, very-difficult to program formula,Vesper-41 locates these horses for you!
The public ignores these horses based on the last poor effort, but V-41 sorts the wheat out from the chaff and

tells the user when one of these runners is ready to bounce back.
Vesper-41 provides the player with very consistent and profitable spot plays.
A very consistent and profitable spot play.  The '41', by the way, represents the average longshot mutuel ($41) this program gets for you when a longshot play
appears on the V41 screen in the aptly-named

'hot box'

.
Take a look at this year's Breeders' Cup Turf Race.  My, my.  Note that Vesper-41 shows three major contenders,

including Court Vision, who paid $131.60 for the WIN!!
Notice that he also showed up in the 'Hot Box', which is the part of the program that focuses on likely big-priced winners.
Oh, and take a look at the recommended Vesper-41 Exacta Box  3-9-13-1.
A $2  Exacta box on these four horses would have set you back $24, and you would have collected a mere $1,979.60!
And, had you extended out to a Trifecta box with these four horses, your $2 box would have netted you a $9,955.20 payoff!!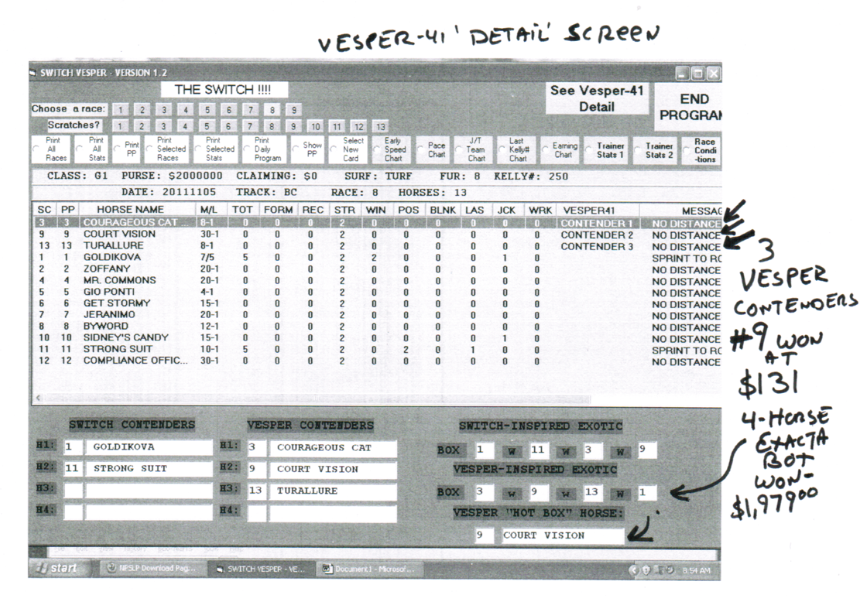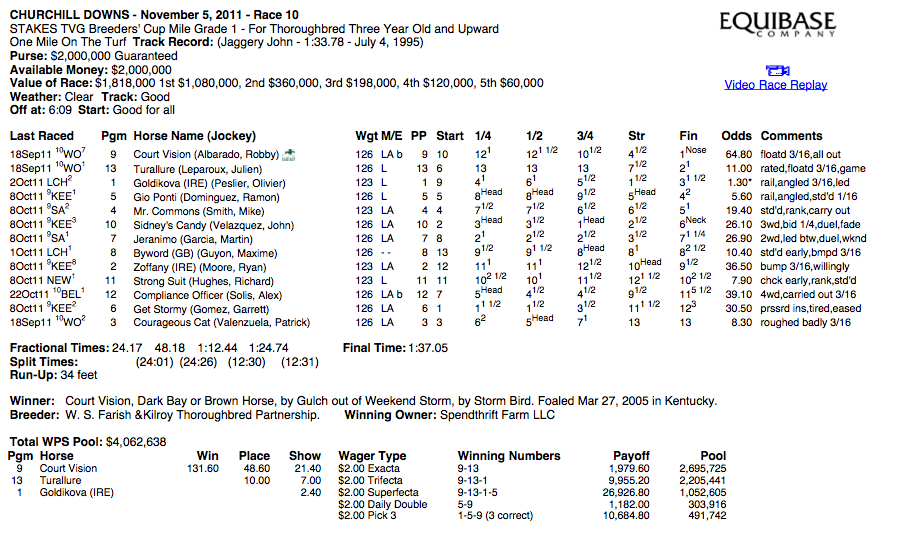 And in the previous BC race, The Juvenile, Vesper caught Hansen at $16.20!
Here's another great example of Vesper's Handicapping Abilities:

'Vesper 41' is named after its brilliant creator,

Vince Vesperano

.
If you are a New York player, you have likely heard of Vince, who is one of those rare racetrack birds who depends entirely on the racetrack for his living.
His breakthrough

Vesper-41 Strategy

works at all tracks, large and small, in races from 5-1/2 Furlongs to 1-1/8 miles, dirt and turf.
Average win mutuel is in the $11.40 range with a hit rate of close to 30%  His Longshot plays are also legendary, as are his Exactas and Trifectas (you can extend the Tris out to Superfectas if you wish).




Serious horseplayers have long known about the 'BTL' horse, but it can take hours digging through past performances to find them.
Vince's formula takes into account close to 60 different BTL 'clues' that point to a likely-improved to vastly-improved performance today.
♦Oh, when you order The Switch/Vesper-41 Software Package, we are going to include FREE!!♦
+++++The Double Overlay Horseracing Software Package!!+++++
DOHS is designed to seek out horses whose 'win potential' outweighs their morning line odds.  Thanks in part to the works of Dr. William Quirin and his magnificent 'speed point system',
and combined with my own more 'subtle' longshot positive indicators, the DOHS produces great prices on both the win end and in the exotics.  Works at all tracks, large and small.
It's a $127 retail value, but order

The Switch/Vesper-41

in the next 17 days and it is yours FREE!!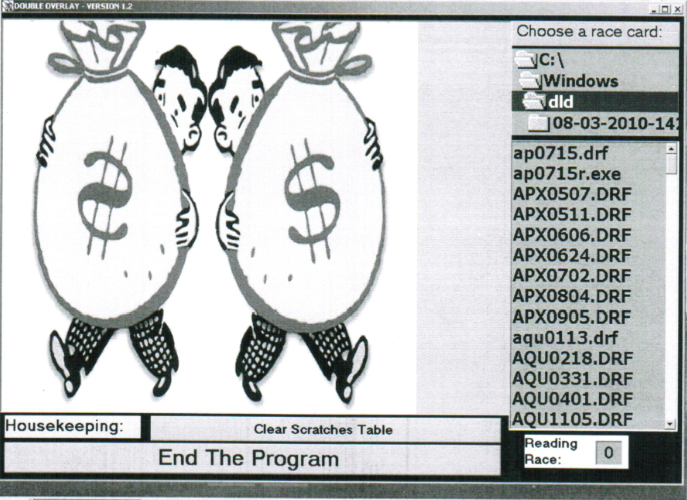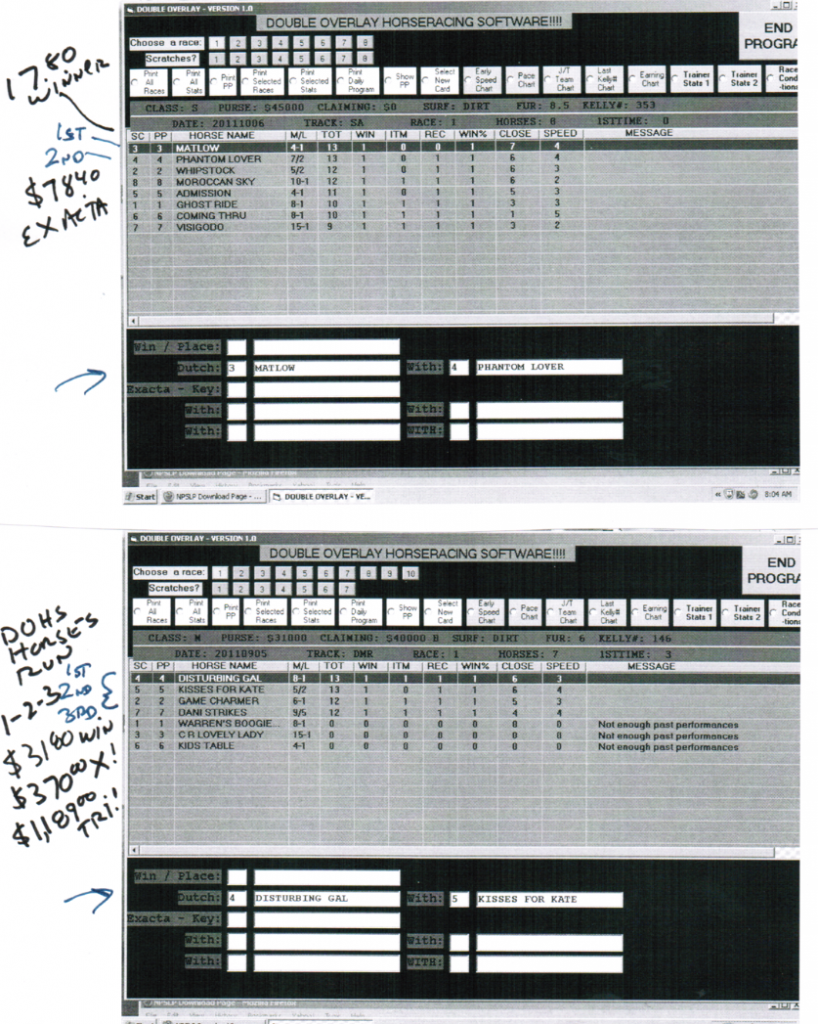 P.S. – Vince asks that we limit sales to 300 copies, so we will honor his wish.  No hype here to get your to order early.  Actually, we wouldn't be selling Vince's part of the program if we didn't agree!
[wp_eStore_fancy2 id=61]