Description
THE FIFTH DIMENSION SELECTOR!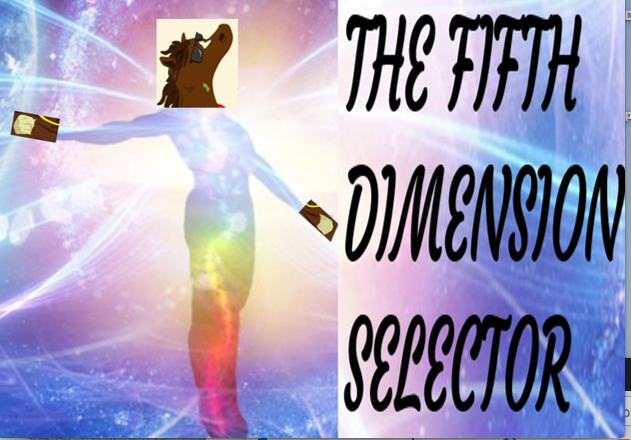 >>

Consistency + Big Big Price Potential

<<
Works Great on Quarter Horse Races, Too!
>>>
++++FREE!!!
The SPEED SCHOOL, II Software!!!  Newly Upgraded!!


(see below)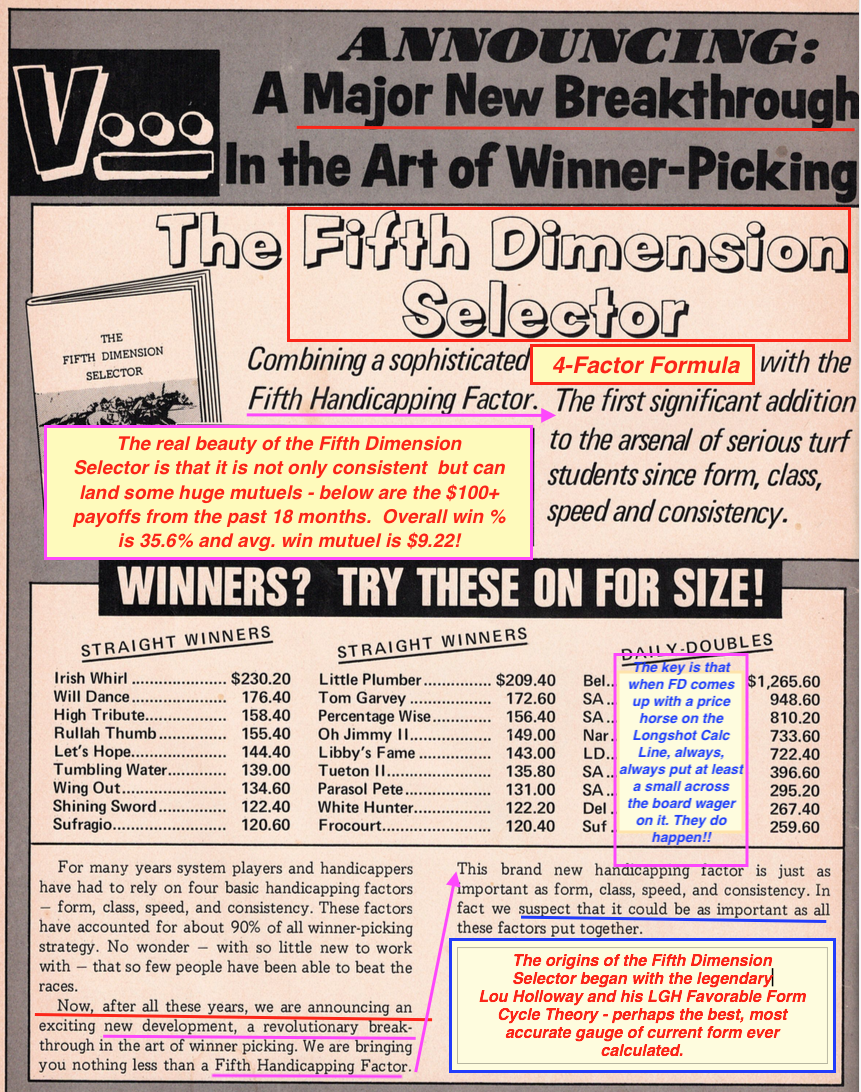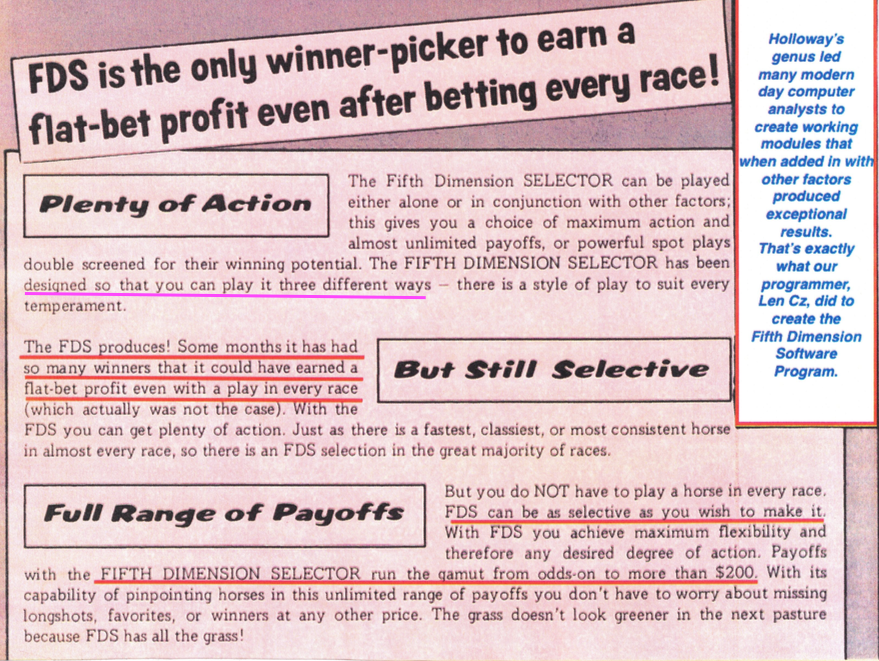 The Software – More 'Wizardry' from Len Cz!
The software programs mimics the paper version + adds a whole bevy of other features.  LOOK!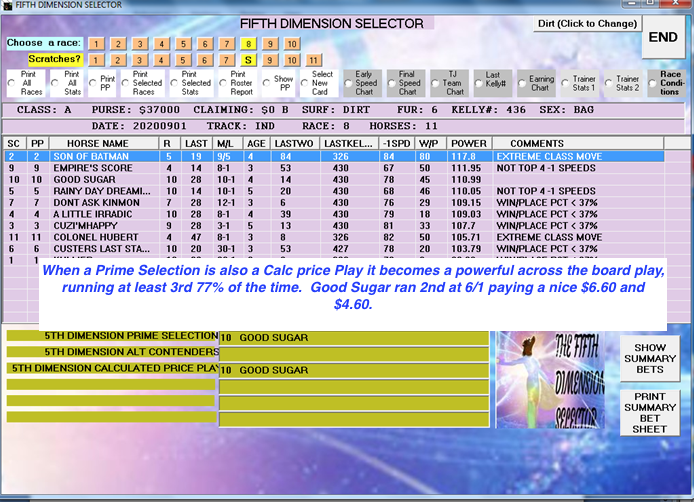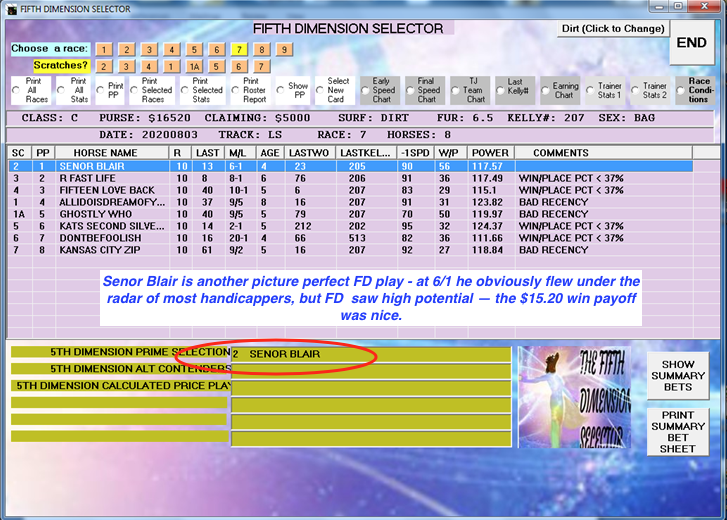 And Look at This:  FD does very well with quarter horse races up to 3 furlongs (which is 90% of them).  On the below card there were three plays with two winners.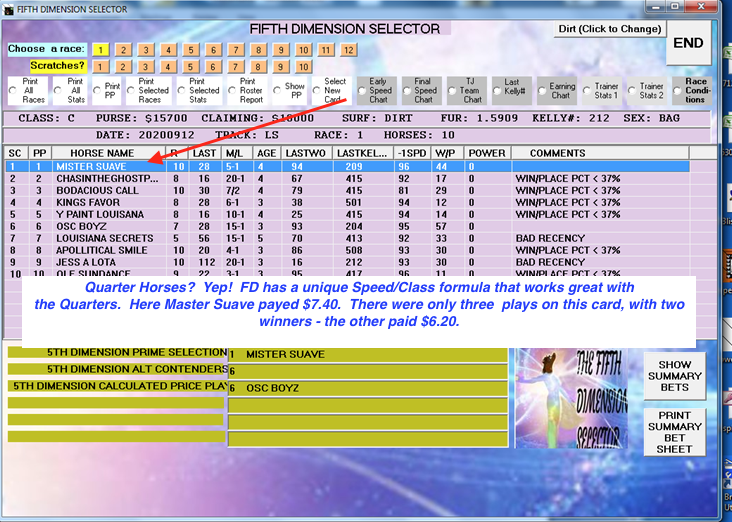 Below is a subset from our Access Database Study.  This section analyzes the results of quarter horse races when betting the FD top pick when it is the morning line favorite — you can see that when these horses were at odds of between 9/5 and 5/2 (morning line) nice profits were realized.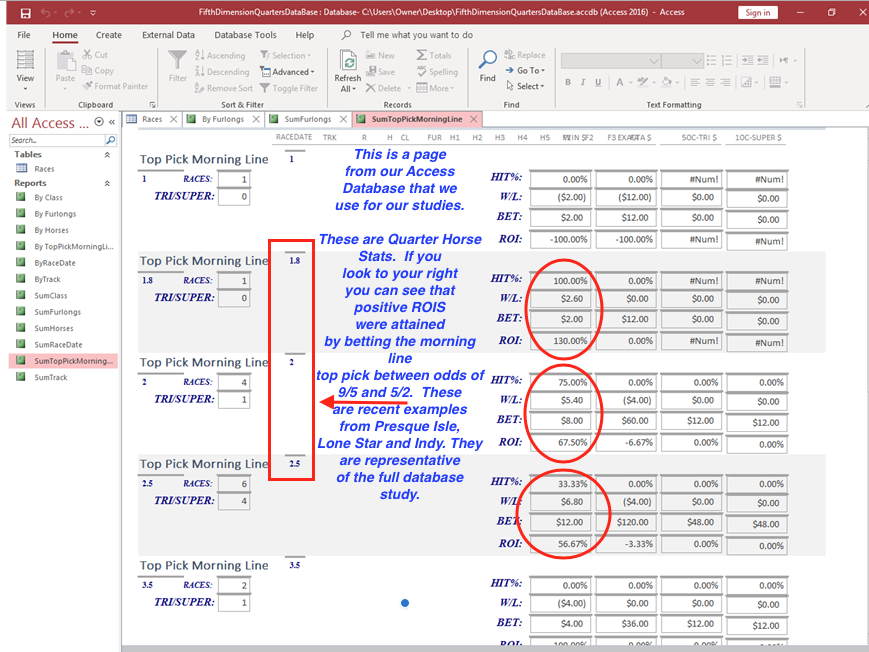 FDS gets you consistency, and Big Prices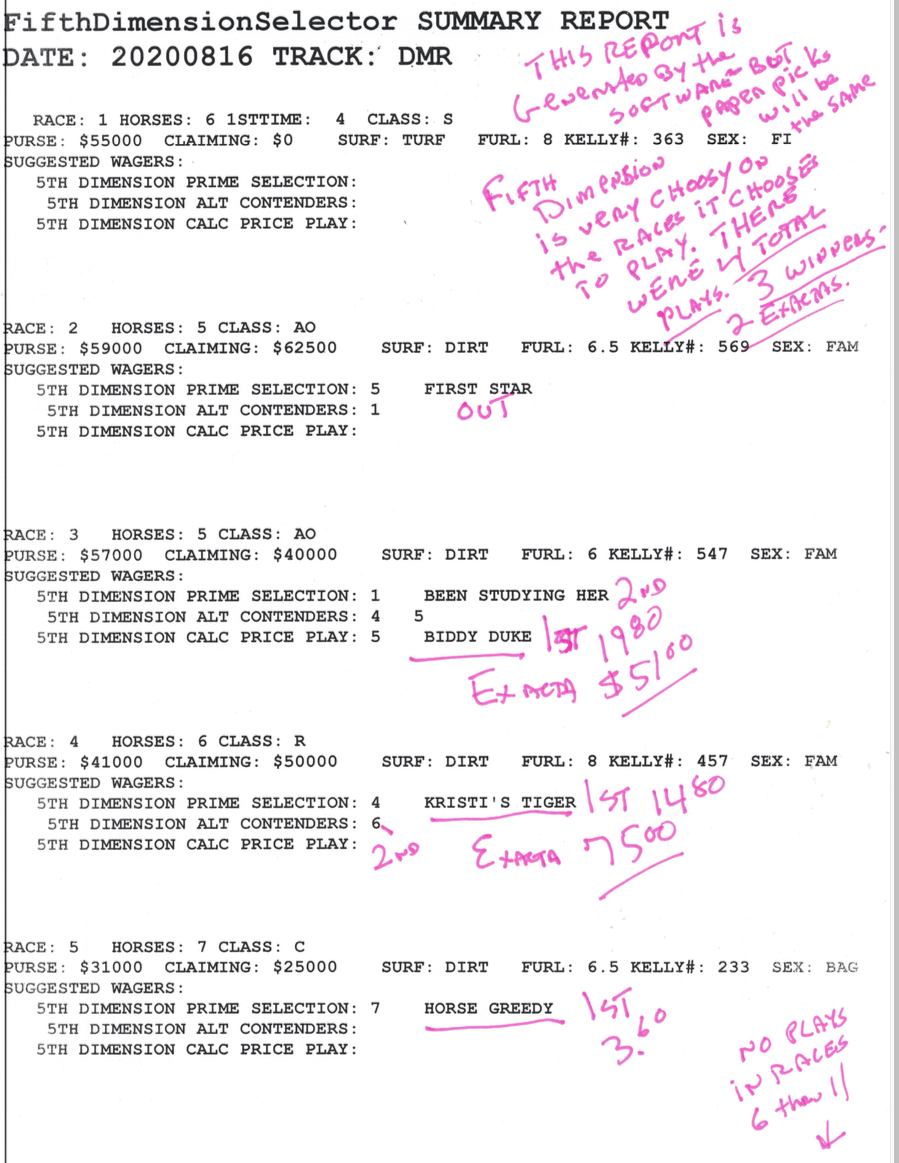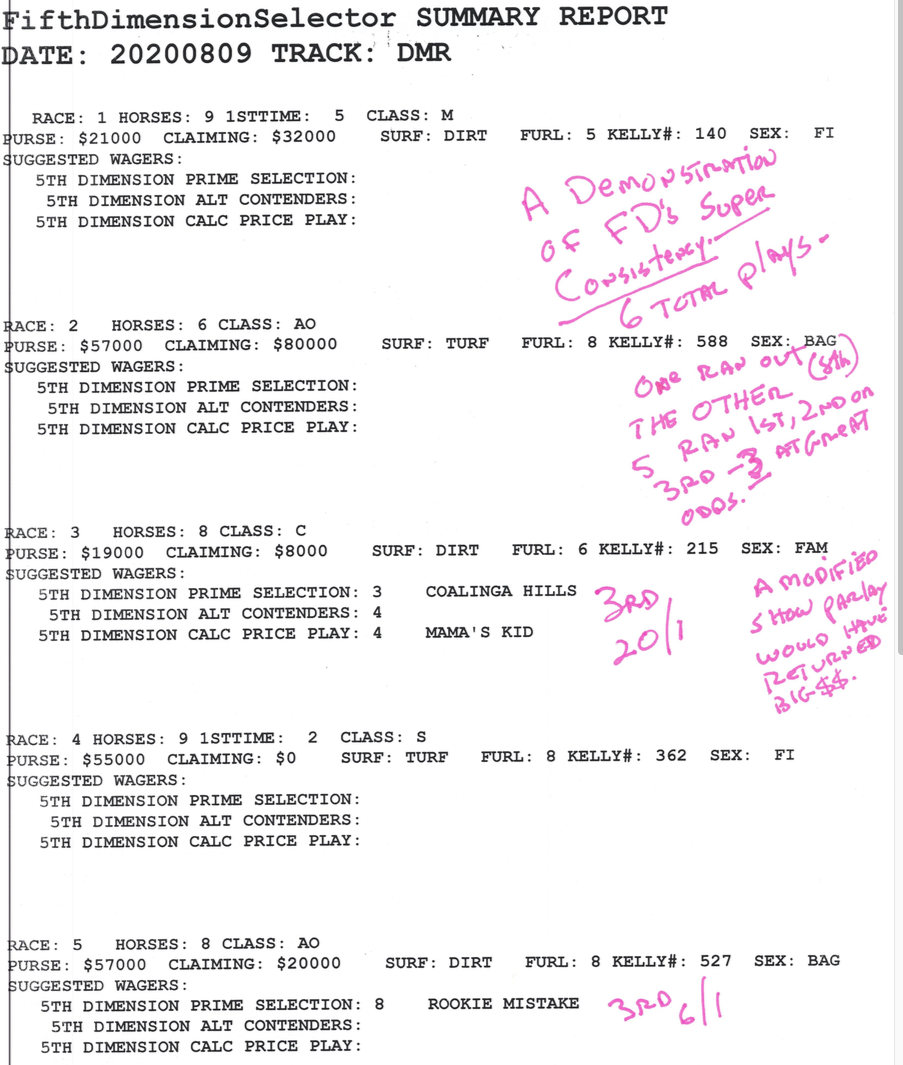 >>Oh, and one other thing!!:
We are going to give
YOU

our SPEED SCHOOL, II, absolutely

FREE!!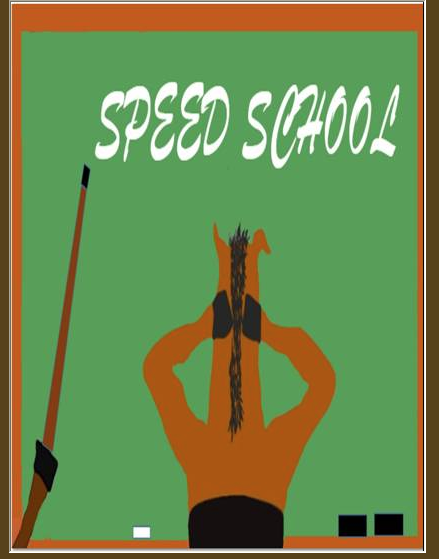 Speed School!

is one of our most spot-on PURE SPEED methods

, and we have recently upgraded it to provide even more accuracy along with some other neat features!  And you don't have to pay the $78 Upgrade price when you purchase Fifth Dimension, because you are going to get it FREE!!  Now that's a heckuva DEAL!! 

P.S. – you don't need the original to run the upgrade.



So Call us at 1-800-696-0067 or order through our website and, of course, call with any questions.  Thank You!
Fifth Dimension Paper Version  $48.00
Fifth Dimension Ebook  $41.88
Fifth Dimension Software   $97.50
Additional information
| | |
| --- | --- |
| Fifth Dimension | software, ebook, paper |