$148.00
Superstars Diamond

 

boast all of the up-to-date, state-of-the-art RPM software features
Description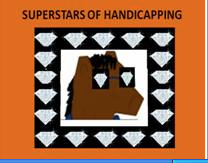 The

SUPERSTARS of HANDICAPPING

–

DIAMOND EDITION!!
(+ check out the Bonus Offer below!!)





Now with PATTERN-MATCH!!
Experience Hi-Tech Handicapping to its Max!!
The NEW

Superstars of Handicapping

– 

Diamond Edition!

is much more than your 'standard' update.
News Flash!!

– SuperStars really on a roll – several big wins/exactas/trifectas including

Race 12 on Preakness Day at Pimlico

where Software caught the

$317 Exacta

,

$2,165 Trifecta

and

$10,443 Superfecta!!!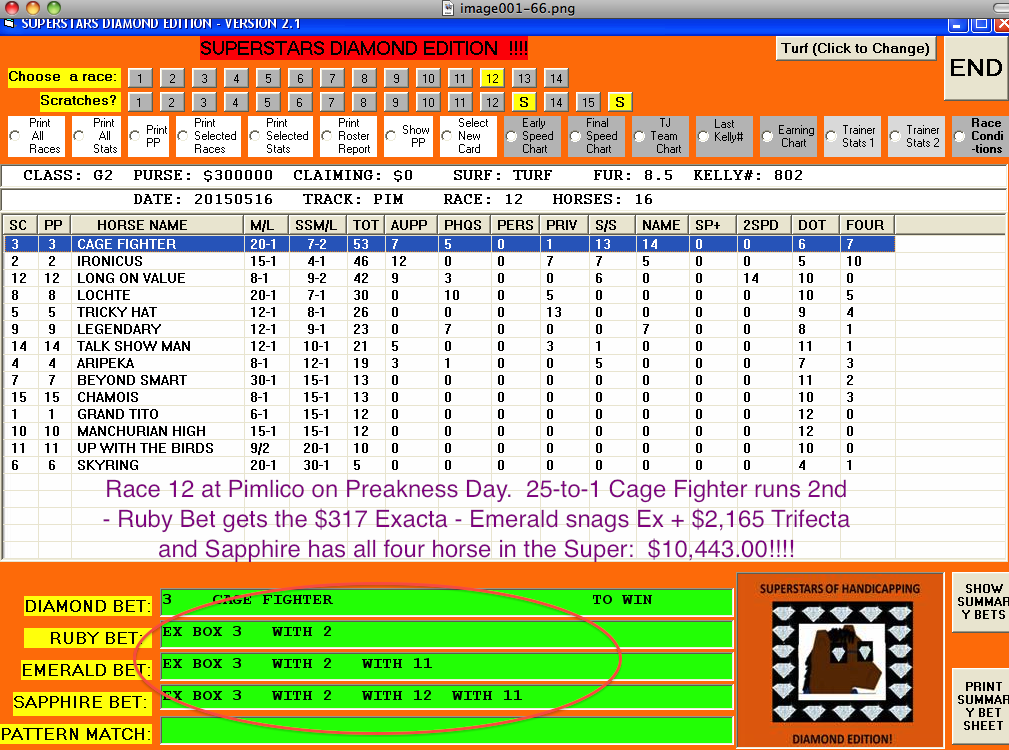 ***(
Shhh!

–

plus see the great FREE Offer for our

Superfecta Randomizer, 1.0

, below)
Superstars Diamond Edition

employs 10 different High-% Methodologies to arrive at a 'Consensus'

.  And,
since all of the Columns are Sortable

,

you can track each Methodology individually if you wish!
Not only does

Superstars Diamond

 

boast all of the up-to-date, state-of-the-art RPM software features, such as:
>>>>having the selections precisely presented to you on the bottom of the screen,
  >>>>
up-to-the-minute totally accurate trainer stats

– stats cover every situation imaginable – layoffs, first-timer stats, distance or  & surface switches, etc., etc., which you can check out on your own if you wish, and

all of these stats are also incorporated into the selection process.
****

SS-Diamond Creates Its Own Very Super-Accurate Betting Line!

****
Superstars Diamond Edition creates a Betting Line that provides the user with endless opportunities to cash in on overlays.

  Based on

Mark Cramer's

'The Odds Are On Your Side' book which detailed exactly how to manually construct an accuarate betting line, you

can use this tool over and over again to locate horses the the general public miss.
Also …

speed/pace/jock/class/earnings charts

,

view/print daily program

,

view/print past performances

,

view print Summary Bet sheet

, etc., etc., etc.
***but the new software ….
… also incorporates some absolutely amazing new innovations:

Like the new

'DIAMOND' Plays

, for example!
>>>Diamond plays are generated when the already, super-accurate top Consensus horse
also possesses a couple of traits that make him a true standout to hit the board.
>>>>Diamond Plays

will run

1st (38%), 2nd (62%), 3rd (85%)

making them 'must-use' horses for all those slots as well as in the Exacta/Trifecta/Superfecta!
 A nice Price from a pretty obvious contender according to the software.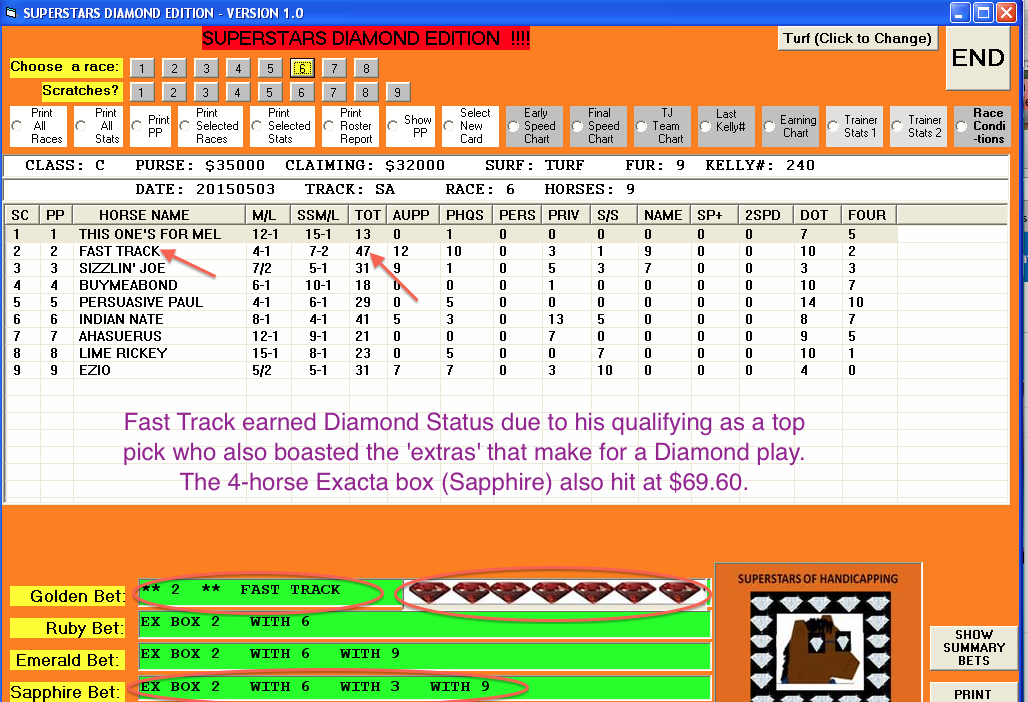 And then, the

Crowning Achievement:
PATTERN MATCH!!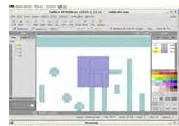 What, exactly, is Pattern Matching?
Well, here's a brief dictionary definition for all of us non-tech guys/gals:
(

'Pattern matching in Computer Science is the comparison of two patterns to determine whether they match (i.e., that they are the same) or do not match (i.e., that they differ). Pattern matching is the core procedure of theory-testing with cases. Testing consists of matching an

observed pattern (a pattern of measured values)

with an

expected pattern

(a hypothesis) and deciding whether these patterns match (

resulting in a confirmation

of the hypothesis) or do not match (resulting in a disconfirmation).'

)
The Pattern-Match 'Edge'
>>>IMPORTANT:
The Pattern Matching app in

SuperStars Diamond

, therefore,

will detect situations where a runner is moving into a position

, i.e., a race,
that closely resembles a situation where the horse performed well previously.<<<
This is an enormous help to the horseplayer who would otherwise have no idea that the horse is in a position to run big

because the horse has run well previously when today's probable

race shape, pace, distance/surface/pace, etc., was in play.
>>>Pattern-Match

, therefore, >>

will provide you with information that only a tiny, tiny handful of bettors at the track will possess.<<
And, as you would expect, Pattern Match horses

often return healthy mutuels

because, again,
the average, or even above average player is not likely to recognize these matches from the past performances.
Lucky Views rated 'Standout' status according to SuperStars, but went off at 6/1 when the SS betting line made him 9/5.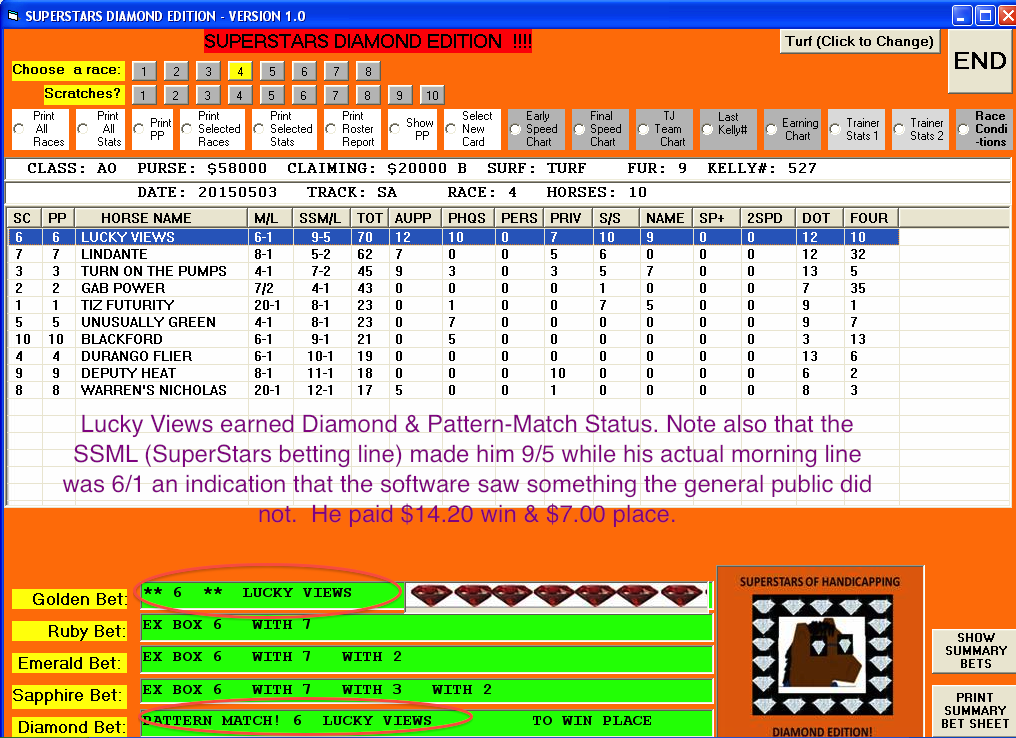 Another Diamond/Pattern Match Double Qualifier – $14.80!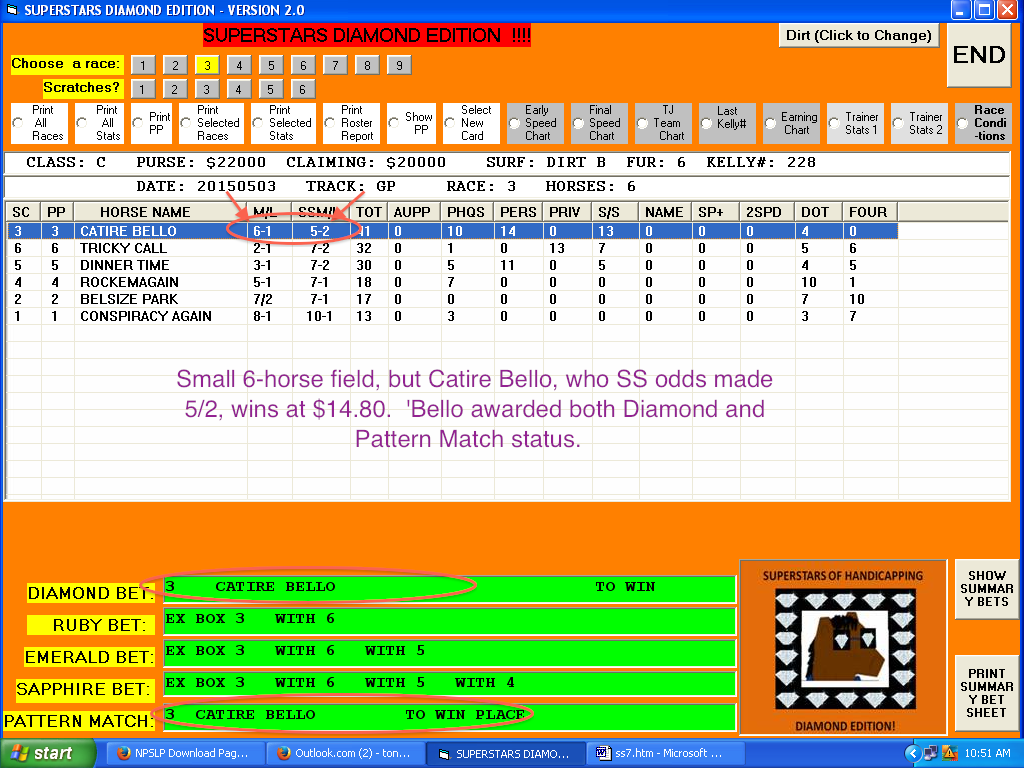 Below is another Wagering Option SSD will provide for you.
Also here is another situation where the program's odds-line pointed the $21 winner as a strong contender by saying that the horse's odds should have been in the 5/2 range —

she went off at 9/1.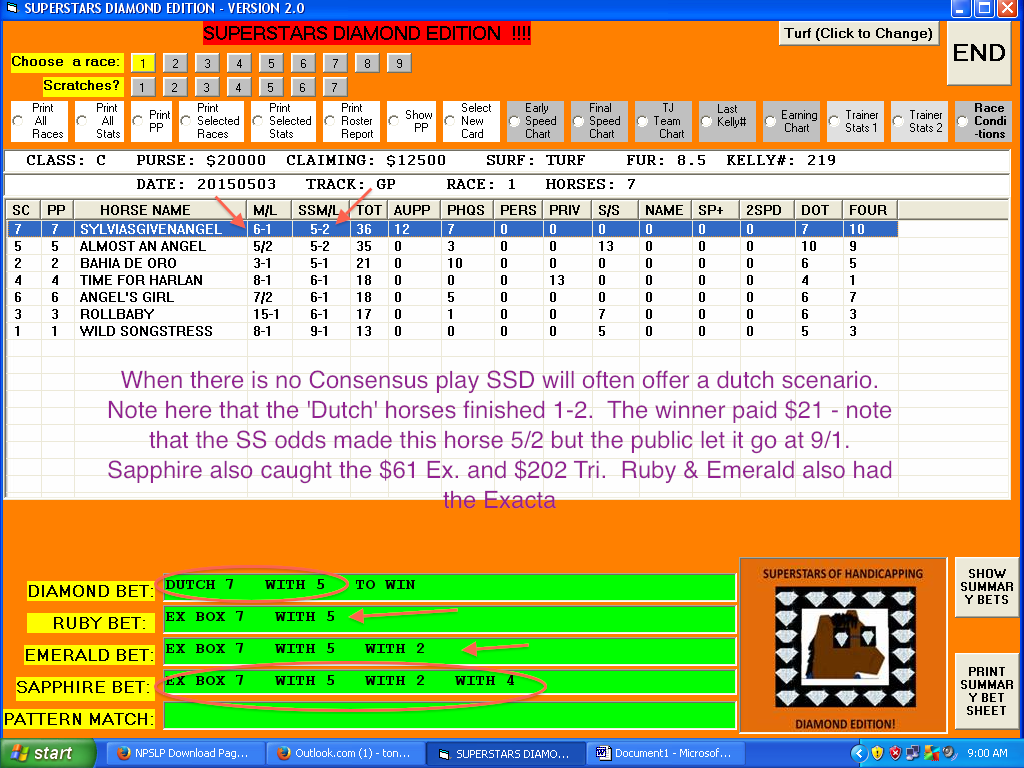 Below an Exotics 'Sweep' – nice prices.  Tap And Trade was the favorite, but the prices were very good considering the small field.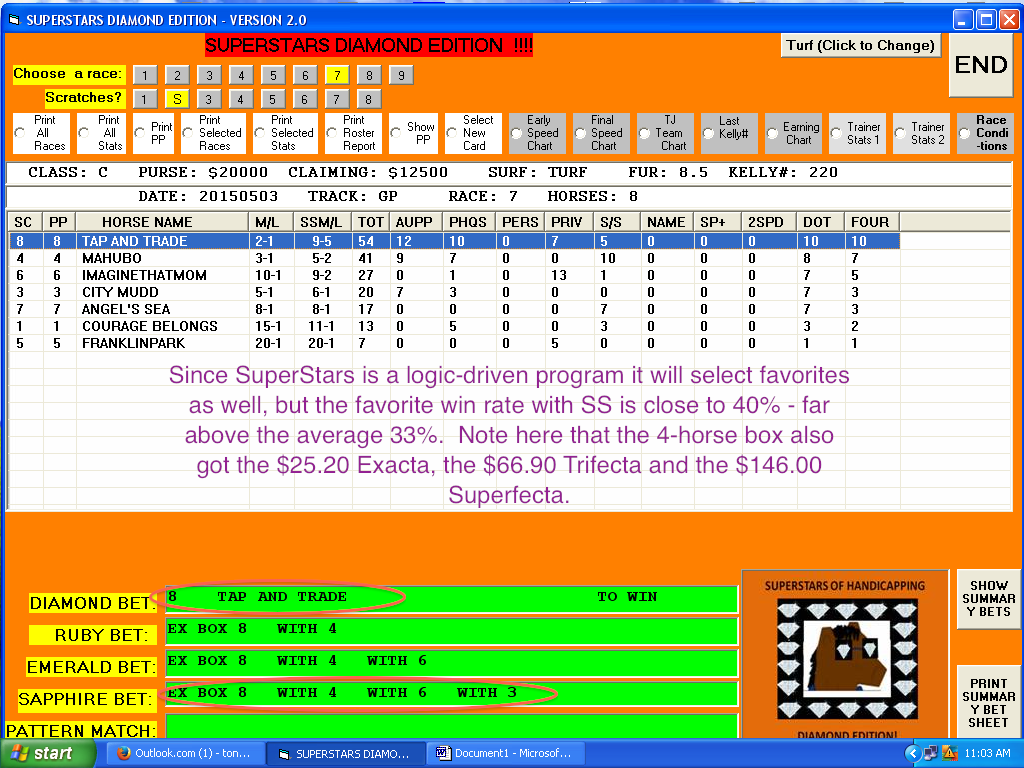 Below – while Joann's Wildcat ran 3rd, the 4-horse (Sapphire) swept the Exotics – $127.80 Exacta; $174.80 Trifecta & $234.50 Superfecta!  Note also the overlayed price on winner Celebrity Star in relation to the SS betting line.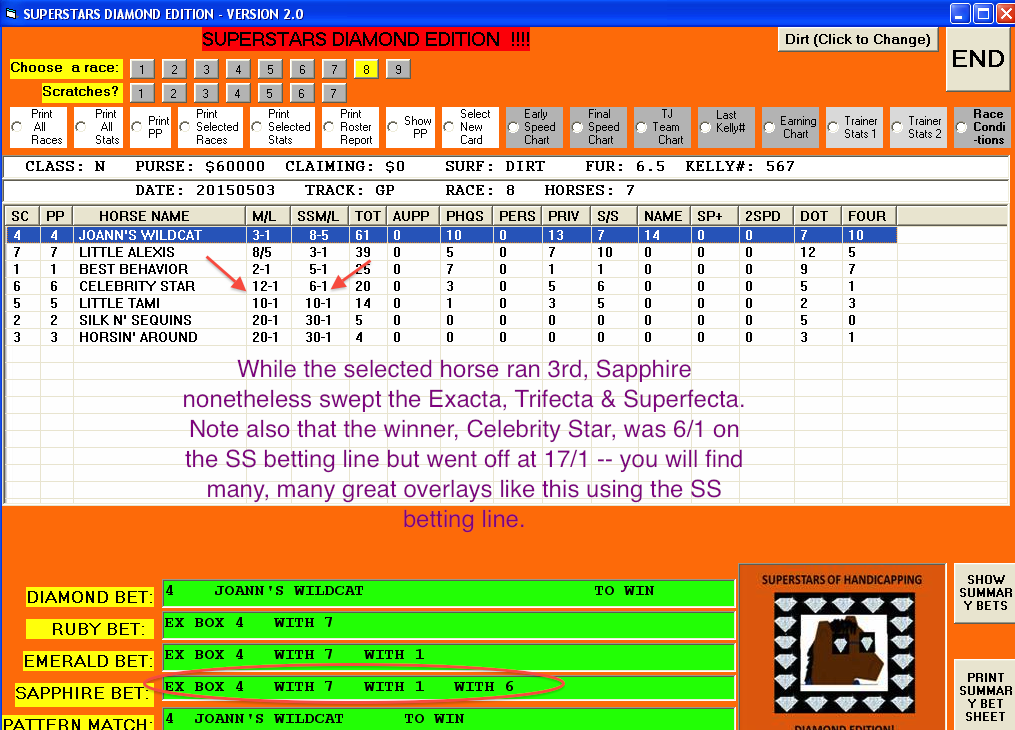 A Stat you can Take to the Bank!!  When a heavy favorite (below 2/1) is both a Diamond and a Pattern-Match

the win rate is 46%+!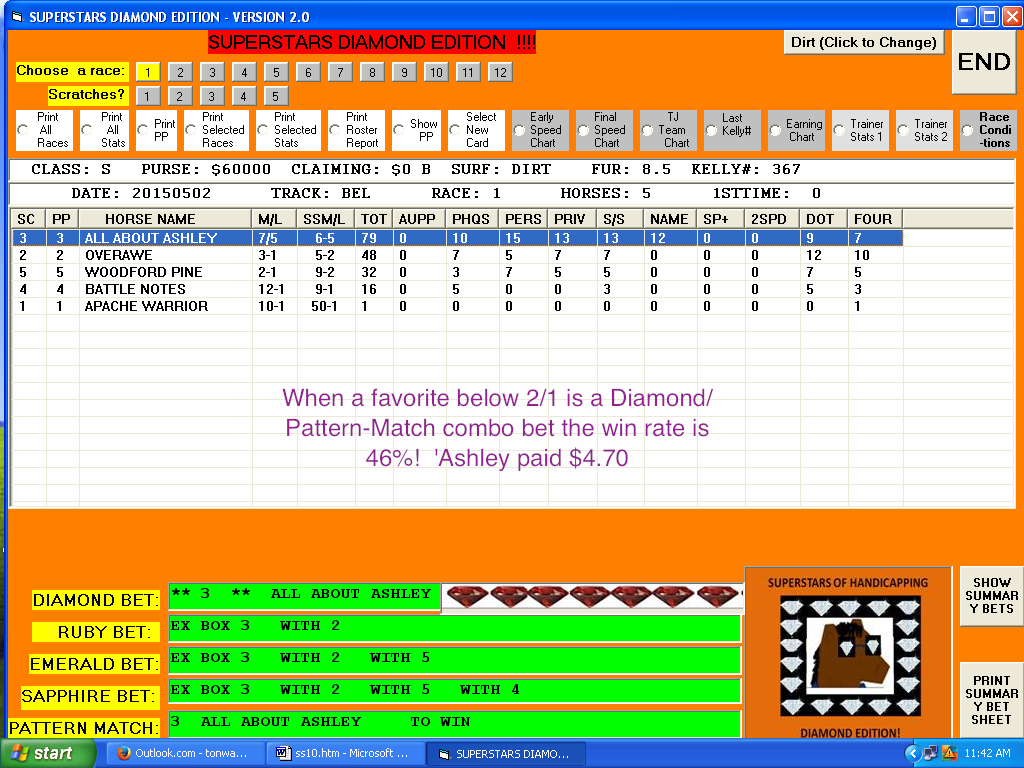 Here's a situation where the main selection did not hit the board, but the bettor was pulled out by both the Emerald and Sapphire Bets

.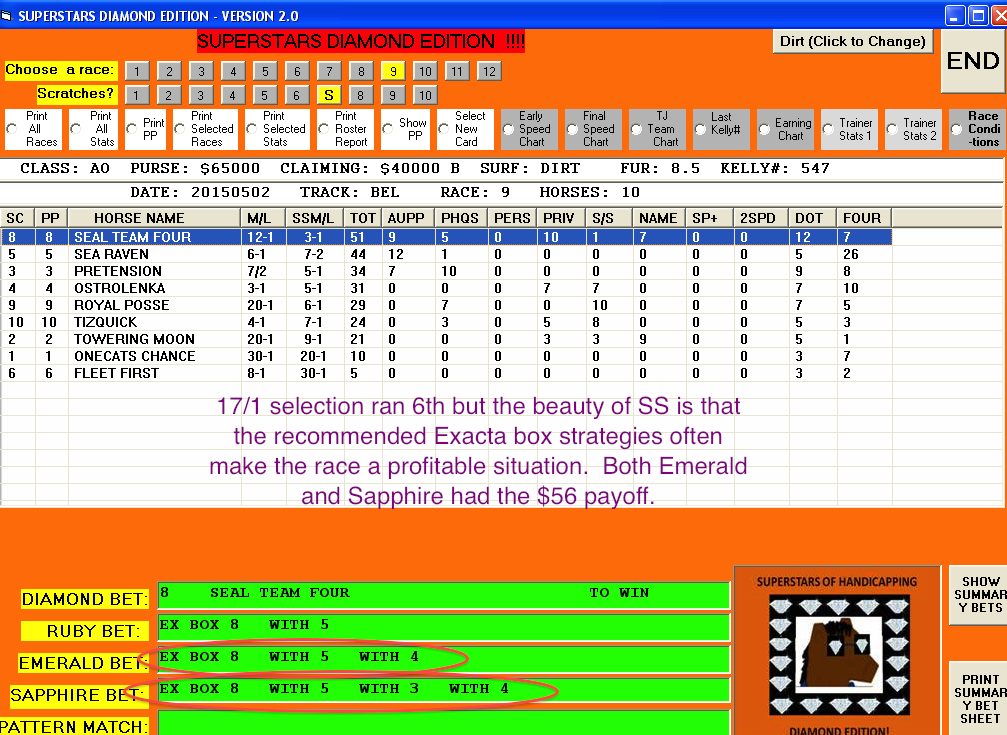 So if you are looking for a program that will provide you with
accurate, profit-making selections

, plus

State-of-the-Art Pattern Matching Technology

,

Plus a Super Accurate computer-generated Betting Line

, then look no further than
The SuperStars of Handicapping, Diamond Edition!
SuperStars is Guaranteed to enchance your racetrack experience and also carries a full money-back guarantee
BUT WAIT – There's More! 
We are also going to send you Len's

Superfecta Randomizer Software

for FREE!!

$2.40 wager = $441 return courtesy of Superfecta Randomizer
Superfecta Randomizer
is designed to locate high percentage Superfecta wagering situations in larger fields (9 horses+).
>>>>>Using .10 Superfectas over the entire recent Santa Anita, Aqueduct and Gulfstream Meets, Superfecta Randomizer produced

a +38% ROI, which included many dime Supes that paid over $500! 

And it's yours at no extra charge when you order

The SuperStars of Handicapping, Diamond Edition!
Call us at 1-800-696-0067 to order
or order by clicking the BUY NOW Button below
SuperStars Diamond Edition  $148