$148.00
Named one of Phillips Racing Newsletter's top 10 products of the year, the PHQS has provided thousands of players with a new, winning dimension to their game.
And now, it's easier than ever to locate your WINNING PHQS plays, Exactas and Trifectas with the new PHQS SOFTWARE, Platinum Edition!
Description
The Best-Selling Method Ever Now Available in NEW Platinum Version Software!
PHQS, II Platinum!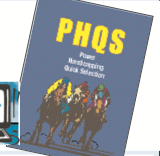 David Power's Power Handicapping Quick Selection Package has been one of the best-selling methods of play of all time.  **Read 'A PHQS Primer' for in-depth techno explanation.
Named one of Phillips Racing Newsletter's top 10 products of the year, the PHQS has provided thousands of players with a new, winning dimension to their game. 
And now, it's easier than ever to locate your WINNING PHQS plays, Exactas and Trifectas with the new PHQS SOFTWARE, Platinum Edition! 
We have been working on perfecting a software product that would provide the even more accuracy than the paper-and-pencil version or original software  for
years now and, thanks to Len Czyzniejewski, programmer par-excellance, the program is ready to go!
    You've never seen anything like PHQS, II Platinum,v.1.0.   It truly is different. 
Working with the PHQS Power Ratings is akin to entering the 4th-dimension of handicapping.
You will regularly locate unbelievable overlays, as well as monster Exacta and Trifecta/Superfecta payoffs. 
Great for Pick 3's, Daily Doubles and Pick 6 contender-selection as well!  
The PHQS II Platinum Software

,
which includes the three additional profit-making Bonus programs, is priced right at just $199.**  Orders shipped Priority Mail on the day they're received!
Below find a screenshot as it will appear on your computer.  All columns are sortable.  Here we see Kumite as a +15! horse.
He paid $7 for the win and overall you can expect close to 37% winners from +15 horses.
All the other goodies are included – up-to-the-minute trainer stats (Trainer Stats 1 and Trainer Stats 2 buttons). 
Print a Daily Program using button with the same name.
View graphic chartings showing which horses are superior in Pace, Early Speed, Class ('Kelly # Chart), Jockey/Trainer, and Earnings.
RaceAnimate (Animated Selections) show you graphically how the horses figure to finish (see example below).
So even when there is no solid PHQS play, all of these other features will provide you with insights few other horseplayers enjoy.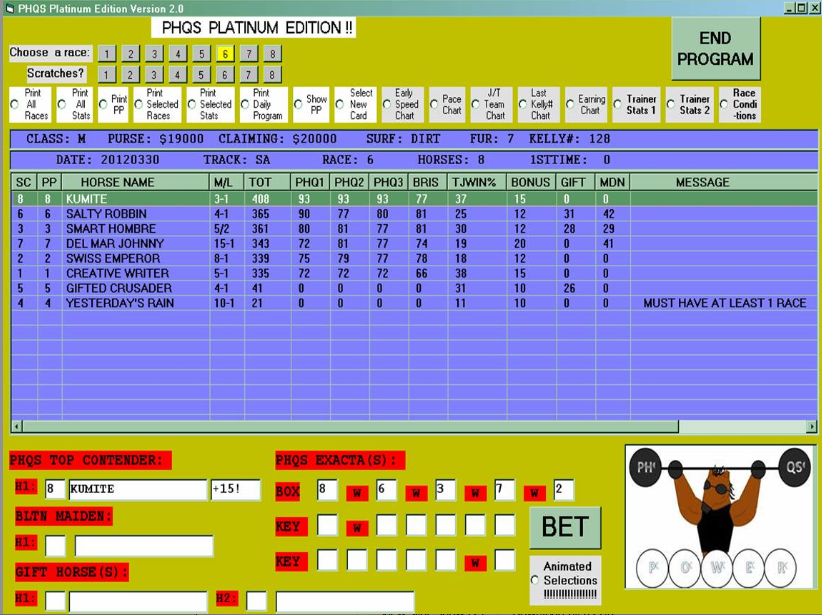 The Gift Horse 'Giveth':
Below is a great example of the power of one of the greatest longshot systems of all time, The Gift Horse, II.
The Kentucky Oaks, 2012 — Boom Goes The Dynamite!!
Gift Horse

Believe You Can

rolls to the win, paying $29.60       Top-rated

Broadway's Alibi

runs 2nd —  

the PHQS Exacta Box

Pays $173.00!

 

NICE!!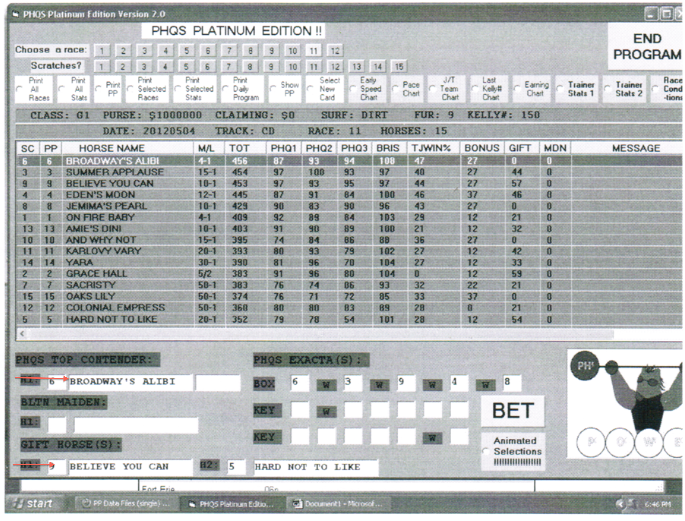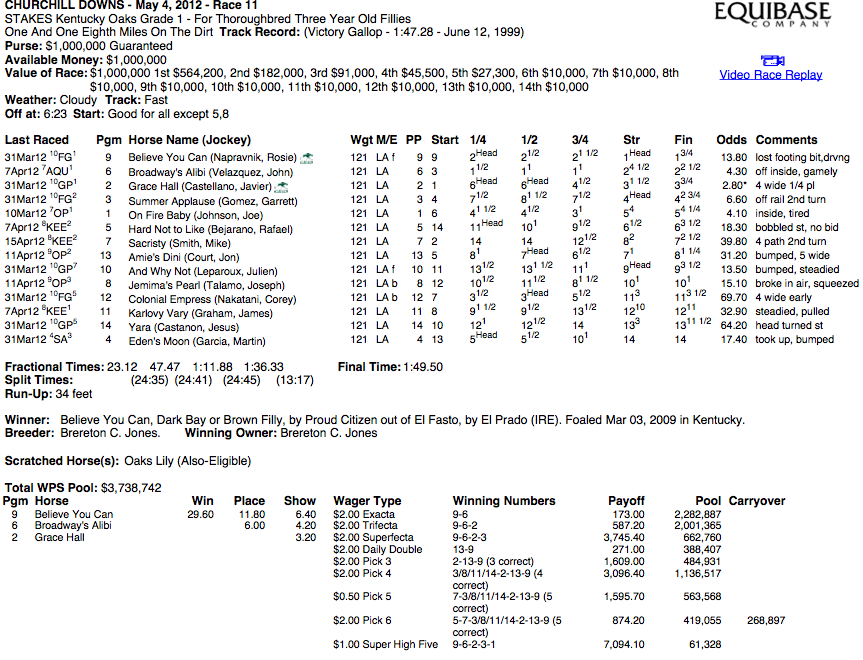 Here Fleet Allaire was the only Gift Horse contender and paid $28.20 for the win.  Also, the 9-11 Exacta box (one of the suggested Exacta plays) paid $320.60!! 
Also note that the suggested box (5 horses) caught the $854.80 Trifecta and $2,715.80 SuperFecta!! 
Getting big Exotic prices with the 'box' suggestions is common with the PHQS Software.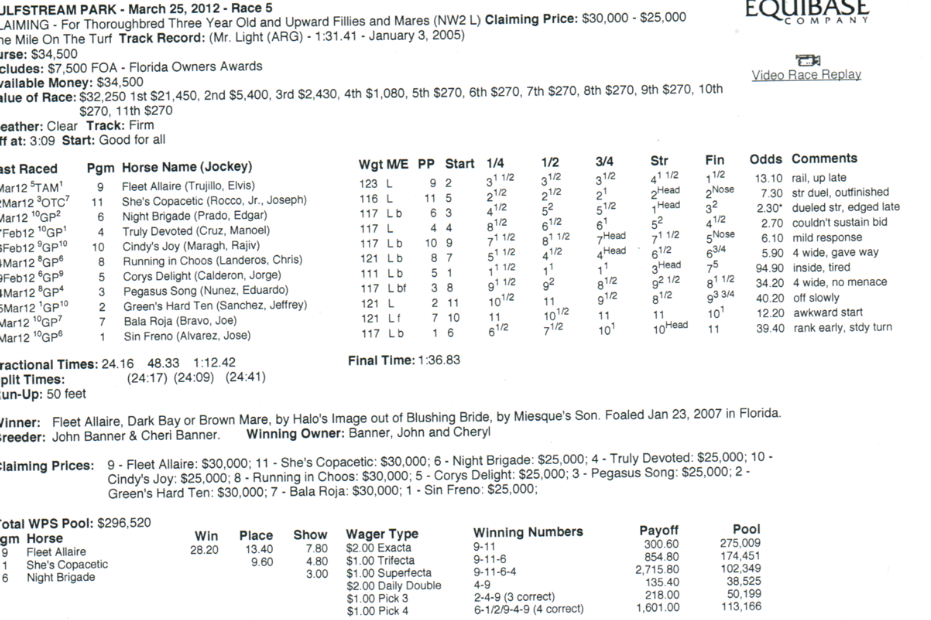 ♦
Powerful PHQS Ratings For Every Horse, Instantly! The ratings generated by the PHQS are the most accurate available to the horseplayer.
♦They are also great price-getters. You will locate value-play after value-play with just a simple click of your mouse!
Says Bob Shurig, author of The Safe & Sure Method
"The PHQS Software was my first experience with your numbers and I am impressed!
Thus far the recommened 4-horse boxes have turned up some boomers, including a $676 Exacta at Gulfstream January 26. You've really got something here, pal!"
♦
Betting Strategies for Every Situation

—
We have developed optimal strategies, based on years of experience with the PHQS, for every conceivable situation.
You'll know when to make a straight bet, or hook a horse up in an Exacta, box a Trifecta, criss-cross in a Daily Double, etc., etc.
♦A complete wagering guide is included, or you can simply click on the  'BET' button, and the strategies will be listed right there in front of you!
How could we make it any easier!!
**

A PHQS Primer – Why PHQS Works so well
The Power Handicapping Quick Selection Package was conceived back in 1995 as a paper and pencil method.
It has been one of the best-selling and most popular racetrack selection methods of all time.
It was first put on floppy disk back in 1999, when the state-of-the-art of computer handicapping was in its infancy.
Recently we updated the method to run on all modern PC systems.
While we were at it, we added several improvements and created a new progam that is user friendly and more accurate than its predecessor.
The PHQS part of the program, which is found in the TOT (total) column, is designed for consistency.
The +15 horse ( a horse who has the top total and is also at least 15 points higher than the second highest rated horse) overall provides the user with the most consistency
from a win and place standpoint.  A top-rated non +15 horse is also a frequent win and place/show horse, and is often a better price than the +15 horse.
With the new software we added improvements that increased the average win mutuel of a top rated horse by 12% and a +15 horse by 9%.
The PHQS is primarily made up of three different speed equations:  phqs1, phqs2 and phqs3.
The first column measures early fraction speed (1/4 mile and 1/2 mile); phqs2 takes into account final time and final fraction; phqs3 compares a horse's early fractions
(it uses the most three recent races, providing three are available) with the average fractions for that distance and class at the track the race was run at.
'Bonus' points, which consist of adding points for what we call 'plus factors' together to get a bonus total, also enter into the PHQS equation.
The jockey/trainer % is calculated and then 'weighted' based on an equation involving the total number of starts the jock and trainer have had together as well as their overall winning % at or about today's distance.
The Gift Horse is the longshot part of the program.  GH is one of the best price-getting methodologies we have ever used.
What we are actually using here is called 'Gift Horse, II', as the original had no point calculation involved.
Always take a long look when a Gift Horse pops up in the box on the lower left.  Gift Horses are also often part of the Trifecta or Superfecta.
The BLTN Maiden program (bltn means better-late-than-never) is also a goodie.  It hunts for Maidens who have had several tries already and thus are often overlooked by the bettors.
These horses win at a higher percentage after May of any given year, as by that time many more long-time non-winners are showing up in the entries.
The new PHQS program provides you with a nice balance at the racetrack, as it provides consistency as well as the opportunity to cash in on long prices.
The Exacta suggestions are also very accurate.  To get the best value out of the Exactas, at least one horse in the suggestion box should be 6/1 morning line or higher.
If you have any questions, of course, just give us a call.
♦Downloads $1 BRIS File—extremely economical to use; the Powerful BRIS data downloads neatly into the PHQS program,
instantly providing you with the PHQS contenders  and optimal betting situations!
You'll love our 15-point Advantage Play

,
which points out more winners than any other software we've ever tested!
And check out the
FREE

Gift Horse

program for dynamite price plays! &

FREE

Maiden

program to help sort out those pesky non-winner's races!
Viewable/Printable Past Performances for All Runners!—just a mouse click and his BRIS Past Performances pop up on the screen! 
Daily Program also available FREE for every track!  Just click on the Daily Program Button!!
+
Charts, Trainer Stats, etc.—State of the art graphic 'charts' for speed, pace, class, etc., up to the minute important trainer stats — all of the unique features you are accustomed to with our software!
♦Full 1-800 Customer Support—any questions—just call us!
Three Additional Software Programs, all FREE!  
When you purchase the PHQS Software, you'll also receive three other great selection software programs,  you also get:
1) The Bonus Turf Program—one of the few programs that works effectively on turf!
2) The Better-Late-Than-Never Maiden program—a Maiden super-selector!
3) The Gift Horse, II—one of best longshot systems of all time, now on disk!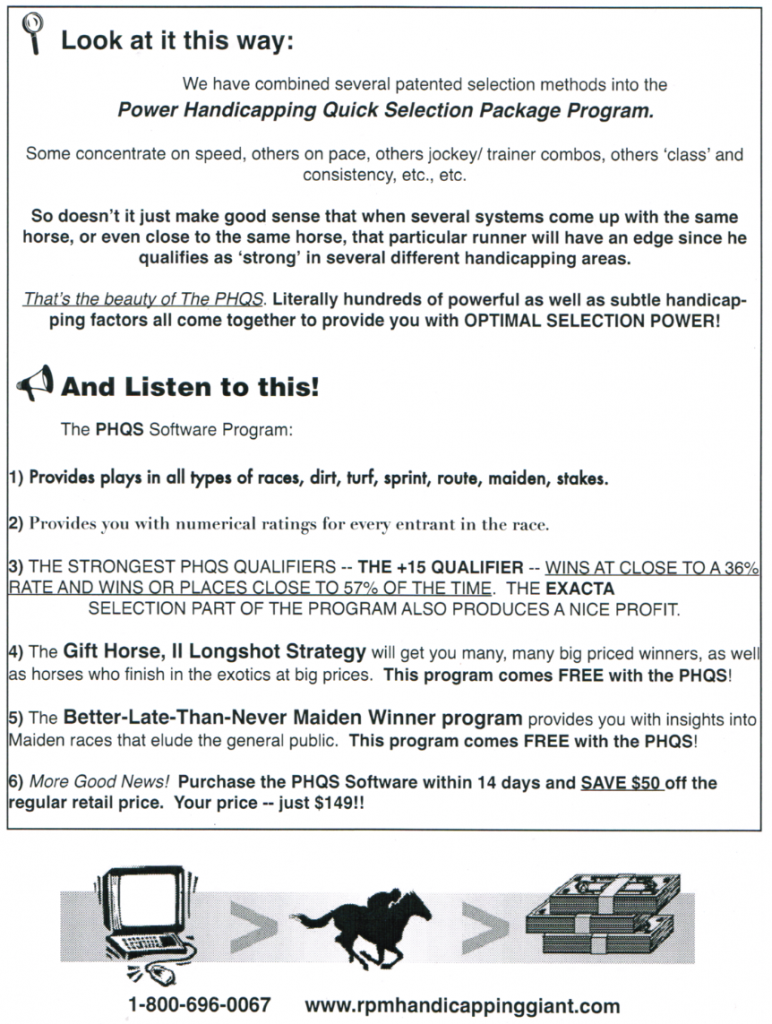 Straight From The Horse's Mouth!
The purpose of the of the original PHQS Package was to create an easy-to-use, mechanical selection method that would closely mimick the results of our Power Plus Ratings, which we have used for years.
The research involved sifting thru literally hundreds of thousands of 'combination' factors, all of which could be readily found in the past performances. 
When our data-analyst provided us with the finished product, we knew we had something good, but we really didn't know how good until the flood of calls and letters from happy, satisfied customers started coming in.
Now, with the

NEW PHQS Platinum Edition Software Program

, you will get a big, big bank for your buck(s), regardless of how you choose to play.
Below you'll find just a sampling of some of the hundreds of quotes we have received from satisfied purchasers and industry spokespersons about the PHQS.
"I can't tell you how much money I've spent on systems and books trying to beat this game.  But your PHQS is in a league of its own.  I've never enjoyed such
consistent success at the races.
And I love the booklet you include about the psycholology of wagering at the track — this alone, even with my old method of play, has made me a more competent player.
I'll be telling my 'losing' friends all about PHQS in hopes they will be able to turn things around as quickly as I have!  Thank You!"
 Toni Bell, Campbell, CA
"Going to the races has become 'fun' again.  With your PHQS Platinum Software and the great advice on betting psycholgy I'm able to spot the major contenders in
most races at tracks all over the country.
And the prices on the suggested value plays have been magnificent.
I can't remember the last time I cashed in on a $77 winner!"
Fred Bishop, Houston, TX
"I find David Power's writing some of the most refreshing horserace prose around.
He presents an eloquent on handicapping methodology and a great 'bonus' on the all-important subject of betting psychology,
bankroll management and the ultimate selection process will benefit all who care to take his teaching to heart!"
   Mark Cramer,
handicapping author
"Thank you for your PHQS program.  The best part by far is how my friends sit there scratching their heads, wondering how I just cashed on a $27 winner.
'How'd you get that one!" they ask, and I keep telling them, 'I do my homework!'  They think I'm spending four hours a night handicapping.
I'm not going to tell them I spent all of 5 minutes using your PHQS to tab winners they'd never dream of.
Also enjoyed your live seminars at Del Mar this summer – hope you'll be doing them next year!"
Don Hogan, Vista, CA
"The only question I have is why didn't you come up with this method years ago!
I could have saved thousands on product purchases and losing tickets!  Keep up the good work!"
Pat Bartolotta, Verona, NJ
"If anyone had told me I'd catch a $7,800 Trifecta at Finger Lakes this season, I'd tell them they were crazy.
But your PHQS had the contenders right on top.  Unbelievable!"
John Strader, Buffalo, NY
"There is methodology and then there is methodology.  David Power's PHQS is, simply put, a remarkable winning methodology.  Good stuff!"
Vince Vesperano, author, Vesper-41
"After three weeks of using your PHQS, I've junked much of my handicapping library.
How you are able to take such a difficult undertaking and make it not only understandable but also fun for the layman ( or 'woman' in my case), is beyond me.
But I'm not complaining, and neither is my pocketbook!"
Sandy Alverson, Solana Beach, CA
"You won't find a more honest and sincere handicapper than David Powers.
He has devoted himself to helping players at every level of the game attain success.
You simply can't go wrong with his advice."
Tom Console, The Thoroughbred Investor Monthly
PHQS  Software   $148.00

Additional information
| | |
| --- | --- |
| PHQS  | Paper Version – 2 Volume, The Thoroughbred Investor Monthly |