Sale!
$45.88 – $55.88
When is Successful Stock Trading Similar to Successful Handicapping?
Why, when you are using Jack Otts' —
Description

Race Probability Module! Horse Race Software

,
of course!
+++

Special BONUS:

  For

those of you into the Stock Market, Jack Otts' 35 Highest Percentage Breakout Stock possibilities for the second half of 2015!
Editor's Note:
As you know we strive continuously to provide our customers (and ourselves!) with innovative software and systems that will provide a decided edge at the racetrack.
For every system/software we publish there are 20 or more that we review that we don't simply because they do not measure up.
Well, we've got a real beaut for you this time.
An amazingly accurate, price-getting methodology/software designed by a successful stock trader who is also a very successful horseplayer.
       

>>

Jack Otts has literally taken his 'break-out' stock theory and translated it to the horses – and it works like a charm.

<<

 



Check out the info below — seriously, it pretty much blew us away.
And, though I personally am not into 'stocks', some of our partners are, and Jack, who has been a customer of ours for a long time, is offering our subscribers his 35 best break-out stock candidates for the remainder of the year.
You really can't lose on this deal.
The one caution is that we are restricted to selling just 150 software programs, so do get in touch soon if you are interested.
Dave
A Special Offer for Long-Time Customers!  
Editor's Note: 
We've recently acquired a dynamite piece of handicapping software designed by a very successful stock trader.
>>The author's theory is based on 'break-out' stocks,
which he has translated into >>

'break-out' horses.
In otherwords, in the stock market smart technicians look for stocks that may be ready to 'break out', i.e., jump to the upside in price based on proven patterns.
Jack Otts

, the author of the

Race Probability Module

,

explains that there are 'break-out' horses as well, patterns hiding in the past performance lines, that the software (or paper and pencil version) will spot, and the payoffs are often enormous.
While a stock, bond or commodity may show a 'building' pattern over several months or longer before the breakout occurs —
things happen much, much quicker in this game since the time frame is condensed down to weeks or even just days.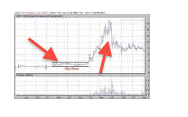 >>>

When played as instructed,

the player will catch close to 70% of all longshot payoffs at a given track.
*****This is a 'heads-up' offering, so to speak, which is initially being sent to just our long-time customers.*****
>>>We plan on selling just 150 units, so give us a call if you are interested: 1-800-696-0067. 

The  price is just $97.90

<<<
so they will likely go quickly.  Thanks, Dave
The Race Probability Module!
Successful Stock Trading translated into Successful Handicapping!
Below you will see how the Race Probability Module screen is laid out. 

Exacta/Trifecta boxes are suggested in the boxes at the bottom even when there is no horse named in the BET 1 box.

 

The bottom box lists the 'Breakout Candidates' based on Jack Otts' theory and programming.

  A

s you can see here in the race below, the Breakout Candidates had a field day!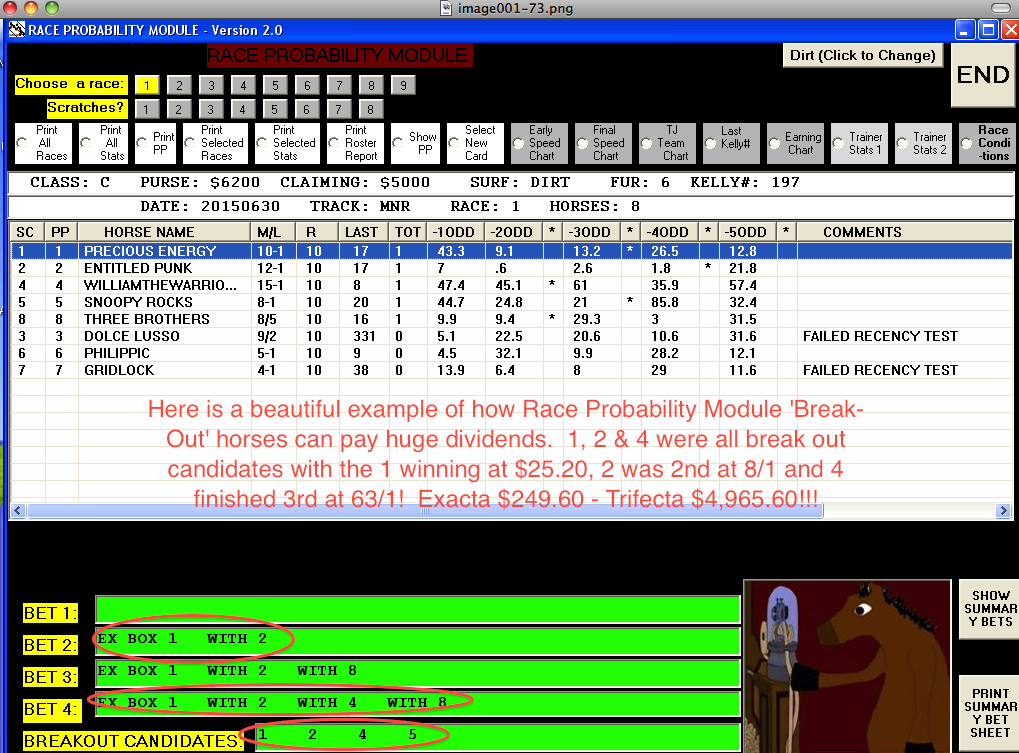 Pgm Horse Win Place Show
1 Precious Energy 25.20 15.00 10.60
2 Entitled Punk 11.20 9.00
4 Williamthewarrior 26.40
Wager Type Winning Numbers Payoff Pool
$2.00 Perfecta 1-2 249.60
$2.00 Trifecta 1-2-4

4,965.60
$1.00 Superfecta 1-2-4-ALL 7,253.40
Below:  Scuti De Patuti was a clear Breakout Candidate and paid a nice $13 for the victory.  When a breakout candidate from the bottom box is also listed by name under BET 1, you are looking at a very solid contender.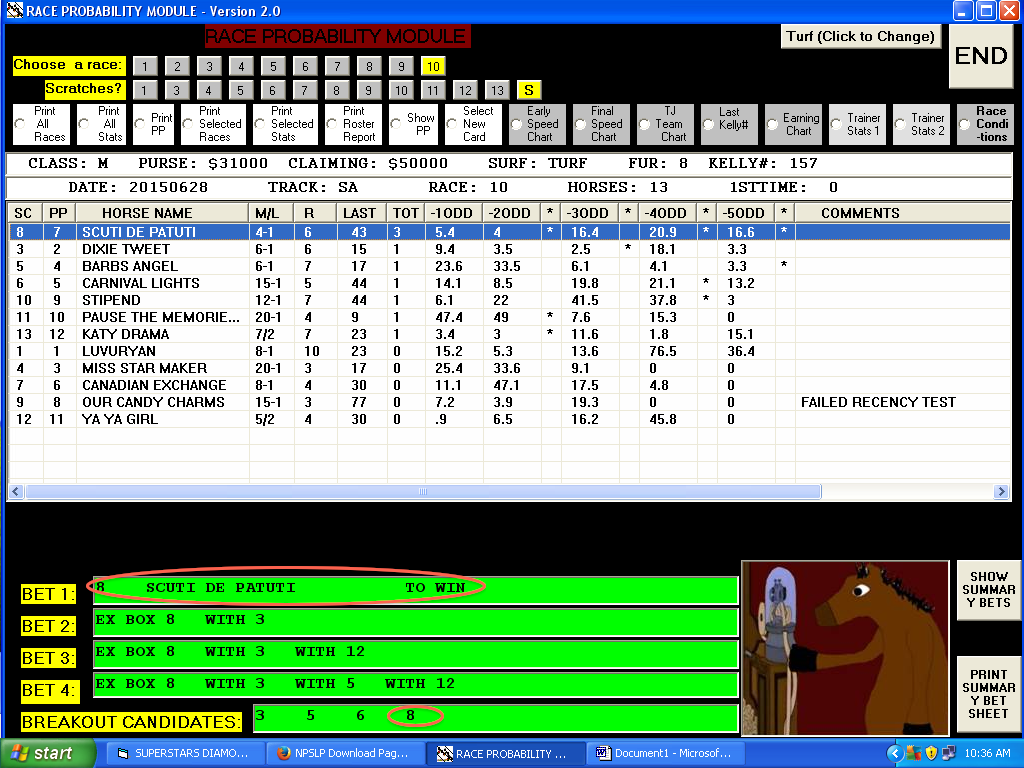 Below Italian Baba, the longest shot in the field, ran 2nd as a Breakout Candidate, the #6 was scratched which left only the 4 and 8 as Breakout Candidates.  When a Breakout Candidate is a big price (over 12/1) Jack's betting strategy is an across the board bet with 1 unit win, three units place and five units show.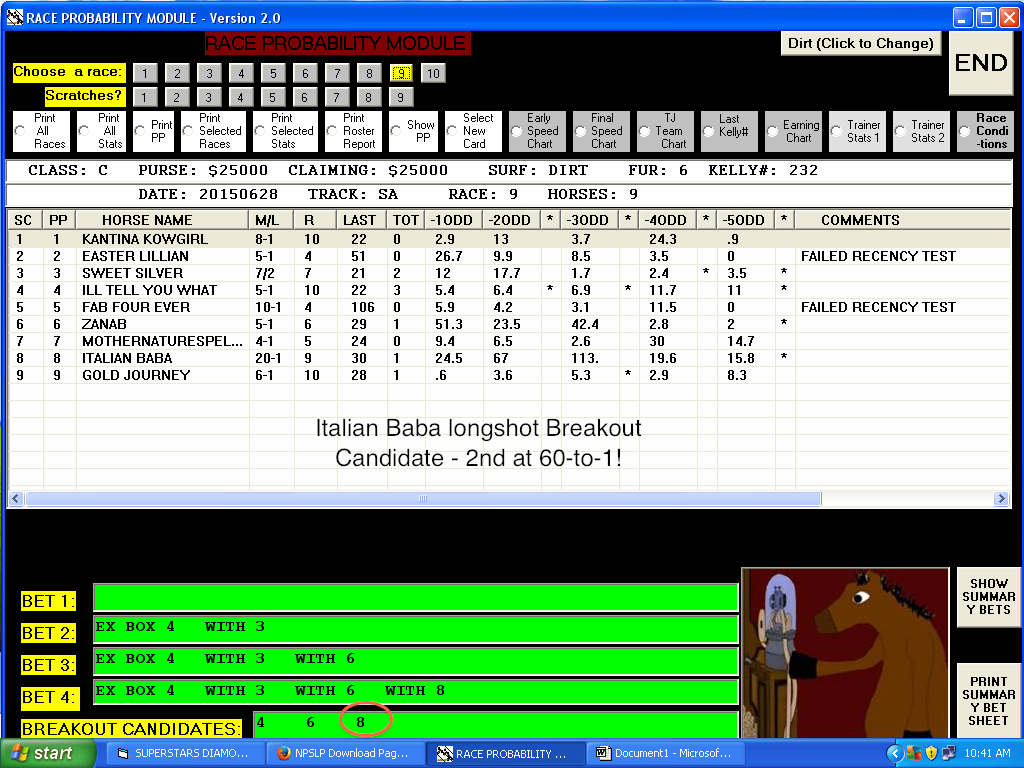 Below Chardonnay Sherry is the only Breakout Candidate listed — she led all the way only to tire to 2nd in the final strides. 

$68.40 to place and $25.60 to show.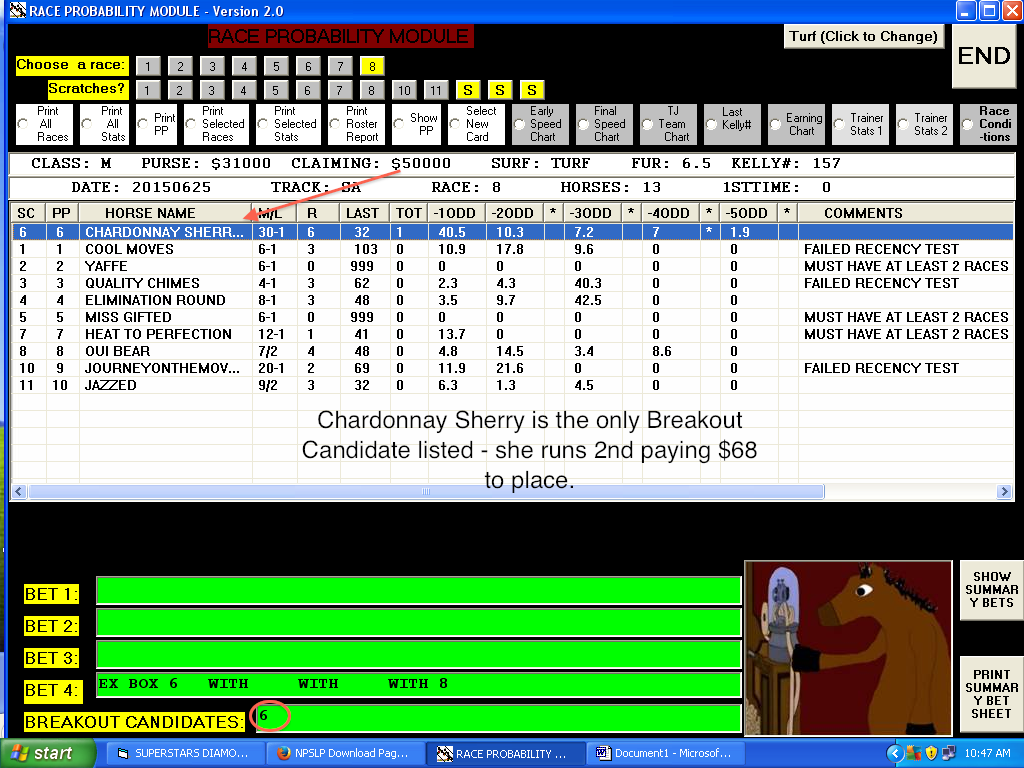 Now, lest you think that the RPM is just for picking longshots, that is not the case.  Here you see a situation where it nailed the win, place and Exacta in a short, very wide-open field.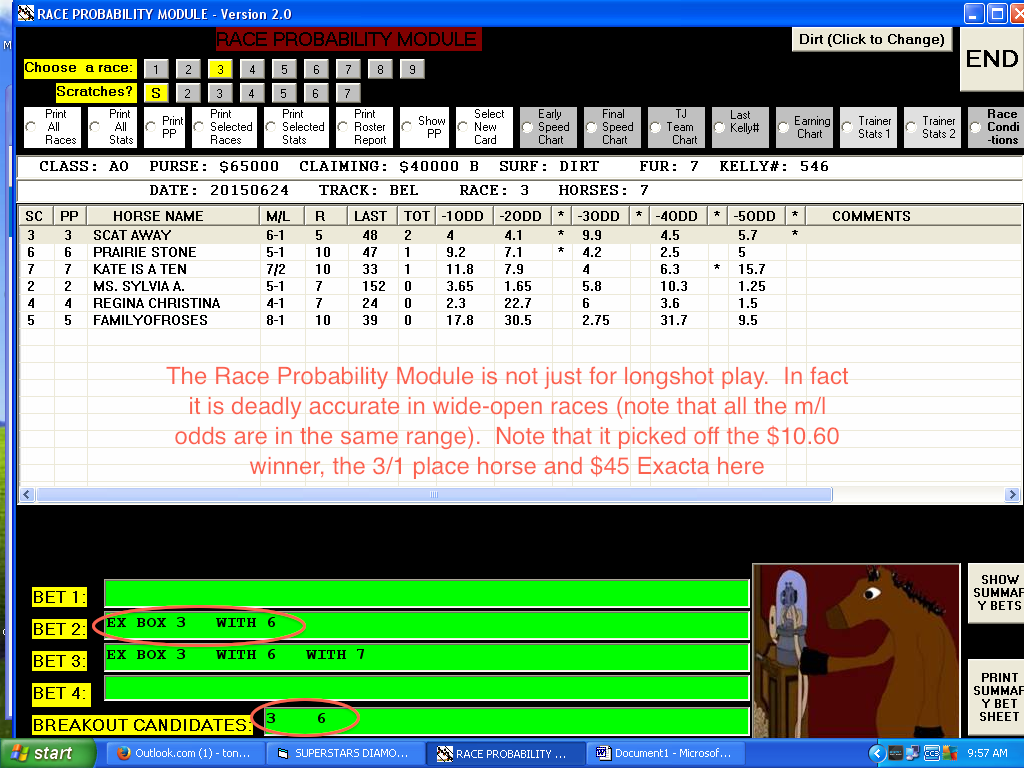 And below you see another beautiful example of how often Breakout Candidates totally reverse form and run big.

  The BO Candidates finished 2nd, 3rd and 4th, all at huge odds, and combined with the winning favorites the program caught the Exacta, Trifecta and Superfecta.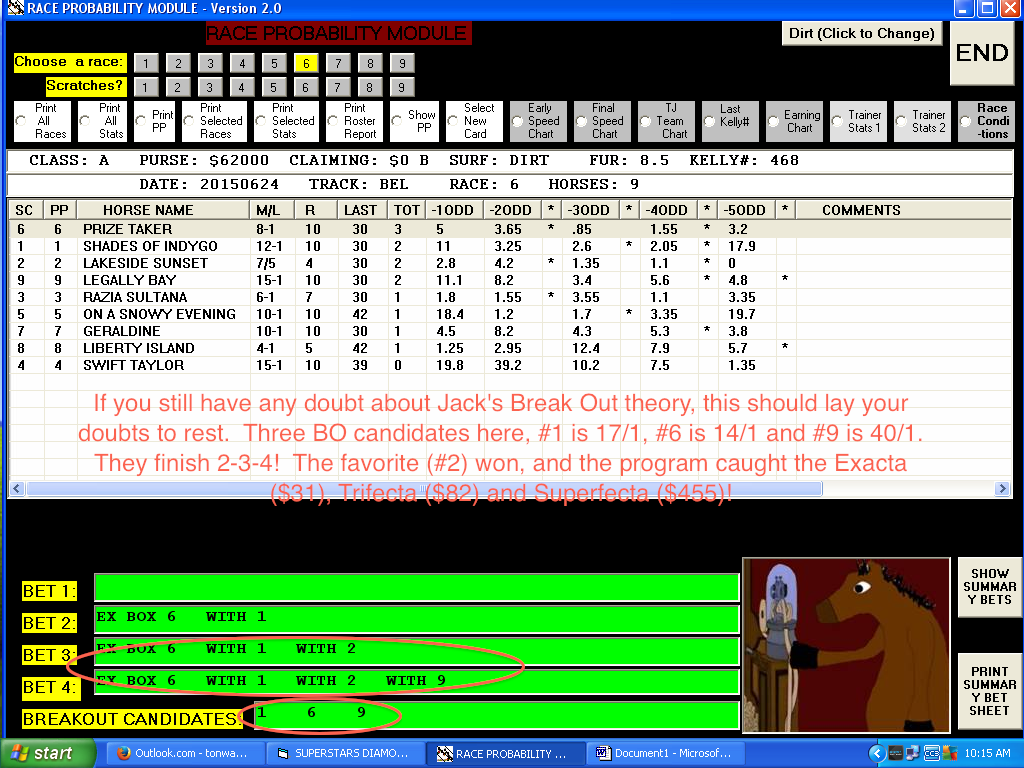 So Hurray, Hurray, Hurray,

as the barker at the carnival says, but no clowning around here –  t

he Race Probability Module will add a new dimension to your handicapping and, again, …. only 150 will be sold! 
Call us if you have any questions.  Thanks, Dave
Additional information
| | |
| --- | --- |
| The Race Probability Module | Hardcopy, ebook, software |