$59.50
The Grass Is Greener Software!
A Professional Tool for High Returns from wagering on the Turf!
Description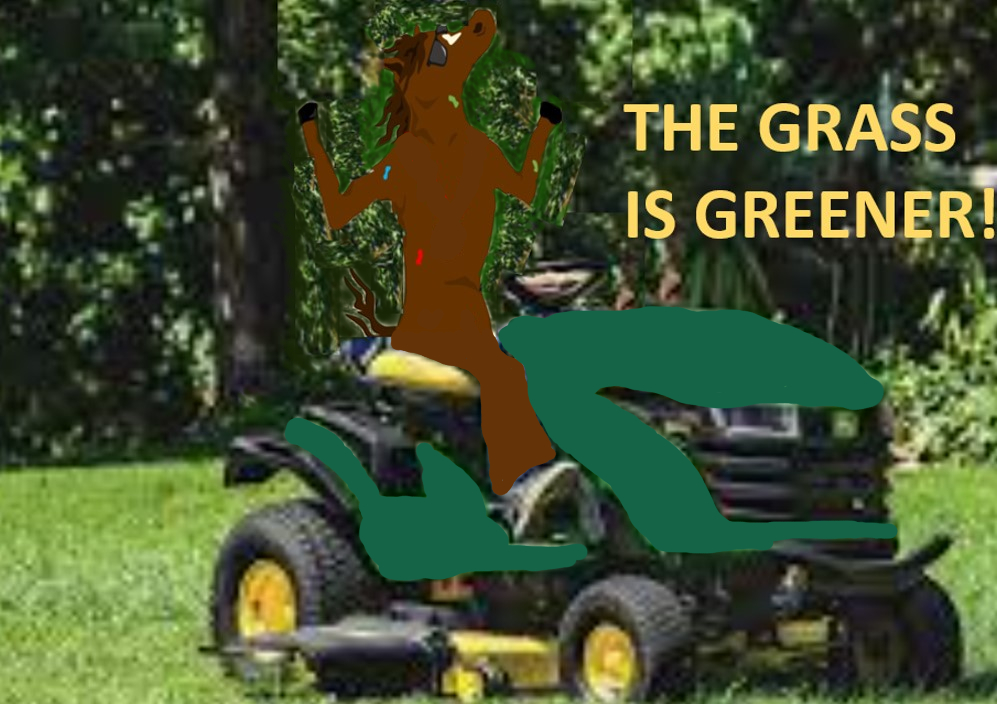 From: Vincent Saputo
Subject: Grass is greener
Message Body:


"Hi Dave, thanks for a super day at Santa Anita today Saturday the Grass is Greener went 4 wins including last race winner $37.00 $13.00 place – WOW!"


Vince
Myth Busting – How the general public is divorced from reality when viewing Turf Racing
Misinformation abounds in our game.  Most of you who have been around for awhile will recall that most of the 'systems' produced over the past half-century or so, even the good ones, begin with the rule: 'Don't play Maidens'. 

But any player who has done, or is privy to, serious research on Maiden races, knows that Maiden races are some of the most formful affairs available to the bettor.

  Overall, the average win mutuel from straight Maiden and Maiden-Claiming races is lower than from regular claiming and Allowance races.  These races tend to go to horses who have shown recent good form, which much of the public can spot in the pps, and even with first-time starters, knowledge of trainers who are good with these runners, and or the betting action, point out the winner a high percentage of the time. 
We know a few professionals, in fact, who bet nothing but Maiden races due to their predictability.
Turning to racing on the grass, the less knowledgeable among players (close to 90% of the crowd) believe that horses coming from well off the pace win most turf races. 

Nope – totally bogus.

  While the shorter stretch on most turf courses can give the illusion that late runners are prominent,

the fact is that most grass races are won by horses who were within four lengths or so of the leader at most of the calls.
So what we have done, as we do whenever we try to solve a handicapping problem, is come up with a solution:

  In this case a program that focuses solely on turf racing; one that incorporates not only the running style equation, but also the Class, Speed, Betting Action and Connections equations.  We call it
The Grass Is Greener!
It is based on Tom Schuby's Class On The Grass methodology, which is a great stand-alone system, but we have added dozens of 'computerized' perks!
"It's about time!  A software program that focuses exclusively on grass racing!  This thing is really kicking butt at Gulfstream, Santa Anita and Tampa!  Can't wait for Keeneland, Belmont and Churchill  –  I tested last year's turf races at these tracks and the results were super impressive!"  Dale Darnell, Miami
Take a look at the screenshots below: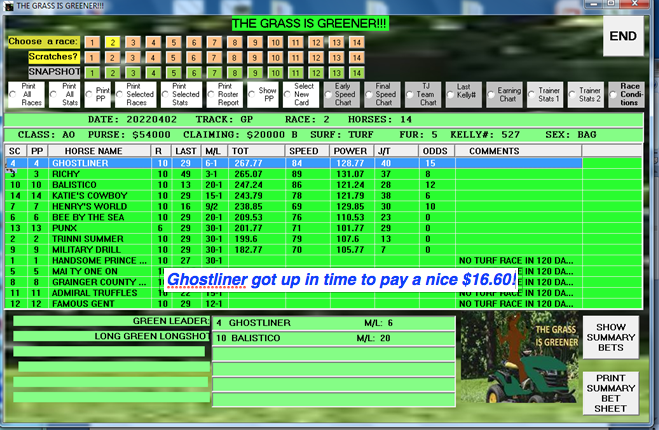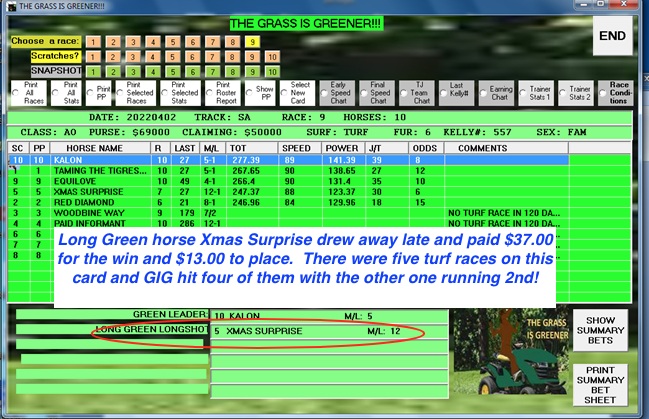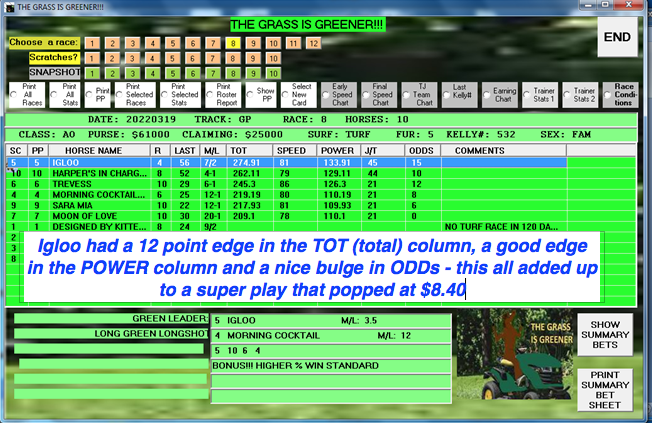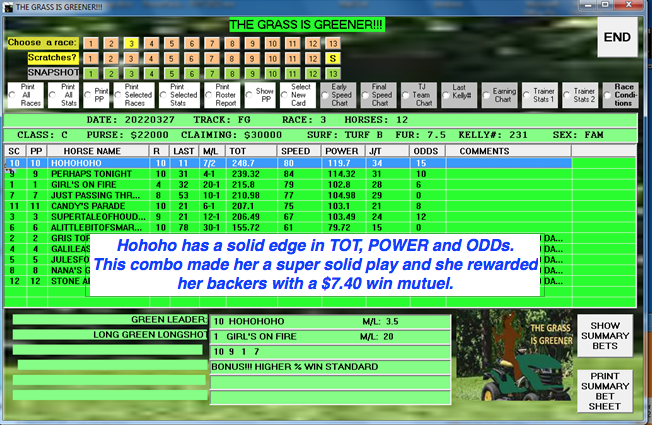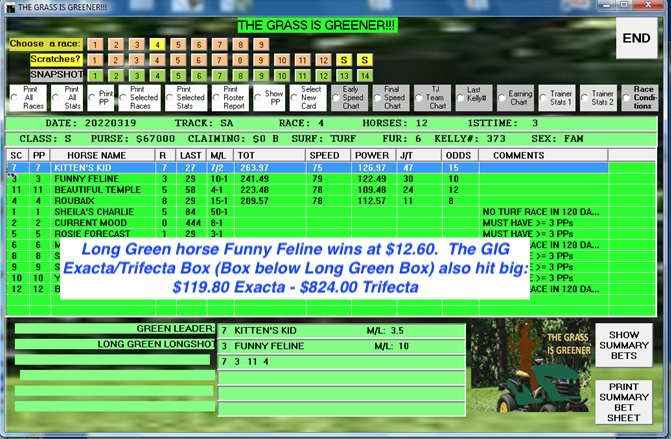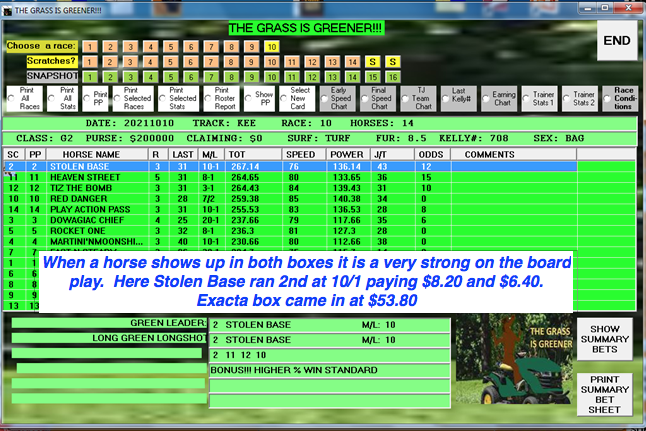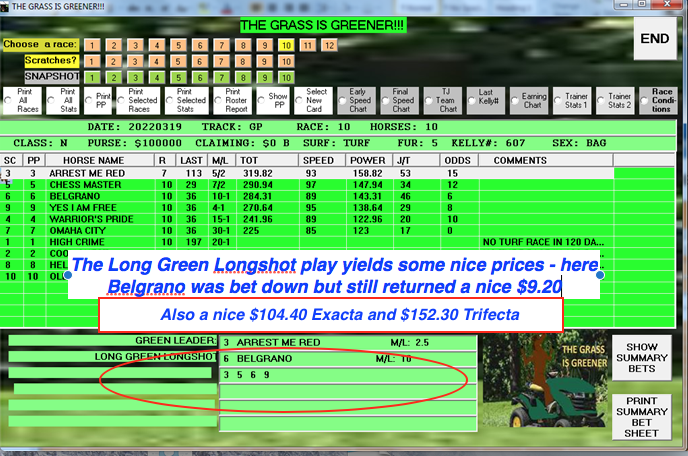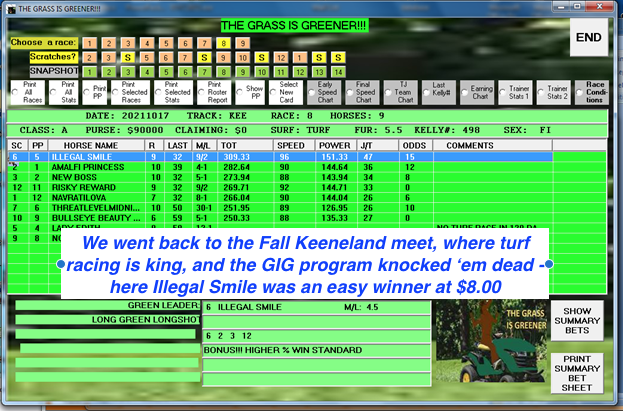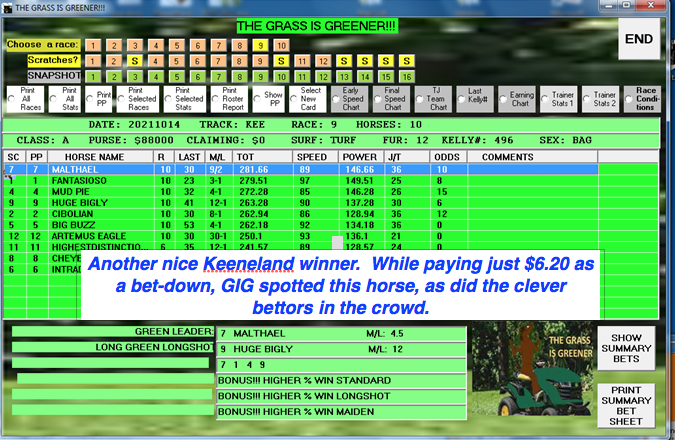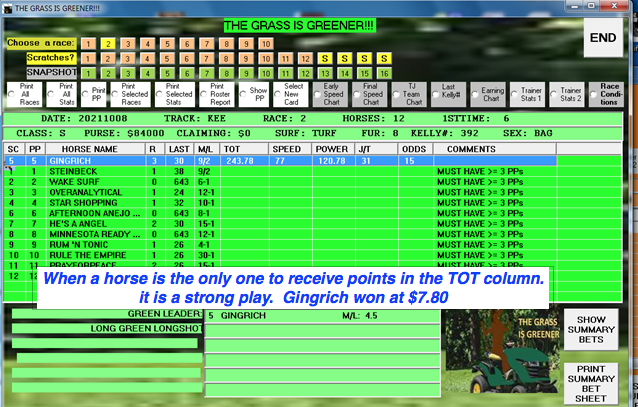 The Grass Is Greener Software   $59.50