Description
Let's say you can get a win rate in the 40% to 50% range.  
And let's say you can make a Positive ROI in the 35% to 45% range?
 And all with very little effort on your part. Would you be Interested?  

Of course you would.  
And recently, Jon Worth has introduced a NEW Methodology that does just that.
It's called The Big Easy!

and you will experience win rates in the 40% to 53% range at all racetracks, big or small.

 

Profits on Win, Place & Show and a Unique Exacta formula that produces some very, very nice payoffs.


I
n short, you will cash many more tickets than you will tear up, and that, my friend, is what every horseplayer dreams about.
Well, dream no more — you are all aware of the quality of Jon's work, and he has really outdone himself here!

 Read on.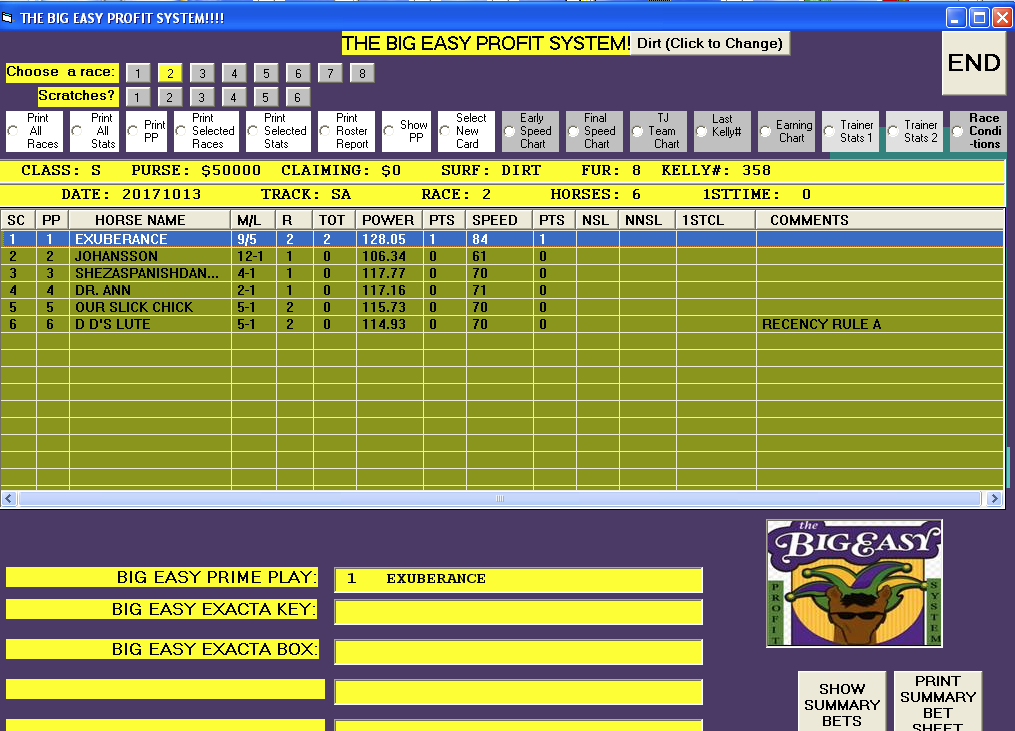 ​Jon Worth's The Big Easy is designed primarily for high-% win cash-ins – You can expect Big Easy Prime Plays to win at a 40% to 50% rate.  Place & Show also show high %'s — @68% on Place and close to 90% on Show.  
The premise is that horses who show required recency (recent races and/or workouts), is making a positive move classwise and show consistently high speed ratings are super solid plays.  
Now, all that seems very obvious, but the way Jon has weaved these factors together in his usual unique way points out standout performers more often than not.
Overall you will find The Big Easy Software and extremely useful tool. 
One of the keys to always consider is the a Big Easy Prime Play seldom runs off the board, so always include that horse in your exotic wagers. 
When a 3-point Big Easy play is present, and no other horse has no more than 1-point, the win rate will average @52%.
BUY IT — YOU WILL LIKE IT
And if you don't, for any reason, simply return it for a full refund.  Now what could be fairer than that!
1-800-696-0067
www.rpmhandicappinggiant.com
The Big Easy Paper Version  $59.50
Ebook  $49.88
Software   $118.00