$35.88 – $69.50
It's definitely a spot-play method, but one you should

DEFINITELY

have in your spot-play arsenal.
The method is very easy to implement in paper version but 'instant' on Software and is a good 'fit' for multi-track play.
Description
A TRUE GOLDMINE for the SPRINT PLAYER
The 6/7 FURLONG FORMULA! 
Now On Software!!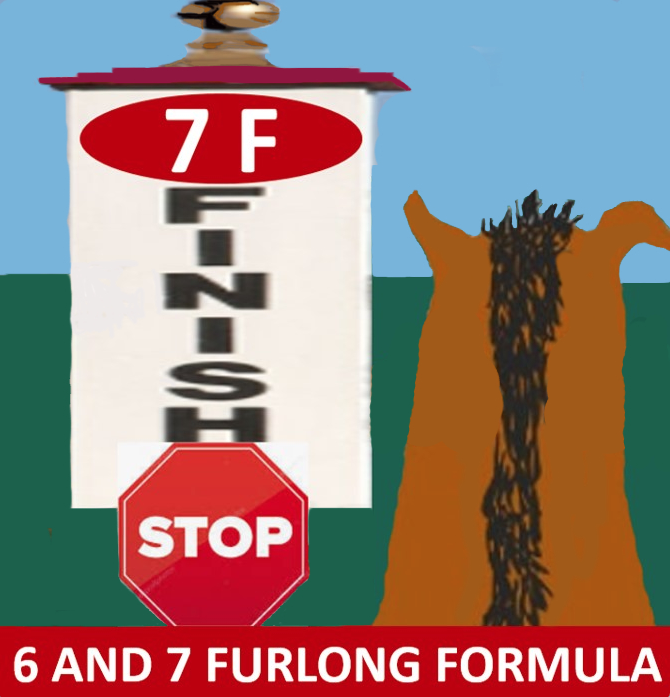 And guess what we found?

Sure enough, the system kicked butt at 5.5 to 7 furlongs but performed just so-so at the other distances.
Take a look at our database study for 7 Furlongs

– 

what this shows you is a 'collective' sample of the average number of Advantage horses that come up at 7-Furlongs for the average 30-day period.

  This particular screen shows the HIT% and ROI in fields of 6, 7, 8 and 9 horses.  This is where the 7 Furlong races performed the best. 

As you can see, ROIs varied from a low of +7.5% to a high of +117%.

 

As such,  restricting your play to 7F races with these field sizes will provide you with the best overall results.
In the manual, optimum situations will be listed for all the distances, from 5.5F to 7F.

Most professional horseplayers are 'specialists'.

 

They concentrate on areas where their experience shows the best overall ROIs. 

With the 6/7 Furlong Formula!, you will have a tool that allows you to specialize in sprint races,

and sprint races are the most predictable of all races.
The 6/7 Furlong Equation Software is just $69.50

. 

$39.00 for the hard copy and $35.88 for the Ebook.
Call us at
1-800-696-0067

to order or go to our website  www.rpmhandicappinggiant.com
Thank You!
6/7 Furlong Ebook   $35.88
6/7 Furlong Hard Copy  $39.00
6/7 Furlong Software  $69.50
Additional information
| | |
| --- | --- |
| 6/7 Furlong | Ebook, Hard copy, Software |