$97.88
In his remarkable 1965 work,

Horse Sense: A New and Rigorous Application of Mathematical Methods to Successful Betting At The Track

, author

Burton P. Fabricand

laid out a creative way to beat the races.
Description
It was a complex and time-consuming method that few
horseplayers would have the patience for,

but the fact is it did beat the races

, and rather handily at that.
And what was the primary component of this winning method?

Very simply,

odds patterns.

Now Fabricand's method was based on locating underbet favorites, but a careful read of his material demonstrated that the method could also be applied to higher priced horses as long as 'value' was present.

 

You see, Fabricand and others knew that the game revolved largely around 'smart' money.  No, that doesn't mean that every race has a smart-money contingent looking to cash in, but often enough, often enough at least to keep the clever in-the-know bettors in the clover, this smart money comes into play.  And while current tote action is often used by handicappers to determine if a betting 'coup' is in the works, Fabricand found that previous odds, usually going back no more than four races, was an even better indicator that a horse was being set up for a win.  In testing over 200,000 races, he found several 'tip-off' odds patterns that he incorporated into his method.

 

It's also important to note that in Fabricand's work, he also used recent performance, class, speed, jock and trainer, etc.  In otherwords, for a 'smart money' horse to win, Fabricand's research showed that very seldom did a runner just suddenly reverse form and pop at a big price.
In over 94% of the cases he studied, the runner's performance leading up to the hope-to-cash-in race also indicated the promise of a coming victory.
**So, Fabricand found that past odds patterns contributed mightily to an upcoming
victory, and when those patterns are combined with recent past performance the result becomes the ultimate cocktail mix for determining future performance, i.e., a win.
But remember, there was one other factor to Fabricand's brilliant methodology: VALUE.  'Value' meaning that in order to reap the handsomest long-term benefit, setting a minimum acceptable odds range to make a wager on that horse.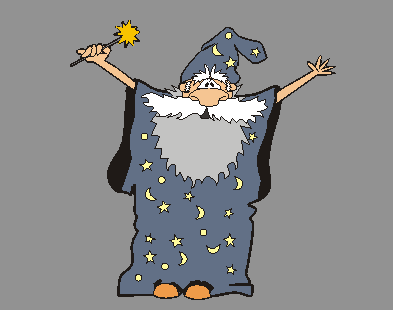 SOOOO….
….. if we could find a way to correctly analyze each and every horse's recent odds patterns…
AND….


….could combine that information with recent performance patterns
AND….
...could also determine what 'fair' value would be in order to confidently wager…THEN
By Golly!….we would have…..
THE WIZARD OF ODDS!
A Sensational New Software Program! Includes the new RACE-ANIMATE feature!
Analyzes Winning Odds Patterns, Selects Likeliest Winner & Exacta Combo and…Sets a TRUE-VALUE Odds Line to Maximize your PROFITS!!! (++and it does a whole lot more!!) see additional enclosed material
The Wizard of Odds Handicapping Software
Combines Proven WIN ODDS Patterns with Proven WIN
PERFORMANCE Patterns – the first thoroughbred handicapping software ever to perform this task!
Adjusts Morning Line Odds to a 'True Value Line' – The Perfect Tool for spotting true 'Overlays'.  This feature alone is worth the purchase price of the software.  Often, a runner the software predicts is a good value at 2-to-1 is going off at odds of 6, 8 or 10-to-1 or better!  These Overlays are especially effective in Allowance races low-level claiming races and Turf races at all class levels.
Provides the user with a suggested minimum odds to accept on a selection.
You can play the horse at any odds, of course, but this feature insures profitability.˜  The software projects the result based on how the type of horse selected ('type' meaning the factors present that resulted in the horse becoming a selection today) has performed in this type of race in the past.  The minimum suggested odds are the odds at which this type of horse began to show a profit in the database study.  The higher the odds over the minimum suggested, the more profitable the play becomes.
–Unlocks high % 'Value' Exacta Plays and provides a separate ExactaJ 'Boxcar Alert' Feature that will put you onto some huge payoffs! (see example Hudson Heights, AQU, 1/2/10 race 6 — $223 win! — $768 Exacta!)
RACE-ANIMATE Feature

– Click on the 'Animate' button and watch the top contenders move across the screen, finishing in the order projected by the software! This feature is great for 'visualizing' the end result and superb for †sniffing out big Exacta and Trifecta payoffs!
AND, OF COURSE, Also:  Provides you with a Daily Racing Program FREE! for every track you download; Provides you with Past Performances on Every Horse FREE! – you can view them or print them out – no more paying $6 per day for a Daily Racing Form!  Provides 'Charts' for Pace, Speed, Class and Earnings — the charts will tell you at a glance which horse(s) are superior in these crucial handicapping areas.
The Wizard of Odds Software leaves very little to doubt.  Below see the Main Screen which provides you with all of the individual calculations (columns).  The program takes these calculations and then 'handicaps' the race the 'Wizard' way,
showing you exactly who and how to bet!!  You can also click the 'Additional Wager' button to view other higher risk, high-potential payoff win and exotic suggestions.  Many of the value-play horses pay $30 and up – $100+ mutuels are not uncommon.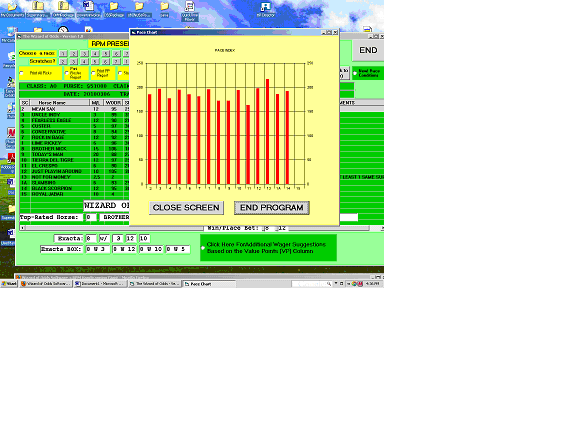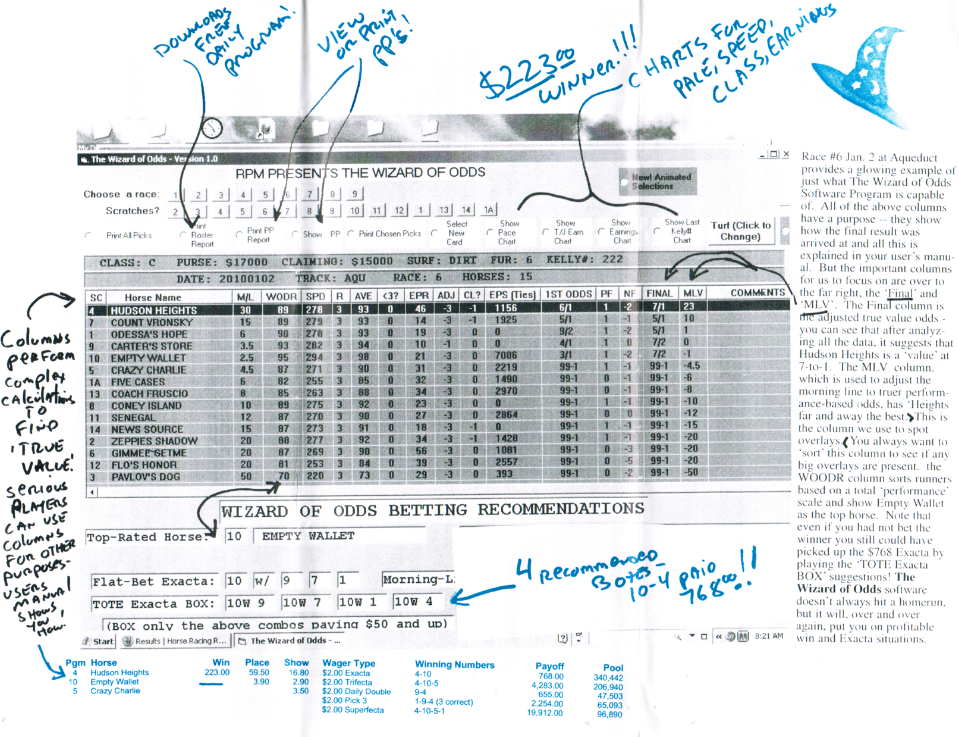 NEW!! The Wizard of Odds Software!

Order Right Away and Save $102!!
The Wizard of Odds Software: 
Is unique in that it takes extremely complex mathematical formulas…
… involving past odds patterns (patterns that were proven to

produce winning horses by a true mathematical genius), and then weaves in critical past performance information…

…as well as current jockey and trainer stats and pace

considerations…
…and produces accurate selections, both straight win, place and Exacta, AND…
….produces a 'TRUE' Odds Line….this is invaluable to the horseplayer, as the program actually shows you at what odds today's selections produce long-term profits.
The Wizard of Odds Handicapping Software will provide you with the kind of straight win and exotic payoffs all horseplayers dream about.  It also provides you with selection consistency – no long runouts!!  And, as a current subscriber, you can get a BIG $102 Discount off the regular retail price of $299 — your price just $197!! You can also split your purchase into 3 separate payments if you wish!
Call  1-800-696-0067 begin_of_the_skype_highlighting 1-800-696-0067 end_of_the_skype_highlighting to Order