Sale!
$54.88 – $99.00
The Four Aces+2 Software!
With The Four Aces+2 Software Life is so much easier.  The program does all the work for you and also features the Mack Gant $500 Longshot Method.
Description
Jon Worth's
FOUR ACES+2
EXTREME
CONSISTENCY SYSTEM!
No Runouts,

No Bad Days

, No Worries!
Jon Worth's

Jon tells us:
"At Worth Publications we use proven handicapping technology to design winning systems & software.
Our ultimate goal is to produce methods of play that the serious fan or casual horseplayer can rely upon for a source of supplemental income. 
I normally devote between 70 and 90 hours in creating a successful system — my definition of 'Successful' a system that is not only very, very consistent but also one

that makes money betting to win, place and show.
Systems like my

The Big Easy

,

Even Finish

&

ProfitLine Gold

all accomplished those goals but my new

Four Aces+2,

I've got to admit,

OUTSHINES THEM ALL."
 Take a look at Jon's Workout below.  Also, in the red text to the right you can read what our Big Database tests showed. 



>>>

You will be blown away by the consistency of The Four Aces+2 —

Often, very often, you will experience long series of cash-ins on the place & show

.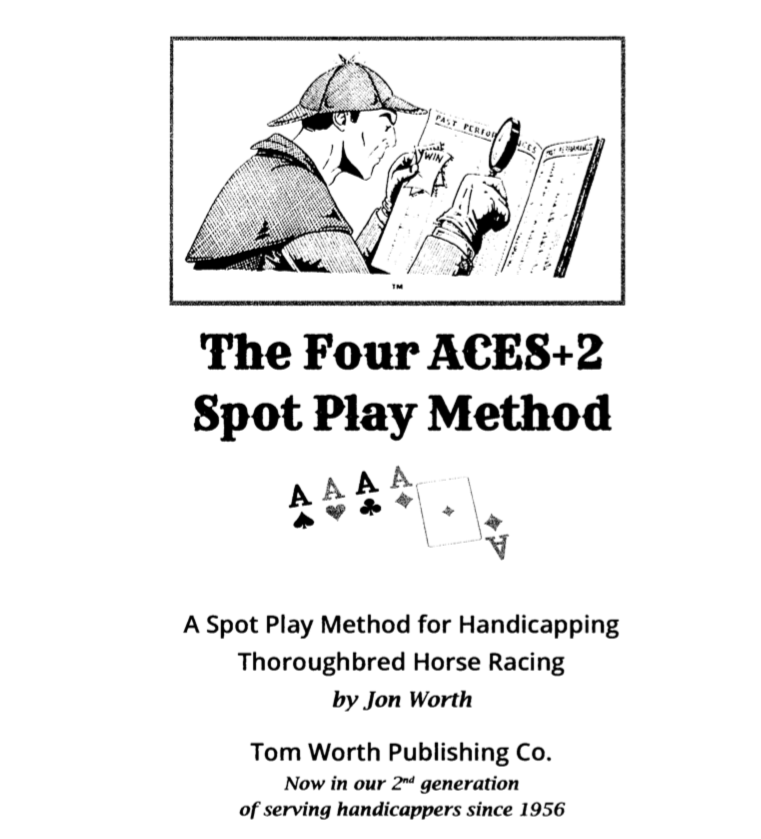 What are 'Aces'

♠♣♥♦

and why are they important?
In the vast POPS & TIPS lexicon, an 'Ace' represents a significant statistic or a significant 'move' by a trainer and/or jockey.  Aces are awarded to trainers and/or riders based on their competence in areas that apply to today's race.  For example, a trainer may show a high in-the-money % with horses away 45 days or more, or going from a route to sprint, or dozens and dozens of other areas of strength that apply to today's race.  With a jockey, the stat could be his strength at today's distance, or overall win % on today's surface, etc.  Jon has found that when a horse is awarded several Aces:
"The more Aces showing for a contender the better because

they usually indicate that the horse's human connections have demonstrated and earned an incredibly high degree of success pertinent to the conditions for today's race

, which usually results in a big effort.  In otherwords, this horse has a huge edge over the rest of the field."
Mack left us in 2008, but his legacy, and his Longshot Method, live on.
Mack knew my Dad well, and digging through his belongings several years after he passed I found a copy of Mack's method — Giant Red Letters on the front cover  — two pages of rules and explanations — and then a back page covered with those same giant letters
MACK GANT'S $500 LONGSHOT SYSTEM!
The Four Aces+2!

is just

$59.00

for the paper version   

$54.88

for the Ebook   or  just 

$138.00

for the Software
Call us at
1-800-696-0067

or go to our website  www.rpmhandicappinggiant.com
Full Money-Back Guarantee
The Four Aces+2 Paper Version   $59.00
The Four Aces+2 Ebook   $54.88
The Four Aces+2 Software   $138.00
Additional information
| | |
| --- | --- |
| The Four Aces | Ebook, Paper version, Software |