$37.77 – $69.90
New from
Dave 'Thorough-Brain' Schwartz:

Two BIGGIES: Scoring BIG with CHAOS THEORY! A Revolutionary Approach!
&
UNDERSTANDING EARLY SPEED!
Description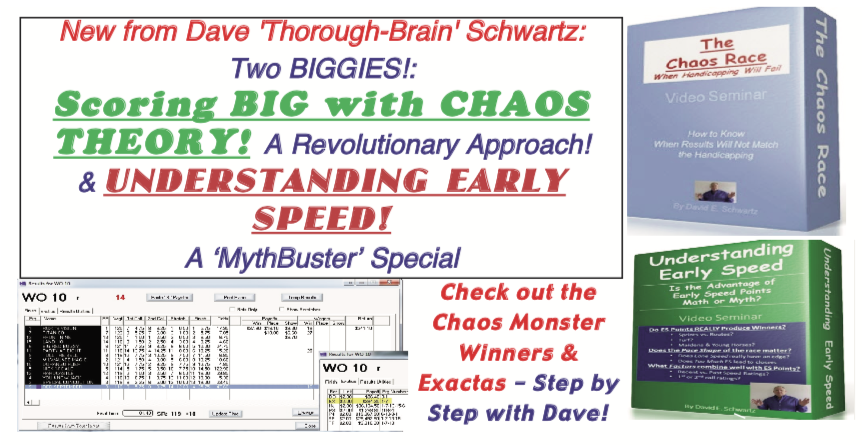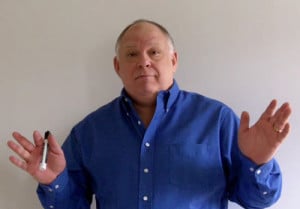 How to Score the Big Dollar Horse in a Chaos Race:

 

The CHAOS Race – When Handicapping Will Fail !
"Simply put, a chaos race is a race where you can predict in advance that handicapping will likely fail." – DS
You've all Heard about the
'Chaos' Race

— but, funny thing,

Few actual authors/players really know what 'chaos' actually means in a horserace.

 

Is it just a jumbled race that looks impossible to handicap? 
Nope, Nope & Nope! 
👉Here's the Real Deal:

And it's broken down for you in a Video Seminar by none other than Handicapping Genius

Dave Schwartz!

   And once you know exactly, and we mean

EXACTLY

,

how to find a 'True' Chaos

Race, Your Longshot Cash-Ins will Multiply Substantially.
The idea for this 58-minute seminar came from a handful of phone calls I received from our HorseStreet Handicapper software users about this race, from Saturday, November 12, 2016.
It seems that several HSH users had this exacta.

I can't say that they "had it cold" because the way they got it was to apply what we call

"The Chaos Process"

, a very unconventional way to pick your bets.
Now, I know that a whole bunch of you would like to know how to do that.

Let's begin with a look at a few chaos races.
Note that all of these races were drawn from that same day.
I did not just pick the longshot races.
On that day, a few of the longshots were "gettable" with conventional handicapping, but most were not.

That WO10 race was somewhat gettable with conventional handicapping, especially advanced pace handicapping.

But recognizing it as a chaos race up front is really what allowed our players to get into line to cash their tickets.
The Laurel 8th was also an example of a chaos race.
People who handicapped that race with the knowledge that it was chaotic, could have simply tossed the low-odds horses or even just keyed the longest prices on the board on top.
The Woodbine 7th was another example of a chaos race. In fact, it was a chaos race for the exact same reason as that WO10 race at the top of the page.
The 8th race at Woodbine was another example of a completely gettable race, but only via the chaos methodology.
👉👉😀😀And, also from Dave, his Best-Selling:
UNDERSTANDING EARLY SPEED – MATH or MYTH!

Want to see the best breakdown EVER of Early Speed/Quirin Speed Points?
And just what to expect from an 8-Pointer, as opposed to a 7-Pointer, 6, 5, etc? 
Did you know an 8-Point Horse is almost twice as likely to be on the early lead than a 6-Point Quirin horse?
  👉 This Video Seminar is one of the Greatest 'Myth-Busters' on Early Speed we have ever seen.

Which means, simply, you will often be bucking the 'conventional' wisdom of the crowd armed with tools that will pump up both your hit rate and average cashed mutuel payoff.
Did you know that under certain circumstances, Early Speed can even describe a horse who is as much as four lengths off the first call lead? 

And is the 2nd Call really the Be All End All that so many handicappers insist that it is?

  And is Calculated Pace really a big factor in shorter races?  You'll be surprised at the answer.
😃And Here's the Great Thing!
You can get all of this knowledge, taught by one of the greatest minds in the game, to watch as many times as you want on your computer, right in the comfort of your own home, for an incredibly low price. 
Each video seminar is just $37.77

,

or you can get both for just $69.90!
So give us a call at
1-800-696-0067

or order from our Website.  Learn and Earn from one of the Game's All-Time Greats!