$53.88 – $111.00
A very robust, versatile, and accurate Method
Description

Editor's Note: 
Being the largest distributor of handicapping products in North America has its advantages.  When a handicapping author seeks to market a product, they normally come to us first. 
The other advantage is that we are often able to locate gems from the past …. as in this case …. and we scored BIG.
While publishing license does not permit us to use the original name of this system, you likely all know who we are talking about … one of the best-selling authors of all time who introduced his 'Private Method' a few decades ago.
It quickly sold out … and we are talking tens of thousands being sold … and then just as quickly vanished from the market.
The method received rave reviews from the likes of Andy Beyer, Dick Mitchell, the Daily Racing Form reviewers, etc., etc., but anyone wanting a copy after the initial sellout was out of luck.

  We've had dozens of inquiries and requests over the years but were unable to secure a copy.
>>

UNTIL Now, that is.

<<
***

'Of all the things I have bought – this is absolutely stunning – very robust, versatile, and accurate. It really brings a lot angles together in a very solid, fundamental and integrated way. WOW!!!'

***

 

Ross Shiraki, Harrisburg



So, here it is! 

Give the following a good read – not only are you getting

Mr. A's Private Method!

, but Paul also gave us Mr. A's Exacta Key Strategy!,

which has an amazing 43% Exacta hit rate

, AND … you are also getting
Jess Howe's Super Consistent
Zero-Risk Odds Maneuver!,

where 'Best Bets' have high win/place % and a show rate approaching 94%!
And we have priced both the paper versions and the Software very reasonably

, so you have every reason to give the

Mr. A Package

a try,

especially when you don't have anything to lose with our money-back guarantee!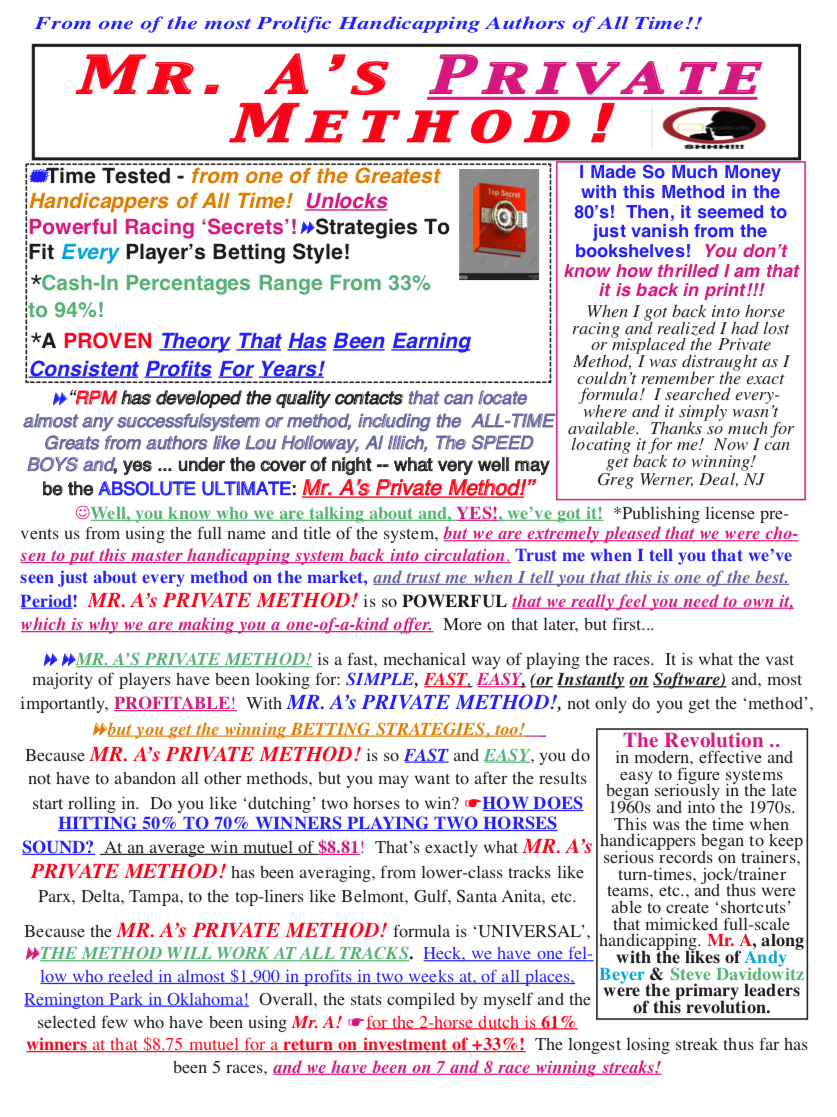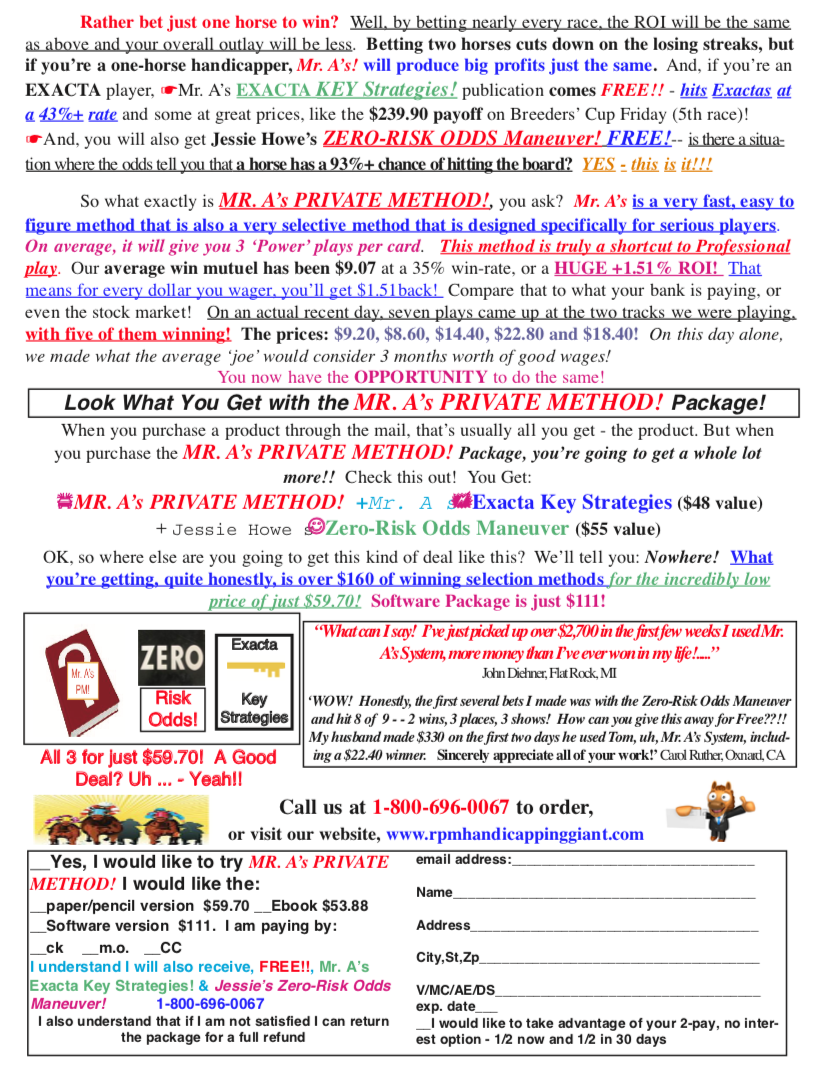 Mr. A's Private Method — The Software!!
'One of the absolute best Software Programs I've seen for In-the-Money Horses and simply GREAT for Trifecta Players!'

                 Bob Shurig
'Mr. A's Software Program is a giant leap for horseplayers at every level of the game! Amazing Exacta & Trifecta program!         Tom Console
Make your horseracing life even EASIER with the Mr. A's Private Racebook SOFTWARE! 
Super – High Win, In-The-Money @ Show Hit Rate.  AND ….  Easily one of the best Exacta/Trifecta Cashers we have ever produced!!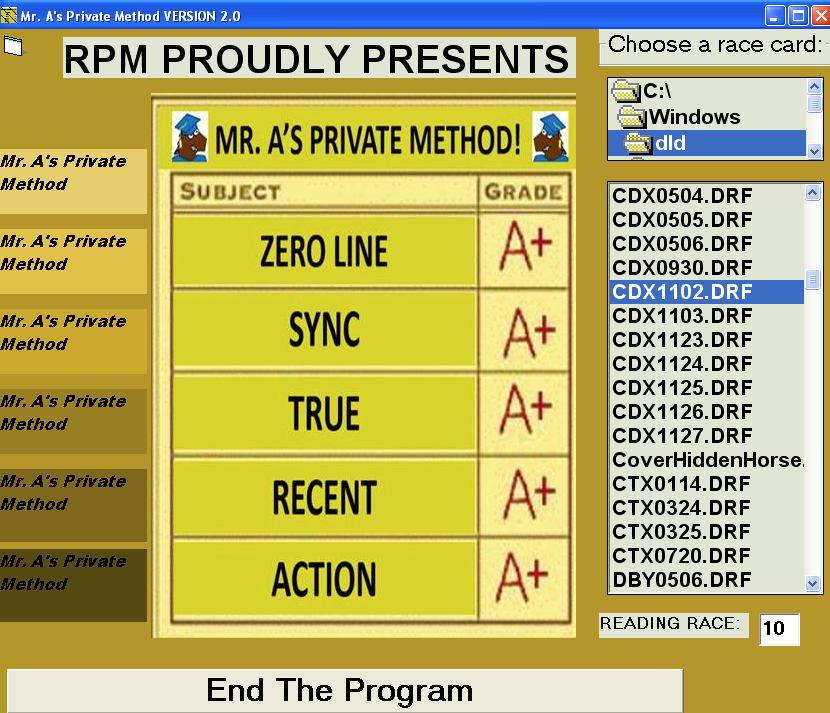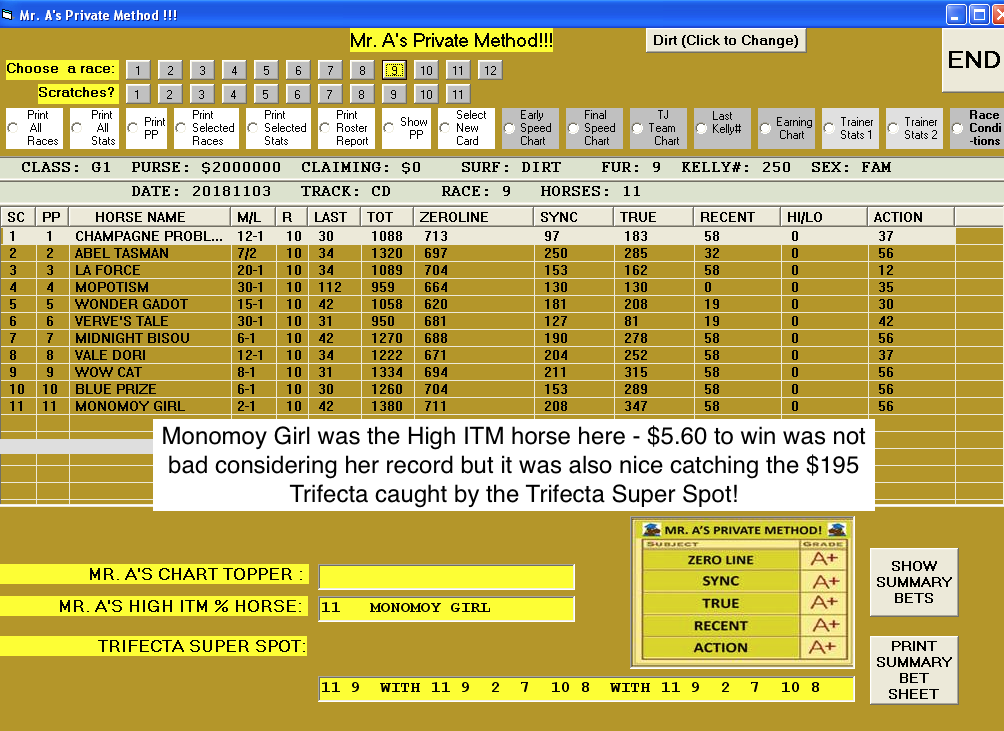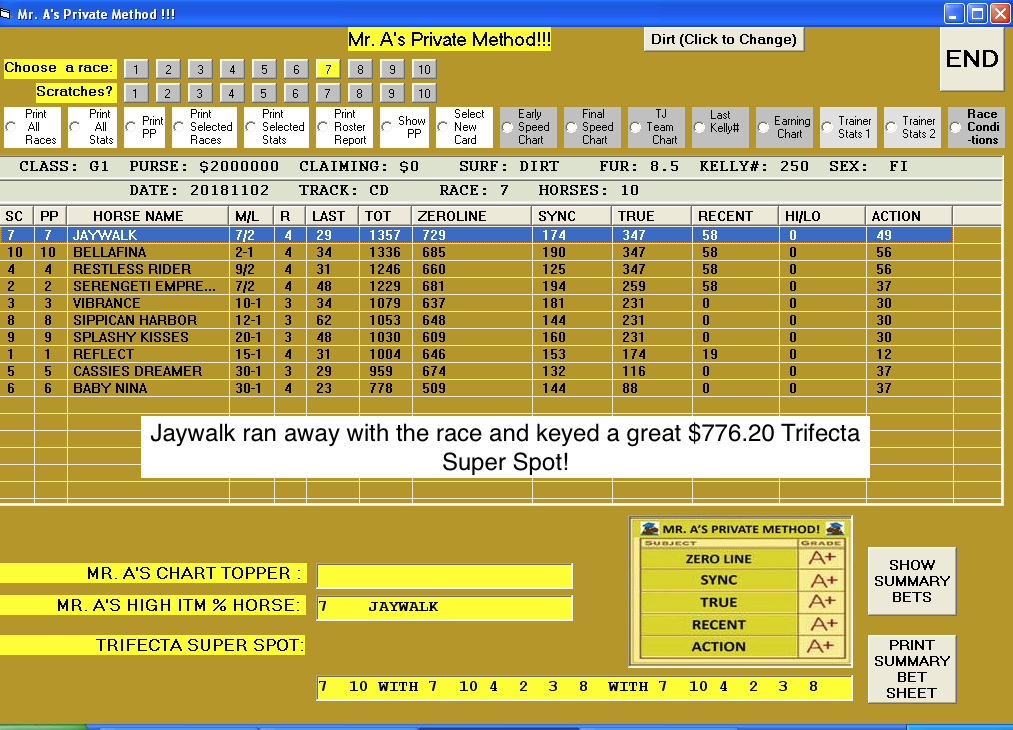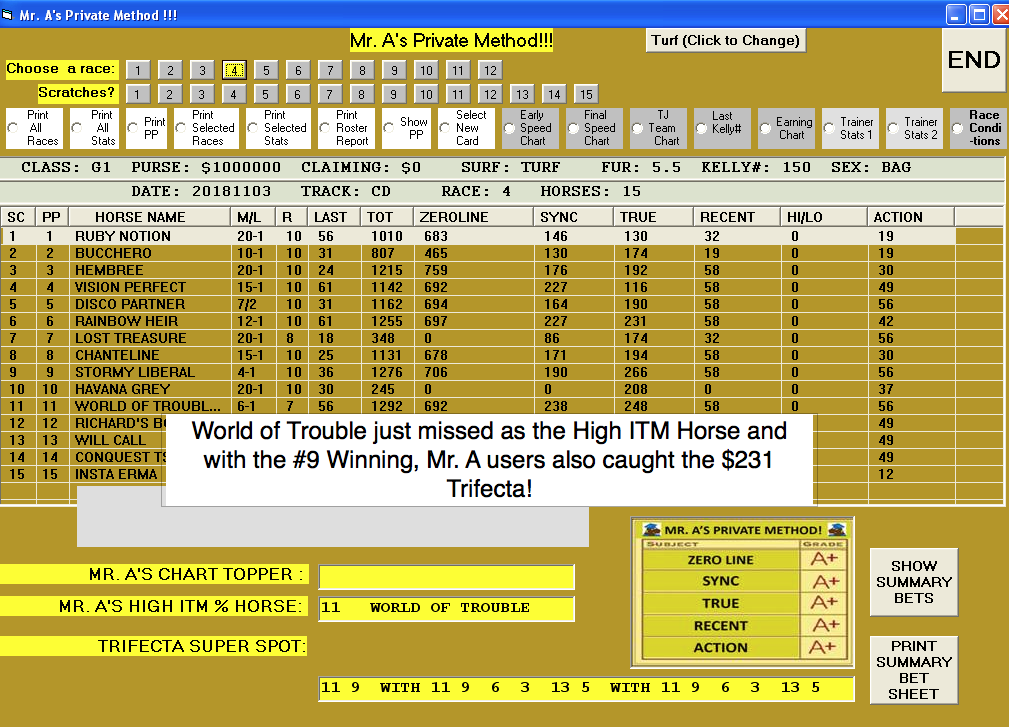 Mr. A's Private Method  $59.60
Mr. A's Private Method Ebook  $53.88
Mr. A's Private Method Software  $111.00
Additional information
| | |
| --- | --- |
| Mr. A's Private Method | Ebook, Software, Private Method |