Description
And Now — Something Completely Different! 

Mike Lovetere's
A

Unique

Racetrack Formula Emphasizing Recent Performance –

Perhaps the Best Methodology We Have Tested Producing Great Overlays from Horses

Whose 'Form' is Truly 'Hidden' in the PPs!
So, let's say that you discovered a way to 'read' these trainer moves —

that you are actually putting yourself into the trainer's mind — that you can spot when a trainer is using races/workouts to 'hide' a big upcoming performance.
√√
Think you would be cashing on horses that would largely be ignored by the public? 
→⇒

Of course you would, and this, in a nutshell, is what the Precision Profit Play Angle is all about.
The Precision Profit Play Angle:
has been researched and tested on over half a million races.  Because of the high average win mutuel (@$10.14) longterm results have been sensational,

with a positive ROI close to +43%! 
PPPA uncovers HIDDEN FORM

— form that the trainer is often trying to disguise —

often in the quest of a nice pari-mutuel payoff.
Check out the examples below –  then check out the program for yourself  — The Precision Profit Play Angle is a must have for any player hoping to gain an edge on the game — an edge only a small minority of all racetrackers possess.
Stately Command was the handicapper dictionary's description of an overlay — 5/1 on the line — goes off at 12/1 — PPA showed this runner was fit and ready — he finished well ahead of odds-on Easter Fever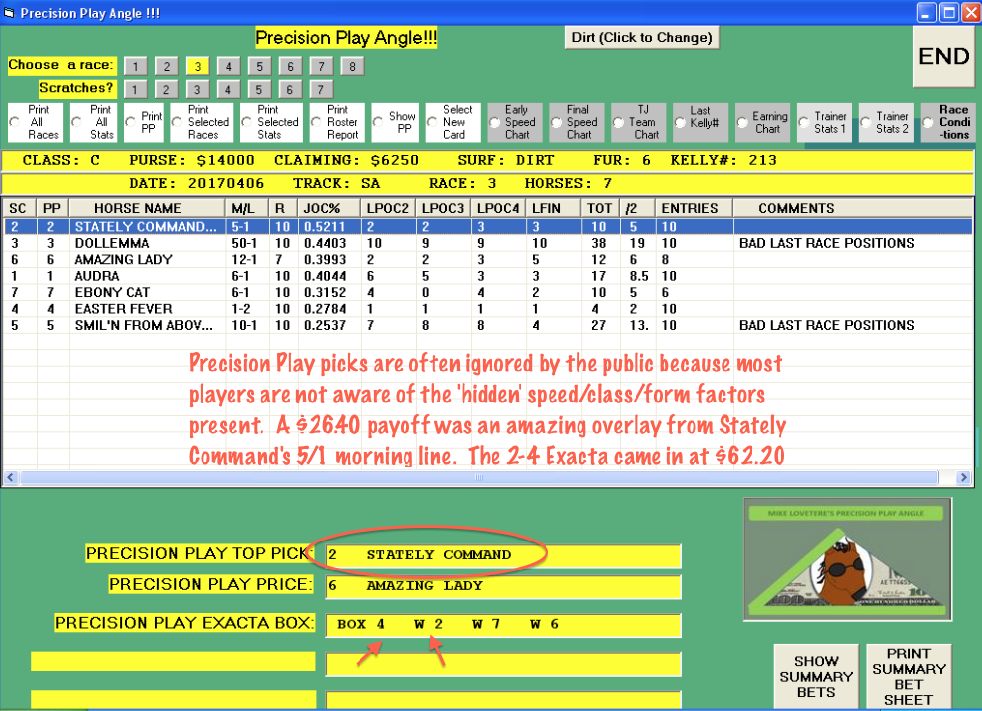 And Bomber Exactas come up regularly — here Doug O'Neill's Irap was sent postward at 31/1 in a big Stakes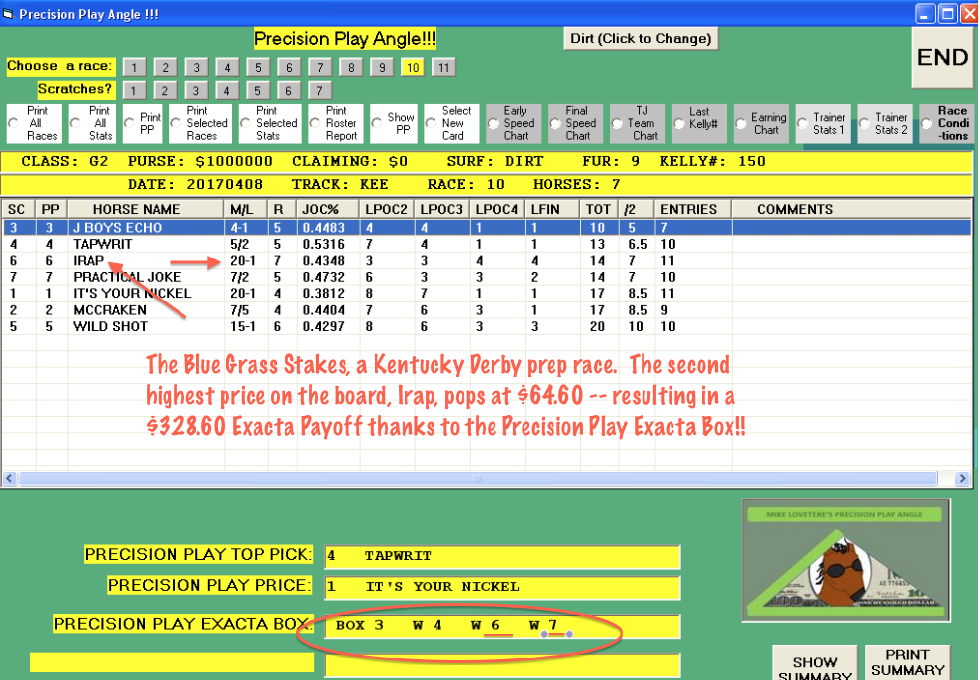 Another fit and ready PPA horse strikes at double digits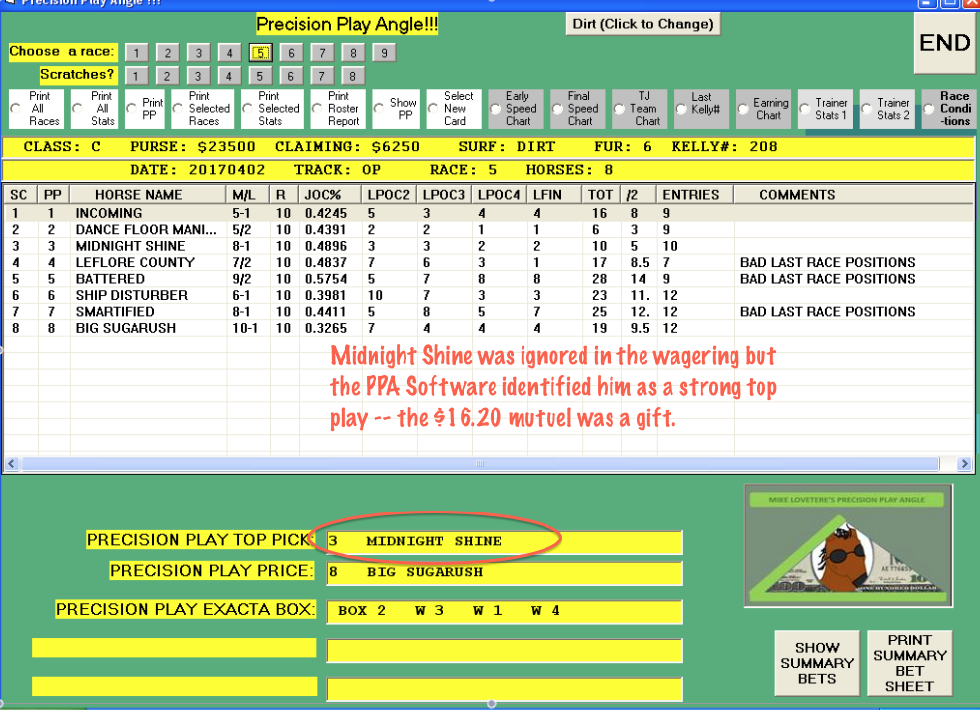 The Precision Price Play feature nabs the longest shot on the board!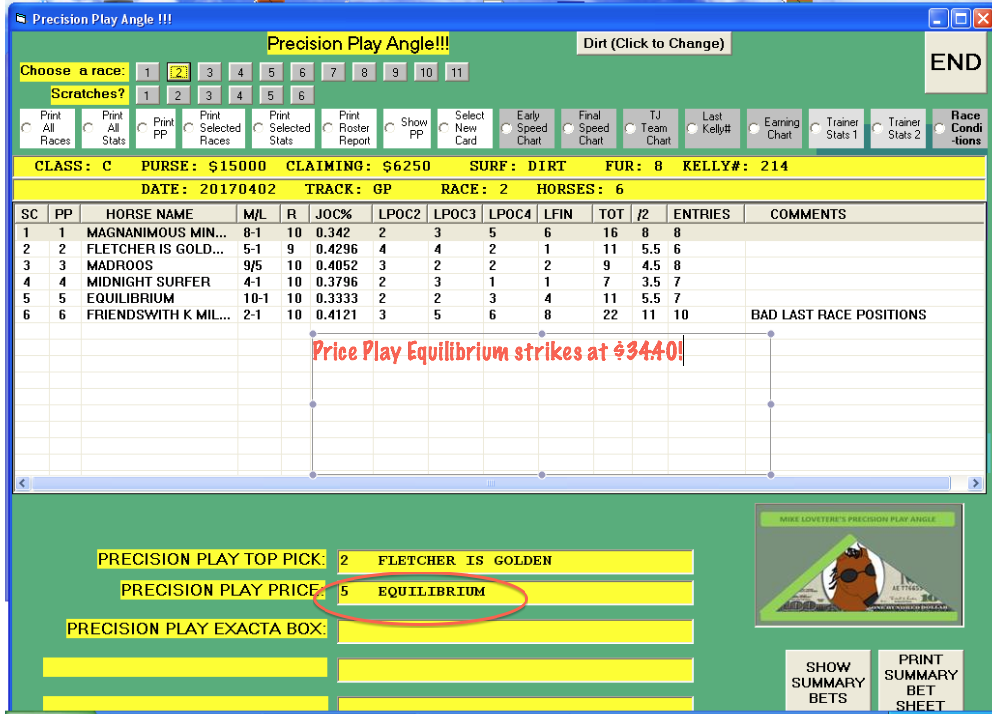 A fairly obvious PPA Top Pick scores at a nice price and the Exacta ($84.60) and Trifecta ($462.40) make this a hugely profitable race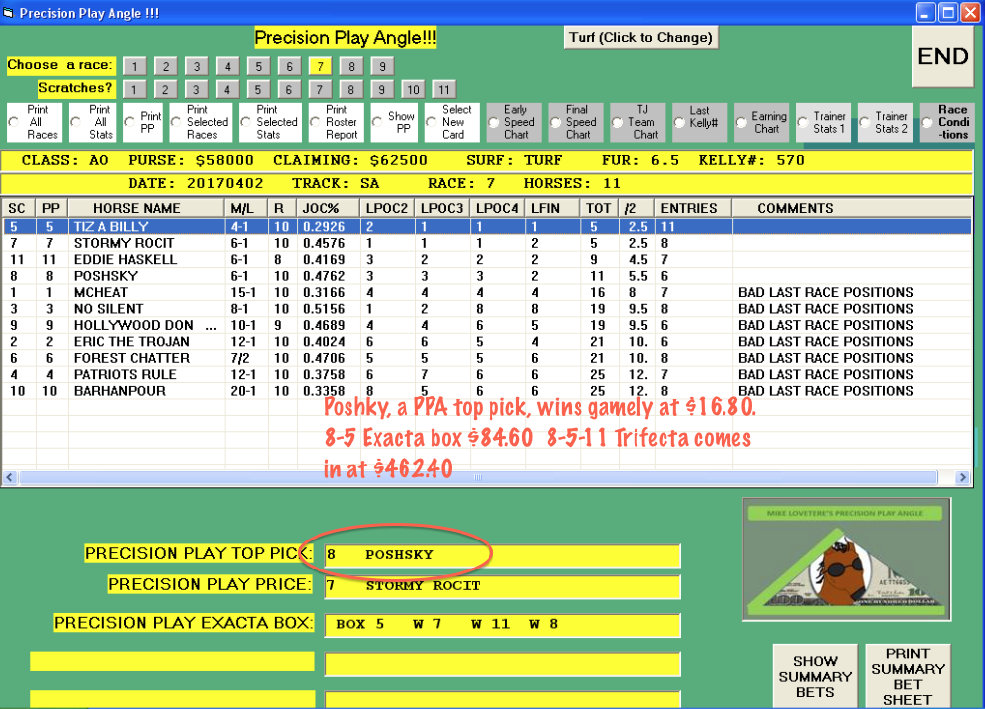 The Precision Profit Play Angle Software is very reasonably priced at just

$148

— this Program has real Earning Power — Your Satisfaction Fully Guaranteed!
Call us at
1-800-696-0067 
or order from our website  www.rpmhandicappinggiant.com
Proven Profit Play Angle Software  $148
PPPA Paper/Pencil Version  $55
PPPA Ebook  $49.88