Sale!
Description
Five of Mark Cramer's All-Time Best Methods (4 Thoroughbred – 1 Harness) in one Dynamic Package!
+++Mark's Short Form Paradigm Software on Sale – $70 Off!!!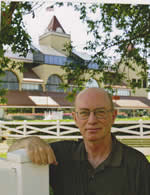 Guess who's been around this game for 50 years now?  Well, yeah, that description fits most of us in the game these days, but few, if any, have made the kind of contributions focused on the horseplayer's well-being than the best-selling, remarkable, worldwide-recognized horse-playing genius,

Mark Cramer

. 
And, for this occasion, we have put together a package that, every horseplayer in the universe is going to want to get hold of. 
Rather than waste time extolling all of Mark's horseplaying virtues (since most of you are already well aware of his fame and expertise), let's just explain what we've got in store for you:
2)Mark Cramer's The SECRET Factor!
Is there a
'Magic'

Speed Number — one that when reached, will accurately predict future performance?  And how does the track variant enter into this equation? 

Mark conducted a rather remarkable study on speed that often, very often, had his selection running 1st or 2nd, and often, at a price.

 

The 'Secret' is readily evident in any pps and will definitely improve your play, especially in higher class races

.
4)  Mark Cramer's RESEARCH:  NEW INSIGHTS ON SECOND-TIME STARTERS!
Who else, other than Mark Cramer, would come up with a method that focuses solely on horses making their second career start?  And why would he do this.  B

ecause he saw a golden opportunity wagering on the type of horse that the public would often dismiss. 

Now, while Mark does not like to boast about big returns from his methods,
he showed a +113% ROI with this one! 
Even when he eliminated the highest priced horses (four between $24 and $38) the ROI was still enviable.
And, again, this method is dirt simple and can be figured extremely quickly!
5)Mark Cramer's Harness Race Profit Portfolio!
You may not be a Harness race player, but after reading Mark's Harness Race Profit Portfolio you might very well decide to be! 

Without a doubt, the best winner producer and high rate of return producer ever written for harness players.

  Contains 5 different systems, from his super-consistent Blue Chip method to a couple of 'value' angles and two that are excellent at spotting longshots. 

This is a $75 retail item – but is included in the full package price! 
Call us at
1-800-696-0067

or order directly from out Website —

You are going to have a ball with these!
Mark Cramer 5-System Package   $65.00
Mark Cramer 5-System Package E-Version $55.88
Mark Cramer's Short Form Software   $127.00
Additional information
| | |
| --- | --- |
| Mark Cramer's | Software, kinky, eversion |