Sale!
$55.00 – $168.77
With EV you have a method that is guaranteed to produce steady and consistent profits —
Description
New From Jon Worth
Something Very, Very Special!
Meticulously Researched  —  Meticulously Tested over tens of thousands of races.
A Method so Accurate & So Consistent that Jon is willing to offer purchasers:
+ PTW, for Sprints, a $65 value — FREE!!  —
 *And, a Double-Your-Money-Back Guarantee! **
something Jon, or his father, the legendary Tom Worth, have never done before.
It's Called

which is short for:
 Even Finish

and it blows even the most successful handicapping systems and methods out of the water

!
***And, you are going to get another handsomely profitable Worth Publication,
PTW for Sprints — FREE!!!!!

for FREE!! – yours to keep even if for some strange reason you are not totally smitten with EV!
So what kind of method does one of the most respected handicapping authors on the planet offer not only a Double-Your-Money-Back Guarantee on,
but ALSO a $65 retail winning  system FREE!! 
The kind of method, my friends, that you can depend upon to provide steady profits, at all tracks, small and large, and in all types of races

.
  Interested? 
Let's hear from Jon*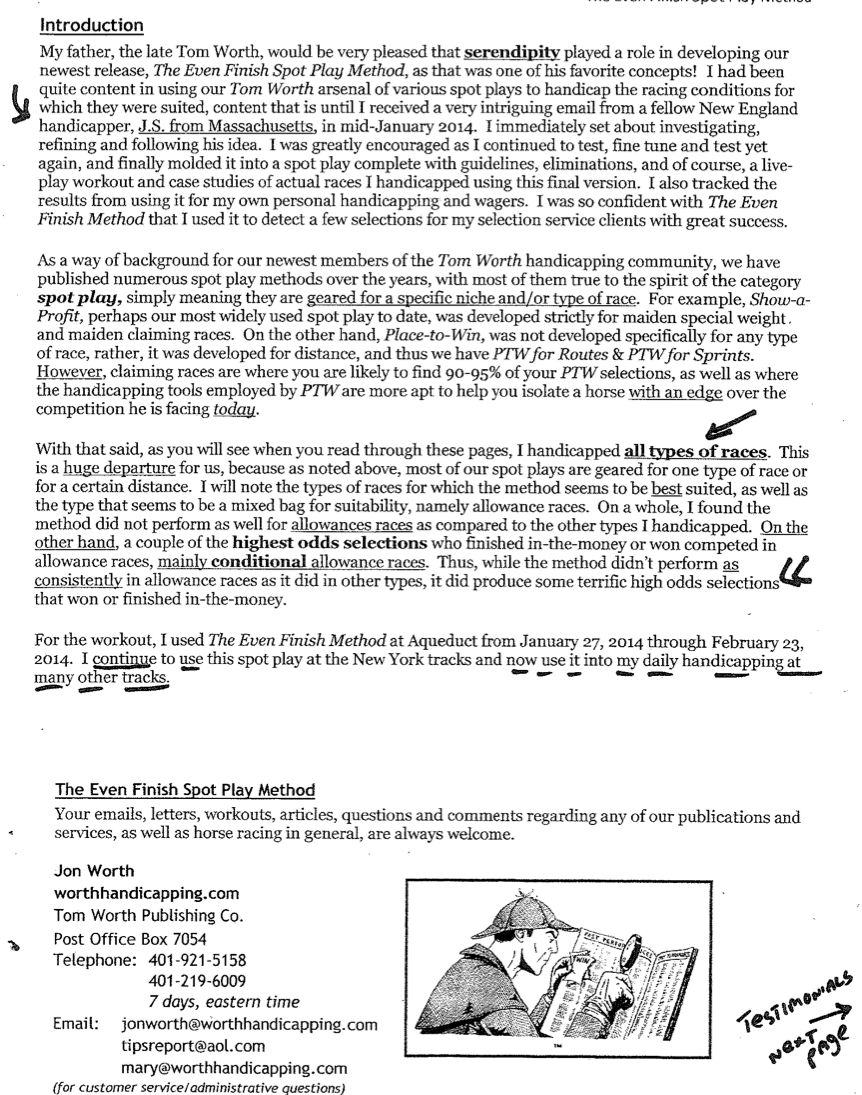 EV Testimonials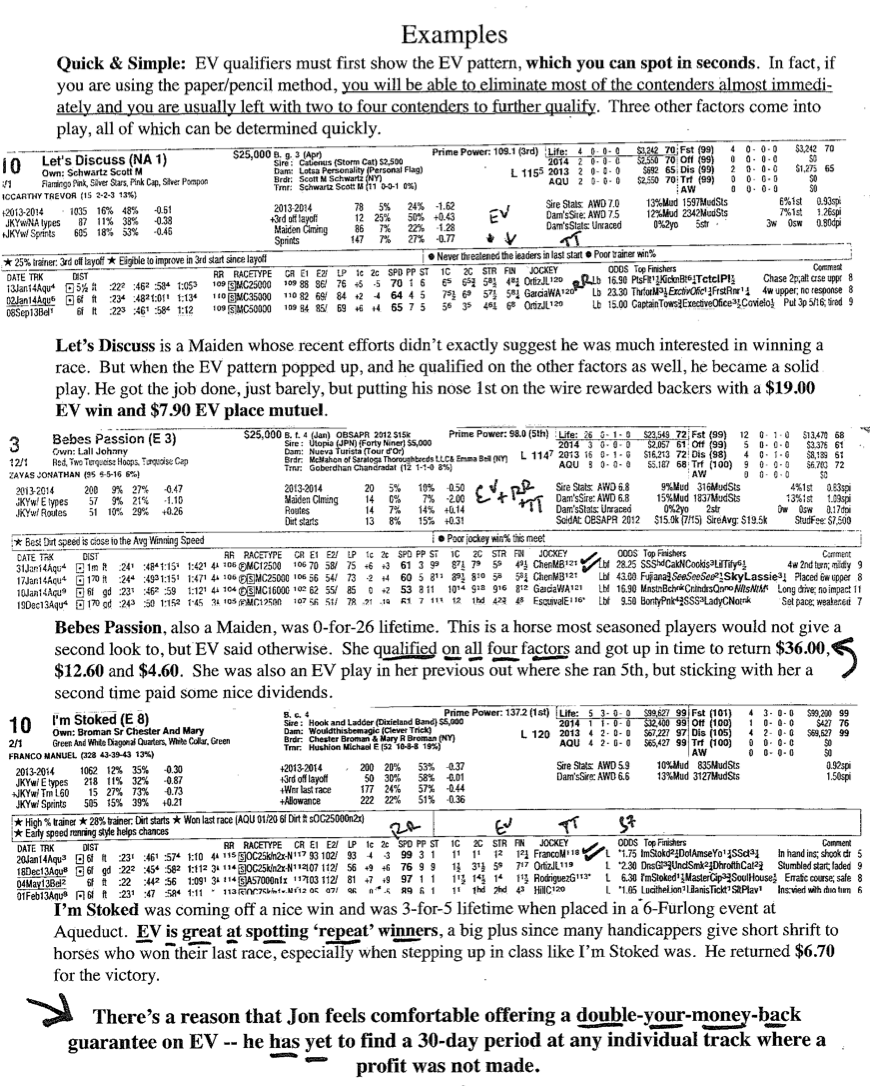 Jon,
Knew EV would turn my game around. 10 plays, $20 invested (all singles) Returns: win $32.8 Place $31.2 Show $34.1!!  The show outperformed win and place due to the heavy favorite running out. Next week gonna ramp up my bet. I am only going to focus on single EVs, SSAP plays and any big 4 plays. Thanks so much for making profitable play a reality.  Hope all well with your family.  Dale Flowers, Houston
August 18th, this from a New England handicapper:
Two selections from Saratoga today.  In the 9th race, "it took me just a few minutes to isolate two selections in the 9th and 10th races.  In Saratoga's 9th, Zucchini, ran 3rd, paid $2.80 to show.  In the 10th, Loves Last Chance was easy to spot and won easily, by over 3 lengths and paid a very nice double digit mutuel: $13.40 $6.30 $3.80.  To say that I was happy to have won enough in just 2 races to more than pay the price of the method would be an understatement."
The same afternoon, another New Englander phoned to say:
That for such a straightforward, easy to use method, he was pleasantly surprised at how easy and quick it was to use, and best of all, thus far, "very effective," at spotting "live" horses.  He also added, that just minutes before, his Even Finish spot play selection, Complete St., had won the 7th at Delaware Park, and surprised him very pleasantly by paying $22.20 $9.20  $7.40!
(To Dave Powers, from me (Jon))
Hi Dave: I spoke with this a handicapper on the phone on Sat. morning, 9-27, he had one just play at Belmont, which finished 3rd that day, in 5th at Belmont, Grade 1 stakes, Endless Chatter, paid  $5 show (he's a big Show bettor).  He also added that he was amazed that such an easy to figure method could continue to find horses that finish in-the-money so consistently – he is hitting 86% of his show wagers.   He has had EV about 6 weeks now, and he is very pleased.   He added that he found that sticking with the "singles" was proving best and most profitable for him.
Email from David Johnson, Tacoma, WA
Hey Jon – I was intent on trying for that double money back but after backchecking EV for just eight days I realized that I was wasting my time — it just kept winning (34%) and three of the horses paid $24+.  It's a keeper!
A mid-west handicapper called and told me that that Sunday had been terrific; he found 5 selections, 4 finished in the money, and he made over a 20% ROI.  He also added that he liked that he can find "a lot of selections very quickly, and so far finishing in-the-money enough to be profitable."  He is making $20 wagers and says he is pocketing @$250 per week playing three different tracks.  
A southwest handicapper called (1st week of September), to exclaim how happy he was with the method.   He noted that in the couple of weeks since he'd received it, the method was "kickin butt and takin' names!"  He has had seven horses that paid over $23 to win and by using a show-parlay method, is hitting 83% show and making a 21% ROI – 'the easiest money I've ever made' he told me.
From a Chicago area handicapper:
Jon, Just when I thought that $50 EV score would be best hit; along came the 8 in the 4th at Finger Lakes today $64.00/17.8/7.3.
EV gonna end up being my favorite spot play!!
George R., who plays mostly at Parx, Finger Lakes & Delaware:
A
nyway I'm thrilled that you took the time to develop the EV into a fully researched method, as I respect your work tremendously.  I love finding a "single" even finish horse in a race …. prices are outta sight!
Florida handicapper Ben J. on his first day using EV:
  The day I received the Even method I found 3 selections with it;
two won: $12, $16.40, 3rd ran out, over 300% roi; and paid for the method several times over in one day.  Have done lots of research on past races and I'm guessing your Double Money-Back guarantee is safe — I can't imagine EV not making money over any 30-day period.  Thanks for a real goodie!
Dale J., a Los Angeles handicapper:
Jon – I have been using you and your Father's methods for years, especially TIPS and BIG 4, but you have outdone yourself on EV.  With your other methods I have been able to squeeze out a decent supplemental income, but with EV, 'decent' has become 'solid' — my profits have increased by over 40% since I started with EV.  You guys are great!
Jon – 'EV is Straight-up genius.  Your honesty & integrity overwhelm me.  With EV even an 'old guy' like me can come home a winner most of the time!' Jimmy Zelinski, Manasquan, NJ
——————————————————————————-
**My own, (Jon Worth), experiences with the Even Finish:
  If you use the method as written —

you can spot contenders almost immediatel

y — then there are just three other rules to apply,
 

**you can expect an average win mutuel close to $10, with an average win % in the 27-30% range.   ROI to win has continued to be near 50%.
**Place % collection rate has remained similar to the 52% in the workout, give or take a couple of points. 
ROI to place has continued to be similar, within a couple of points of the 35% figure attained during the workout, with an average place mutuel of $5.
Show collection rates have continued to be in the 75% – 79% range when you play all qualifiers. 
*****However, the method performs the best and most  consistently when there is only one contender in a race.
***Collection rates rise, (for example, show collection rates jump to over 83%, and the ROI jumps from the 11-12% range to nearly 20%.)
**Similarly, when there is only one qualified contender, win and place rates and their respective ROI's also skyrocket!  
Average place mutuel leaps upward to $5.82!
Finally, I have heard from at least 6-7 handicappers who confirm similar improved results when you restrict your play to "single contenders." There are fewer selections, but the method is still so quick and easy to use, you will find plenty of "action."
——————————————————————————-
So, in short:
With EV you have a method that is guaranteed to produce steady and consistent profits —
in the Win, Place & Show spots.

 
**It is very simple to figure – and, of course, if you buy the software program, you don't have to do any figuring at all.
**And … you get plenty of action.  EV is not a 'spot play' by any means — in fact in a recent 18 day test, a total of 101 plays were found! 
These 101 plays produced a 31% win rate at a 54% ROI —  a 53% Place rate with an ROI of 37.5% and a Show ROI of over 14%!  
**And … if you prefer less action, and wait for just the 'single' qualifiers, your WIN rate will jump to @35% — ROI +68%! — 
**PLACE rate at 58% with a +44% ROI
**and SHOW rate of @84% with an ROI of close to 21%.
**And …  You are going to receive the Worth Company's
 FREE!!!!!!!  Place ROI 45%  Show ROI 36%



Place To Win for Sprints Method,
a $65 retail value, for FREE! 
even, if for some reason, you  return EV!
**AND ….

Jon is offering you a double-your-money-back Guarantee

if you can show a 30-day workout
that does not show a profit at any individual track!

**

offer good thru 3/1/15

Nothing could be fairer — you have absolutely everything to gain and nothing to lose — give it a try — it will work for YOU!
——————————————————————————-
Questions & Answers – Jon Worth's EV Method
Q.  How long does it take to figure a race with EV?
A. 
If you are using the paper method, it will normally take you no more than two or three minutes to figure a race.  This is because in a normal race, you will only find one to three horses who pass the first and most important rule.  After that you simply go to the other qualifying rules to determine your play.  If you have the software, of course, a couple clicks of your mouse does the job.
***

A

lso, when you order, you will receive the full 41-page EV Method booklet, which includes not only the rules, but several complete step-by-step examples so you will have no doubt on how to use the method and play to your maximum advantage.  Also, my complete 7-page Workout of Results is included

.

*** 
Q.  What can I honestly expect to make, profit-wise, if I use EV daily?
A. 
My own tests show you can expect to make at minimum 50 cents on the dollar, i.e, for every $2 you bet to win, you will get back $3.  On the place the return has been close to 35 cents on the dollar and on the show 11 cents on the dollar.  Those are the results from betting all qualifiers. 
However, if you stick to the plays we call 'singles', where there is just one possible qualifier in a race, your ROI will jump to 60%+ on the win and 43%+ on the place and close to 21% on the show. 
Len Czyzniejewski ran a test of more than 81,000 races and got very similar results: +52.7% ROI betting all qualifiers to win, +33.8% to place, +12.7% to show.  When he evaluated the 'singles', his ROIs jumped similar amounts to mine.
Q.  Are there long runouts?
A. 

Absolutely not.
While you may experience an occasional 5 or 6 race runout on the win end, with place horses hitting over 50% and show horses at 80%+, runouts are virtually non-existent. 
The fact that the place/show hits so often, a good parlay method, like Hammering The Chalk, or Dr. Anthony's Parlay Power Match, will increase your overall return.
Remember, though, the best overall ROI is still on the win end.
Q.  What if I have a question about the method?
A. 
Call me, email me, call Dave (Dave Powers is handling the sales for me 1-800-696-0067), email Dave. 
My company and Dave's RPM will always be there to answer any query you may have.  I want to  emphasize that this is a very, very solid method, and if you play by the simple rules, or use the software, you will have success with it.
Q.  What can you tell me about the free bonus method?
A. 
It's called Place To Win, For Sprints.
Like it cohort, Place To Win, For Routes, it was rated a 9 by Phillips Racing Newsletter.
It is a spot-play method that selects horses that have an 80%+ chance of finishing in the money. 
It shows a positive ROI on the win 0f 31%, place 18% and show 10%.  It's quick and simple and super conservative with no runouts.
Q.  Doesn't $77 for a paper method seem kind of steep?
A.  No, not at all, not for a method of this quality.  And I've had more than a few of my testers say they'd be willing to pay many times that amount after they ran their tests.

 
And besides, if you decide EV is not for you, for any reason, just send it back for a full refund.  You have nothing to lose, and Place To Win, For Sprints, is yours to keep regardless. 
There is absolutely no reason you should not give EV a try. 
And don't forget, I am offering a double-your-money back guarantee to boot

— just show me a 30-day workout at any individual track that does not make a profit, and you will receive a double refund – period (*valid thru 12/31/18).
——————————————————————————-
The EV Software!
While the paper/pencil version of EV is very simple to figure, we have also programmed the EV on software. 
Obviously, with the software, it takes only a couple of mouse clicks to get your selections, and you can quickly look at many more tracks.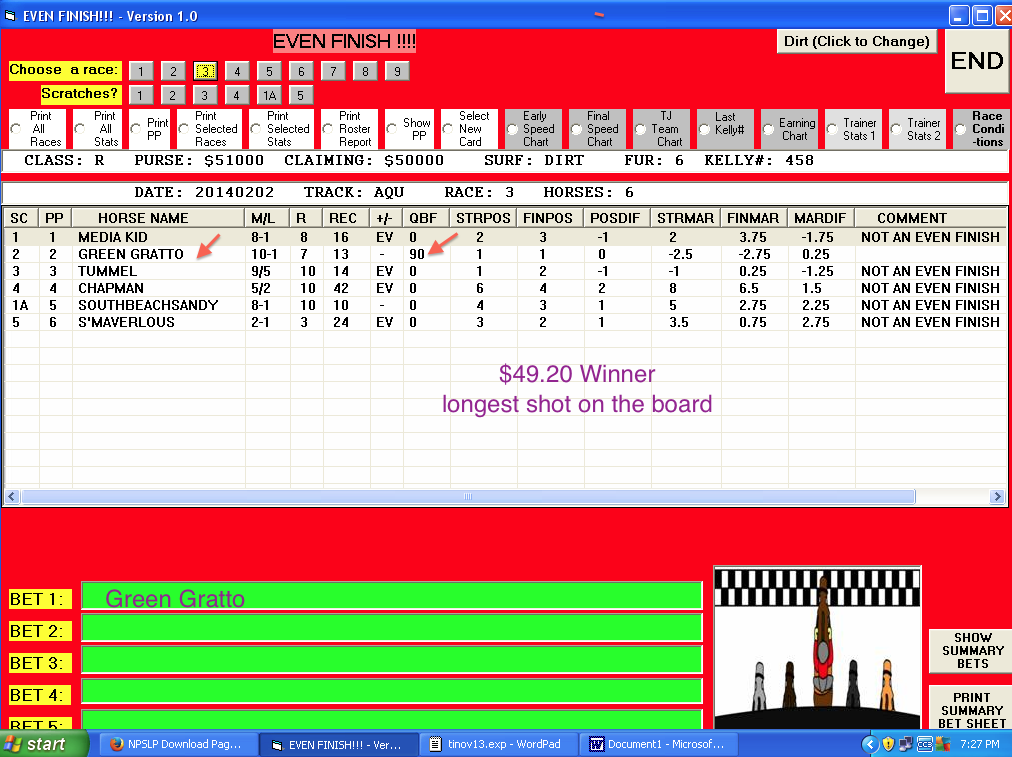 The EV software includes all the RPM regular features: view/print pps, up-to-the-minute jock/trainer stats, pace, speed, class, earnings charts, daily program, etc., etc. 
And, Len has discovered a beauty of a pattern that leads to high-paying Trifectas & Superfectas. 
It's a dilly, and the paper/pencil version is, of course, included with software.
——————————————————————————-
So, To Summarize:
You are purchasing a methodology that:
***Shows super-nice profits playing to win, place @ show!
***Hits big mutuel payoffs often!
***Runouts are almost non-existent!
***Quick & simple to figure — just a couple of minutes per race using the paper version!
***FREE!!  You get Jon's Place To Win, For Sprints, a $65 retail value, absolutely FREE!! 
Yours to keep even if, for some reason, you do not like EV!
A full Money-Back Guarantee!
***
Double-Your-Money-Back Guarantee if you can show a 30-day span at any individual track where a profit was not made!
***
+++The complete 41-page EV Manual, which includes precise examples and Jon's complete  7-page workout (example below)
The EV paper/pencil version is just $77

—

the software is $168, and you can use our 3-payment plan if you wish. 
You will find these prices extremely reasonable once you start using EV & Begin Cashing Wagers. 
NOTE: 
EV is not your father's 'even finish' angle — while 'even finish' has been used by others to spot  longshots in the past,
Jon's EV is precisely honed to build upon that angle and gather all kinds of prices from all kinds of races, including Maidens and Stakes. 
Super consistency – no runouts!  And, again, we have to emphasize —
with the full money-back guarantee,

you have nothing to lose by trying EV – it works as advertised, period.

 
Call us at 1-800-696-0067 to order or visit our website at:
www.rpmhandicappinggiant.com 

       Thanks!

Jon
The EV System Paper/Pencil reg. price $99   Discount Save Now 

$77.00
The EV System Software   reg. price $219  Discount Save Now

$168.00
EV Book Discount  $55.00
Additional information
| | |
| --- | --- |
| The EV System | Paper version, Software, Book Discount, Len Discount |