$49.88 – $59.50
How About This!! Their 'Favorite' Methods from Three Titans of the Game: Tom Console, Ray Taulbot & Lou Holloway! All for One Low Price!!
It's a fact that even seasoned, professional players, who use myriad handicapping methodologies, often have a Personal Favorite system or method that they have relied upon for decades. 
These often represent their 'go to' methods when they simply don't have time for thorough handicapping, or they are in a slump and know that their 'favs' will help reboot their bankrolls.
Description

Ray Taulbot's My Personal Best
The Introduction to the method:
Of all of the many, many systems that Ray Taulbot produced, this was his overall favorite.

He says:
'There are so many viable, powerful angles that can turn a profit for the fan. Most of the better ones can be a bit complex, requiring some math and figuring, while others just require a look at the pps. My favorite, since it has worked virtually forever and will continue to work as long as the game of horse racing continues, is one I call: Manipulating for Price. It is so darned simple yet gets such great results and great prices.'
We have obtained to the original methodology direct from the magazine, which was very difficult to get. As you will see, the copy is somewhat marked up by whoever originally had this publication,

but you can read Ray's undisputable logic

. Then we will summarize the rules, and some of the changes that we made to better fit in with racing in the 21st century…..
☛It's

actually a Trainer Maneuver system, one that spots ready to win runners over and over again.  O
ur database study showed an average profit of +35% at all U.S and Canadian tracks.

  $55 retail
The Introduction to the Method: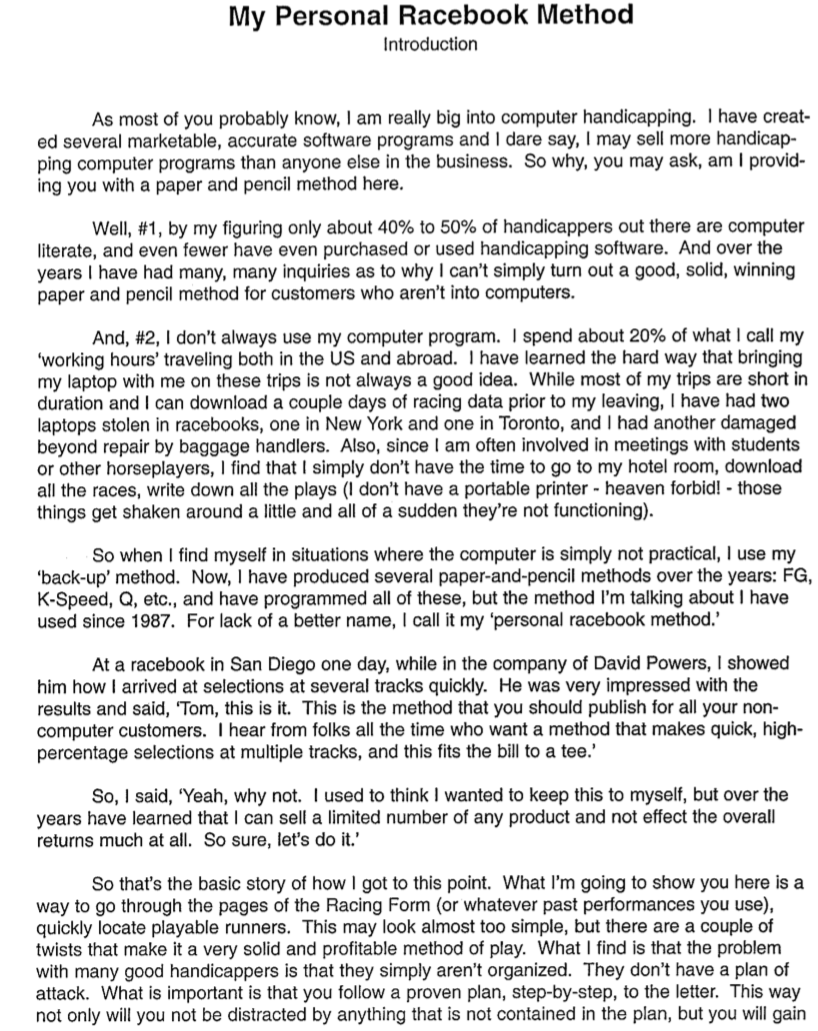 The great thing about Tom's

Personal Racebook Method

i
s that not only will you learn a proven, profitable method of play, but you will be educated on many critical areas of the game. 

Tom also provides his personal wagering strategies and he includes Pandy's Profit Zone money management strategy

.  A great deal at $59.50, but even better, much better, with the package price.
Lou Holloway's Profit Plays of Racing!
☛If

there was ever a handicapper that could be called 'The Professor Emeritus' of Racing, it would certainly be
Lou Holloway

, who spent many of his professional years teaching others how to beat the game.  In fact, we still have a handful of customers who actually attended Lou's classes in the late 1950s to mid 1960s.
Lou's Profit Plays of Racing
puts the player on a fast track to racetrack winnings

.  Lou is brutally honest about what it takes to beat this game and shows the player not only how to consistently select winning horses, but also how to avoid the many pitfalls that can sap the energy out of the aspiring pro.
So, we have @$170 worth of superb methodologies from some of the most accomplished handicappers of all time

+ Four Winning Spot Plays from Top Handicapping Authors. 
But with this special offer, you get all three

+ the BONUS Package

, for the price of just $49.88 for the ebooks, or $59.50 for the hard copies!
Call us at
1-800-696-0067
or order from our website
Thanks, and take care
Additional information
| | |
| --- | --- |
| ThreePak Pro | ebooks, hard copies |