$88.00
Greg Banner's EXOTIC BETS SUPER MODULE SOFTWARE! – '

POWERFUL, POWERFUL Stuff!!'

Tom Console
Description
Greg Banner's EXOTIC BETS SUPER MODULE SOFTWARE! – '

POWERFUL, POWERFUL Stuff!!'

Tom Console

Examples & Screenshots Follow.  As you can see, you have several ways to build Exotic tickets, using

Ability Power

,

Platinum Power

(V.POWER),

Prime Power

& Trainer/Jockey (T/J%).  Among these we have found the best price getters to be Prime Power & T/J%, with the most frequent hits from Ability Power: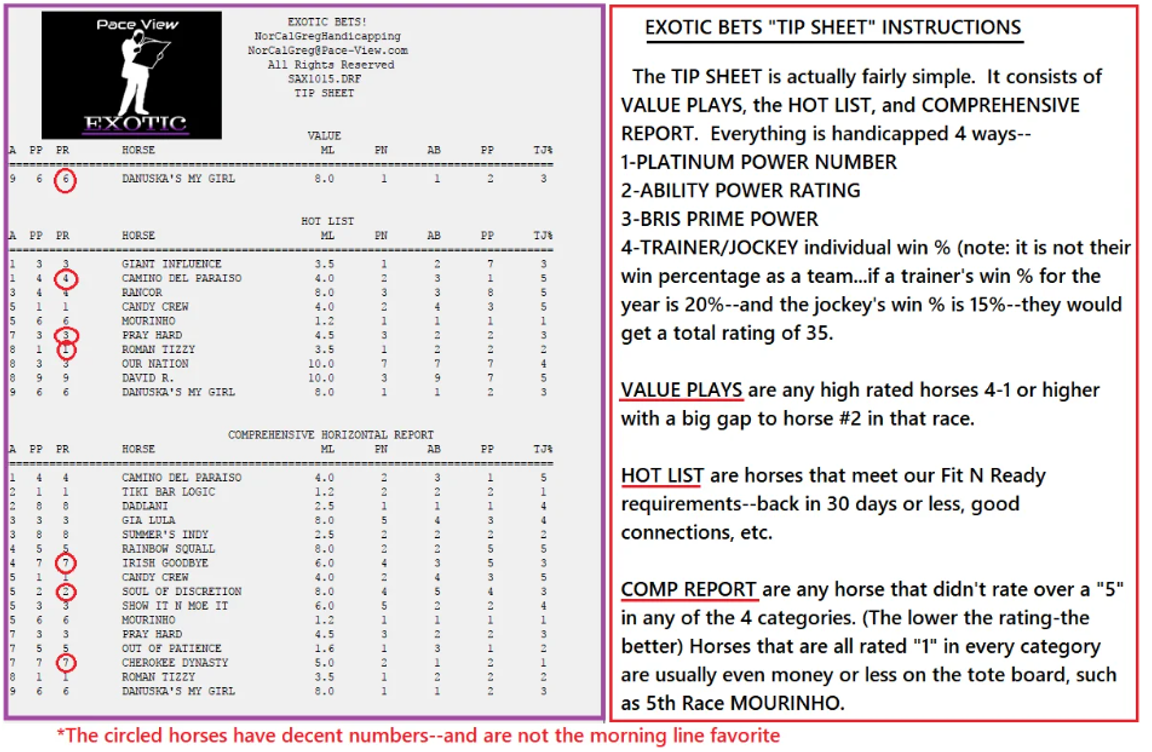 Below are examples of the Display Screens for Vertical Exotics (Exacta, Trifecta, Superfecta).  These you would normally box, though a 'key' can be viable using the top ranked horse with the others as well.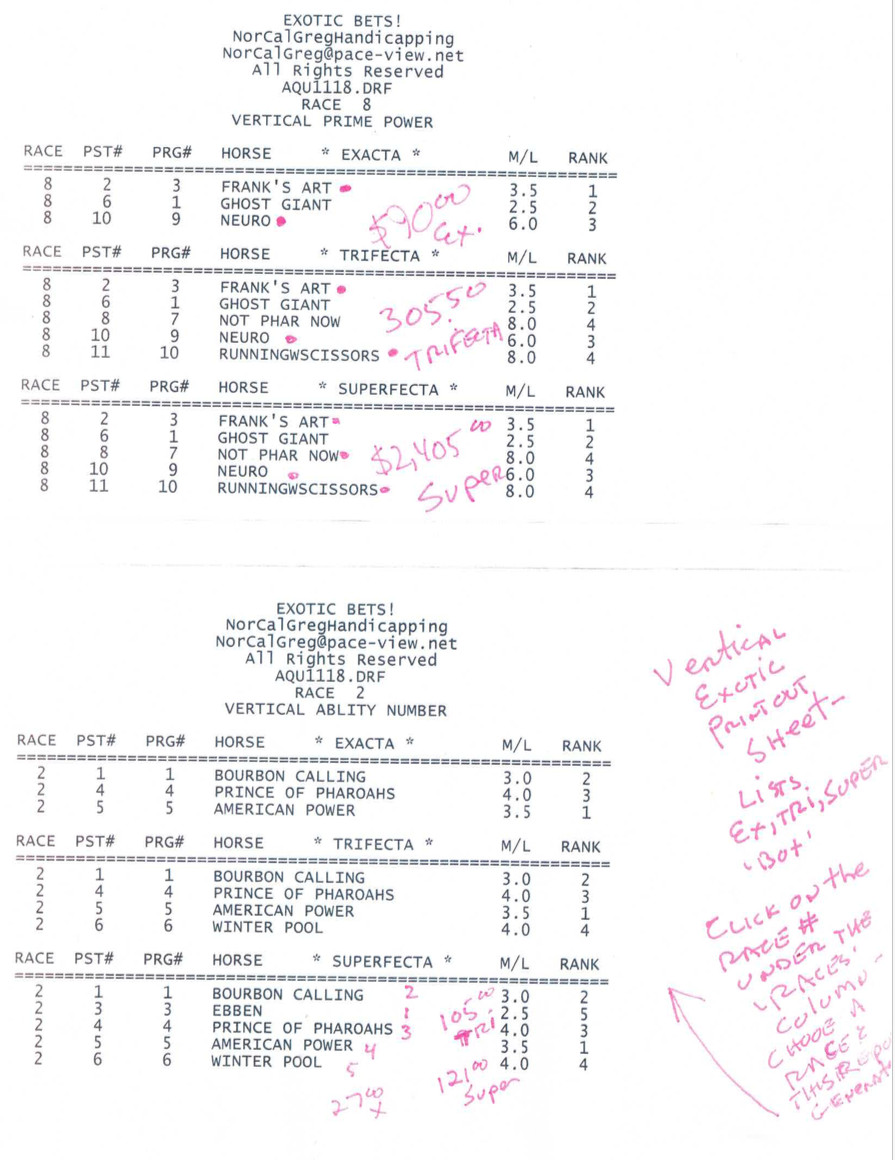 Horizontal Exacta Report below.  This provides you with the top rated horses in every race which you can use in Pick 3, 4, 5, 6. 

Also, this is a handy guide for just seeing who the best overall contenders are in every race. 

One of the top three horses, using Greg's Prime Power, Ability and Platinum Power options will win 80% + of the races.  T/J% option had a lower win average (@71%) but did have some overall big-priced mutuels.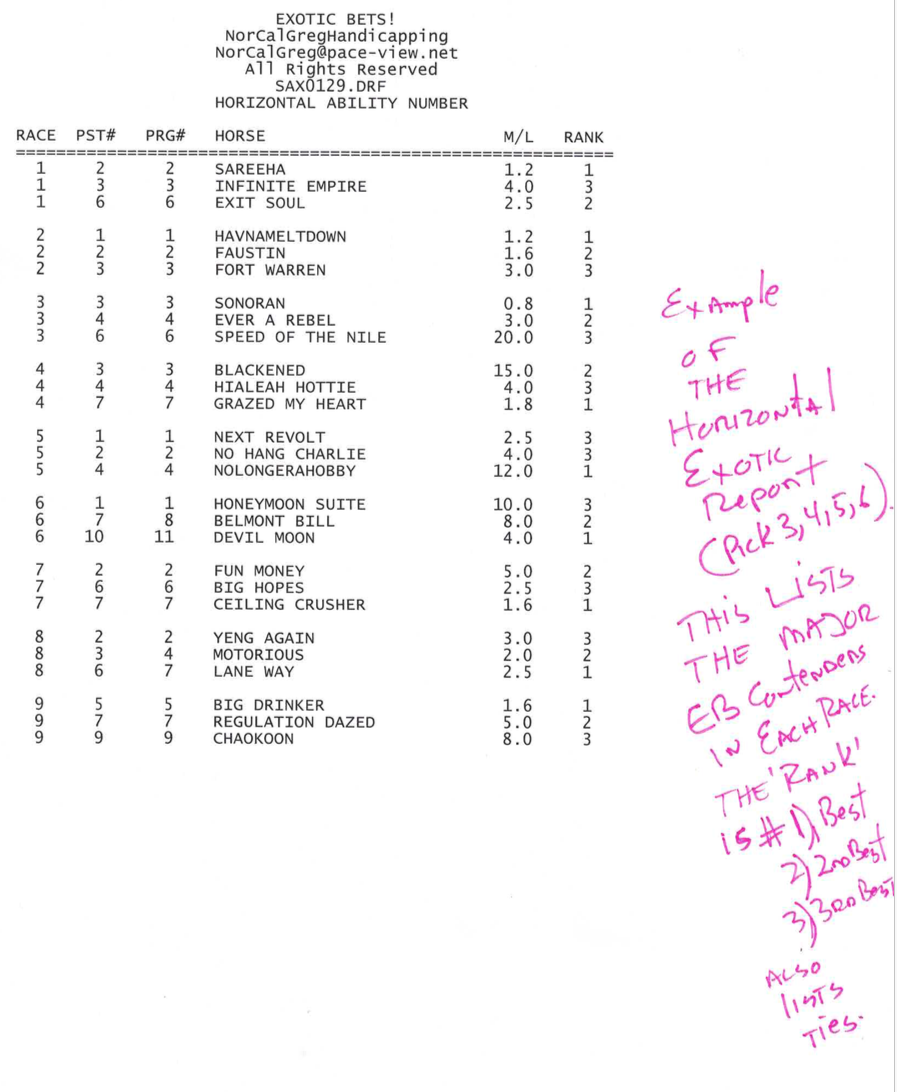 So What you have here is a

multi-functional Exotic based software program

which, by the way,

can aid you mightily with  your straight betting regimen as well.
And, as usual, while we feel this product is easily worth $125+, Greg insists that we charge a lower price, so believe it or not

you can have this software running for you today at the cost of just $88!
Call us at 1-800-696-0067 or order from our website.  Take a look at the Video, too!