$87.00 – $127.00
An Absolutely Fabulous Selection Package, for a Super Introductory Price –
DEL MAR

&

SARATOGA

!!
$87 Each — or Just $127 for Both!!!!
Rob Henie's East Coast & West Coast Handicapping Service —
#1 in the USA!!
Description

>>>Going for Five (5!!) Straight Del Mar Years of Solid Flat-Bet Profits!
Del Mar is almost here (July 21)!
>>And an Early Start for Saratoga this year (July 13)!
➨Look at it this way: How Much Is Your Time Worth To You?
Plumbers these days make about $120 an hour. Carpenters, almost $80. And Lawyers? Don't even ask!
Yet most of us would be lost without these 'specialists'.

  Few of us think twice about hiring a lawyer, real estate broker, tradesman, etc., regardless of the cost. Why? Because they provide needed services in areas where we lack knowledge.
Why, then, would you, as a handicapper,

not hire an professional to help you overcome the obstacles in this game?
Is it really worth it to you to labor for three or four hours over the Racing Form and still come home a loser once the races are run?
What is your time really worth to you?
By hiring a team of specialists, like our staff, you relieve yourself of the burden of handicapping without the proper tools.
We do one thing and we do it well:

Select winning horses for ourselves and our clients.

The cost?

Pennies a day

— less than admission to the track costs you!
😃
So do yourself a favor.
Consult a professional for your handicapping needs.
Once you've tried our Service, you'll never go back to the 'old' way again!"
"Rob Henie has made my handicapping life so, so much easier.  I just check out his selections on the day, make my bets and that's that!  No stress, no hours & hours of handicapping, and he consistently puts me on horses that I personally would not have given a second look to.  This is almost too easy – sometimes I actually feel guilty about it since Rob's prices are lower than any other service (most of them not worth the dough) that I have subscribed to.  I've had my best luck with him at Santa Anita, Del Mar, and Saratoga."  Jim Evans, Brooklyn, NY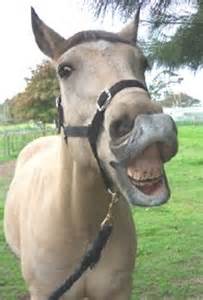 >>>

Take Advantage NOW!

… The pricing is extremely reasonable — and if you act quickly, you can get

FULL Coverage

for the ENTIRE SUMMER at a nicely discounted price😎!
Give it a try – the best racing of the year is here, now, and thru the summer months — you will not be disappointed!
>>>

Rob is one of the country's Premier Handicappers of First-Time Starters.  Over the past three years Rob has hit with 42% of his First Time Starter releases, some at huge prices ($117 and $87 being the largest payoffs). 

>>>

If you had simply wagered $20 to win on all of his Debut Runner releases over that time, you would have a profit of $8,262!
Look at Rob's First-Time-Starter Record from Last Summer/Fall  — Again, Rob has shown profits – at times HUGE profits – at ALL meets with his Debut releases!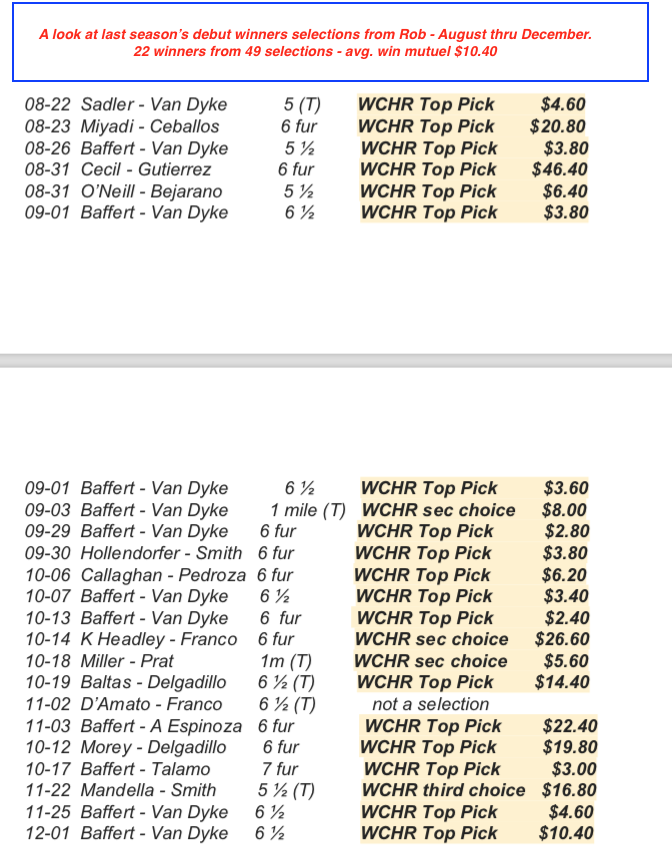 But that isn't all that Rob does well — he is brilliant with just about every type of race. 
He provides:

Commentary on Every Race, Every Day! — Nobody in the Business follows East Coast & West Coast Racing Like Rob Does — His Commentary and Selections are based on not only years of experience, but also on information that the average horseplayer simply does not have access to.  Take a look at his analysis of the 2nd race at Santa Anita —

subscribers are provided details only a true 'insider' would have knowledge of

— and Raging Whisky was an easy winner:

And Rob's
'Green Flash'

Best Bets are highlighted (

in Green!

), so you know exactly which wagers he considers the Best of the Best!
Soooo….
.

….doesn't it make just plain good sense that you discover what all the fuss is about?

 
Glad you agree!

… >>>and we have a very tempting offer to get you into the WCHR/ECHR 'swing' of things for the Biggest, most lucrative Summer racing meets: Del Mar & Saratoga!
When you hire Rob & his East Coast/West Coast Racing Reports team, they do the work

—

you reap the benefits!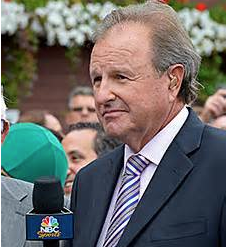 "Successful handicappers combine intelligence, patience, discipline and roll-up-your-sleeves hard work to thrive in the difficult world of thoroughbred racing. There is no quick fix or magic elixir that turns a hopeless loser into a successful player. But what can be of great service is to read the work of Rob Henie, in the East Coast Handicapping Report (ECHR) and West Coast Handicapping Report (WCHR).  Through tireless study of replays, grasping successful workout patterns, and understanding the intention of trainers, Henie's reports are written in a clear, concise, and logical way AND you will learn about the nuances of the game. Personally, I highly recommend his work and would encourage all others to give it a read. I have and I'm glad I did."
-Bob Neumeier,  30 plus years as TV analyst for NBC Sports
>>>>
This is the real thing folks!
You've got an expert, winning handicapper providing you with detailed selections and consistently high prices.

 

Rob will do all the work for you

—

you are hiring a specialist with decades of winning experience behind him.

<<<<
>>>So get in on this deal NOW for a very Special Price — :
Pkg. 1: Full Del Mar Meet  $87
Pkg 2: Full Saratoga Meet  $87
Pkg 3: Both Meets  $127
Call us at 1-800-696-0067  or  go to our website to order
www.rpmhandicappinggiant.com
Additional information
| | |
| --- | --- |
| echr | del mar, saratoga, both |