$45.88 – $128.00
Focuses on High Hit-Rate Profit Scenarios by Insuring the Percentages are in the Player's Favor.
Description
FOCUS II – PRIORITY ELEMENT SOFTWARE!
?Targeting Racing's 'SUPER-CRITICAL' Factors & Combining Them to Produce a

Steady Diet of Winners

,

High Mutuels

&

PROFIT!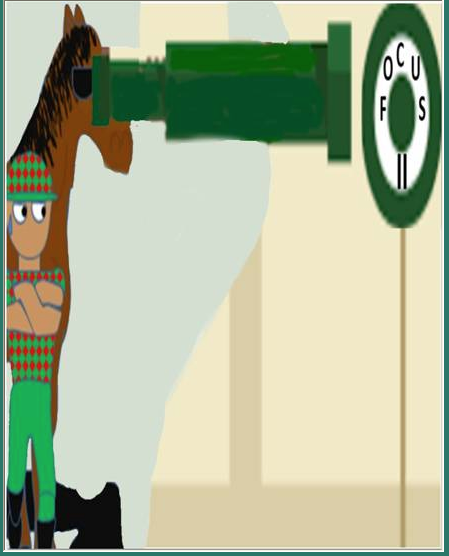 ?FOCUS II:?
>>

Focuses on High Hit-Rate Profit Scenarios by Insuring the Percentages are in the Player's Favor.

<<
☛

For Example – did you know that horses with morning lines between 8/5 and 8/1 win 91% of all races in North America?
?Well, that's exactly where FOCUS concentrates its efforts.
☛

And, were you aware that combining SUPERIOR raw speed (fast early and late fractions), along with Turn Time, deviations (plus or minus) from 'par' at every call along with a few other factors, almost insures, barring trouble, that a horse will hit the board?
?The

SPEEDRATIO

Algorithm in the FOCUS Program Takes Care of That.
☛Also,

just how important are connections – jockey/trainer/owner/stable? 

Look at the stats – the top 10 trainers at any given track wins, on average, 59% of the races — same with Jocks.

  Those stats alone, along with Jock/Trainer Team stats, will put you on many, many winners. 

But what if those stats also match up with a high-% winning owner/stable? 

Well, then the results become even more positive, and the prices can be great, since maybe 2% of the betting population pay any attention at all to this stat.
?FOCUS II has all of that wrapped up neatly in the

CONNECTIONS+

Algorithm!
☛

And, let's say we are able to determine, through a multi-thousand race database, which individual handicapping factors are most often present in a winning horse's profile.  And then the 10 most potent factors are combined into one algorithm.
?Well, FOCUS II just happens to have all that info, weighted and condensed into a single, powerful number, in its

FACTORGRADE

Column.
?So, what we end up with is what data experts refer to as a

?Super Acceleration Program –

speeding an incredibly lengthy, detailed process into just nano-seconds of computer? time to arrive at the result.
✍
A Program that stacks the %s in the Horseplayer's Favor. 
✍
A Program that boasts a 40%+ Win rate on SQs (Single Qualifiers – see below).
✍
A Program that contains the Best 'DUTCHING' algorithm we have ever seen.
✍A Program that Excels with MAIDENS!?
———–☟
?In Short,

A Program that will expand your ?HQ? (Handicapping Quotient) by expanding your number of viable wagering situations while zeroing in on above-average mutuels

,
extreme accuracy and price when you are Dutching
?and a Longshot Program that pulls huge prices up into Exacta, Trifecta, Superfecta and Super Hi5 situations. ?
Quotes
✐

'

FOCUS II is an amazing piece of software — it is consistent, gets solid prices, has a super high win % on Best Bets (SQs) and also provides players who like to Dutch with some amazing opportunities.  Worth so much more than the much-too-reasonable retail price it is being offered about.' 

Bob Shurig, Handicapping Author
✎

'Yes, it's like shining a bright light, or laser beam, I should probably say, directly at the most likely winner and/or the most likely profit situation in a given race.  This is pretty special. It's a 'must have' for the serious player.'  Dale McDermott, racebook manager, retired, Sam's Town, Las Vegas
?Take a look at the examples below.  You will see that FOCUS II is an very versatile program with several lucrative ways to play. 
You definitely do not want to pass this one up!
?Hi-% Hit Rate on Key Plays with 5 or more point edge in TOT (total) Column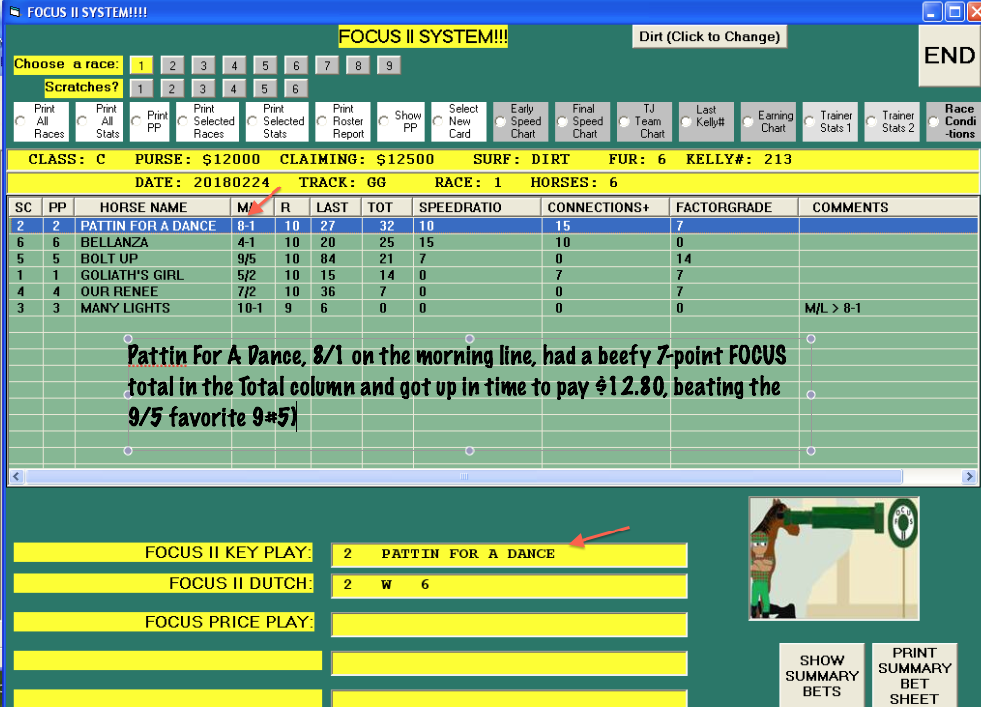 ?FOCUS II  is very adept at sorting out Maiden and Maiden-Claiming races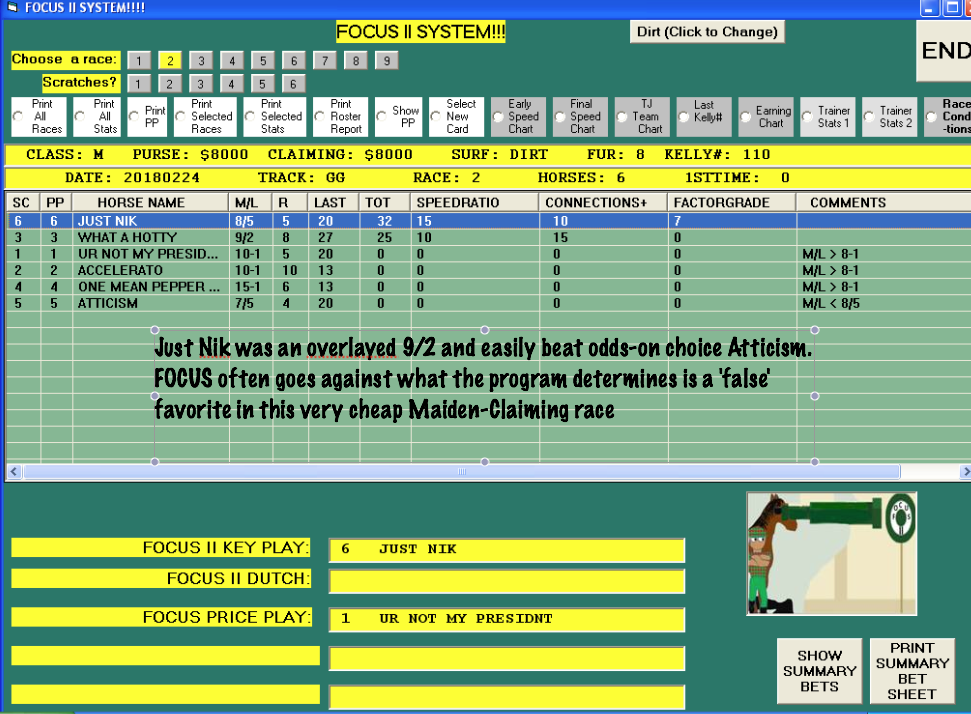 ?SQs (Single Qualifiers) are super plays with the FOCUS Software – these plays make great 'singles' and should always, always be included in your exotic wagers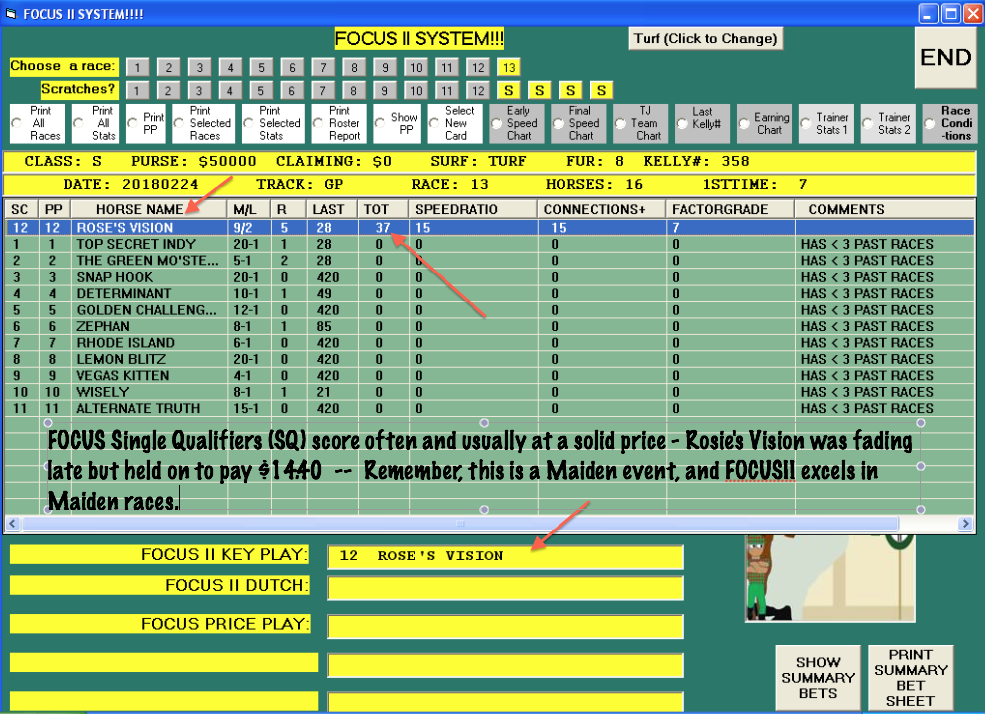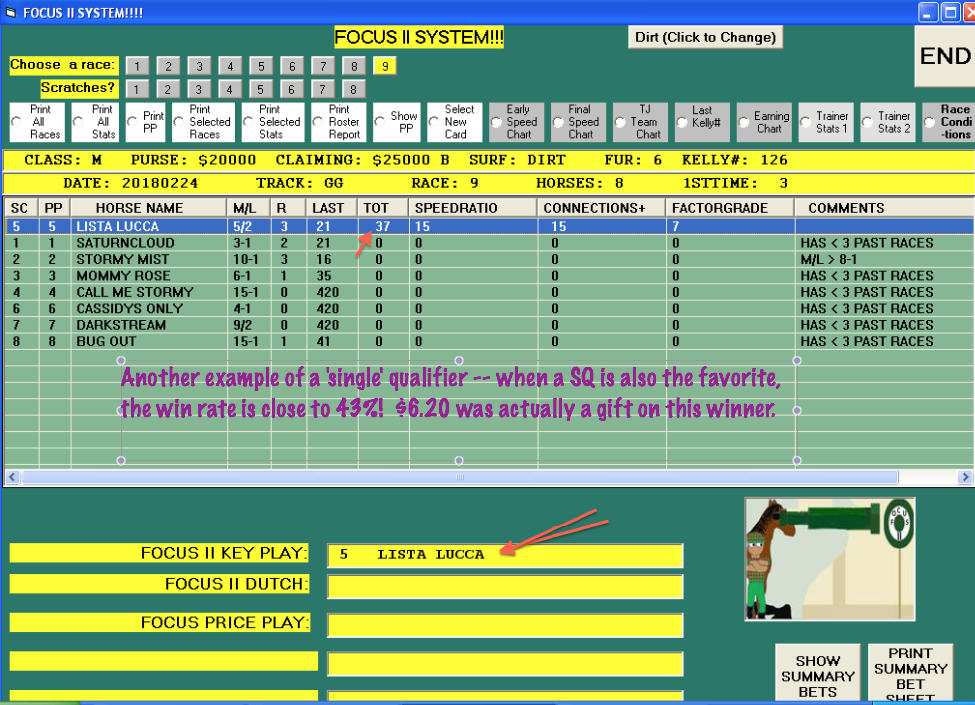 ?Dutching horses has never been easier — FOCUS II dutch plays are often juicy prices as well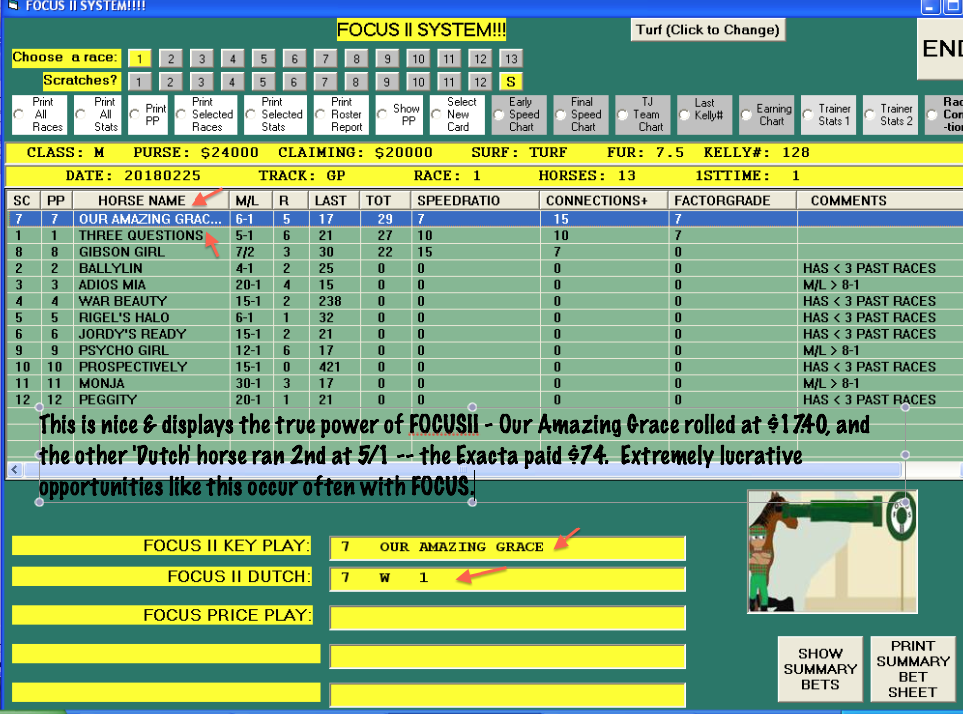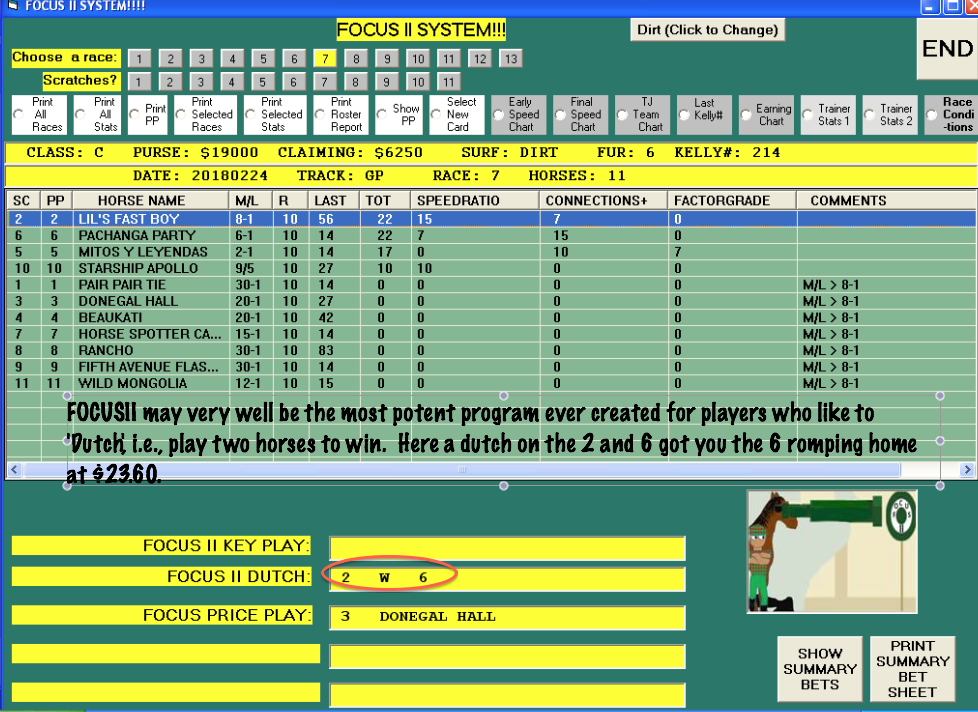 ?FOCUS II is excellent at spotting overlays —  also great at throwing out 'false' favorites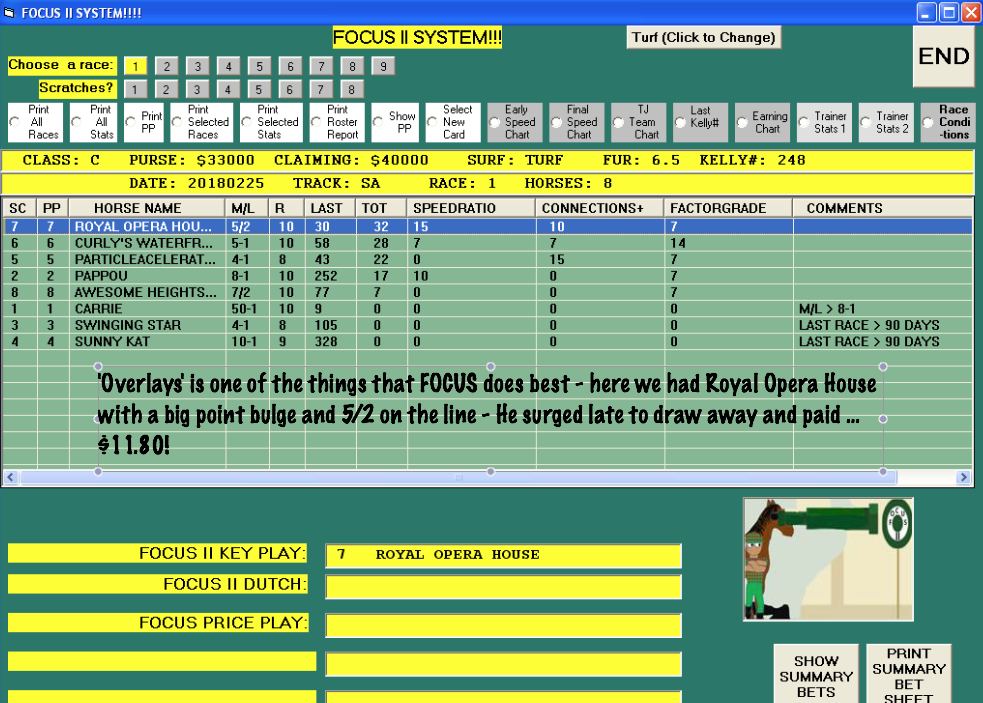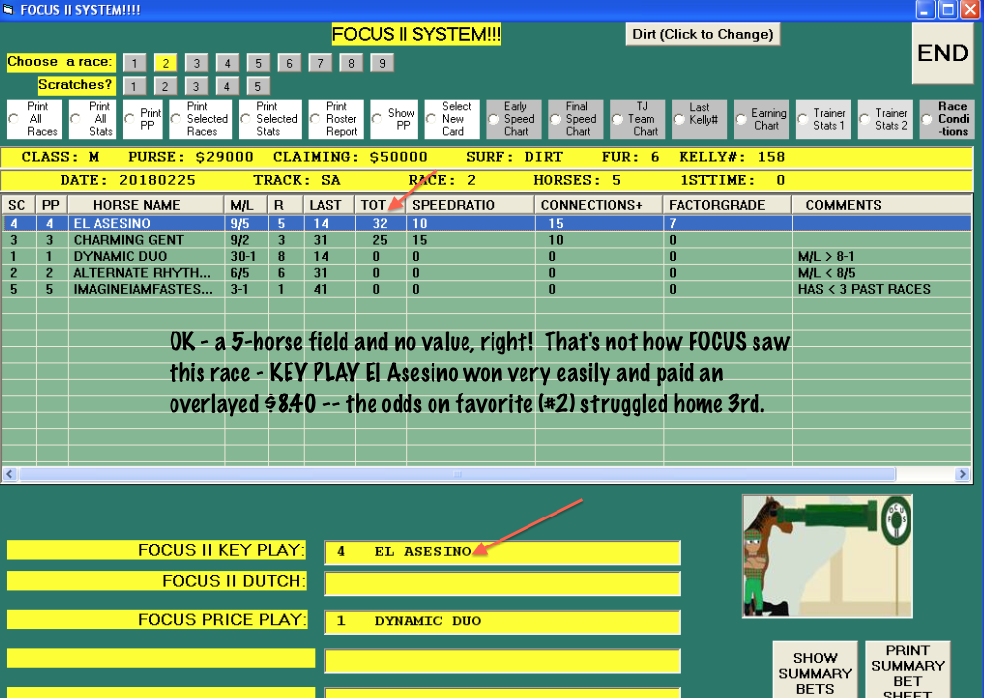 ?The FOCUS II Price Play algorithm spots longshots with ability – FOCUS Price Plays should always be used in your Trifecta/Superfecta/Super Hi-5 strategies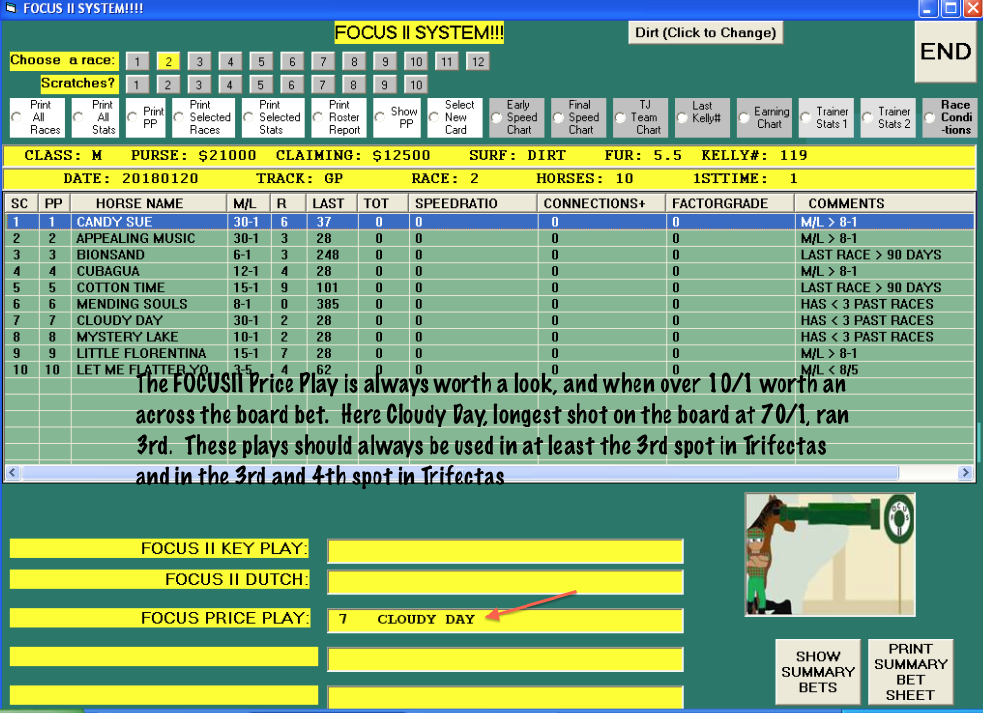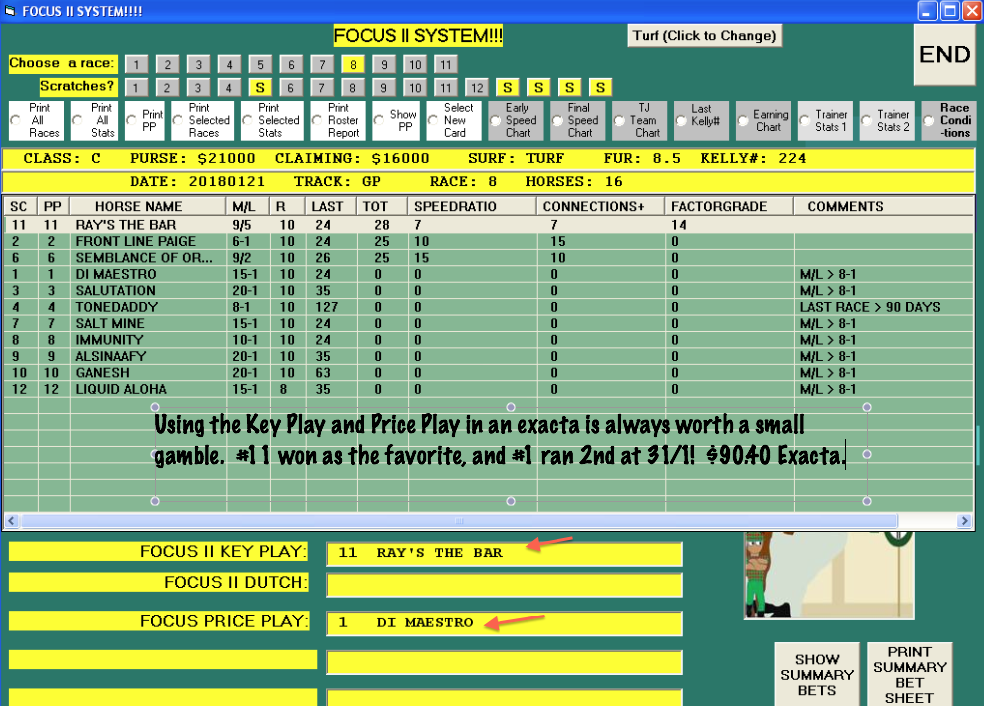 So, doesn't it make perfect sense to add this powerful, extremely effective tool to your handicapping arsenal?  Especially since:
a)

FOCUS II is extremely reasonably priced – much lower than the suggested $200 – $300 range suggested by our beta testers and,

b)

it carries a full money-back guarantee.
?Which means, very simply, that you have absolutely nothing to lose, and everything to gain — a buyer advantage nobody can argue with.
So call us at 
1-800-696-0067

to order, or with any questions, or order from our website.  You will get a real kick?out of FOCUS II – Fun, Accuracy & Profitability – that we promise you.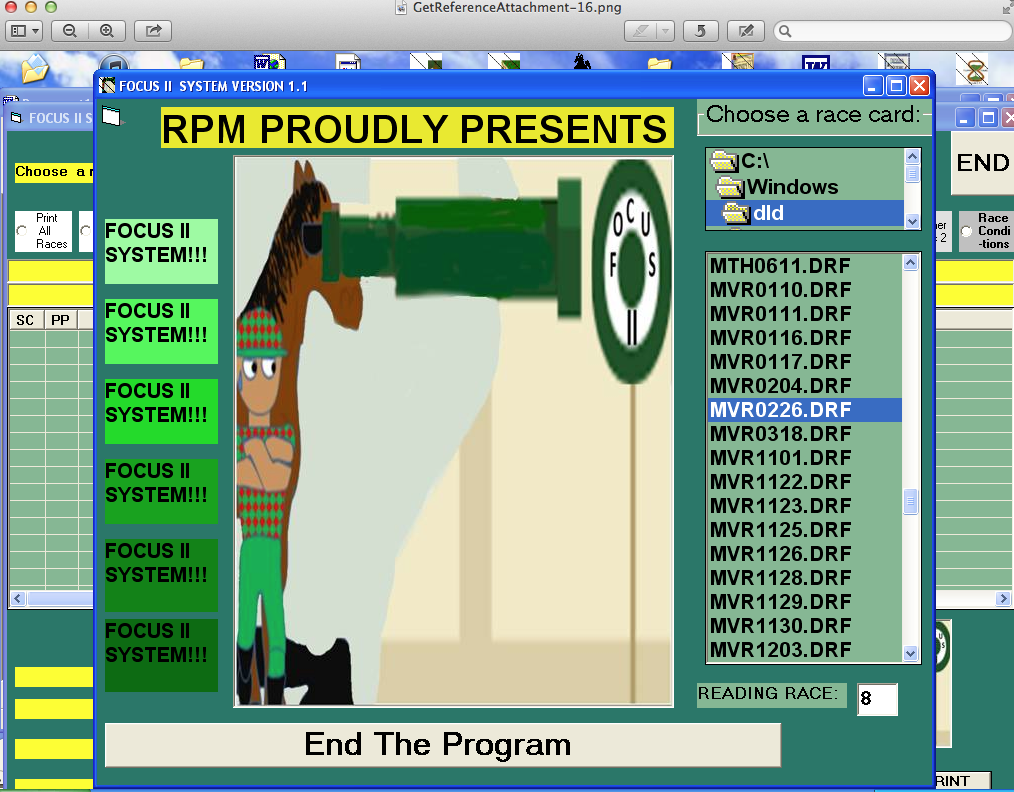 FOCUS II Software  $128.00
FOCUS II Paper Version $49.90
FOCUS II Ebook  $45.88
Additional information
| | |
| --- | --- |
| FOCUS II | Ebook, Paper version, Software |