Sale!
$44.88 – $58.75
Ray Taulbot's 

The BLITZ!!
Includes New!!

Sensational Value Line Tool & New

SNAPSHOT

'the numbers behind the numbers' Feature!
 1st Time Ever Published!!
Description
So, we get a call from a regular customer and in the course of the conversation

he informs us that he knew and talked occasionally

to Ray Taulbot's wife, who passed away in the late 1990s.  Well, that's interesting, we said. 
And then he says that she had given him a few of Ray's published books.

  That's nice, we said.  
>>And then ….  he tells us that inside the back cover of one of the books Ray had written some notes, actually 6 numbered 'rules', and at the bottom he wrote

'The Blitz'

. 
You mean it's a system?,  we asked. 

Yep, he said —  I never thought much about it, and a couple of the rules seemed incomplete, but I'll be happy to make a copy and send it to you.

  Sure, we'd like that, we said.
Well, long story short, it was a system, and the 'incomplete' rules were easy to decipher.
And when we filled in the blanks,

☛

what we ended up with was one heck of a very, very consistent methodology

that had virtually no runouts of significant length

and produced a nice profit

on both the win (36% win rate) and place (54% place rate)

and top qualifiers ran 3rd close to 86% of the time. 
>>

It also gets some great prices and is super efficient at picking legitimate favorites as well,

with a win rate in certain categories that approaches 50%!
As you know, we have studied most of Ray's work over the years, and published some of the methodologies we felt were a cut above the rest, like

The Ways & Means

,

Gold Clad

, etc. 
But we've got to tell you that

The Blitz!

outdoes them all.  What you get is

extreme CONSISTE
NCY

with Best Bets, double digit prices (often), and a total lack of runouts.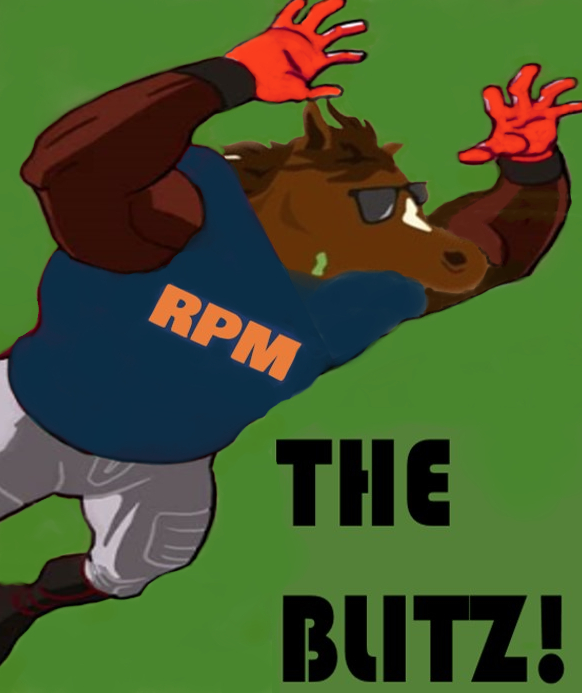 >>>>
In addition, we have developed a new

'Value Line'

tool for this software and it is far, far superior than the what you get from the morning line maker.
This feature is called 
☛

BM/L (Blitz morning line)

and it provides you with a

TRUE value line

, much like Mark Cramer's equations in his  book, The Odds Are on Your Side.  You will see its extreme effectiveness in some of the examples below.
***

The best way to demonstrate the incredible efficiency of this system is to look at the results.   These examples are from the Software program (The Blitz is also available in paper and ebook). 

Also check out the Full Day card examples.***
The Blitz is by no means a 'chalky' program.  It is logic driven so most of the winners fall in the $5 to $14 range, b

ut bigger double digit prices come up fairly frequently.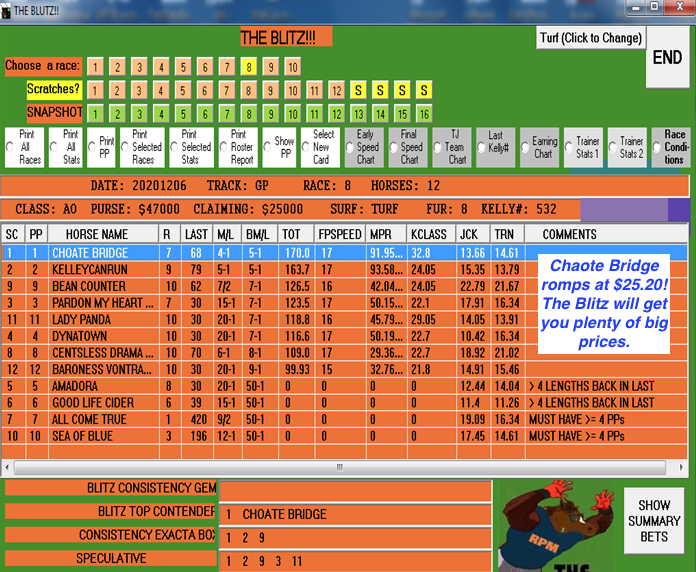 Below is a great example of the power of The Blitz Value Line.  Under M/L, you see that the horse's morning line is 10/1.  But the BM/L (Blitz Morning Line) had this horse at 3/5!  The $23.80 was a total gift.  This was on the same card as Choate Breeze above.  Below this see the complete results of this Gulfstream card.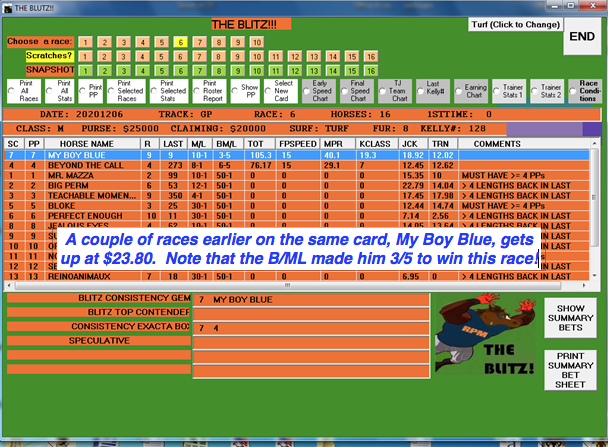 Four winners and two 2nds from 8 plays on the 12/6/20 Gulfstream card.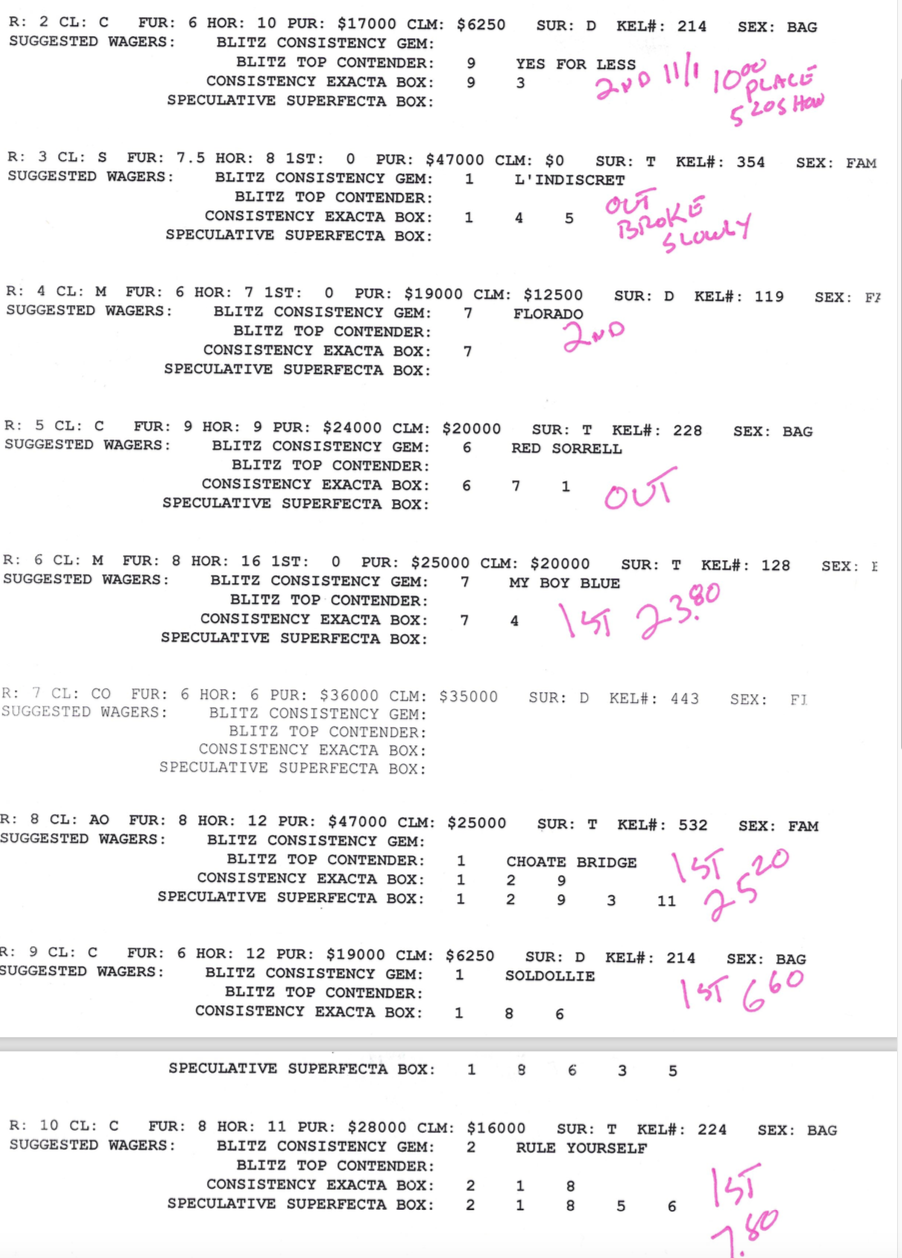 Here's another race where the BM/L had the selection, True Timber, as the 7/5 favorite to win the race, while he was 15/1 on the ML.  $16.60 was a great payoff in a field that was reduced considerably by scratches.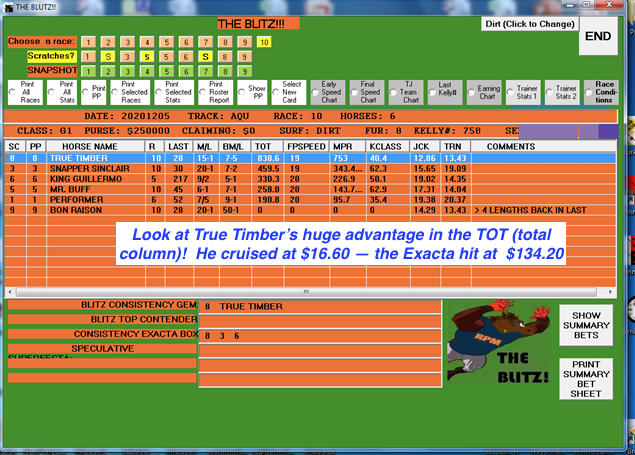 The Blitz! has an astonishing ability to locate 'legitimate' favorites.  When a race, or morning line favorite is picked in the Blitz Consistency Gem box, and has a point spread over the second highest scorer of 9 points or more, the win rate is close to 50% and the show rate is just a hair below 90%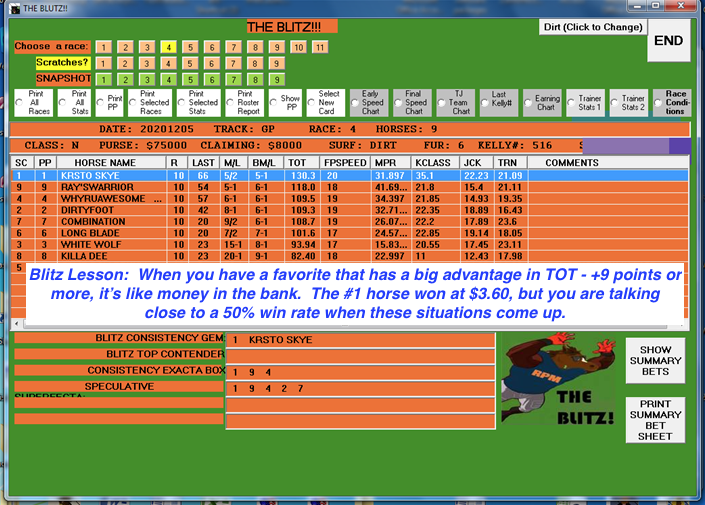 Another great overlay with the BM/L saying this winner should be 5/1 instead of 15/1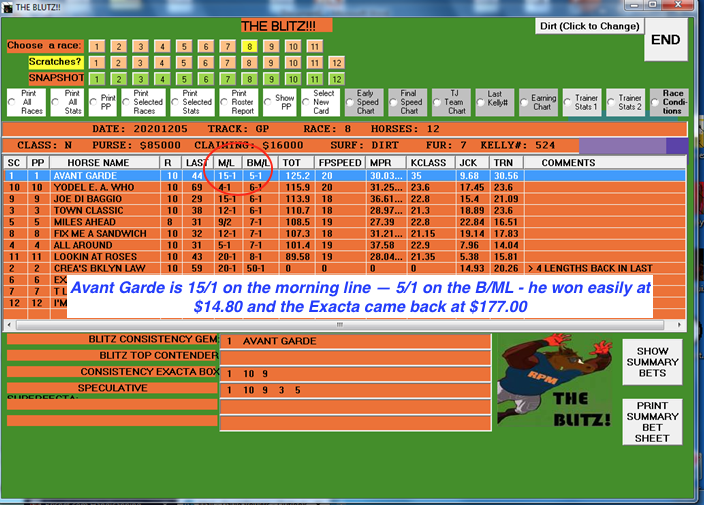 The Blitz! selections have a very strong on-the-board hit rate and should be backed up to place and/or show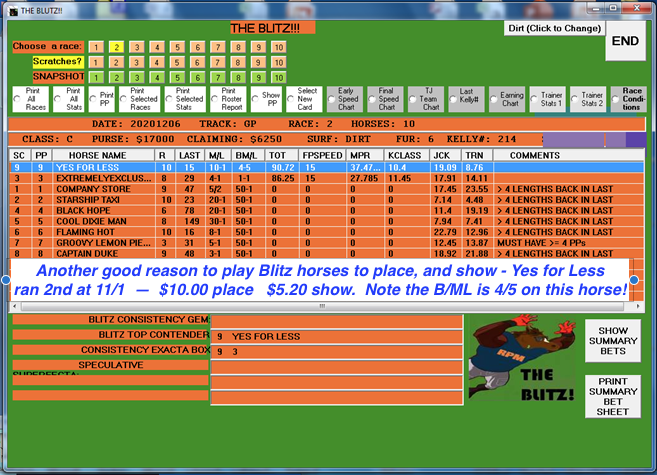 Big Tracks, small Tracks –

Blitz!

has their number.  Here's a real nice hit at Mahoning Valley. 

Also, check below to see what else happened on this card!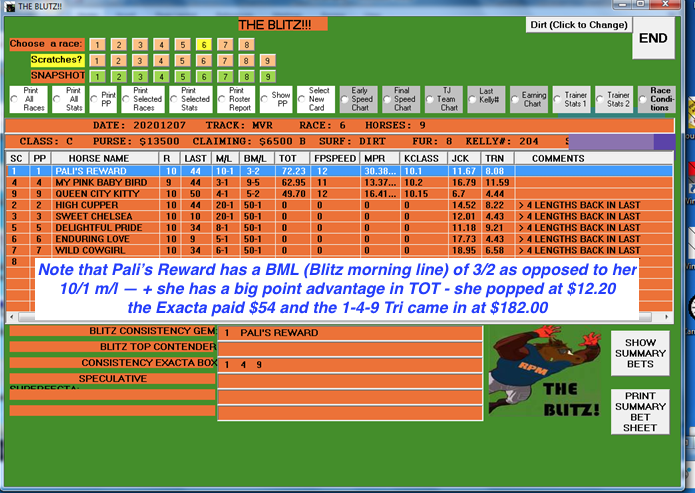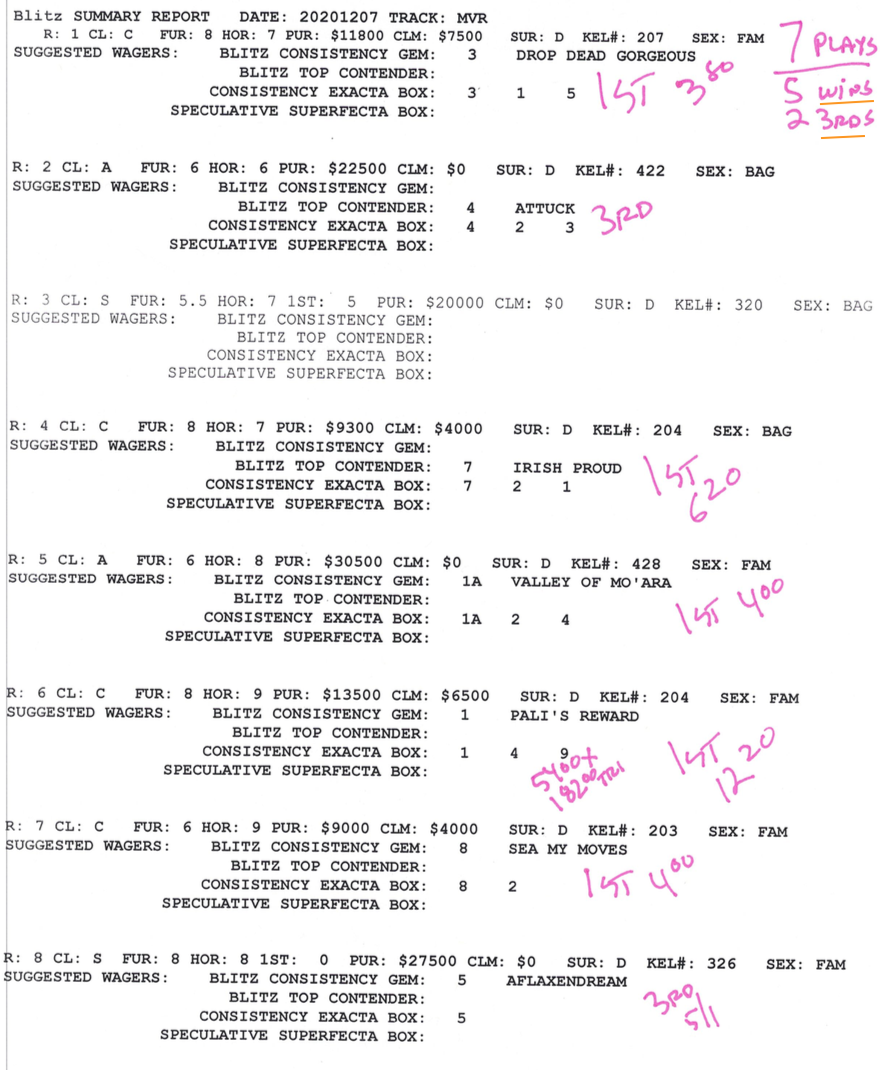 NEW FEATURE:

 

SNAPSHOT!!
We're constantly innovating with our software, and our newest feature is Super Special! 
It's called, simply,

SNAPSHOT!

 
And what it gives you is exactly that — a closer look at every entrant — providing important stats will help you focus in on 'live' horses. 
Stats provided are Official Program
# (SC);

B Rank (how the horse rates on Blitz Total Points)

;

Overall win and in the money %

: 

the jockey and trainer overall win and in the money %

;

Days between today's race and the previous two races (which can clue you in to a horse's condition or lack thereof)

;

the last 3 finish positions

;

the lengths beaten in those races

;

the Bris Power Ranking #s from the last 3 races (a rising or steady pattern suggests consistency)

;

# of workouts since last race

; 

Trainer Stats that are relevant to today's race

(these stats can be found under Trainer Stats2 which is a button on the top right of the screen).  Here we see how this horse's trainer has fared with 1st after claim and with beaten favorites, since this horse was the favorite in his last race. 

Just noting that the trainer's in the money percentage with these two angles is over 50% is significant when considering horses to play in your Exactas, etc.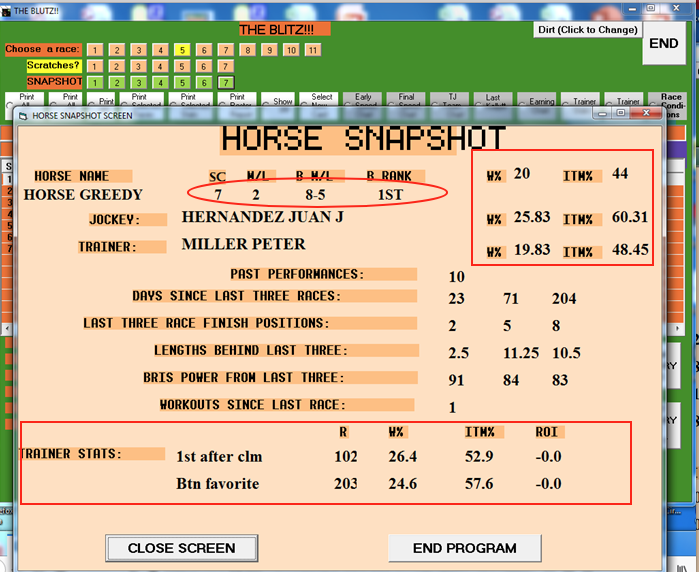 These stats can be very helpful, especially in races where there is no Blitz Consistency Gem horse, or no pick at all.  It can also help you, at a glance, find horses to include in your exotic wagers.  The trainer stats can be especially significant when they show a positive ROI in a category relevant to today's race.
So with

The Blitz!

you have a super sound, super consistent, no runout methodology from one of the best known and most prolific handicapping authors in the history of the game. 

That alone should get you excited. 
But with the additional features we have added in the software, you should be on the edge of your seat to begin using

The Blitz!

for yourself!
 The Blitz! is just
$55

in hard copy,

$44.88

in ebook and

$97.50

in software
Get yours today!   Call us at
1-800-696-0067

or order on our website www.rpmhandicappinggiant.com
And do call us if you have any questions whatsoever.
Thank You!
The Blitz Hard Copy   $55.00
The Blitz  Ebook   $44.88
The Blitz Software  $97.50
Additional information
| | |
| --- | --- |
| The Blitz | software, Ebook, hardcopy |