Jon Worth's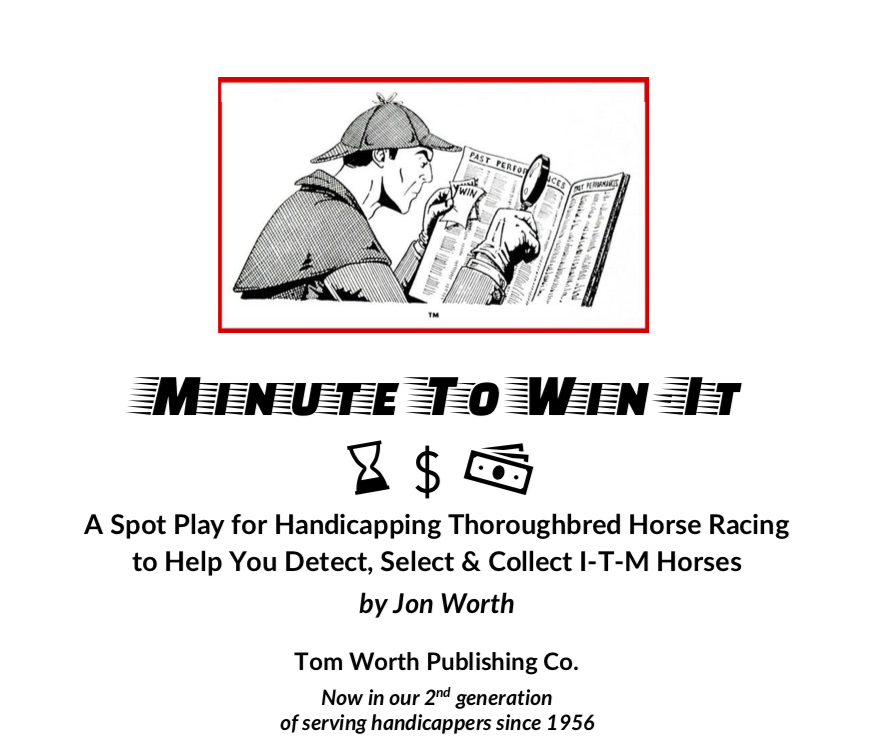 You all know Jon, and you know the type of quality products that he and his late father, Tom, have been putting out for darned near seven decades now. 
They have always focused on Consistency, High Win/Place/Show %s and short, short runouts.  His The Big Easy, The Four Aces, Show-A-Profit, Even Finish, etc., are great examples,
But NOW he has created a product that out performs even those!
He Calls It:
Minute To Win It!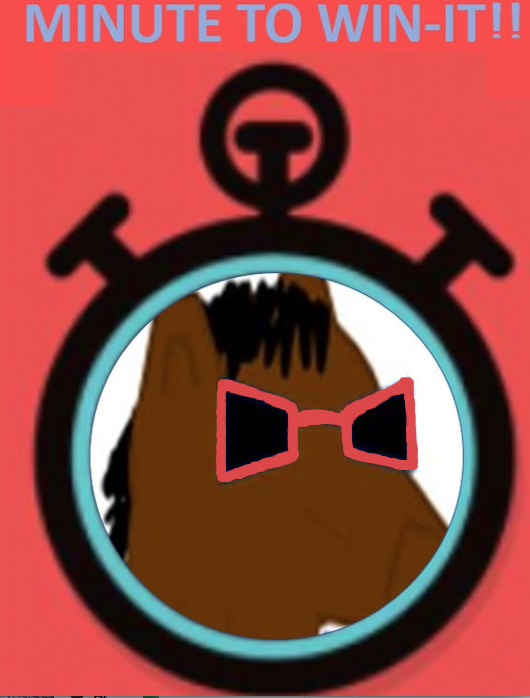 This is an easy-to-use, consistent & solid spot play designed to quickly handicap claiming races at a sprint distance to isolate selections with a high probability of running in-the-money.
Watch The Video Here:
Minute to Win-It! is a bread and butter spot play.
Because it is especially designed to be quick and easy to consistently spot in-the-money horses, there is a trade-off between enjoying a steady collection rate and hitting long shots. For the convenience of handicapping certain races efficiently while realizing a steady collection rate, thereby growing your bankroll, you are forgoing some long shot opportunities in sprint claiming races on the dirt.
☛

And Just How Consistent is Minute to Win It? 
Check out these percentages from Jon's 27-Day Workout, which is included in your package:
"While I normally take some of these stated test results with a grain of salt, Jon's Minute system performed just as advertised.  I hit a 8-race place streak right off the bat, had a runout of 'one' race, then hit a streak of 7.  On the win end hitting close to 48% and streaks of 4, 4, and 6.  I love cashing tickets, and

Minute to Win It

has me going to the cashier's window several times a day.  Have always loved your and your dad's systems – but this is one of the very best." 

Howard Grant, Miami Gardens, FL
"I'm a diehard show parlay player, and Minute to Win It is the perfect fit for me.  Lot's of long place and show streaks.  I use Dr. Anthony's Parlay PowerMatch, II and I have yet to have a losing series of bets (10 winning series thus far).  Appreciate your hard work on this."  Sam Terrone, Brooklyn, NY
>>>Bottom Line:<<< 

This is a solid, easy-to-use spot play for claiming races on the dirt that can guide you in spotting in-the-money horses on a consistent basis, with a great potential to provide a steady collection rate. Think of it as a bread and butter spot play that can offer a steady stream of moderate revenue.

☛

With Minute to Win It! you will cash very, very frequently. 

☛

Runouts are close to non-existent.

☛Returns can be enhanced considerably with a Modified Parlay Method or a Slow Progression Method

☛

(Both Hammering the Chalk and Parlay Power Match work great with

Minute to Win It!

and are included with your order!) And the Price – Just

$49.50

for the Hard Copy &

$97.00

for the Software!

Call us at 1-800-696-0067 or order from our website.   Thank You!  

Jon & Dave
Minute to Win It!  Hard Copy  $49.50
Ebook  $44.88
Software  $97.00