FIGS+

is, without a doubt, the most precise speed-handicapping tool available to the handicapper.  Of all the factors in the multi-faceted art of handicapping, the number one consideration is: HOW FAST CAN YOUR HORSE RUN —

TODAY? 
FIGS+ accomplishes this with a complex formula that measures 'hidden' speed — it 'reads between the lines' in a sense, and regularly identifies huge price overlays as well as your everyday meat and potatoes 2/1 to 7/1 winners.  FIGS+ versatility is what has wowed the horseplayers lucky enough to grab a copy.
Originally developed by Robert S. Sinn, an electrical engineer and computer expert, the FIGS Formula is so unique

that it actually has a U.S. Patent! 

See the info below –

if you don't understand it, well, join the crowd

—

all we care about is that it works!: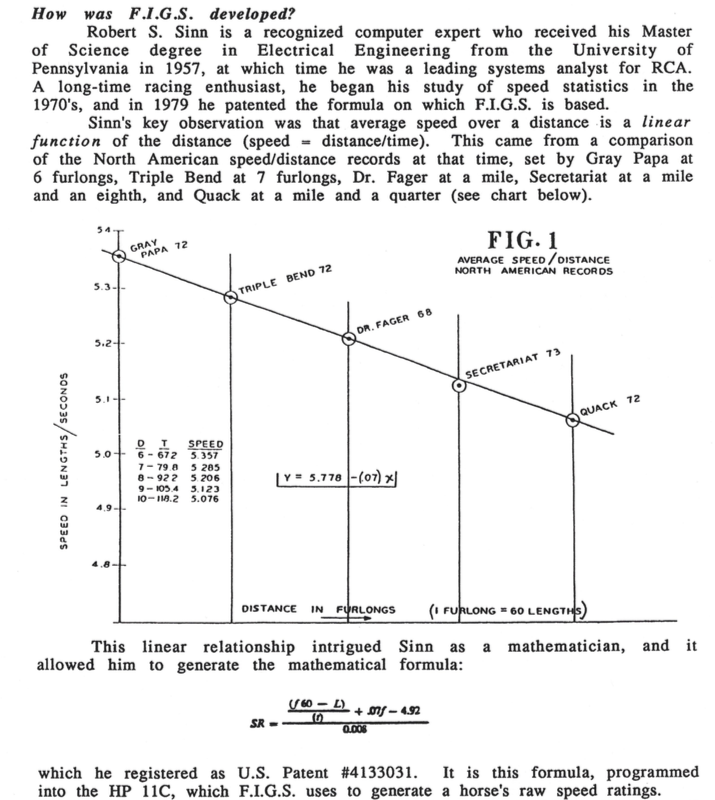 Speed Rating = [(furlongs of race x 60 Lengths per furlong – (Lengths behind winner))/Time of race, seconds) + [(0.07 x furlongs) – 4.92] / 0.008
Example for a six furlong race where the horse finished two lengths behind the winner:
Speed Rating = [(6 x 60 -2)/72] + [0.07 x 6.0 – 4.92] / 0.008]
= [358]/72] + [0.42 – 4.92] / 0.008 = [4.972 – 4.5]/0.008 = 0.472/0.008 = 59.00
In addition,
Ron Stabile

, author of

The Secret Flat Software Program

and a mathematical wizard himself, took the FIGS methodology and Super-Charged it with his PCSP (Pace, Class, Speed, Consistency) Performance Equation.
Ron's

PCSP

is profitable on its own, and Sinn's FIGS Ratings are profitable on their own, and when combined produce extremely accurate and consistent results.
☛

Ron tells us: 

'

The method picks horses at all odds, including favorites.  The picks on Power Horses win at between 36% and 45%  and I have lost count of how many 3-horse Exacta and 3-horse Trifecta boxes, in the hundreds of dollars, I have hit. 
☛

You can count on a FIGS/PCSP pick to almost always run a big race,

and at least hit the show spot 84% of the time."
—————————–
So if it's the Breeders' Cup, an $8,000 claimer at Fairmount Park, a middle-grade Allowance at Tampa Bay – whatever

  —

FIGS+

will not only give you an honest evaluation of the race along with accurate selections, but it will also provide you with the kinds of prices that you are simply not accustomed to cashing in on.
AND >>>>  We've got a great deal for you if you order within the next 14 days. 
FIGS+ will retail for $193. 
However, if you order within that 14-day window, your price will be just $138!

  And remember, you can take advantage of our 3-pay/no interest plan if you wish (3 equal payments over 90 days).
So Call us at 1-800-696-0067, or order from our website. 
FIGS+
is a program that should be in each and every horseplayer's arsenal.
Give it a try  — you have absolutely nothing to lose with our full money-back guarantee.
The FIGS+ Software Progam   $138.00
The FIGS+ Ebook  $45.88