$49.50 – $77.77
An Amazing, NO-HANDICAPPING method of play that produces BONANZA Profits!
Description
WEIGHT FOR IT!!!
An Amazing, NO-HANDICAPPING method of play that produces BONANZA Profits!
A Pounds To Profits 'Cash' Course!
Special Discount – in both Paper/Pencil & Software!
From Jeff Sillifant
I'm sure most of you remember, that back in the 'olden' days, there were many, many systems that involved 'weight', i.e., the weight the horse was carrying in todays race.
           Publications like American Turf Monthly and Turf & Sports Digest frequently published systems where one of the major selection factors was 'weight on' or 'weight off'.
But WEIGHT, over the past couple of decades, seems to have fallen off the handicapping system map. The emphasis has been on speed, pace, turn-time, etc., etc.
            BUT the fact is that weight remains a very important factor in the performance of a racing thoroughbred. Read on:
>>A Brief but Important Lesson on the WEIGHT Factors Written into Race Conditions –
Please Read (this discussion alone will improve your handicapping a bunch even if you do not purchase Jeff's system!):<<
If you read the 'conditions' (this is the text at the top of a race in the Racing Form or other racing publication where it explains the age of the horses running, the purse and 'terms' for entry, etc.,
You will see that horses

are given weight 'allowances'

if they meet certain conditions. For example, here are the conditions for a race at Belmont Park:
Purse $48,000. (up To $8,640 Nysbfoa) For Three Year Olds And Upward Which Have Started For A Claiming Price Of $16,000 Or Less Since March 1, 2013 And Since That Start Have Not Won A Race Other Than Maiden, Claiming, Or Starter. Three Year Olds, 119 Lbs.; Older, 123 Lbs. Non-winners of two races at a mile or over since February 1 Allowed 2 Lbs. Such A Race Since Then Allowed 4 Lbs. (Races Where Entered For $12,500 Or Less Not Considered In Allowances). . One And One Eighth Miles. (Turf)
So, we see that 3-year-olds entered in this race must carry 119 pounds, older horses must carry 123 pounds.
However, you see that horses who have won less than two races at one-mile or over since February 1 get a 2-pound 'allowance', meaning the get a reduction in their weight to 117 pounds if a 3-year-old
or 121 pounds if older than 3. And if they haven't won even one race at that distance since that date they get an allowance of 4 pounds off.
This is the definition of 'handicapping' from the Racing Secretary's point of view.
In otherwords, he is going to 'handicap', or 'penalize', horses who have won this type of race recently by assigning them more weight (the assigned 119 lbs. and 123 lbs.),
and he's going to 'allow' horses who have not shown as good of recent form pounds off to help even up the contest.
How Trainers Use These Conditions to Spot Their Horses for Potential Big Price Win/Place Cash-Ins
  So, from the above discussion, you can see that certain horses can get weight OFF if they meet certain conditions.
So clever trainers who have horses that meet these conditions will often enter these races to get the weight allowance, i.e., pounds off.
**And, often, these trainers will have an animal that is ready to run despite the fact that its recent past performances may look dull —
and the 'break' in the weights may be all this runner needs to run big TODAY.
*It's also worth noting here that trainers will at times use an 'apprentice' jockey (a new, young jock who has not won 40 career races on recognized circuits yet). This results in a weight allowance of up to 5 pounds.
**The important FACT that you need to take away from this discussion is that trainers, especially the better trainers — and the 'sneaky' trainers,
do seek weight breaks for their entrants,
because they know, from experience, that lighter weight can, and often does, translate into improved performances.**

Does Less Weight Measurably Improve Performance?
  The 'old saw' in handicapping literature is that every added or subtracted pound is worth 1/5 of a second.
In otherwords, if a horse has 1 less pound he should run a fifth of a second faster, and a fifth of a second, in racing language, translates into 1 length.
Well, to be honest, there is almost no way to calculate an exact measurement like that.
***BUT, by querying our extensive database, we can study whether horses improve when carrying less weight from one race to the next.
And the answer is YES, especially when a horse is dropping at least two pounds from its previous race and the horse is also running at approximately the same distance as in its last race.
However, that knowledge alone doesn't a profitable system make. Something else is needed – a pattern of some sort – commonalities between weight-off winners – odds patterns…. Or……..>>
Jeff's Discovery
     Enter Jeff Sillifant. Jeff, as many of you know, has produced some of the savviest and most profitable systems and software we have ever tested.
His The WinPlace System received rave reviews from professional and weekend handicappers –
His Max 21 is still used extensively by loyal fans, as is his Payday Playday and Quick-Pik Combo Crusher. He even has a dandy methodology that just uses Workouts to cash in regularly (Works for Cash, II).
            Jeff, you see, is retired and spends most of his spare time developing simple-to-use, yet very profitable horse racing systems to supplement his pension and social security income.
And his newest, WEIGHT FOR IT!, is not only simple:
**there is absolutely no handicapping involved!!! NONE!!
Jeff has discovered a very simple formula involving the 'weight-off' along with one other quickly recognizable factor.



And…. Weight For IT! sports a win ROI of +91% & a Place ROI of +27%!!
Skeptical About 'No-Handicapping' Systems?
We're with you – 100%. Because, in the real world, this claim for horse racing systems very seldom pans out.
We have seen other successful systems that require no handicapping, most notably Gerry White's A Fistful of Winners, and a few others that are marginally profitable.
But when that particular claim comes from Jeff Sillifant, we don't question it – not even for a millisecond.  
Every word Jeff has ever spoken to us – every test of his systems that we have ever verified, have proven 100% honest and accurate.
***In addition, you are going to receive a full 12-page workout from multiple tracks, showing each and every play, payoff and profit/loss.
We have included a couple of those pages here so you can view the format he uses.
            **So basically what you have here is a system that takes virtually no time to figure, boasts:
an average mutuel win payoff of $16.62 (23% winners) which translates into a +91% ROI (for every dollar you put in you get $1.91 back!)
and an average place mutuel of @$6.96 (37%) for a +27% ROI.
Runouts are brief when you are playing to both win and place and using Jeff's Exacta strategy boosts the overall ROI considerably (Jeff wheels his plays in the Exacta).
Software, Too!!
And, Jeff has priced WEIGHT FOR IT! Very Reasonably – and, **if you pre-order the SOFTWARE (should be ready within 27 days) now, you will be getting a super-good deal!
The software alone will sell for $127 when ready, but look at this:
Paper & Pencil Version (ready to go!) : $49.50
Software pre-order (includes P&P version): $77.77
And, of course, if you feel Weight For It! is not for you, for any reason whatsoever, just return it for a full refund. Call us to order at:
1-800-696-0067
NOTE:  Below  we have reproduced a few pages of Jeff's Workout.  Note that he figures his wagers at $20 win / $20 place and he wheels his plays in the Exacta. 
Jeff's total profit over the 30-day study was a very nice +$3,495!



Our much larger database results duplicated Jeff's results almost to a 'T'.  Our win percentage was a bit higher and overall ROI a couple of points lower.
Thank You!
Weight For It Paper/Pencil Version  $49.50
[wp_eStore_add_to_cart id=195]
Weight For It Pre-Order Software  $77.77 (includes paper version)
[wp_eStore_add_to_cart id=196]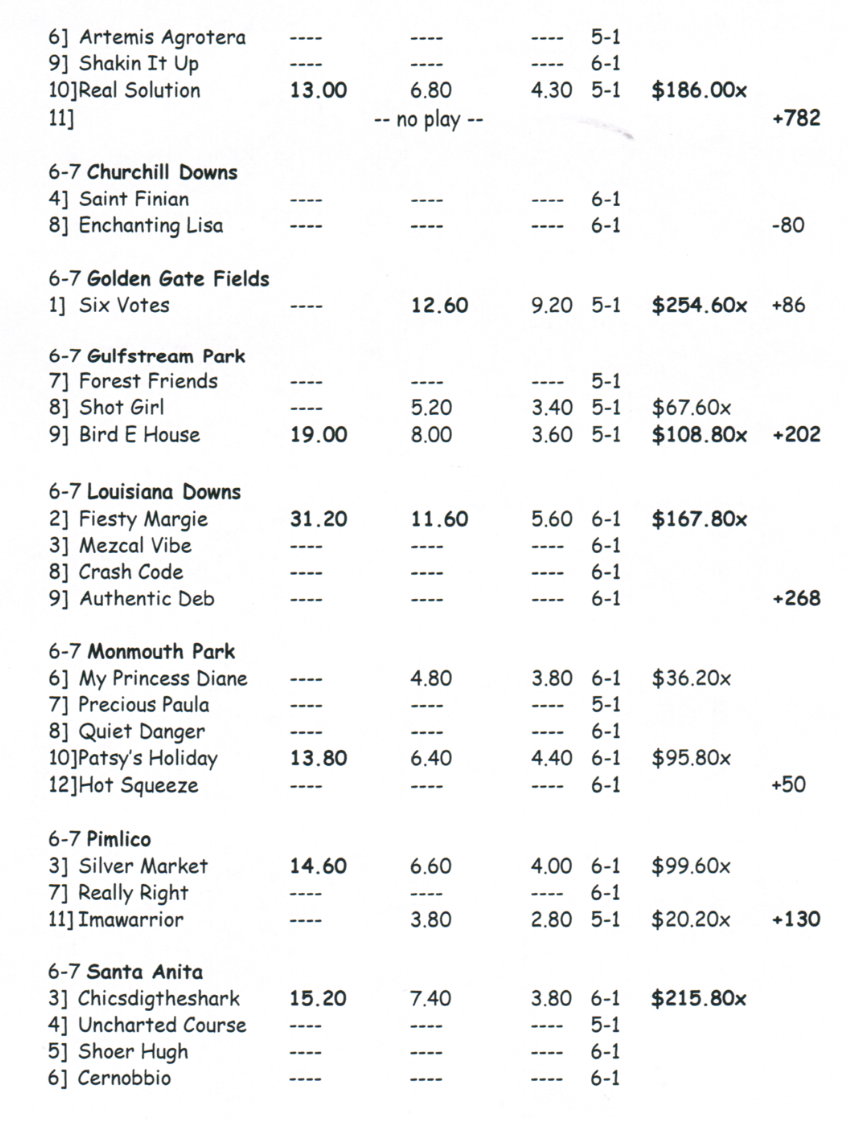 Additional information
| | |
| --- | --- |
| WEIGHT FOR IT | Software, Paper & Pencil |