$97.50
Tom Console's 
Personal Handicapping 2.0 Report Software Program!
Sizzling Accuracy!  High Average Mutuels+ Longshots!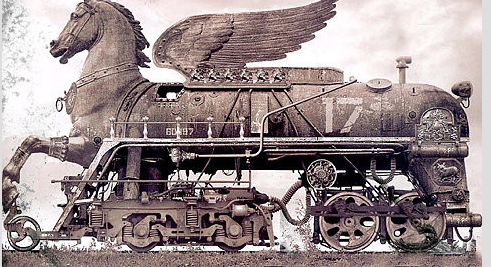 Includes Tom's Personal Profit Plays!

– Detailed and completely explained in the Manual
Description
Tom Console's 
Personal Handicapping 2.0 Report Software Program!
Sizzling Accuracy! 
High Average Mutuels
+ Longshots!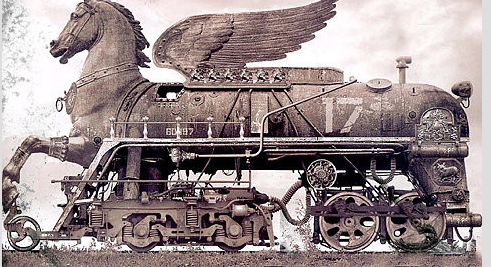 👉Includes Tom's Personal Profit Plays!

– Detailed and completely explained in the Manual
Also Includes FREE!!!

   Tom's Professional Money Management Investment Fund Bankroll Strategy & Tom's Personal Racebook Method Ebook!!

Hi Guys,

      Have you noticed that the more technologically advanced we seem to get, the less time we have on our hands?  All the so called "time savers" invented over the past several years, 

but for me, I'll take the "good ole days" when I really did have a lot more free time and less stress.

 People always ask me if I have come up with anything new.  

I too, having less and less time on my hands, was seeking a quick and easy way to play the races, but without giving up the profits.

It took a long time and a lot of money for programming, but I did come up with a program that gives me all the info I need in an instant, without models, without input, without any time needed from me, yet still hands me lots and lots of winners. 

QUICK and EASY to use! A couple of mouse clicks and you're in like Flynn! (Uses the BRIS $1 single file format data file).

EASILY shows you winners.

EASILY hands you juicy longshot plays….some (3) have paid over $200 on a $2 win bet!!!!

Great for novice or pro, no matter what your betting style may be.

Great for win, place, show, exacta, Pick 3/4/5/6, favorites, longshots, trifectas, etc..

Print each race individually, or all on a condensed tidy report that prints on a single page!

👉UPDATED FORMULA'S for the 2023 TCPHR make it even more accurate and powerful!

But if you are looking for the fastest way to get solid plays, this may be your answer.

Look at the info the program provides you for each race…..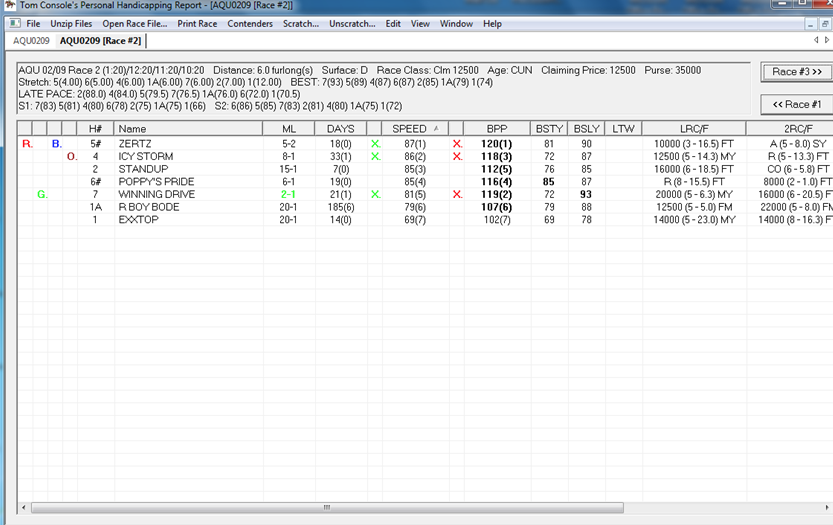 At the top where you see the track (AQU) and right under that you see
'Stretch'

– this top section shows in parenthesis after the word

Stretch: the average lengths behind the horse has been turning into the stretch in order of which horse is normally closest to the lead.

 

BEST: = each horses top speed rating in the past 10 months. 

LATE PACE = the best closers in the race. 

S1 and S2 show horses who are most prominent in the early going, calls #1 and #2.
This info alone provides the player with  wealth of info, and is prominently used in Tom's Personal Plays, which are included in the manual.

  Then below on the main part of the screen:
H#

…the actual saddle cloth 

betting number 

of the horse.

NOTE: In each race, there will usually

be 2 horses with a # symbol after the horse number.

  

These are my 

WINMORE EXPRESS

picks.

Winmore Express is a pace based program I released a few years back.

 This is the
main rating and the horses that are top get the # symbol.
Name…the name of the horse.
ML…Morning Line odds
BPP…BRIS Prime Power rating. This is a power rating computed by BRIS.
SPEED…A Speed Rating calculated by the TCPHR Software. After the speed rating you will see the ranking in parenthesis, such as 78 (3), meaning the horses speedrating is 78, and it is 3rd best in the race.
Also, before the speed rating you will usually see 3 horses with an X before them.  These are the 3 final RED (R) system contenders.
DA…Days Away (and number of works since last race in parenthesis).  The number of days since the horse last raced. The number will be in BOLD if the horse is returning in 45 days or less, and if 46 or up, its not in bold.  This is a great 'quick-check' on a horse's recency.
>>LRC/F...This is the Last Race Class/Finish.  It is telling you the class of the last race, along with the finish position and beaten lengths.  This rating as well as the ones listed below show you that the program is looking at a minimum of five races for each horse.  The program calculates the algorithms for this info to make selections, but you can tell at a quick glance if a horse is improving in finish position/lengths beaten or going the other way.
>>2RC/F…same as LRC/F (above) only this one is for the 2nd race back
>>3RC/F…same for the 3rd race back
>>4F…finish position and beaten lengths of the 4thrace back.
>5F…finish position and beaten lengths of the 5thrace back.
BSTY…Best BRIS Speed rating the horse received this year.
BSLY…Best BRIS Speed rating the horse received last year.
LTW…This is an All New system on its own that picks horses Likely To Win. Worth the price of the software alone in my opinion!  It does not have a play in every race obviously, but when it pops up, give that horse an extra, extra close look!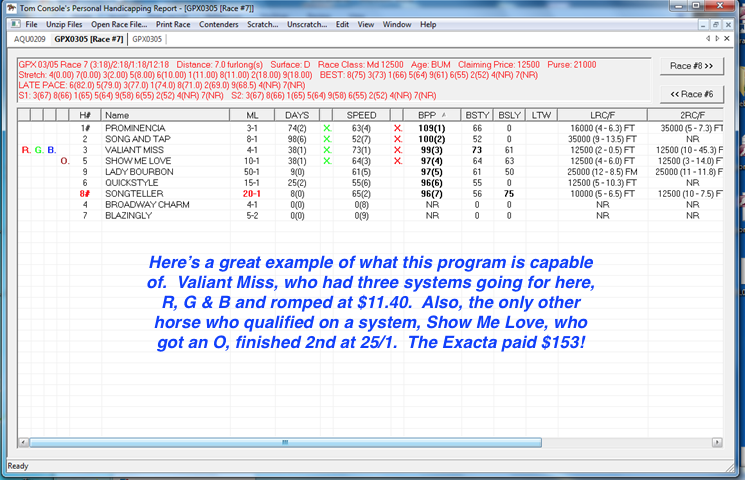 CONTENDERS OPTION
 This is  a new feature in TCPHR Version 2 is selecting final contenders.

Along the top of the screen, when you have any race opened, you will see an option called CONTENDERS. If you click it, 3 options appear. They are:
ML…This would use the Morning Line Odds to select the final contenders after some eliminations the program uses. So it would NOT always be using the 3 morning line favorites, as the program may have eliminated some based on preprogrammed rules.
BPP…same as ML, but instead of using the ML Odds, it uses the BRIS PRIME POWER rating.
SPEED3…This is the original formula, using the Best Speed in last 3 races, again, after eliminations, to select the final contenders.
You can play around with whichever works best at your track. If you do not want to bother, I would suggest using SPEED3 like the original, or BPP, as it is very strong too.
As you can see, there is a lot of info here for those of you who like to dig deeper.  But for quick study….the Condensed Summary Report can be used also, which provides you with the final selections race by race, for you to look at and select your plays.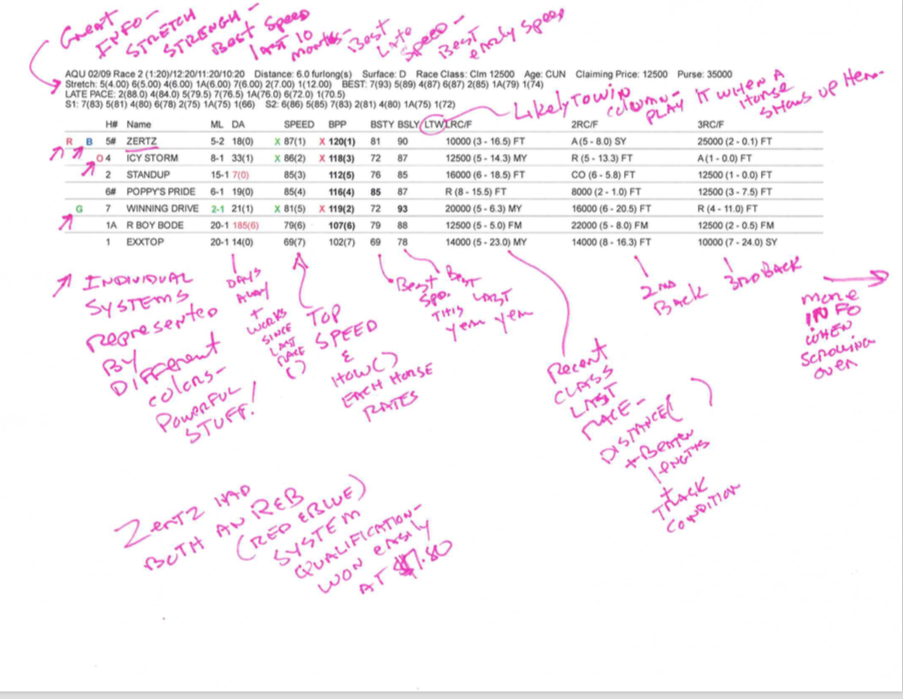 I have my own personal plays that have worked year in, year out 

and they are completely explained in the easy to read manual.

You may come up with your own favorite plays, or use mine. 

 But either way I guarantee that you will find my 

Tom Console's Personal Handicapping Report Software! a quick and easy way to pick winners and exotics,

make money and get back to having fun at the races!
Look how easily you could have had this $45.40 winner. Horse #6, Laker Mamba. 
The program highlights longshot plays in red.  
These 
are strong pace horses with a good chance of winning, that are just handed to you 
with no work on your part.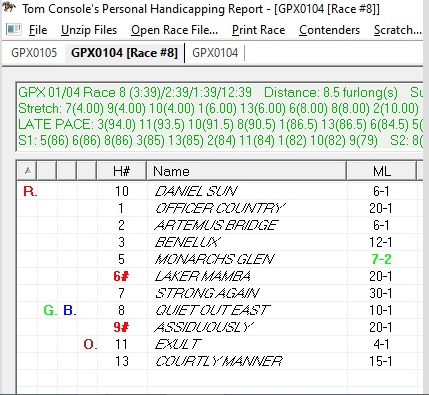 👉So You are Getting an
Extremely Powerful Software Program that provides the user with an incredible array of handicapping info that will benefit players at every level of the game.
👉
Tom's Personal Plays!

explained in detail that he uses daily to profit from the races.
👉Tom's Professional Handicapper's Investment Fund Money Management Plan Ebook.
Tom's

My Personal Racebook Method

Ebook.
All for one very reasonable low Price!

👇
You will enjoy and profit from TCPHR. 
That I can promise you.
 Thanks for all of your past and future support, Tom.
Call 1-800-696-0067 to order  or  order from our website