$137.00
TOP HORSE

is typical Tom Console genius.  With

TOP HORSE

, Tom has found a way to isolate just the very best bets of the day. 
What you get is extreme accuracy and consistency, as well as a good % of big prices.  
Description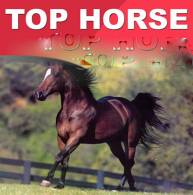 Tom Console has just released his new

TOP-HORSE Software,

an extremely

accurate

selector that shows you all of the day's plays on a single screen!!              

(Note – also see 'Dynamic Duo' + FREE Exacta Program Offer below!)****



TH finds all playable races and displays them — no 'hunting' for profitable plays — they are all laid out right in front of you!
Note that only the playable races are displayed (R#).  Morning Line (ML) is given for each horse, followed by Tom's New 'Selectric Power Number' (Rating).
 

(SP) is Speed Points.  These are the famous and still remarkable 'Quirin Speed Points'.  They are especially effective in sprints.  A horse who has 4 or 5 Speed Points in a sprint, who is also one of the two race favorities, win and place at an extraordinary rate (76%).
The T% is Trainer, J% is jockey.  The J/T% is the overall win/place % for today jockey trainer combo.  So not just win, but win/place. This is critical info when playing Exactas and Trifectas.
Days is of course days since last race, and the number after it is workouts since last.  So 48(3) means its been 48 days since its last race, and it has 3 workouts since then.  'Days' can be a great angle. 
Note that $36 winner Majestic Raffy above was back in just 6 days — watch for quick turnarounds — 10 days or less — the trainer is running them back for a reason — because he knows he has a horse that is still 'on the muscle'.
**Below is another great example of the selection power of TOP HORSE.  Not many playable races on 8/12/2012 at Del Mar, but TH picked the winner of the last three races — each was won by one of the top two selections. 
 TOP HORSE   $137
TOP HORSE + In The Groove Combo Special!  $187
The resulting Pick 3 paid over $700 for a $1 wager. 

Note that the $40 winner was not only tied for the top rating but also had 7 Speed Points — a potent combination for a horse at big odds!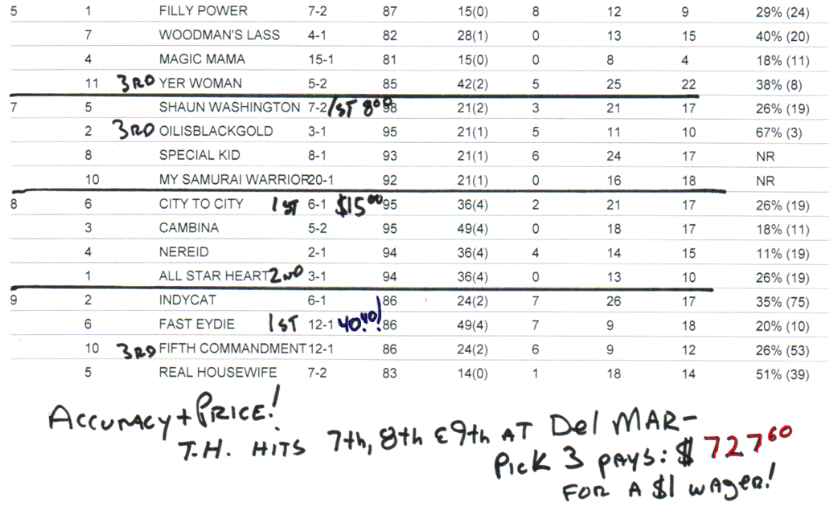 Below is another great example of the POWER of the TOP HORSE Program  —  TH brings price horses into the picture on a very regular basis. 
Take a look — a $58 winner rated 2nd!  
A $23.20 winner rated 1st! 
TH provides you with consistent winners and loads of FUN, i.e., BIG Prices!!
Think we had a smile on our faces after walking away from the cashier's window with a $60 win bet on Hadfunlastnight!!

On the next day, August 26, Top Horse had the winner of every selected race except one, as well as several Exactas and a very nice Trifecta!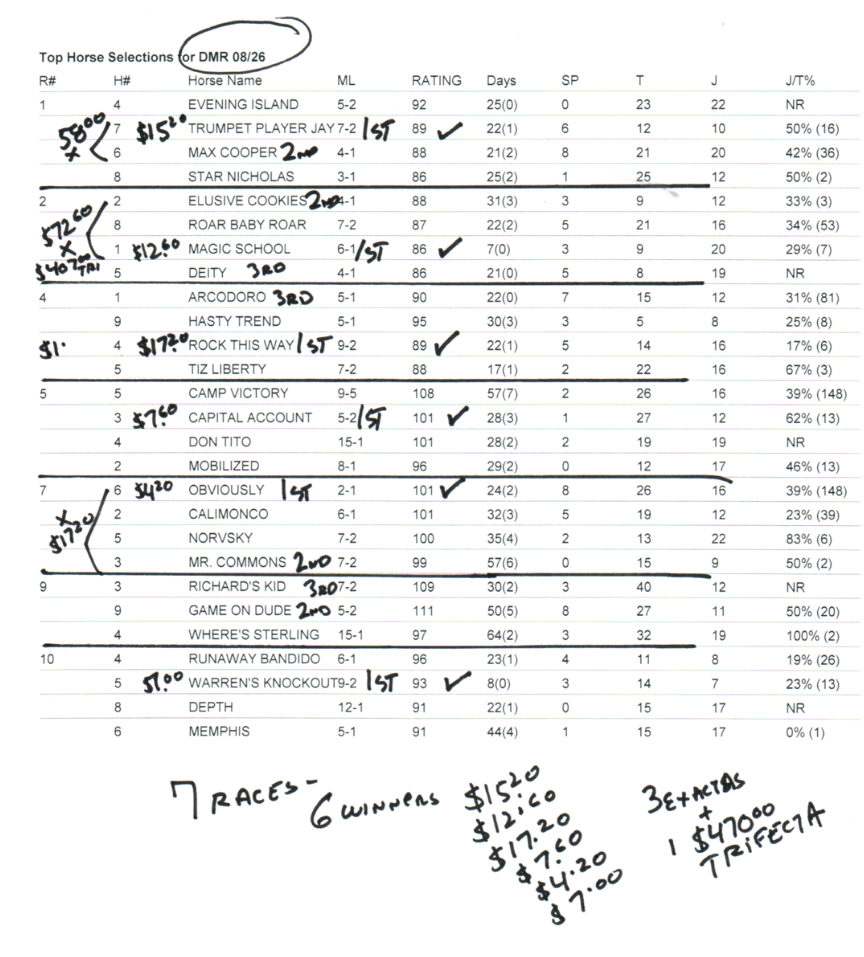 Strategies
Note that each race has at least four horses listed.  The top two horses are the most potent win candidates — the others are for Exacta/Trifecta, etc., consideration. 
In our database tests, which involved well over 300,000 races, one of the top two choices won close to 57% of the time. 
While a complete 'How to Wager' guide is included with your purchase,

I will tell you that 'dutching' the top two choices produced a very solid +31% ROI. 
'Dutching' means you will be betting on both horses —
****in fact,

I will send you the same 'Dutching Table' that I use, so you can dive right in with this strategy as soon as you receive the software!
**** You will also find EXACT instructions on how to profitably wager on Exactas and Trifectas — the Strategy here involves the 'spread' on the ratings,
but I, of course, will give you all the details

.
The Database Feature
TH also builds a database and the program's accuracy increases as the database builds! 
You can 'query' the database with dozens of parameters to find exactly which situations are viable and which are not!
It is not necessary to use TOP HORSE'S database feature to get these solid results, but employing the database will make the accuracy of the selections even better!
And, as you probably know, it is very rare to find a database feature in a handicapping software program that sells for under $500.
TOP HORSE

is typical Tom Console genius.  With

TOP HORSE

, Tom has found a way to isolate just the very best bets of the day. 
What you get is extreme accuracy and consistency, as well as a good % of big prices.  

Also *****♦See complete Instruction Manual below ordering info!



****Check out Dynamic Duo + FREE Offer — you get TOP HORSE, Len's

IN THE GROOVE Software

, + our NEW EXACTA MAGICIAN SOFTWARE

FREE!!

  Save $97!!!
R
Top  Horse Thoroughbred Handicapping/Database Computer Software
Copyright 2012 Thomas Console
Introduction
Hi:
Thank you for purchasing Top Horse.  I am sure you will be happy with how easily you can now be a winner at the races!  First, let's get Top Horse installed and ready to run on your computer.
Installation Instructions
To install Top Horse, insert the CD into your computer.  Installation should start in a moment.  The program will create a folder called c:\tophorse and install to there.
After installing, you should see a new icon on your computer screen called Top Horse.  Click it to run the program.  You are ready to go!
DOWNLOADING FILES
Top Horse uses the DRF Data File (single) from BRIS.  So you must have an account with BRIS.  You can visit their site at www.BRISNET.com
Inside the new c:\tophorse folder will be (among other things) 3 new folders, or sub-directories.  They are called ZIP, UNZIPPED FILES, and DATA.
When you download a drf  file, you should download it into the ZIP folder inside the main Top Horse folder.  This would be c:\tophorse\ZIP.   So when you download a file from BRIS, your computer will ask where you want the file to be saved.  First click on the C DRIVE to be sure you are downloading to your   C:\   hard drive.  Then look for the Top Horse folder.  Click on it, then click on the ZIP folder that you will see next.  Then click OK and the file will be saved there.
NOTE: When you download a DRF file, be sure the file date has the little "p" next to it.  For example it will show 24(p).  This shows that the file has been updated with post positions and morning line odds.
If you decide to use the model, you will also need to download the Exotic Results files from BRIS.  Download them to the same place as the drf files above.  This is not necessary…only if you want to keep a model.
UNZIPPING THE FILES
After you download a file, it must be unzipped.  This is a snap.  From the main screen, click UNZIP FILES along the top of the screen.  The program will unzip all zipped files.  A box should pop up telling you the files were unzipped.  As it does this, two things happen "behind the scenes".  First, the new Unzipped file, which is the actual drf file, will be put in the DATA folder. (c:\tophorse\data).  Second, the zipped file will be taken out of the ZIP folder and moved to the UNZIPPED FILES folder…. (c:\tophorse\unzippedfiles).  So the next time you download zipped files, and then unzip, you won't be unzipping the old ones again.  Plus it makes it easy to save all your old zipped files in a totally separate folder.  If you download the Exotic results files (xrd results) the same thing will happen to them, like the drf files.
RUNNING THE PROGRAM
After you downloaded the files from BRIS, and unzipped them, you are back on the main Top Horse screen.  Along the top of the main screen you will see a choice called OPEN RACE FILE.  This will show you all your unzipped files.  Now just find the one you want and click on it.
Next you will be taken to the screen where you see all the PLAYABLE races for this track you just opened, along with all the ratings.  If a race is not playable, it will be skipped.  If a race is shown, then it is considered a playable race.  For each race, you will see the top 4 contenders.  The first listed horse in each race is the TOP HORSE.  Let me explain what you are looking at now on this screen:
R#…This is the Race Number
H#…The official program (betting) number of the horse.
HORSE NAME… Horse's name
M/L…Morning Line Odds
RATING…This is the main rating in TOP HORSE.  It is an adjusted speed rating based on various factors and conditions.  High is best.  Sometimes you may see the ratings are not in order.  In other words, the top pick may have 85 and the third pick may have 88.  This is not an error.  There are reasons for it.  Just know that the horses ARE listed from top pick to 4th pick in order.
DAYS…This is the number of days since the horse last raced.  The number in parenthesis next to it is the number of workouts since its last race.  Thus 42(3) means the horse last raced 42 days ago, and has had 3 workouts since then.
SP…This is the number of Speed Points the horse has.  Speed points range from 0 to 8 points, and indicate how much early speed a horse has.  At many tracks, horses with 0 or 1 speed points have little chance of winning as they are deep closers. Horses with 8 speed points are the type that like to go wire to wire.  
T….This is the WIN % of the Trainer.
J….This is the WIN % of the Jockey
J/T%…This is the combined win/place % for today's jockey/trainer combo.  It may look something like this: 49% (101)   This is telling you that when todays trainer uses todays jockey, they have won or placed 49% of the time.  And the 101 is telling you that this jockey/trainer combo has ridden 101 times together.  If you see NR, this is the first try for this combo.  Also, if you see something like 100% (1) or 0% (1), it is showing that this combo did not have many tries yet.  So don't take it too seriously.
PRINTING THE RACES
Open the program, then open a race file.  On the screen that shows all the races and ratings, along the top is a choice that says PRINT SELECTION.  When you click that, 2 more choices appear.  One says PRINT CURRENT SELECTION.  If you choose this, only the races that are shown on the screen will print.  So all races for the date and track you are currently viewing will print, all on 1 page.  The other option says PRINT ALL SELECTIONS.  Let's say you downloaded 5 tracks for today.  You open the first file and see the races on screen.  Now DO NOT close this file.  Open the next file and have it appear on the screen.  DO NOT close this either, just open another file, and another, until you have all files opened that you want for this day.  Then click PRINT ALL SELECTIONS.  Now all tracks and files you have opened will print with just one click.
SCRATCHING HORSES
When you are looking at a race, click the horses name one time to highlight it, then click SCRATCH at the top of the screen.  If you make a mistake, you can click on UNSCRATCH and they will come back.
MODEL/DATABASE
Top Horse allows you to build a model in its database.  To do this is simple.  First you must download the DRF files and XRD results files from BRIS.  This is explained in the beginning of the manual under DOWNLOADING FILES.  You must have both the DRF and XRD files.  After they are downloaded and unzipped as explained earlier in this manual, go to the main TOP HORSE screen and click DATABASE.  Now go to the third choice down and click ADD ALL FILES.  Top Horse will now add all files to your database.  You can add the files one at a time if you like by clicking ADD FILES or ADD RESULTS under the DATABASE option, but clicking ADD ALL FILES will add all of them.  If some files are in there already, Top Horse will skip them.  They will not be added again.  I usually delete the unzipped files from the c:\tophorse\data folder once a week or so, after I add them to the database.  You will still have the zipped versions saved in c:\tophorse\unzippedfiles if you ever need them again.
Once you have enough files in the database, you can click DATABASE, then go to MODEL.  Here you can set the parameters you want to look at.
THE  MODEL WILL TELL YOU HOW THE TOP LISTED HORSE IS DOING FOR WIN BETS ONLY.
You can set the track you want to look at, the ML odds ranges, SP, sex, distance, minimum J%, T%, J/T%, etc.  So for example, you can look at races run at Santa Anita, on dirt, claiming races only, races carded for 3 year olds and up, females only, that are from 2-1 thru 6-1 morning line odds, that have 8 speed points, and a minimum 12% jockey, 15% trainer, and 40% jockey/trainer combo. Also there are boxes so you can look at races where all horses have at least 3 lifetime starts,  and you can pass off tracks.  The options under MODEL are pretty much self-explanatory.
MANAGE DATABASE
Another option under DATABASE is called MANAGE. If you click it, you can adjust your database.  BE CAREFUL in this box.  In this box you can delete races you no longer want in your database.  Let's say you have 3 tracks in your database, but decide you no longer want to play one.  You can delete just that one track and this will help your program run faster.  Or lets ay you have been using Top Horse a long time and want to get rid of older races from your database.  You can select DELETE RACES OLDER, click the "down arrow" and select what to delete, such as races older than 1 year old.  Or you can use the option that says DELETE RACES AT and a calendar will come up and you can move from month to month, clicking on the days you want to delete.  Be sure to use the DELETE RACES ON TRACK box to select which track you want to delete races from, or else it will delete from ALL tracks.
At the bottom of this box you will see a choice that says MISSING RESULTS.  If you click that, the program will tell you which DRF files you have in your database that do not have results.  So you need to add results for them.  Sometimes I add the drf files, and the races get cancelled that day.  That's when I go back to the DELETE RACES AT box and select the proper track, then delete that day from my database, since there will be no results.  You don't have to.  I just like less clutter.
CONFIGURE
You can also pass other race types if you desire.  On the main screen, click CONFIGURE at the top of the screen.  A box will appear.  This will allow you to pass certain races if you like.  THIS IS BASED ON THE TOP HORSE ONLY.  So you can set MIN ML to 2, and Max ML to 5.  So now only races where the top listed pick is from 2-1 to 5-1 will be shown.  If you like prices, you can set Min ML to 6 and Max ML to 99 for example.  Now you will only see races where the top pick is at least 6-1 ML odds.
The rest will be omitted.   Or you can put 75 in the DAYS box for example.  Now if the top listed horse has not run in the past 75 days, the race will be skipped.  I personally just leave this set so NO races are passed, other than the races that Top Horse automatically passes based on pre-programmed rules.  So I leave everything set to 0, unselected, and days set to 9999.
How I use Top Horse
Here is how I use Top Horse, but you may of course come up with your own strategies too.
For WIN, I take the top listed horse.  I then look at the following:
DAYS …. I like to see 28 or less.  If over 28, I want workouts.  The longer the horse has been away over 28 days, the more works I want to see.  If I do not like what I see here, I circle the DAYS column in red.
SP
….Horses that must come from way back many times are at a disadvantage.  So I circle any SP that are 0 or 1 in red.  A horse with o or 1 speed points is often a poor bet in sprints —
however, there are some notable

exceptions
— if the horse is back in the entries in 10 days or under, don't worry about the speed points.  Or, if the horse has a jockey or trainer rating of 12 or higher, and a j/t rating of 40 or higher, than you must consider the horse, especially at a price.
T…I circle in red any that are under 8%
J…I circle in red any that are under 5%
J/T%….I circle in red any that are under 33%
If my TOP LISTED HORSE has 2 or more red circles, I pass the win bet, unless the horse meets one of the 'exceptions' listed above.
For Win/Place, I will always play the top-rated horse, providing he does not have two or more red circles, if he also has a J/T% (remember, J/T = the percentage of wins and places from this jockey/trainer team) of 50 or higher.  I play twice as much to place as I do to win.For value I look at the odds on the top 2 or 3 horses and play high odds.  I especially look at horses in sprints who have 4 or more Speed Points (SP) and have a morning line of 6/1 or higher.  If this horse has a J or T rating of 12 or higher, so much the better.  Horses that fit this criteria often (very often, in fact!), end up in the Exacta or Trifecta.
For Exactas, I will box the top 2 listed horses if at least one is 4/1 or higher on the morning line.  If the top-rated horse has at least a 3-point advantage under 'Rating' over the 2nd top-rated horse, I will 'key' this horse on top and bottom of the other three.  In otherwords, if #1 has the point edge, and #'s 2, 3 and 4 are the other contenders,  I will play two Exacta tickets, the first will be #1 with 2-3-4;  the other ticket will be 2-3-4 with 1.  I have hit some biggies using this strategy.
If the prices are right (at least one of the top two scorers must be 6/1 or higher) also playing the top 2 for first and second with the other listed horses is good.  For example, key the 1 (top scorer) for 1st and 2nd with the 2-3-4 and also key the 2 (second highest scorer) for 1st and 2nd with the 1-3-4. I will use the same strategy in Trifectas.
Dutching:  This is a strategy that has worked extremely well with TOP HORSE.  When the top choice is at least 5/2 and the second choice is at least 4/1, you can 'dutch', i.e., play both to win.  Now you can simply place the same amount on each horse and you will do fine.  But if you want to do a 'true' dutch, you can get several on line simply by 'googling'  'dutching calculator'
go to this link for the TVG version:
http://mysite.verizon.net/vzevb7vj/ptwoodmanstatistics/id19.html
I do have a more extensive list of profitable exotic plays I will send you when you purchase the software.

Again, many of you will come up with better ways than me to profit from Top Horse.  But hopefully this will guide you in a good direction
 
That is about it.  Enjoy the program and find what works best for your betting style.