Sale!
A Sophisticated Software Program to guide you to a much more likely positive result. 
Description

The Only Beatable Lottery Game –

The Pick 3!
>>

With Tom's New Lotto Software, the Numbers, and Percentages, will be on Your Side!

<<
***Tom Console's Pick 3 Lotto Software***
Making 'Cents' (&  Dollars!) of Random Numbers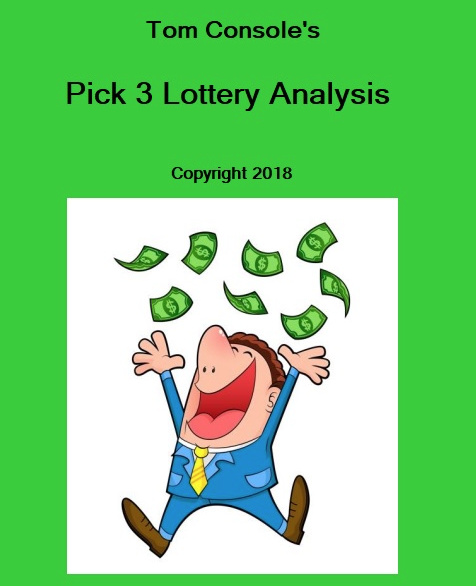 Here's the intro for his Pick 3 Lotto manual:
—–Welcome to my Pick 3 lottery program. All of us have that dream of just one time hitting it big in the lottery. Waking up one morning, checking our tickets, and finding 6 correct numbers that will make us instant multi-millionaires!
Unfortunately, I can't help you with that. Like you, I will continue to have that dream, and hope for the best. We all know deep down we probably will never hit that huge jackpot, but hey, for a few bucks on some tickets, it's worth it just to be able to keep the fantasy alive.
****

He went on to tell me that he plays about $30 per day on average. Some days he gets $10 or $15 in tickets, other days $60 to $70. But $30 on average. He plays every day, 25 days a month. So he bets about $750 per month. 
But he is playing each set of numbers twice. So when he hits, he gets the $500 prize 2 times. On average he wins about 15 times per year collecting about $15,000 per year.

 His tickets cost him about $9,000. So he is netting $6,000 per year on average.****
That woke me up! The one lottery I laughed at all these years was probably the ONLY one I should be playing. 
So I spent the next 3 years testing "theories" and "systems".

I bought just about every system on the market. Some were very good, except you had to win 33% of the time to break even! Others were decent, but you had to play 50 or 60 sets of numbers, and you would not hit very often.   And of course, many were just a bunch of garbage, with some crazy idea to add this to the last number, or subtract that and invert the other. Made no sense at all.
So like always, I figured the only way to arrive at something I may feel comfortable with was to do it myself. I tested so many ideas that it was crazy. But I guess I am a bit crazier than that, so I never gave up.
I scrapped the so-so and poor ones

, and just kept the cream of the crop to incorporate into this amazing program! 
And as you will see, the word 'amazing' is no exaggeration.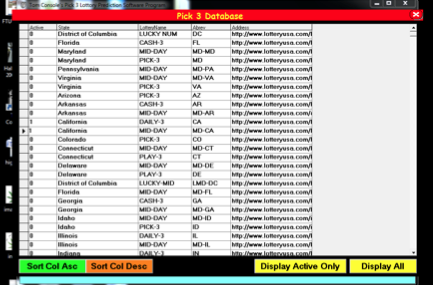 (Above – the lottery results site, which is FREE, www.lotterypost.com/results) where you will get your data for the State(s) you wish to play.)
Below is an example of the 'Calendar' feature from lotterypost.com.    This example is the October results of the California Pick 3 drawings, two per day.  It shows the numbers drawn for both Pick 3s both days.  This is the information you will input to build your database. 

The program makes this very easy — you can build a 6-month database in roughly 30 minutes.
And once you have a good-sized database, which costs you nothing, by the way,

the Magic begins to happen!
Sun
Mon
Tue
Wed
Thu
Fri
Sat
30

1

263

116

2

871

434

3

728

098

4

944

887

5

955

251

6

732

446

7

122

093

8

078

836

9

105

711

10

819

534

11

536

163

12

652

864

13

758

118

14

587

457

15

489

348

16

352

972

17

203

580

18

231

429

19

313

561

20

653

243

21

231

397

22

922

304

23

067

917

24

946

152

25

286

817

26

818

596

27

615

098

28

899

437

29

840

377

30

428

003

31

042

430

1

2

3

4

5

6

7

8

9
Tom discovered that 'randomness' does not have as much to do with these smaller lottos as he had once thought. 
'The difference between a Pick 3 and a Pick 4 is amazing.  You have a 71% better chance of hitting a Pick 3 Lotto than a Pick 4', Tom tells us.  'And with various ways you can play – straight, boxing, etc., gives you a much better chance to cash at least a minor prize frequently.  The Software will alert you to the 'due' numbers."
With the software you can download/input as many days/games as you want – once you have 6 months worth or more, the data will be extremely accurate.  

You will be provided

with the numbers that appear most frequently.
The very first Arizona Pick 3 that Tom played using the software hit for $500 (he played two numbers in each position).
If you are a regular Lotto player, your chances will definitely be enhanced by this software.
The Software is based on Patterns that Repeat —
it examines a long-term database for the state you are playing and shows you the numbers & patterns that hit most often.
"The State Pick 3 Lottos offer the best opportunity to actually make a PROFIT from these games", Tom tells us.
"And the notion of 'randomness', which is always the explanation of why you can't win, is way off base when you are talking smaller combinations of numbers. 
**Tom also provides you with a website where you can play as little as 25 cents – This website also pays up to Double for a Pick 3 win!**
So rather than just playing 'Lucky' numbers, or your address, birthday — whatever,
you NOW can RELY on a Sophisticated Software Program to guide you to a much more likely positive result. 
Screen Shot Examples:

At the top of this screen we showed you the lotterypost.com database where you will get your data.  This is a FREE service.  You simply select the State(s) you want and you can get up to two years worth of results that you

can build your database with.

Open Main Screen

– this screen provides you a variety of data,

including how often certain numbers hit

, how long it has been since a certain number has hit in a certain position, etc. 

This gives you a good idea of which numbers are 'due', so to speak.

 
If you look at Column 2, for example, and look at the 'Last' column for #8, you will see that it has been 27 days since the #8 last hit in the 2nd column on this state's Pick 3 —

so, you may want to focus on the #8 in this column since it is 'overdue' to hit.



For those of you who like to do precise analysis, it is all here.  But if you want to just go straight to the 'Picks' Screen, see below.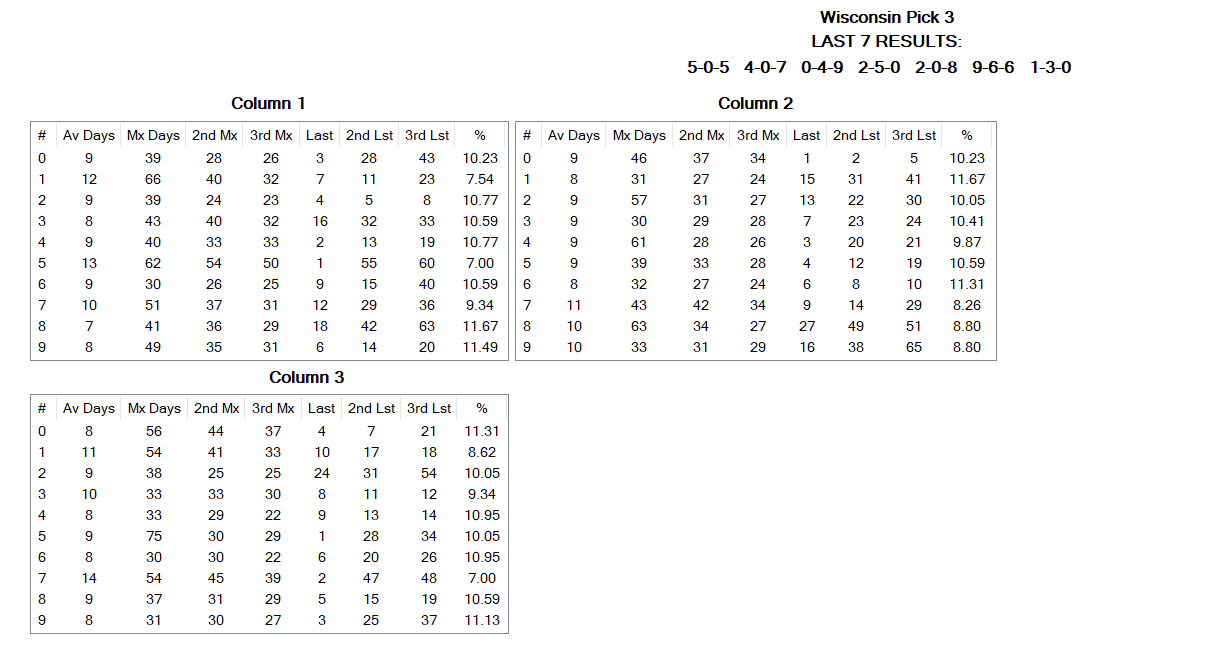 Below is the screen that will provide you with the 'Best Box' based on analysis that covers thousands of Pick 3 Lottos in your state.  Now, you can also play a 'straight' ticket, which is also shown on the screen, like 9-6-7, or you can go to the 'Tom's Pick' screen which offers tighter statistical selections.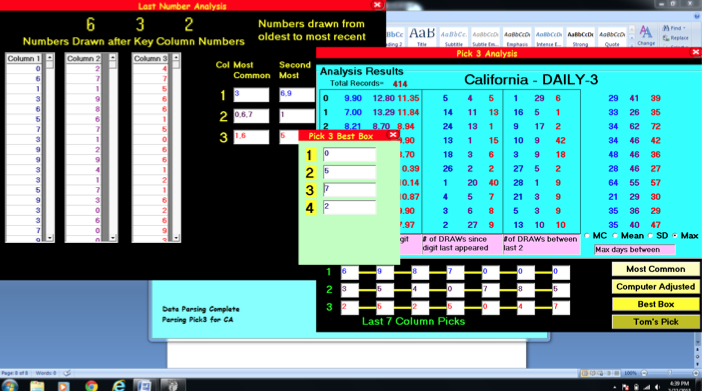 >>

'Tom's Pick' Screen.  Here's how Tom recommends using this screen:

The last set of picks are called Tom's Pick. This is the other selections I personally use.

Click on this and a new screen shows up.   It will list the numbers, 0 through 9 down the side, with the 3 columns again.

HIGH is best

. You will see many negative numbers, and some positive. I left the negatives to be able to easily see the highs and lows. So on this, I use a little judgment. I look for the top 1, 2, or 3 numbers in each column. Sometimes I just use 1 number if there is a good gap. Sometimes 2 or 3 if there is no gap until after those numbers. 
In column 1, for example, #8 is the highest, #3 the second highest and #5 the third highest.  In Column 2 #8 is the highest, etc., and in Column 3 #2 is the highest.

>>So the computer is telling me that 8-8-2 is the optimum play according to its pattern recognition analysis. 

However, it is always best to play a few tickets and what I normally do is take the top 3 in each column and play the possible combos — 

8-8-2, 8-9-2, 8-9-7, 8-9-9, 3-8-2, 3-9-2, etc.  If you play all of the top three number combos you are talking @$14 in 50 cent tickets, or $7 if you play 25 cent tickets on the Five Dimes website.  

>>

If your numbers hit, in most states you are talking winning between $250 and $900!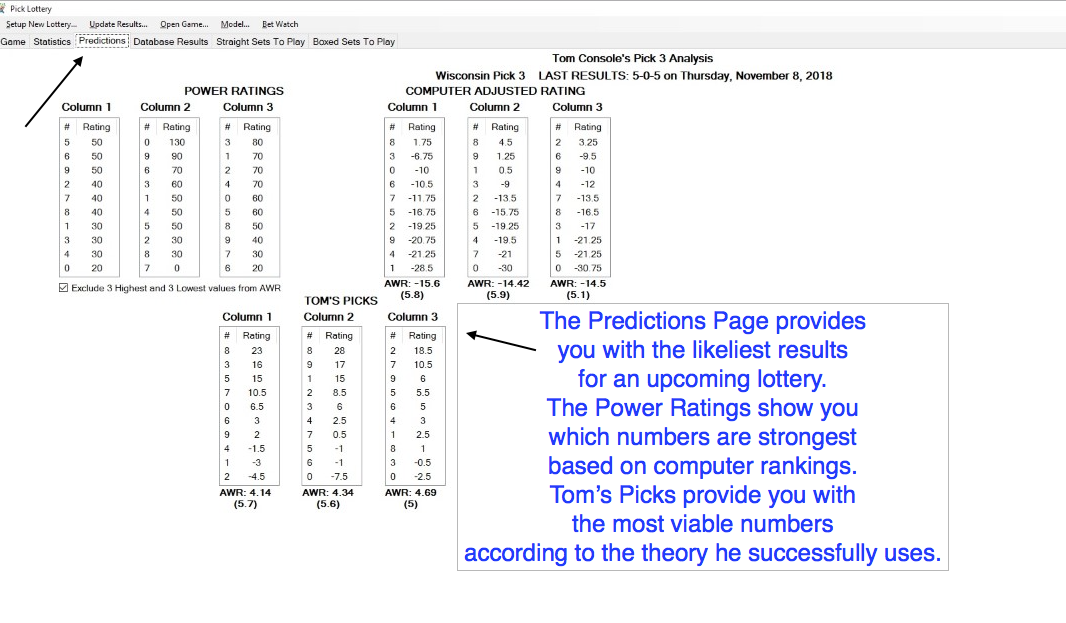 Other Features:
Model:
 Provides a 'model' of 10 Boxed sets that have most frequently hit, when they hit and if they are due.
Bet Watch: 
Provides the ability to instruct the program to 'play' the listed boxed sets (which are derived from pattern hits) beginning at any given date and it will show you when and if any of these boxes have hit.  You can focus on boxes that have not hit over a long period of time that may be 'due'. 
Best Straight/Best Box Bets: 
These are derived from the Tom's Picks screen and arrange all of the possible boxes and best straight bets so you don't have to do the work!
And it is very reasonably priced at just $59.90.  
Scientific Analysis that will lead you to many more cash-ins.
And, of course, it is fully guaranteed.
Give it a try

– Playing the Pick 3 Scientifically is the only way to Profit, and Tom's Pick 3 Lotto Software shows you Exactly how to do that!
 
Order Toll Free at 1-800-696-0067  go to the website:
Call us with any questions or email Tom at  TCONSOLE@AOL.COM



Tom's Pick 3 Lottery Software  $59.90