$177.00
or, as we're calling it now:  'Trainer-No-Brainer!'
Description
But regardless of what you want to call it, this amazing piece of software will blow you out of the water!
It's consistent, profitable, and just may be the easiest-to-use Program we've ever produced!



Ever heard of

'bucket theory'

?

Probably not, since it is a
very recent
development in the Sport of Kings.
But, you are going to be very happy to be one of the first group of horseplayers to take advantage of it!
A Little
Background:
Master Handicapping Programmer
Len Czyzniejewski

is not just a programmer.
He's also a horseplayer — a serious horseplayer.
A serious horseplayer who really doesn't like to handicap, i.e., spend hours on end pouring over past performances.
So, he set out, many years ago, to discover a way to 'handicap' minus the brain-taxing, eye-straining, often frustrating, procedure that most horseplayers often cursed out loud at.
And how did he do this?
Well, to begin with, in the 1980s, when computer programming was in its infancy, Len became a computer programmer.
And, as the need for programmers grew in industry and among big corporations, Len was much in demand.
His first job was with McDonalds. Yep, the hamburger joint.
No, he wasn't a griddle jockey — Len worked at corporate headquarters.
Worked at corporate headquarters creating computer programs that would make life easier for the guys and gals that actually worked at the burger palaces — so that at just a push of a button the computer/cash register would ring up exactly the right item(s), at the right price, then send the daily totals to the main store computer, which then sent the info to corporate headquarters.
Pretty neat, and something that revolutionized the retail industry, be it burgers, slacks, jewelry, shoes, etc., etc.
So….Len quickly realized that by instructing a software program to perform a certain task, it would perform that certain task.

The wheels started spinning, and Len began thinking seriously about creating a software program that would help him realize his true passion in life — winning at the horseraces!
Now remember, this is the 1980s folks.  But, in his spare time, Len did indeed create a program to help him handicap the races.  Of course, there was no 'brisnet' back then, so Len had to input all the crucial handicapping data into the program by hand, or keyboard to be specific.  A lot of work, but the program had its merits, and Len was suddenly picking more winners.
OK, enough of the history.
BUT….
it's important for you to know that Len has 30 years of programming experience under his belt, so he was

THERE

for all the new innovations as they came along.
And, he has been programming handicapping software, using modern technology involving database downloads from sources like Brisnet, for well over a decade now.
And, he has created some of the most popular, best-selling, rave-reviews-about, programs in the business: Master Consensus, TIPS, One Minute Handicapper, Cramer's Short Form Paradigm, FormFinder/HFC, SuperStudy/X-Minus-1,and on and on and on.
And, now, ta-dah!, another stroke of genius!
Before we go on, check out what's below……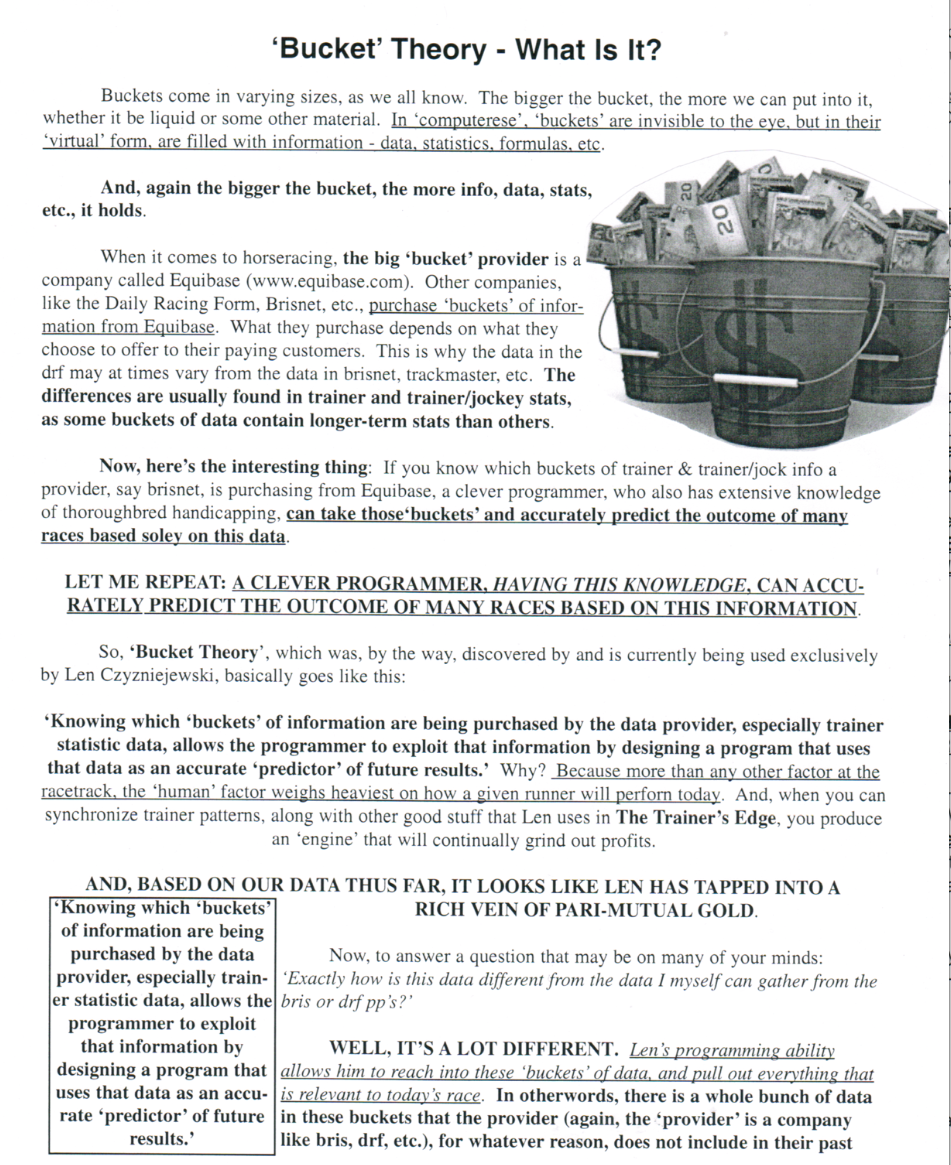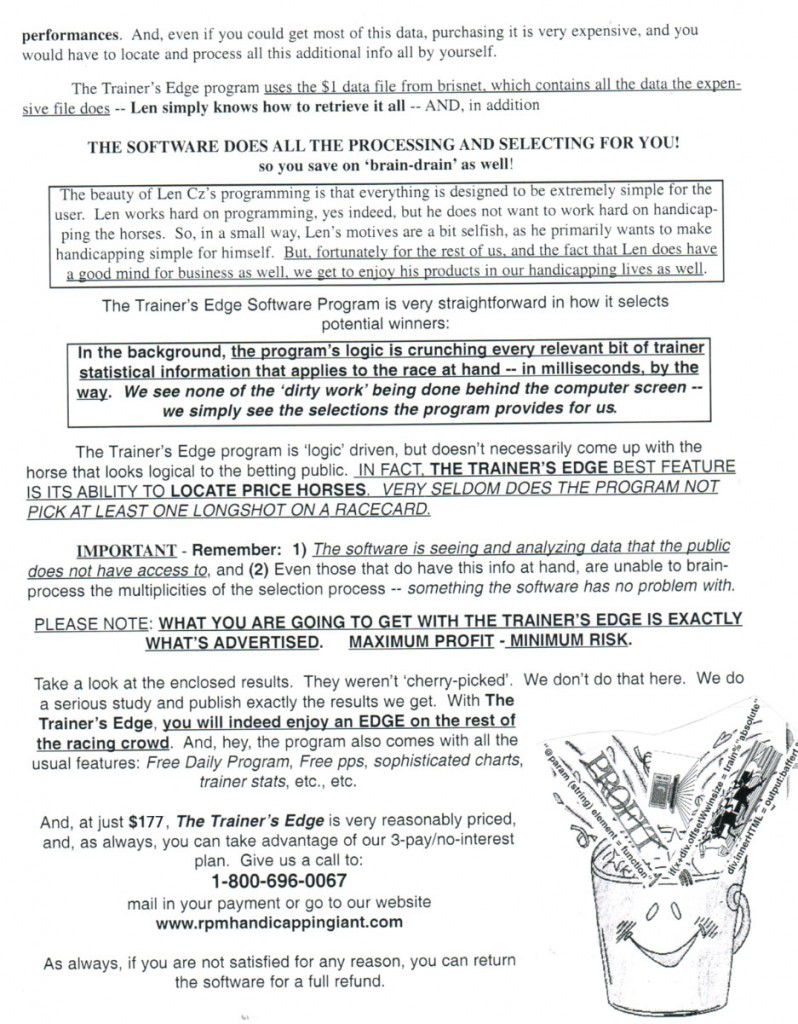 How about this — just under 3 weeks of selections produced these prices (these are the highest win prices realized during that period of time)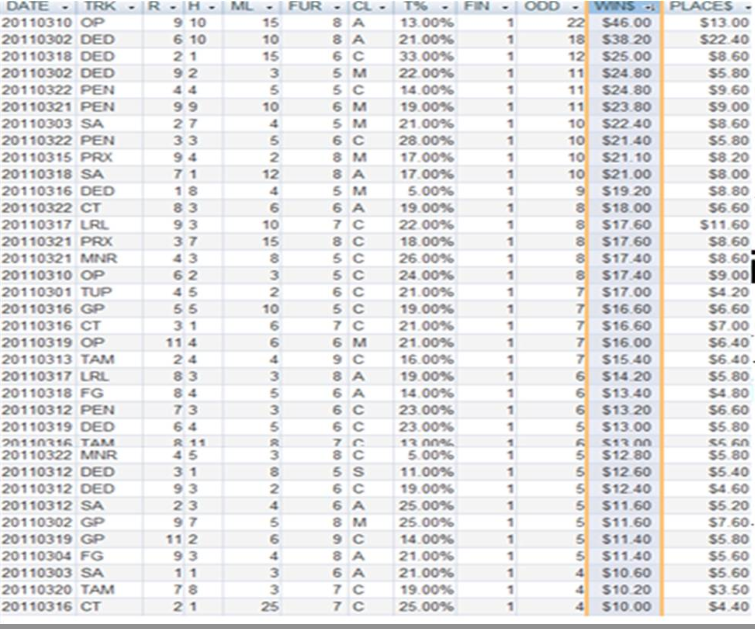 And, here is a listing of 'simple box'  Exacta payoffs.  All of these payoffs are two-horse boxes where the main Trainer's Edge Selection is boxed with the favorite.  Or, if the main selection is the favorite, the box was done with the highest-odds entrant that figured in the top three qualifiers.  With more extensive boxing strategies, using more horses, many huge Exacta payoffs were realized.  The results below, though, just reflect the two-horse boxes.  And, again, this was during just a 19-day period in March.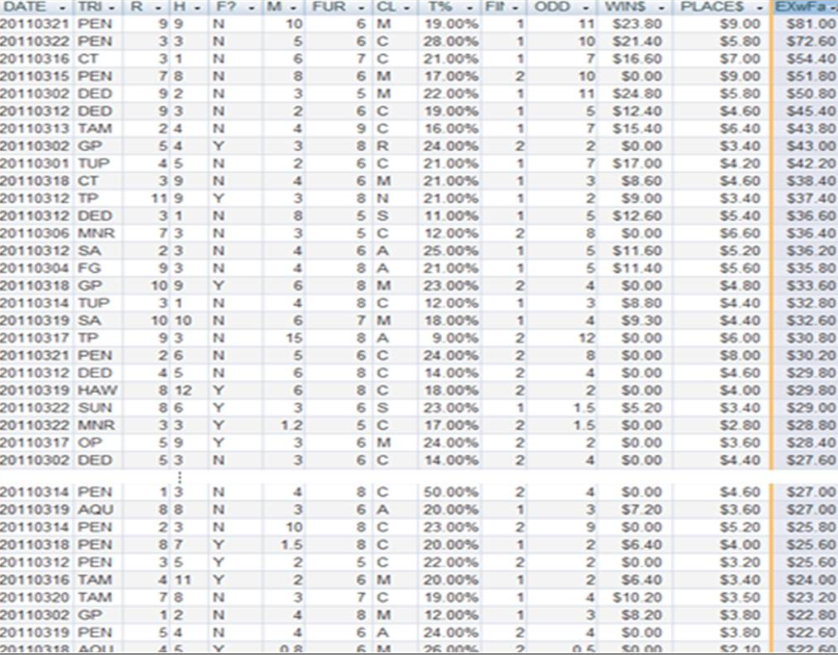 And Now, We've Added another Super Feature to Trainer-No-Brainer: 

Confidence Numbers!!
Main Screen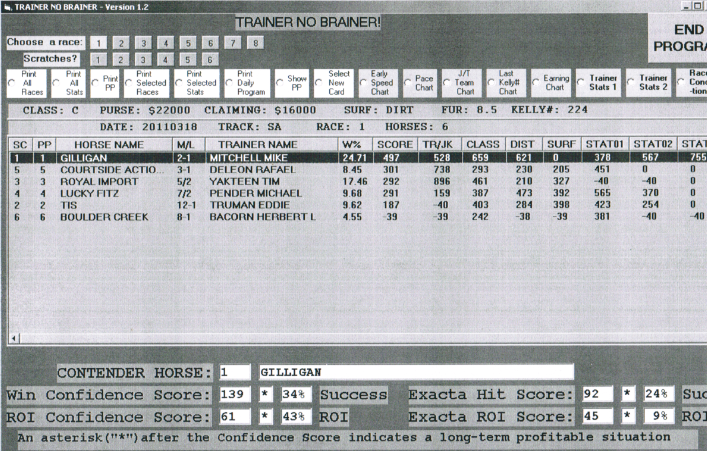 On your computer, this screen is going to be nice and colorful, but we chose gray-scale because it's easier to read on the website.  We used this shot because it presents a very interesting situation.
Note that horses that possess the Trainer characteristics that make them a play win at a 34% rate (see % number by Win Confidence Score).
While Gilligan, who won by 6-1/2 lengths, was a short price, he is a mandatory play under the Software Guidelines.  Take a look at the ROI Confidence Score and the % ROI (43%). 
Our database tells us that this type of play returns an ROI of +43% over the long run.
(Note that an asterisk in the ROI row indicates a longterm profit; an asterisk in the Win Confidence row indicates a situation that wins 33% or more of the time.)
Note also that the suggested Exacta play in this type of race hits at a 24% rate and shows a modest +9% profit – but a profit is a profit!
And you can see from this screen shot that an incredible array of other important handicapping 'helpers' are included with the Software, such as state-of-the-art charts, up-to-the-minute precise
trainer statistics, FREE daily program, FREE Past Performances to view and/or print out.
In short, we are handing you the baton for the last leg of the winning-at-the-races marathon,

but you don't have to do any running

—
just sit back in your easy chair and let the Software do all the work for you!!
Questions and, of course, Answers!

Q.  I understand the concept behind 'Bucket Theory' — it was well explained in this letter.  But if Len is using the theory, why can't just anyone take this information and do the same thing with it?
A.  Well, very simply, the information you need is not 'visible' to just anyone.
But to a programmer with decades of experience, like Len, who is also a horseplayer, like Len, the task of extracting this 'hidden' information becomes easier, but it is still very difficult.
We are very fortunate to have a programmer like Len who is able to get us information in software form that virtually no one else has access to. The Trainer No Brainer Software provides you with accurate win %'s and, whenever a certain situation shows a longterm positive ROI, you will know that, and the vast, vast majority of players will not have a clue.
Q. What exactly are 'Confidence Numbers'?
A. After completing the Trainer-No-Brainer research, Len wanted to find a way to 'rate' different wagering situations.
In otherwords, he was looking for a way to rate the 'strength' of any given situation.  And, in what I call a pure stroke of genius, Len created what he calls 'confidence numbers'.  Very simply, the higher the number, the more confidence the player can have in that horse.
Len created both 'Win % Confidence Numbers', and 'Positive ROI Confidence Numbers'.
Win % Confidence Numbers express the actual win % of this type of play.  In our studies, these win hit rates can be as high as 55%, or as low as 11%.  The higher the win %, the lower the average win mutuel, in general.
Knowing when a high % win candidate is in the lineup is invaluable to both the exotics player and the player who loves cashing tickets.
A high hit rate horse with a win % of 33%+ is a must use in the 1st, 2nd and 3rd spots on your exotic tickets, as these prospects will hit the board close to 80% of the time.
In the situation of the Win % Confidence Numbers that are 40% plus, you can use them as above but they are also excellent 'singletons' in your Daily Doubles, Pick 3's, 4's, etc.
Now, cashing tickets is lots of fun, but making money is even 'funner' (not sure that's a word, but…).
So, when a given situation, based on the Trainer-No-Brainer Software, shows a positive longterm ROI,  well, that's where the Positive ROI Confidence Number comes in.
This feature will alert you when a Positive ROI situation is in play.  It will provide you with the +ROI %, when that play shows an actual profit.
Q. OK, just to make sure I have this straight.  The top number, Win Confidence, shows me both the Confidence number and the actual longterm win % of this type of wager.  The number on the second line, ROI Confidence, shows me the longterm profit % of this play.  If the number is zero, then this is not a longterm profitable play, right?
A. Correct.  In fact, in the user manual, we have included the chart that the Software uses to determine the percentages based on the Confidence numbers.
You don't need it to use the software.  You don't need the chart — the software does all the figuring for you — but you may find the statistics interesting.
Q. How about profits betting to place?
A.  There were some situations that showed place profits (again, reference the chart in the user manual).
Also, looking at that chart, you'll note that there are some heavy duty win/place %'s.  Some of these plays hit the place spot well over 70% of the time.  Overall, however, the best profits came from Win betting and Exactas.
Q. Exactas?
A.  Glad you asked!  The Trainer-No-Brainer Software is excellent at selecting Exactas and, in most cases, only one or two boxes are required.
We showed a nice profit on Exactas throughout the study.
Also, as you can see from the screenshot, the Software will tell you the hit rate % of the recommended Exacta play and the overall profit.  This way, you will play only when a certain Exacta wager shows a longterm profit.
Depending on the situation, which again the Software alerts you to, we show Exacta Profits ranging from a little as 1% all the way up to +118%!  We suggest concentrating on Exacta Profit situations that return +8% or higher.
Q. Anything else I should know?
A. Just that, as the world's largest producer of thorougbred wagering software,
we have full confidence that you will find The Trainers' Edge, i.e.,
Trainer-No-Brainer, extremely
consistent and profitable.  And you have our technical support team at the other end of the phone line if you have any questions whatsoever.
And, if for any reason you find the software not to your liking, just send it back for a full refund!  What could be fairer than that?  Hope to hear from you soon!