$97.90 – $177.50
The Trainer Profit Investor Software Elite Program!
Description
THE TRAINER PROFIT INVESTOR SOFTWARE! 'A WONDERFUL NEW TOOL THAT ISOLATES POSITIVE ROI TRAINER SITUATIONS!'
The Trainer Profit Investor Software Elite Program!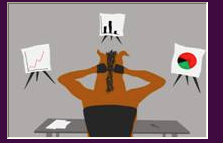 A Remarkable Handicapping Profit Mechanism that Focuses on one of the most critically important parts of the game – The TRAINER!
Instantly Spots Positive ROI Situations – Plus, features 'Sneaky Trainer Profit Angle' Locator – one of the most POTENT Price-Play Angles Ever Developed.
Seriously, this is about as simple as it gets:
A Trainer Analysis Program that saves you all the record keeping, all the research, all the expense and energy you would normally exert in locating positive trainer ROI situations.  The Trainer Profit Investor Software Elite can be used on its own, or as a 'verifying' tool with other software or your own handicapping.   Look:
The TPI Software looks for Trainers who have Positive ROI situations that relate to today's race.  There are dozens and dozens of categories that can qualify and TPI sorts them out with precision efficiency.  The 'Sneaky Trainer Price Angle' category sniffs out situations where the Trainer shows one or more positives and is likely to go off at a big price, such as Eagle Rock, below: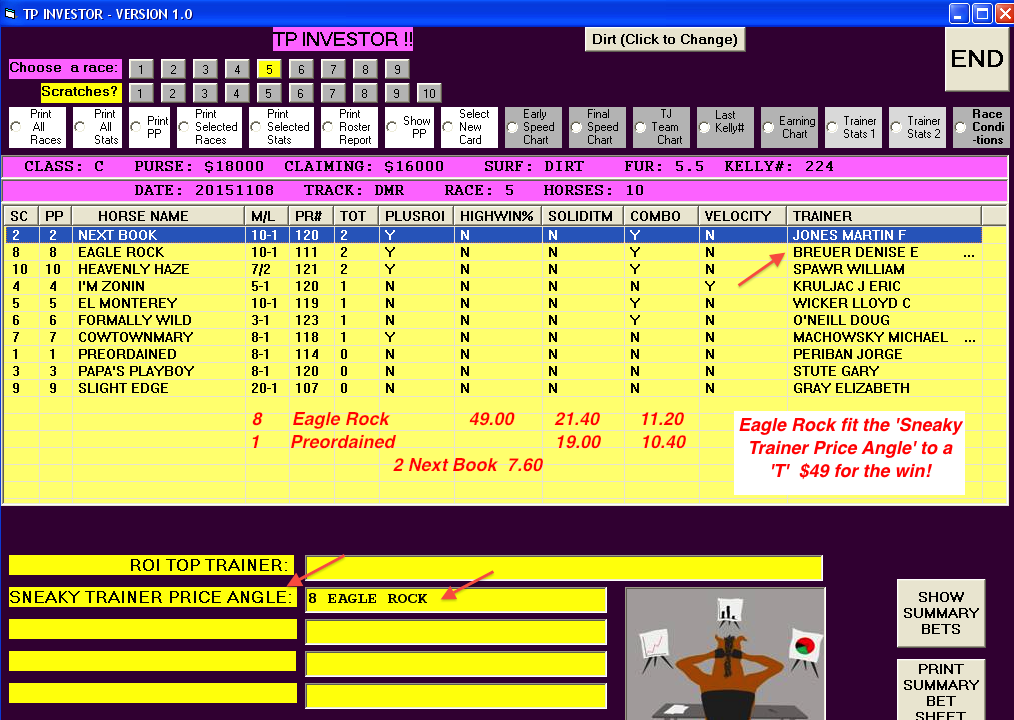 Another nice 'Sneaky' play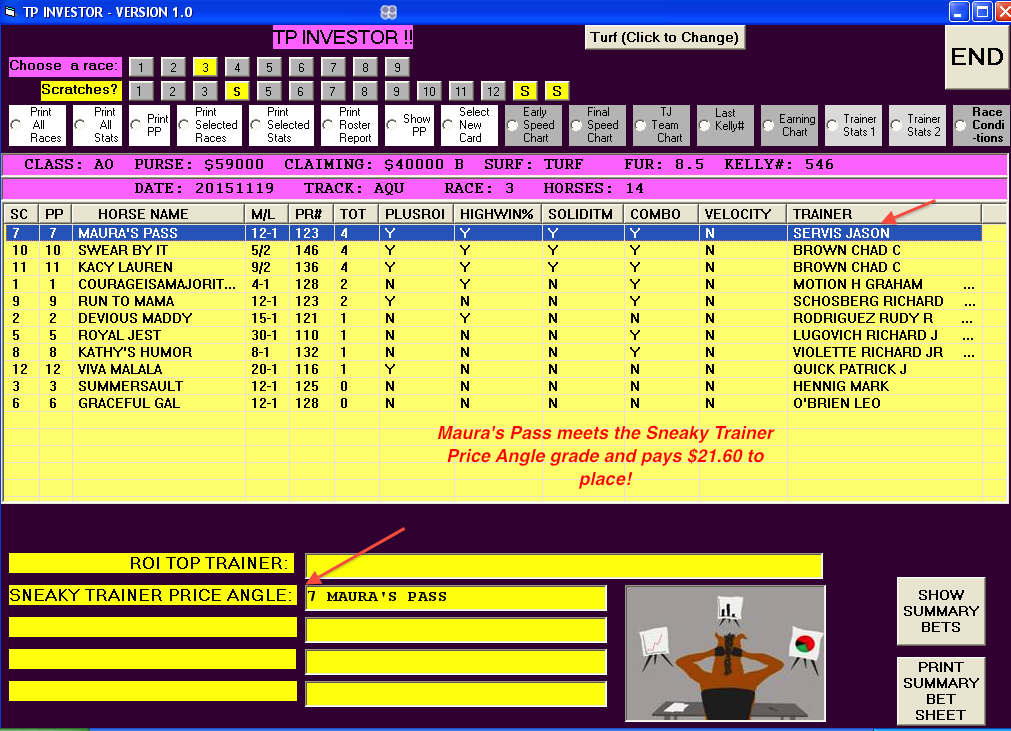 A solid wagering opportunity whenever a situation like the one below comes up.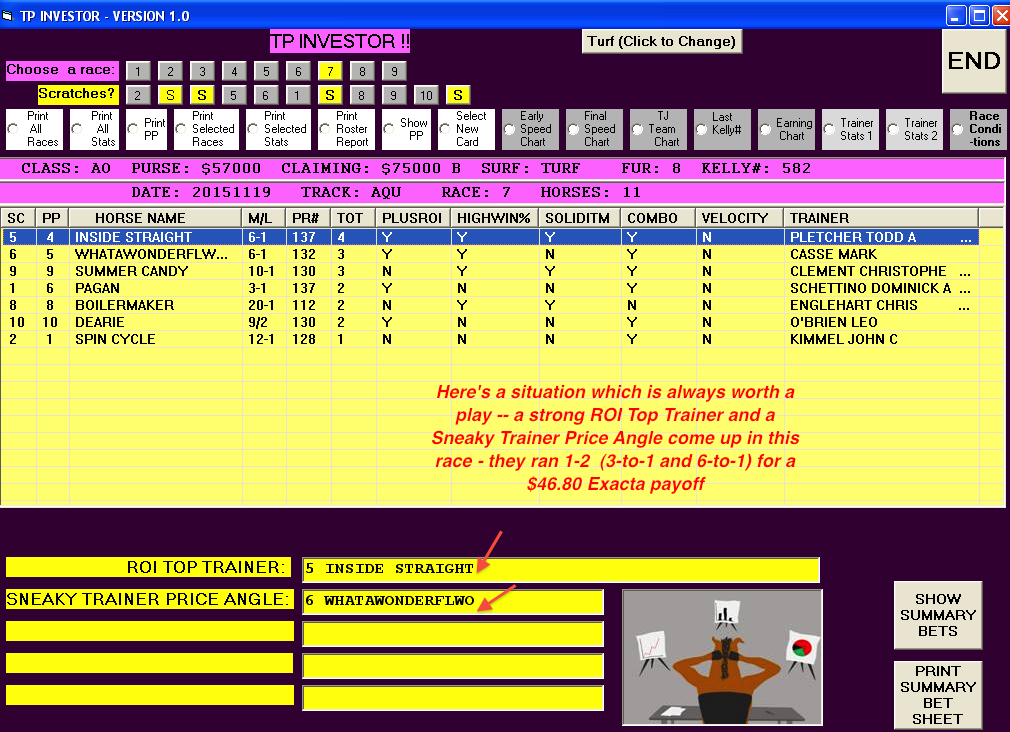 When TPI picks are 'bet-down' significantly from the morning line, the win/place % is high – @59%.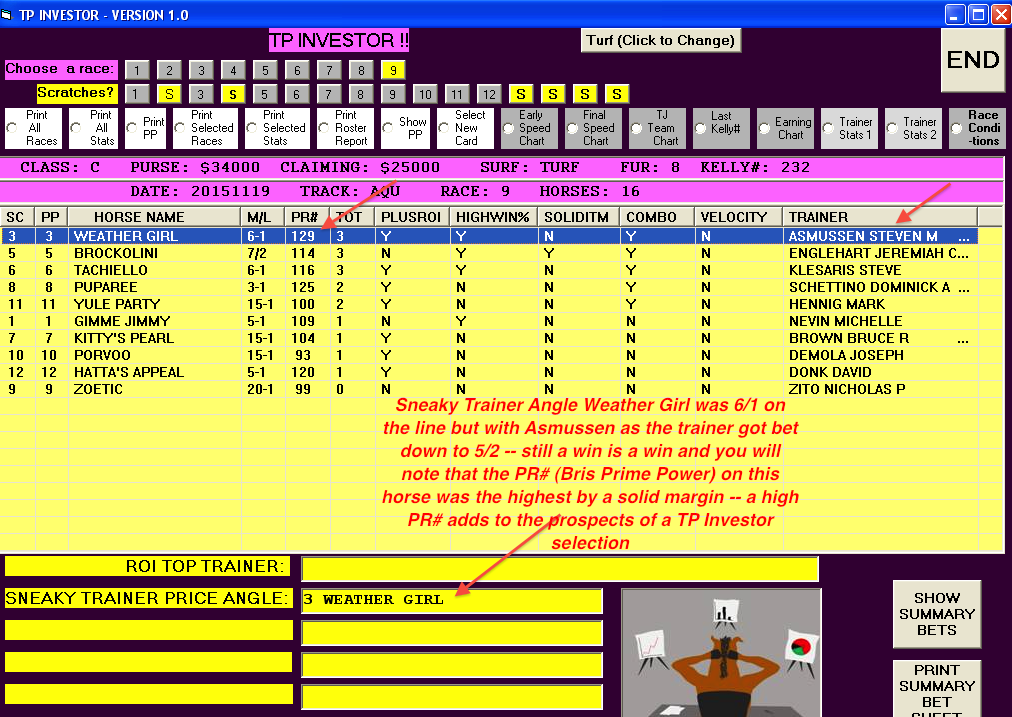 TPI works at ALL tracks, but overall you will likely get your biggest Sneaky Trainer Price Angle plays at class B and C tracks — a perfect example is Lunar Fog below, who romped by 7 lengths at 41-to-1!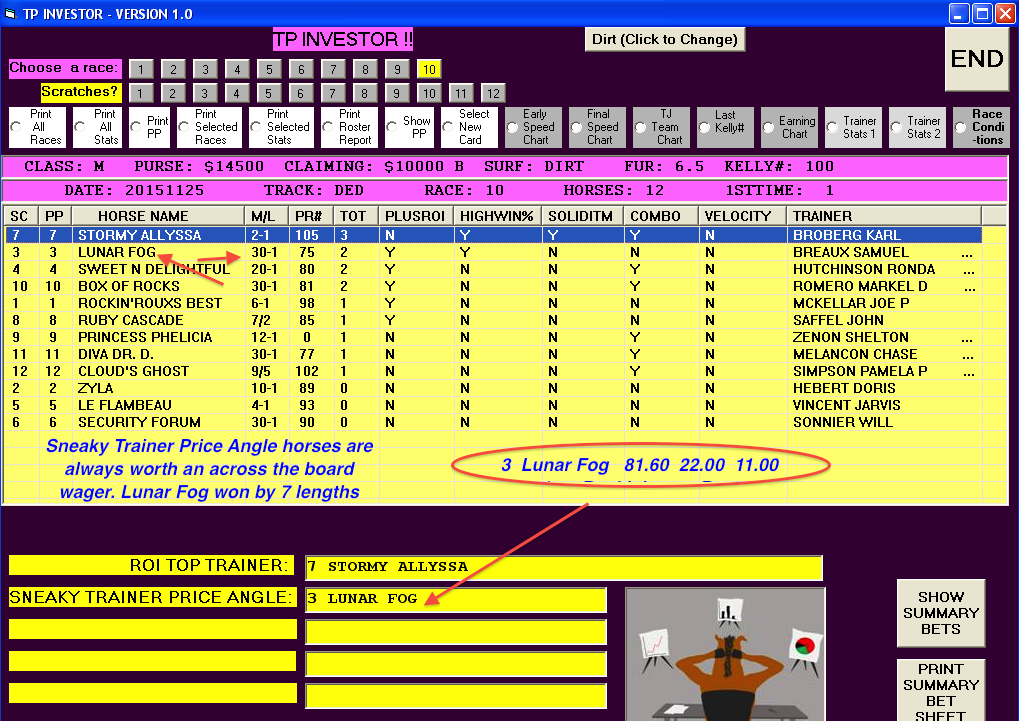 >>>>>All of TPI's stats are updated daily, so when you download the brisnet.com data file, you will have all the most recent Trainer data available.  It provides the player with information that only a tiny, tiny percentage of players possess — information that will result in higher average mutuels and more frequent visits to the cashier's window for you.
The Trainer Profit Investor Software Elite is a superb selection tool, as well as a research tool.
>>>>And it is being offered at a superb price, less than a C-Note — just $97.90!
Call us to order   1-800-696-0067  or order from our website        Call if you have any questions.  Thanks, Dave & Len
Additional information
| | |
| --- | --- |
| The Trainer Profit Investor | Software Elite, The Console Continuum, TPI/Continuum Combo |