Sale!
$45.88 – $89.00
The RUSH is a super nifty way to spotlight horses whose recent bursts of speed, or 'rushes', have them on edge for a biggie. 
Description
A swift turn of foot; a quick burst of speed; a sustained move on the turn for home.
The FACT is that few horses enter the Winners Circle who have not shown at least one of these characteristics in a recent race.
But how to locate and then effectively 'measure' the significance of such?
Well, we've found a way!
Tyler Hubert's THE RUSH!!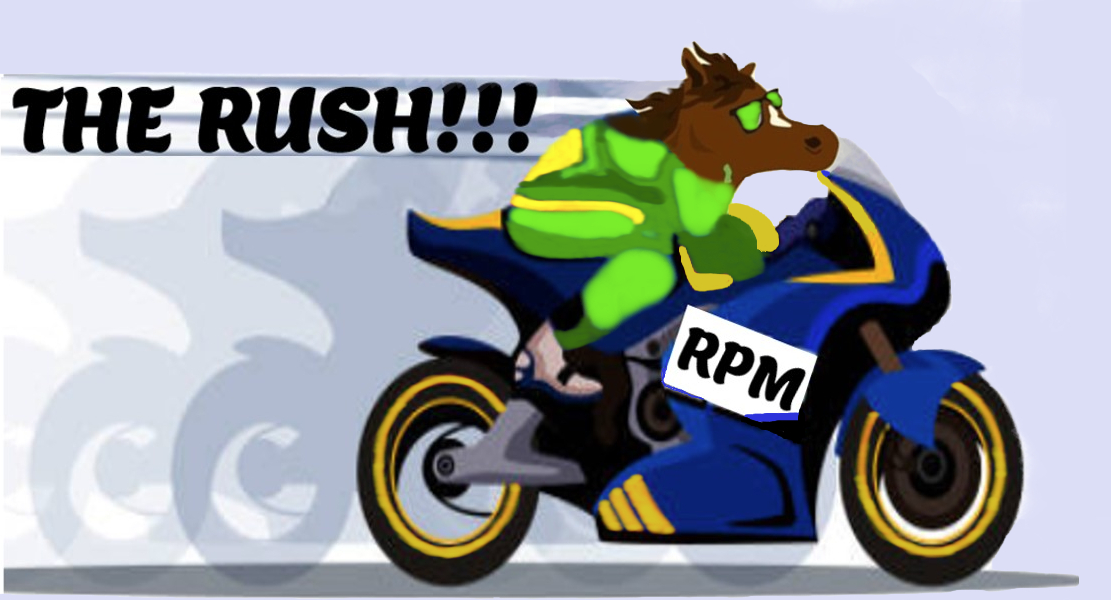 The significance of a quick burst of speed, or sustained move, at any point in a race cannot be overemphasized. 
In fact, most winners, of most races between 5-1/2 and 9 furlongs have shown such a 'burst' or move in one of their last two races within the past 45 days. 
But the problem for most handicappers is how to identify these moves, because at times they can be virtually invisible to the eye. 

And, at times, such a move may not be significant at all.  How to tell the difference?
Well, thankfully, we have

Tyler Hubert

to sort that out for us.  Tyler's stints in the research departments at The Daily Racing Form and Today's Racing Digest gave him the background to see through all the noise and pinpoint the kinds of bursts and moves that are predictive of an upcoming big effort. 
Tyler tells us:  'These moves are often by design —

the trainer's design

, in order to set up a big race. 

And they can almost always be spotted in the pps

, providing you have a formula that can measure these moves,

and I believe that I have come up with a near fool-proof one.

 

Most of these horses, provided they return to the races within 25 days or so,

WILL run BIG.'
The RUSH is a super nifty way to spotlight horses whose recent bursts of speed, or 'rushes', have them on edge for a biggie. 
"The Rigorous Qualifying Process is what Makes The Rush! So Darned Accurate!" 
Bob Shurig, author, The Safe & Sure System
The Rush!
deals with multiple speed and pace factors.
Measurements include the actual fractions and final times of the race; the actual fractions and final times of each horse;

algorithms that compare each horse's fractions to 'par' for today's distance at today's track

; final fraction calculations that include beaten lengths, etc., etc. 
And then, Trainer & Jockey individual and team %s, Form measurements and a super accurate Class formula.
>>

From Tyler: 'So, basically, when a horse qualifies and rates among the top tier of contenders,

you are almost always going to see a Strong to Powerful Performance.

  These horses have

a LOT

going for them, and often escape the notice of the general public.'
Let's Take a Look:
As you know, we do

extensive database studies

that clue us into where a particular methodology works best.  Below you can see that the hit rates and ROIs were extremely solid in

Claiming races (35.71 hit rate – 27.1% ROI)

and Maiden races

(42.86% win rate and +26.43 ROI)

. 

The key to this study is that these %s held when the race had at least 70% of the horses showing as qualifiers, which gives the programs algorithms a better chance to discern the various point-factor differences .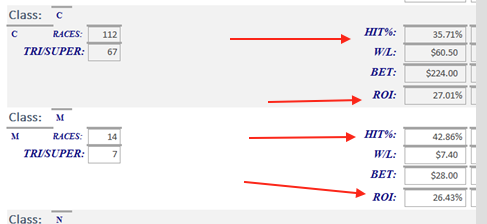 Opening Screen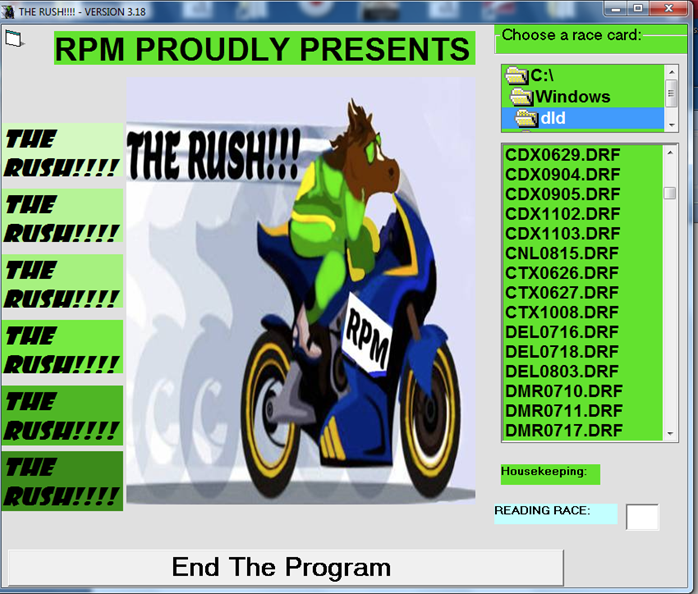 The Rush is a logic-based program but still gets some great overlays. 

Note that The Rush also produces its own 'value line' – a much more accurate gauge of a horse's actual chances as opposed to the morning line. 

Here the value line put Sir Alfred at 4/5 – so the $18.80 payoff was a HUGE overlay.




THE RUSH screen contains a lot of information, dissecting fractions (FR) beaten lengths (POC= point of call and margins or beaten lengths.  POC2MD = 2nd call and the lengths behind the leader for this horse – in the above example you can see that Sir Alfred James was 3-1/2 lengths off the pace at this call).  When you scroll to the right you will see additional info: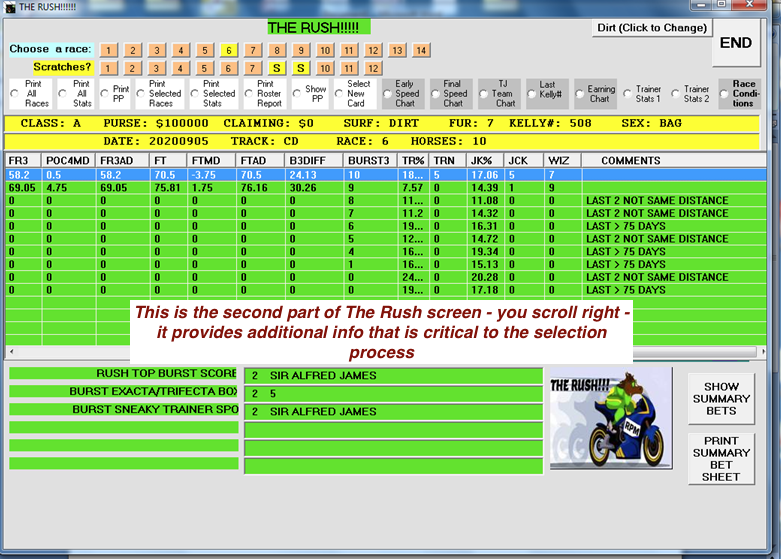 So with The Rush You Have a Methodology that:
>>

Takes a New Approach to Speed & Pace Handicapping by:
>>

Analyzing every Pace Call for Every Horse by Numerically Calculating BURSTS of Speed, Sustained Moves & Last Fraction Anomalies
>>

Comparing Race Times and Individual Horse Times to Par Times for today's distance at today's track – faster than par times result in a boost in points   — slower than par results in penalties
>>

Analyzing Trainer & Jockey Performance both Individually and as Teams
>>

Providing a Unique Class Rating that indicates when a horse has recently been competitive at a higher Class Level
>>
Creates its own Value Line based on dozens of factors that accurately Predict the True Chances of an Entrant.  The Value Line is far superior to the line the average track morning linemaker provides.
The Rush Hard Copy  $55.00
The Rush Ebook   $45.88
The Rush Software  $118.00
Additional information
| | |
| --- | --- |
| The Rush | Ebook, Hard copy, Software |