$60.00
P.S. Your Playday Payday System will be in the mail within 24 hours, often even quicker!
P.P.S. Jeff's Exotic Wagering Guide comes
FREE with your purchase!! $60 #4589
Description
I know all of you have been at this game for quite some time. I know you've seen all the system 'pitches', the touts who promise to make you a millionaire, the 'miracle' sliderulers, etc., etc. I also know, as an average everyday player like most of you are, that I have been tempted to the point of purchasing many of these goofy systems and such, only to be profoundly disappointed once I started using them.
That's why I went 'cold turkey' in the late 1980's on these pie-in-the-sky promises and started developing workable systems on my own. My first big success was The Sound System (the 'sound' meaning the system was based on 'sound' handicapping factors and values). I know many of you own The Sound System, a method which is now also on software. The Sound System continues to crank out profits for its users and received one of the highest ratings ever given from Phillips Racing Newsletter.
You may also be familiar with my Works of Cash, II and 3-D System, both of which have become best-sellers and have served me well over the years.
And while I'm proud to claim to be one of the 'winners' in this game, using my methods to produce a nice supplemental income, I nevertheless am always searching for the real 'magic bullet', so to speak. You see, I just turned 60, and as the years have flown by I've found I want more time to enjoy my remaining time on this planet — traveling, eating out more often, etc., — which means I would have less time for handicapping. But since my handicapping has made me some nice $$$, quitting was out of the question. But as I was pondering my dilemma, a very interesting thing happened.
A good friend of mine, Jim, a spa business owner in Long Beach, California, chimed in one day to tell me that he, too, was looking for something to make life, and gambling, a bit easier. Jim is quite an 'achiever'. He can boast about rolling more than 30 perfect 300 sanctioned games in bowling and plays a mean hand of Texas Hold-Em, but he also loves to gamble on the ponies and possessed virtually no knowledge of the sport and had neither the time nor the desire to learn. Here's what he had to say in an e-mail one day early in 2005: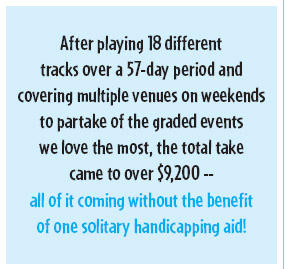 "Jeff, I've known you for quite a while now and enjoyed reading your first piece of work, THE SOUND SYSTEM, which you kindly gave me as an introduction to the world of betting the horses. Since discovering our mutual love of gambling, I've been addicted to the thought that we could come up with a betting system for dummies like me, something that works on sprint races, long courses, hell — even burro, camel and dog races! I figure a couple of left-handers like us with superior mental resources may be able to come up with some awesome results when putting our heads together. Well?!"
In a nutshell, friend James implored me to give him a no-brainer that didn't require any handicapping and produced some action and nice profits — a tall order, to say the least. Never one to turn down a challenge and, given the significant input that earned James co-authorship, we went to work tackling the problem. Amazingly, the result of our partnership created exactly what we wanted, and believe it or not, we had it down on paper in less than two weeks! Needless to say, we were excited!
In our younger days attending the three main Southern California emporiums, we tried any number of handicapping ideas but toteboard watching was never one of them, the main reason being one of timing. During the week you could wait until a couple minutes before post and not get shut out at the window but weekends were nearly always packed and one couldn't afford the luxury of waiting until the last few minutes before the gate sprung open. Whatever horse we settled on often had to be bet well before the race was run. Just as often we found ourselves stuck with final odds way below what we wanted on a horse otherwise not worth a bet. We were hardly disciplined back in those days and that surely had a hand in my eventual evolvement into a system writer.
But, more to the point, timing as a segment of the handicapping equation is no longer an issue with high-speed computer systems and on-line race books now at our fingertips. All the nutty toteboard methods and ideas we came across over the years never amounted to anything worthwhile but many customers of my deeper (ahem) methods chimed in with the refrain of wanting it simple, simple, simple. So friend James caught me at just the right time to put an idea like this together that DID do the job.
'This thing is really fun! There are lots of great handicapping systems out there, but Playday Payday is so darned easy and cashes so darned often that I think most players will be in shock once they see how much money they are making by doing zero work! Good going Jeff!' Tom Console
We named it the

PLAYDAY PAYDAY SYSTEM.
For something as uncomplicated as circling a number and watching the odds,
PPS COMPILED AN ASTONISHINGLY CONSISTENT ARRAY OF PAYDAYS ALONG WITH SOME EQUALLY EYE-CATCHING MUTUELS IN OUR EXTENSIVE WORKOUT.
Think of it: no more buying expensive racing forms or paying for computer downloads, a huge savings over the course of a year. All you need now is a scratch sheet, a program or a computer screen to make your virtually 'instant' PPS selections. Then it's just sit back and relax until a few minutes before post time when the pools have sorted themselves out. Now
go to the window at your favorite track or racebook or click on the horse's number on the web. In fact, while the results won't be quite as good but still nicely profitable, I will show you an alternate way of making your bets early and heading home, so you don't need to hang around the racetrack/racebook. How's that for the 'good life'!
This is a toteboard system utilizing the morning line odds as a starting point. The formula requires no handicapping whatsoever and it takes only moments to determine your selections. While designed specifically for thoroughbred racing, we've also had success with harness and quarter horses. What could be simpler?
I'll have much more to say about the betting strategy at the conclusion of the day-to-day multiple track workout showing both the official estimated and final tote board odds plus the
profit/loss per race card which is included in the actual system. You will receive the full 8-page, 57-day workout and you will see just how consistently profitable this method is.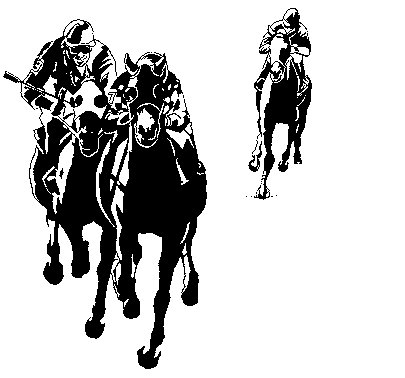 FINAL COMMENTS:
After playing 18 different tracks over a 57-day period and covering multiple venues on weekends to partake of the graded events we love the most, THE TOTAL TAKE CAME TO OVER
$9,200!! — all of it coming without the benefit of one solitary handicapping aid! Our figures came from $20 win/place/show wagers and $2 Exactas.
Even when we ventured into unfamiliar territory such as Harrington Raceway or During the course of the workout, PPS nailed win streaks of four on six occasions, five in a row four times and a six-bagger once. On the negative side came one losing run of six and three bad sets of four.
However, not a single page (the average 'page' contains about 15 days worth of results) of results in our workout put us in the minus column — that means you will be profiting the vast majority of the time. With six being the worst runout, even a very conservative player can handle that! On the subject of Exactas, if you're a novice or unfamiliar with all the myriad offerings the tracks overwhelm you with, give our Exotics Wagering Guide a browse. It's FREE when you purchase Playday Payday, and you will find it an extremely cagey strategy to nail exotic payoffs.
Here are the EXACTA BOMBS PPS scored: 14 paying at least $100 . . . 7 paying at least $200 . . . 2 paying at least $300 . . . and 4 paying $516.20, $540.60, $574.60 and $776.40!
TAKE A GANDER AT THE OVERALL RESULTS:
TOTALS:
296 Bets (based on $20 wagers)
70 1st = 24% $9,940.00 +$4,020.00
115 2nd = 39% $7,670.00 +$1,750.00
164 3rd = 55% $6,240.00 +$320.00
Total: +$6,090
Exacta Profits: +$3,187
Grand Total: +$9,277
Avg. Win . . . . $14.20 Win ROI . . . . . . 68%
Avg. Place . . . $6.68 Place ROI . . . . . 30%
Avg. Show . . . $3.81 Show ROI . . . . . . . 6%
Philadelphia Park, we ran on a par with our favorite ovals. And since this is a win/place betting strategy, you would have cashed nearly 40 percent of your wagers at average
prices much higher than the 33% norm with favorites. The Return On Investment (ROI) numbers above are extraordinary when taking all of this into account. And a positive return of six percent on show bets, are you kidding me? Almost a four dollar average on one of the worst plays you can make? I must be dreaming!
These beauties contributed grandly to the overall picture but we recommend making these
'Jeff has consistently produced horserace systems that are easy to use and, most importantly, profitable. He always gives the horseplayer a fair shake.' Phillips Racing Newsletter
types of plays sparingly until you have some of the track's money, which you should after using PPS just a couple of days. The important thing is to do only what you can afford and you will come out ahead by keeping your wagering steady, win or lose. It took me almost 30 years to learn that lesson and it has served me so very well, so I speak from experience! Now I'm not going to let Playday Payday go for a song. The fact that it WILL make you money, probably the easiest money you've ever made. Remember, there is NO HANDICAPPING INVOLVED. You will simply be using the morning line to make your selections.

Can it get any easier? In one word: NO!
I have had Dave Powers and Tom Console checking PPS out for several weeks now, and I've got to tell you that Tom's jaw literally dropped when he reviewed just one week of fantastic
results, and he was playing Turf Paradise, known as the 'graveyard of systems'. Nothing seems to work there, but PPS does! And Dave was kind enough to write the introduction letter for PPS. And while RPM is doing the selling part for me, I asked that they forego their usual restocking fee, so you have absolutely nothing to lose. Try PPS for a couple of weeks. If you don't like it, send it back. And while I said I wasn't letting it go for a song, I'm not charging an arm and a leg, either. In fact I think the $60 price Dave and I settled on is more than fair, especially since you should have that total back and then some quickly once you start using PPS.
Finally, a few words of wisdom from our favorite sage, Will Rogers:
"Good judgment comes from experience and a lot of that comes from bad judgment," and . . .
"If you find yourself in a hole, stop digging." Good Luck, Jeff Sillifant & James Cox
P.S. Your Playday Payday System will be in the mail within 24 hours, often even quicker!
P.P.S. Jeff's Exotic Wagering Guide comes
FREE with your purchase!! $60 #4589